 Berita baik bagi mereka yang amat menghargai masa, anda tidak perlu lagi beratur dan bersesak di kaunter JPJ mahupun Pejabat Pos hanya semata-mata untuk memperbaharui lesen memandu kerana… MyEG kan ada!
---
Ekoran penularan virus COVID-19, lesen Memandu Kompeten (CDL) dan Lesen Kenderaan Motor (LKM) kini boleh diperbaharui secara atas talian sejak 16 Oktober 2020 lalu. Jadi tak perlu lagi risau sekiranya kaunter JPJ tutup!
Sebagai rakyat Malaysia, ini perkara yang menguntungkan kerana anda kini tidak perlu lagi beratur di kaunter JPJ. Kadang-kadang, nak cari kawasan parkir di Pejabat Pos dan JPJ pun susah! Pelaksanaan ini merupakan suatu inisiatif kerajaan untuk mendigitalisasikan perkhidmatan sedia ada kepada orang ramai selaras dengan amalan norma baharu yang praktikal. Dengan keadaan negara yang sedang teruk dilanda COVID-19, ini merupakan langkah terbaik bagi meminimumkan pergerakan keluar rumah serta perjumpaan fizikal.
Walau bagaimanapun, Lesen Belajar Memandu (LDL) serta Lesen Memandu Percubaan (PDL) tidak boleh diperbaharui secara atas talian. Dan pasti ramai dah tahu pun tentang perkara ini. Tetapi bagaimanakah cara-cara untuk perbaharui lesen melalui MyEG? Mudah je!
1. Cipta / Daftar akaun MyEG

Langkah pertama, layari laman sesawang MyEG di www.myeg.com.my. Kalau nak guna apa-apa perkhidmatan melalui laman sesawang MyEG, anda diwajibkan untuk mendaftar terlebih dahulu. Nak daftar pun mudah saja, tekan 'DAFTAR AKAUN' dan isi segala maklumat peribadi yang diminta.
2. Perkhidmatan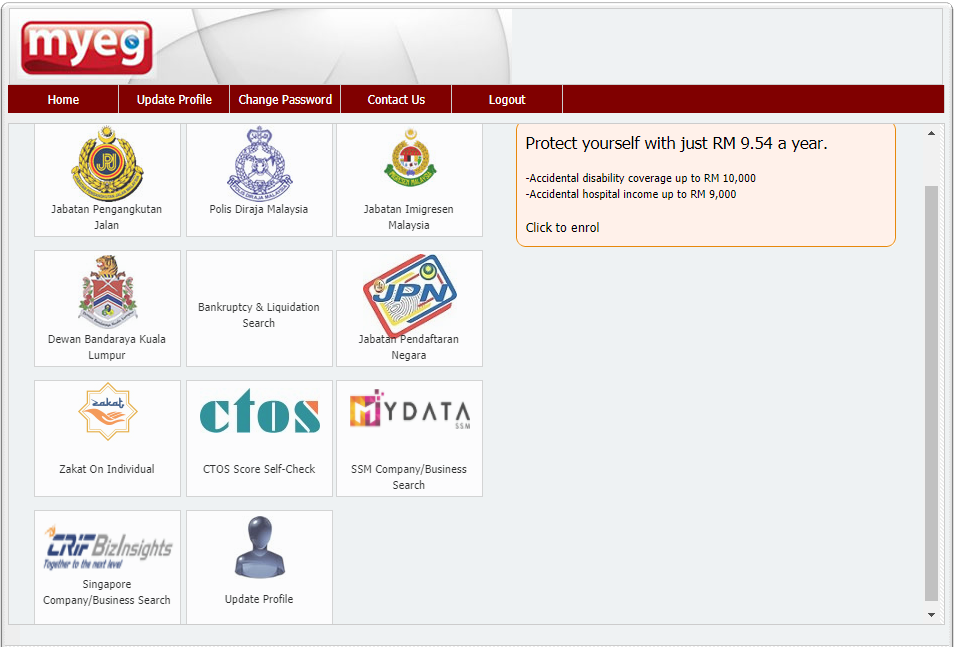 Lepas selesai mendaftar, anda akan dipaparkan dengan perkhidmatan yang ditawarkan di halaman utama laman web ini. Rugi sebenarnya siapa yang tak tahu tentang kewujudan MyEG ni. Bukan apa, melalui MyEG, nak bayar zakat boleh, nak cek saman boleh dan banyak lagi lah. Untuk perbaharui lesen memandu, tekan saja logo Jabatan Pengangkutan Jalan Malaysia (JPJ) untuk masuk ke menu utama jabatan ini.
3. Perbaharui Lesen Memandu (CDL)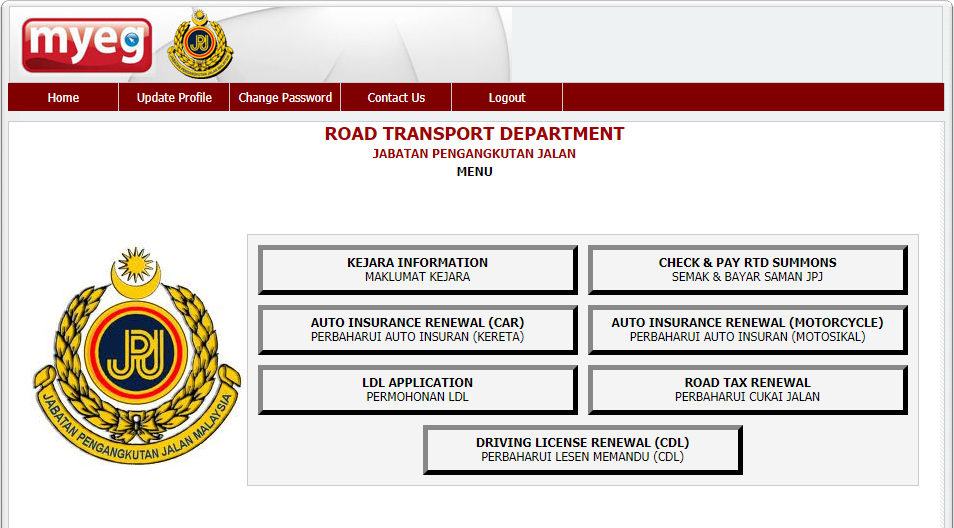 Dah masuk menu JPJ, tekan 'PERBAHARUI LESEN MEMANDU (CDL)' di bahagian bawah sekali seperti yang ditunjukkan. Kat sini, anda boleh pilih sendiri sama ada nak ambil lesen tersebut di pejabat JPJ terdekat ataupun melalui pos. Tapi dah alang-alang buat online, takkan nak gigih juga pergi kaunter JPJ nak ambik kan? Guna pos lagi cepat dan mudah!
4. Terma dan Syarat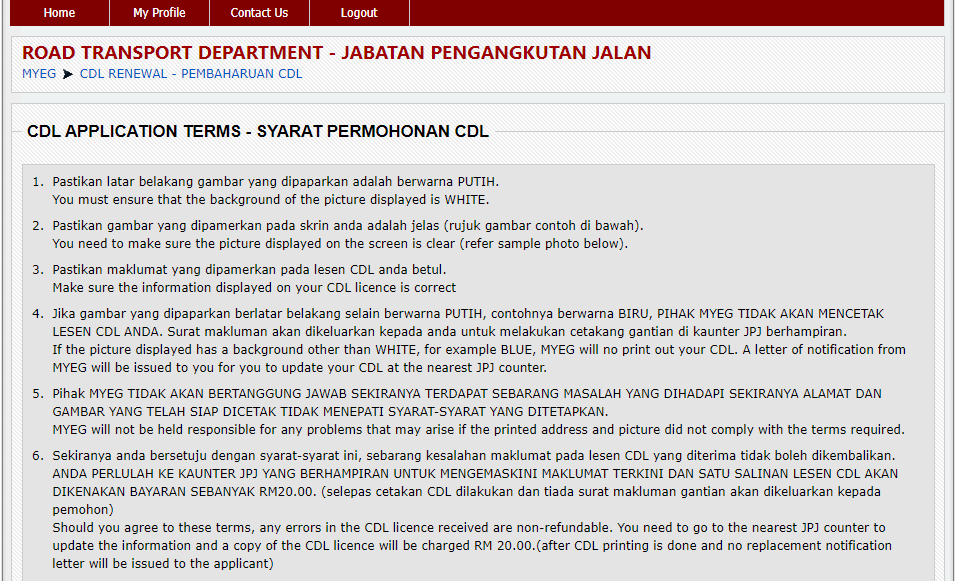 Sebelum apa-apapun, baca dulu segala terma dan syarat yang telah ditetapkan. Walaupun kita selalu skip bahagian ni, tapi penting untuk membaca kerana membaca itu jambatan ilmu. Tambah-tambah bila korang pertama kali nak perbaharui lesen melalui MyEG ni.
5. Isi Maklumat Diri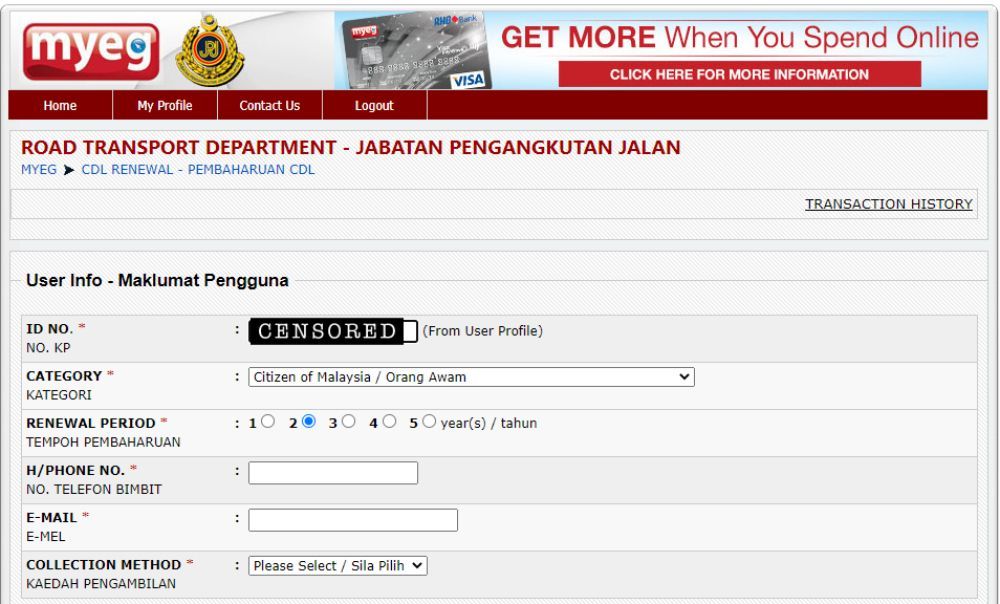 Anda diperlukan untuk mengisi butiran peribadi anda di bahagian ini. Kat sini, anda boleh pilih nak perbaharui lesen memandu selama satu tahun hinggalah 5 tahun. Pastikan segala info yang dimasukkan itu betul bagi mengelakkan sebarang masalah yang boleh menyebabkan kelewatan menerima lesen itu nanti.
6. Maklumat Pembayaran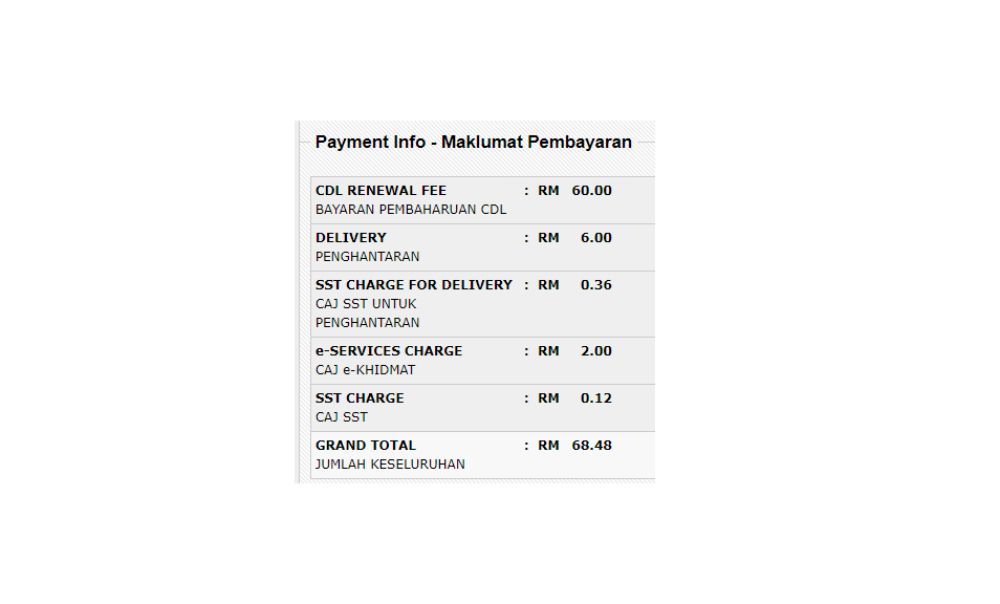 Lepas isi maklumat tadi, anda akan dibawa terus ke bahagian maklumat pembayaran. Gambar diatas adalah contoh caj yang dikenakan sekiranya anda perbaharui lesen selama dua tahun. Sebagai rujukan, anda dinasihatkan untuk menangkap layar resit tersebut setelah pembayaran dibuat. Bukan apa, kita perlu sentiasa berjaga-jaga.
Kalau anda perasan terdapat caj penghantaran dikenakan. Mestilah kan? Dah nama pun penghantaran. Tiada yang percuma di dunia ini. Berikut merupakan caj penghantaran yang dikenakan mengikut tempat.

Sekarang, apa yang anda perlu buat adalah duduk dan tunggu sahaja. Tapi jangan lepas tekan terus tunggu pula! Proses penyediaan dan pemprosesan lesen memandu baharu ini akan mengambil masa dua hari waktu bekerja. Jadi, kena sabarlah sikit. Lesen itu akan dihantar ke alamat yang anda tetapkan.

Tambahan pula, semenjak Perintah Kawalan Pergerakan (PKP) sejak Januari 2021 lalu, penghantaran lesen ini dijangka akan mengambil lebih masa berbanding sebelumnya. Tetapi, bermula Februari, JPJ kata penghantaran ke Lembah Klang disambung seperti biasa. So dah tiada masalah!
Mudah kan? Duduk depan komputer dalam 10 minit je boleh selesai semuanya. Katakan tidak dan selamat tinggal pada kaunter JPJ dan Pejabat Pos yang sesak dan ramai! Selain pembaharuan lesen memandu, rakyat Malaysia turut bakal menikmati kelebihan untuk menambah nilai kad Touch & Go mereka secara atas talian bermula tahun ini! Akhirnya…


For more latest car news, reviews, car buying guides and videos visit us at Carlist.my Auto News.
Check out all the best new & used car deals in Malaysia at Carlist.my.
Sell your car fast with the best offer? Visit us at CarlistBid.my.
Get the latest new car promotions at New Car website now.
---
---
---
---
Comments