Pickup Truck Buying Guide - 2020 Toyota Hilux VS 2020 Mitsubishi Triton VS 2020 Isuzu D-Max
Buying Guides Just last month, Toyota announced that the latest version of the Hilux, our king of pickup trucks, is officially open for booking. As successful as it is, is the Hilux really the best model out there, or are you better off with something else?
---
That being said, let's put the new Hilux next to two other models that were also launched recently over the past year - the Mitsubishi Triton and the Isuzu D-Max and see what they have to offer.
2020 Toyota Hilux
Let's start with the Hilux - Customers now have a choice of five variants with the Double Cab 2.4 E A/T being a new addition. The new Double Cab 2.8 Rogue A/T replaces the current Double Cab 2.8 Black Edition, while the new Double Cab 2.4 V A/T is an upgrade from the current Double Cab 2.4 L-Edition.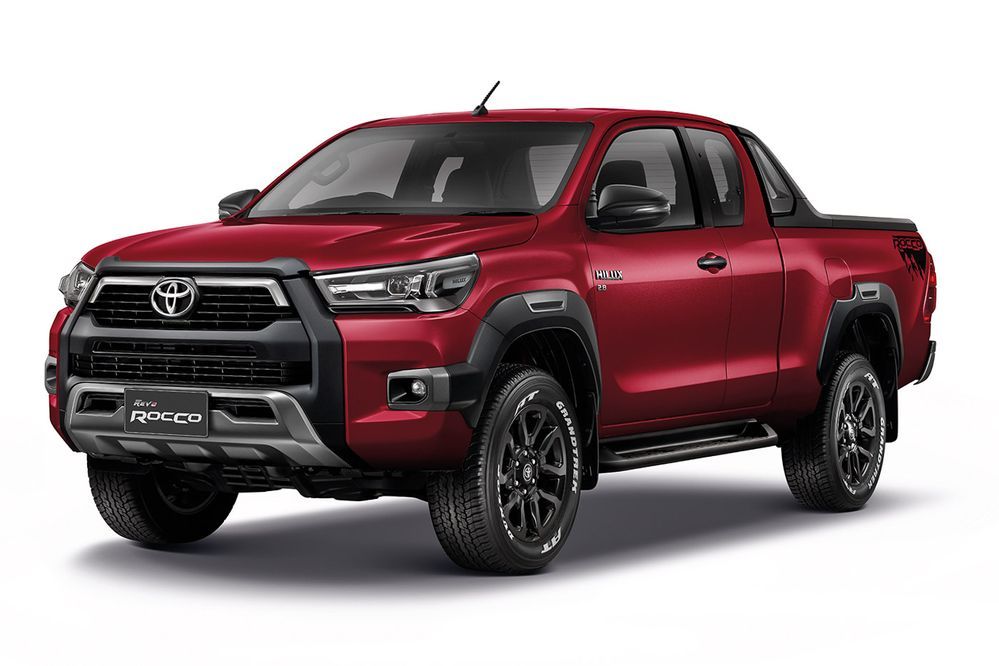 For those who prefer a manual transmission, the Double 2.4 G and Single Cab 2.4 will still be available.
Various styling elements of the new Hilux have been redesigned, such as the front bumper, grille, and also the foglamp bezel. For the flagship Hilux Double Cab 2.8 Rogue, there's a new bonnet moulding and skidplate while the base variants get new designs for the 17-inch and 18-inch alloy wheels.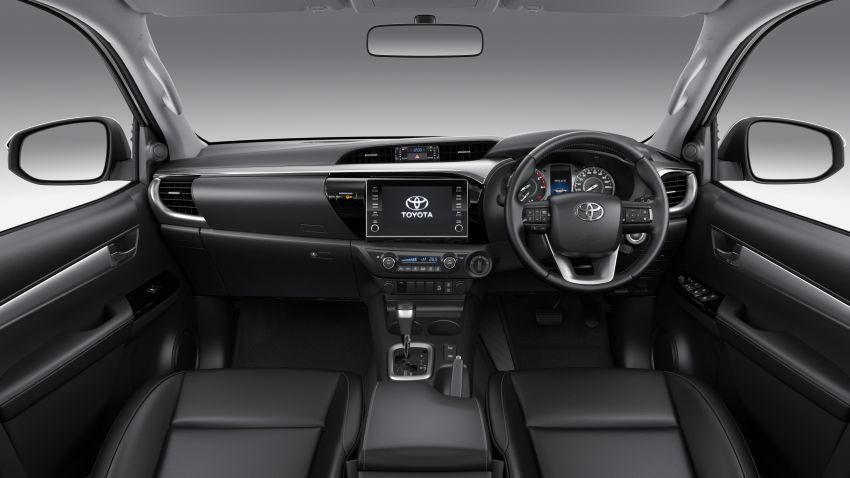 Inside, the notable change for the flagship variant is a new interior trim design, new meter design, addition of illuminated door trim garnish and a new key cover design. The base variants get a new meter design with additional information on the Multi Information Display (MID).
The 1G-FTV 2.8-litre turbodiesel engine has received improvements that raise both power output and torque. Maximum power output is now 204PS at 3,400 rpm (27PS increase), while maximum torque is 500Nm between 1,600 and 2,800 rpm (50Nm increase).
In line with Toyota's aim of making motoring safer and reducing accidents, many of its models are now getting the Toyota Safety Sense (TSS) system, including the Hilux. The TSS system consists of three systems: Pre-Collision System (PCS), Dynamic Radar Cruise Control (DRCC), Lane Departure Alert (LDA), with Yaw Assist.
2020 Isuzu D-Max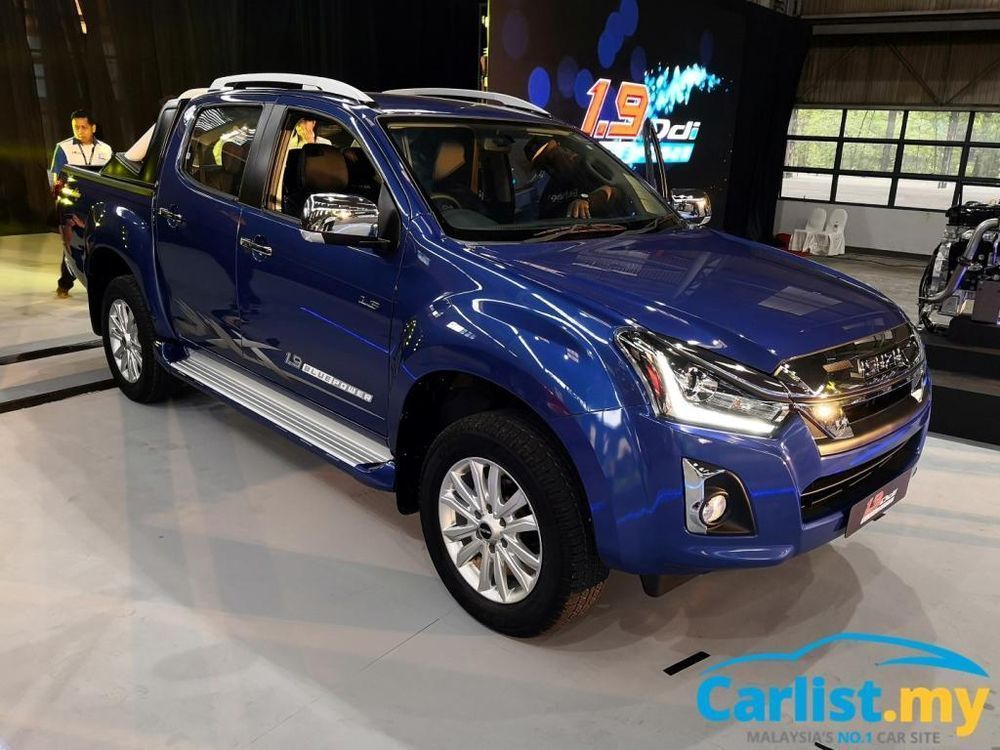 Besides the Hilux, another pickup truck that has also proven to be quite the workhorse is the Isuzu D-Max.
Launched a year ago, this is the third and most extensive facelift of the (RT50) D-Max which was first introduced in 2013, and after the first facelift in 2016 (RT85), and another minor update in 2018.
The new 1.9-litre Ddi Bluepower engine, dubbed RZ4E replaces the older 2.5-litre VGT (4JK1) turbodiesel and promises even better fuel economy (a longstanding trademark of Isuzu engines), bulletproof reliability, lighter weight, and lower emissions. The larger (4JJ1) 3.0-litre four-cylinder turbodiesel will continue to serve as the most powerful engine of the D-Max pickup range.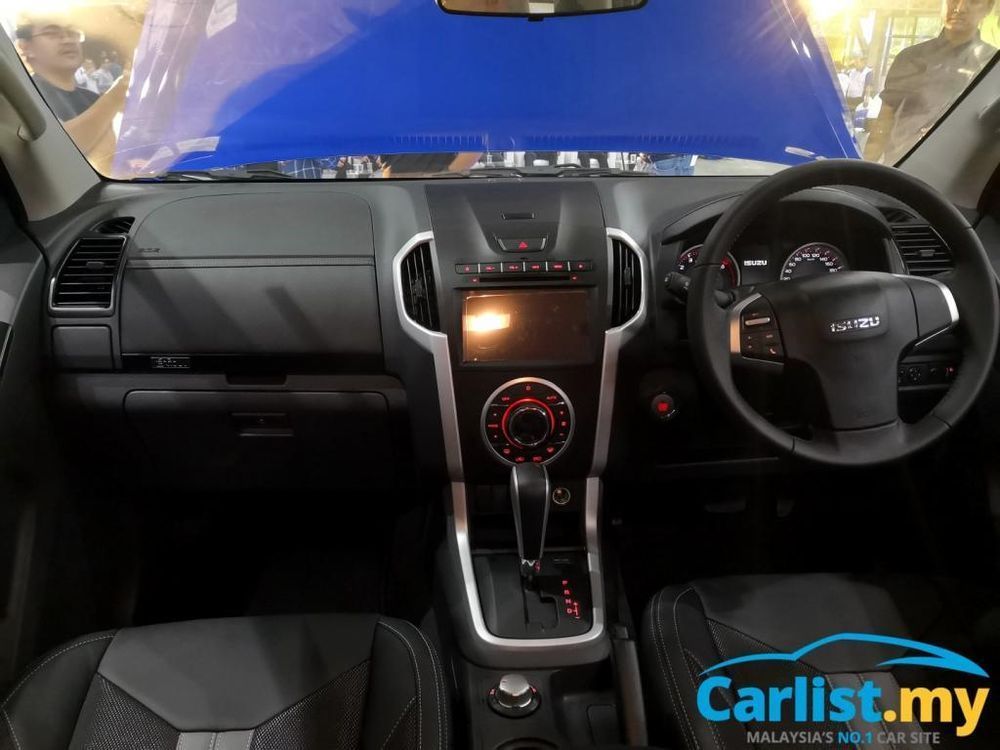 The new 1.9-Litre RZ4E engine develops 150PS @ 3,600 rpm (up by 10 percent over the 2.5L) and 350 Nm of torque between 1,800 rpm and 2,600 rpm (an improvement of 9 percent). The new engine is mated to new six-speed manual or automatic transmission.
All this while halving the road tax costs to RM399.20 (previously RM839.20 for the 2.5L) in Peninsula Malaysia. Similar (52 percent) reductions of road tax prices apply in Sabah and Sarawak too. The 1.9-litre Ddi Bluepower D-Max is also the first pickup truck in Malaysia to be conferred the Energy Efficient Vehicle (EEV) status by the Road Transport Department (JPJ).
The 3.0-litre variant, by comparison, produces 177 PS at 3,600 rpm and 380 Nm of torque between 1,800 and 2,800 rpm. The 3.0-litre engine is paired with a five-speed manual or automatic transmission.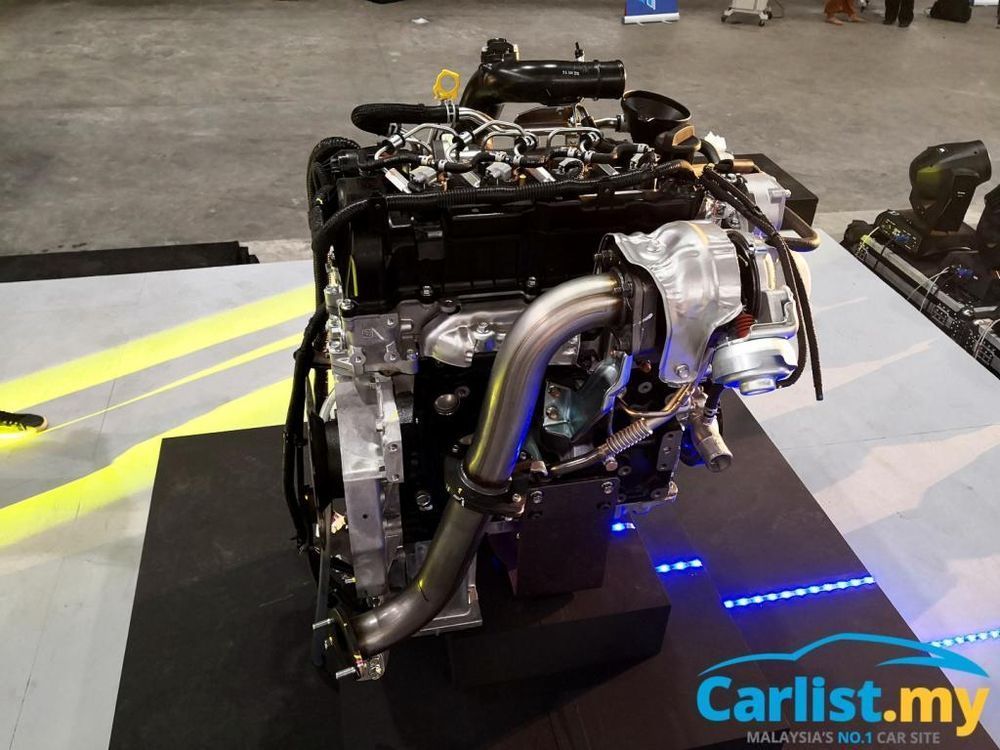 In terms of aesthetics, depending on variant, the new D-Max sports a redesigned front grille, new LED headlamp with Daytime Running Lights (DRL), and new fog lamp garnish design. Along the flanks, there are new 18-inch alloys wheels and sticker decals that run along the lower edge of the doors. Round the back, the major highlight is the new (optional) tailgate assist function which dramatically reduces the effort required to open/close the tailgate.
On the inside, the new D-Max receives newly designed leather seats and an 8-inch touchscreen infotainment system which is hooked up to an 8-speaker audio system. There's an additional USB charging port for the added convenience of rear seat passengers. Auto Start/Stop and auto-folding side mirrors are other notable highlights of the new model.
All variants are supplied with ABS, EBD, Brake Assist, Stability Control, Traction Control, and Hill-Start Assist as standard. All variants are also supplied with a minimum of two-airbags, except the 3.0-litre 4x4 AT-Premium variant, which receives a total of six-airbags.
2020 Mitsubishi Triton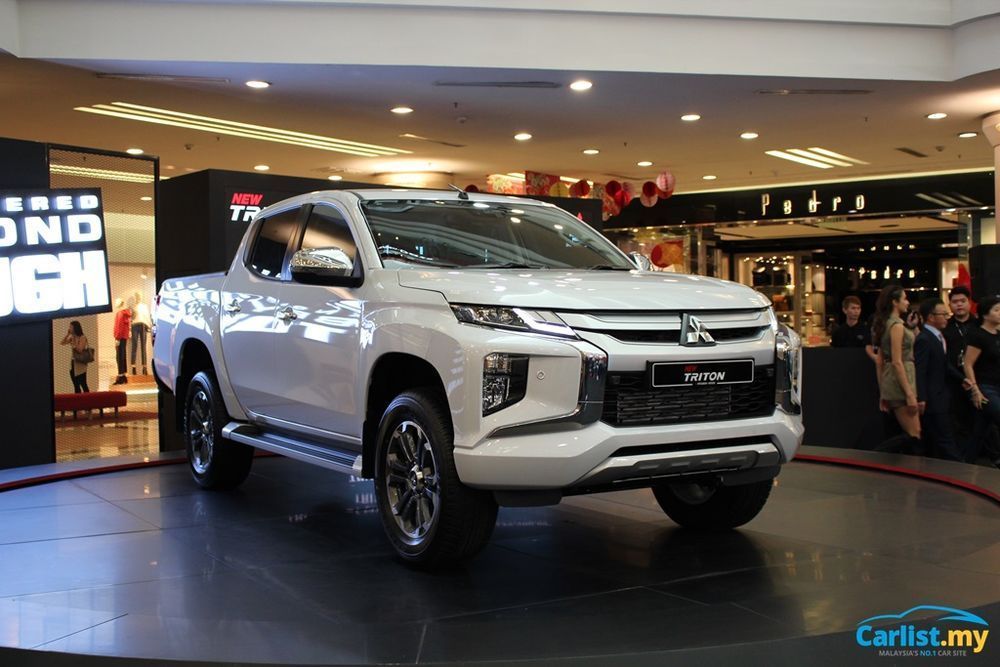 Available in five variants, the new model boasts - among other things - a comprehensive redesign of the exterior and interior, an expanded list of active safety features and more importantly, a far more sophisticated Super Select 4WD II drivetrain which comes with four selectable off-road modes.
Under the hood of the new Triton is the same 2.4-litre MIVEC turbodiesel engine. Although it's carried over from the previous Triton, it's not exactly an old engine as it was only introduced here in late 2016. It's still the only engine in its class to feature lightweight aluminium construction and MIVEC variable valve timing. As before, it makes 181 PS at 3,500 rpm and 430 Nm at 2,500 rpm. The engine is paired to either a 6-speed manual or a 6-speed automatic transmission; both are new for the Triton range.
The highlight of the drivetrain is Mitsubishi's Super Select 4WD II system which allows 4WD driving on both tarmac and off-road. Instead of the usual 2H, 4H, and 4L modes, the Super Select 4WD II system allows the driver to select between 2H, 4H, 4HLc, 4LLc - with Lc for locking centre differential. There's also a selectable off-road mode which optimises the drivetrain for sand, mud, gravel, or rocky terrain.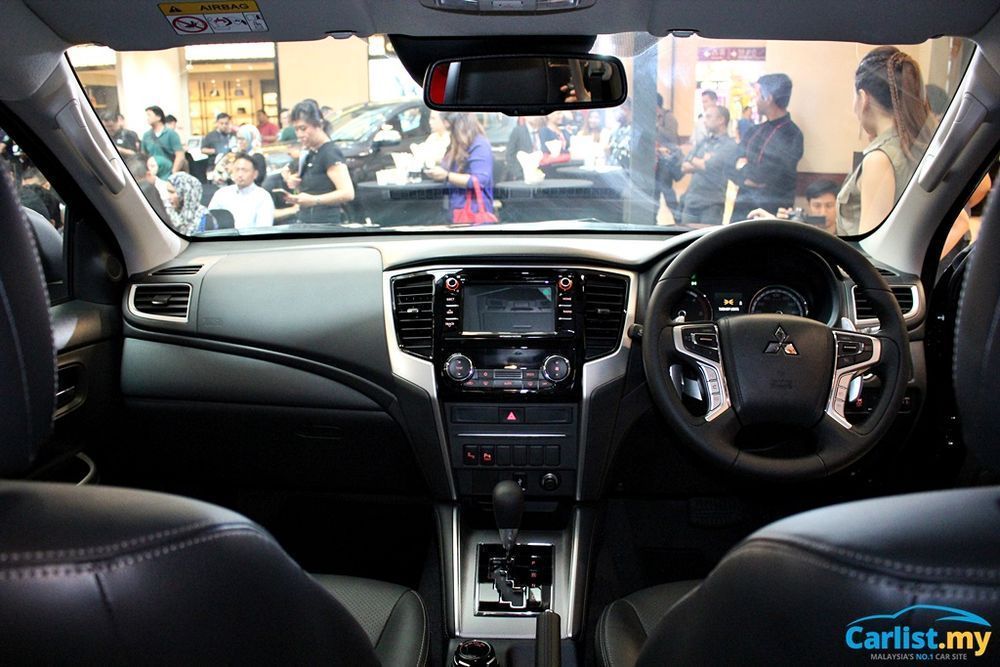 In terms of features, the Triton is quite generous, especially in the range-topping variant. You get Super Select 4WD (2H, 4H, 4HLc and 4LLc modes), Bi-LED automatic headlamps, LED daytime running lights, Automatic wipers, Apple Car Play and Android Auto support, Paddle shifters, Leather wrapped seats, Power adjustable driver's seat, Seven airbags, Forward Collision Mitigation (FCM), Blind Spot Warning, Lane Change Assist, Rear Cross Traffic Alert, Auto High Beam, Ultrasonic Misacceleration Mitigation System, and Front parking sensors.
If we are to compare these models, there is no denying the fact that the Hilux, Triton, and the D-Max are proven workhorses. In terms of their capabilities to go off-road, to transport things, and to be used to carry "barang" they all perform admirably.
The difference is actually in terms of the driving characteristics. Out of the three, the one that feels the most car-like is actually the Triton, due to how its chassis is setup and seat design.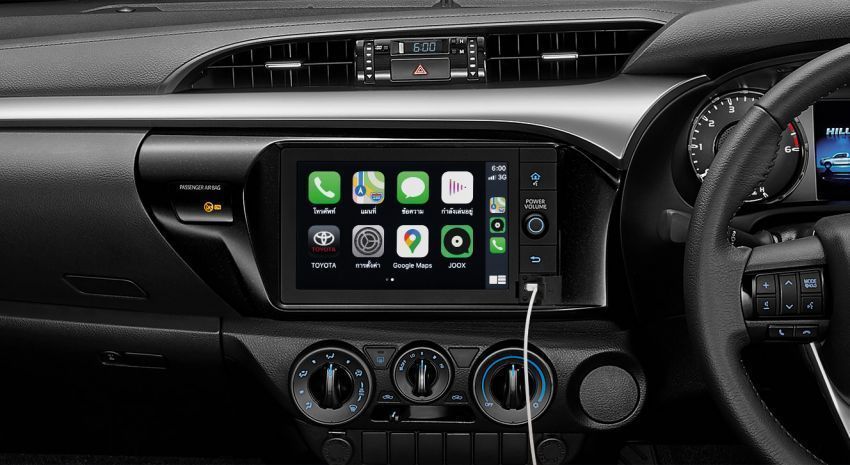 Since the Hilux and D-Max feel more like a typical pickup truck, those who are looking for a 4x4 for pure urban usage, and for "wayang" purposes, you are better off with the Triton.
Those who want pure power and hardiness may want to stick to the Hilux as well, because it probably has the best track record. Where the D-Max excels is in terms of fuel consumption, and cheap road tax.
Where convenience and practicality are concerned, all models are almost equal, and most necessities you find in the car like mobile phone connectivity, a user-friendly infotainment system, kick-ass safety features, and driver assistance, are available in all these models.
So, depending on your budget and purpose, the three most recent models here are well worth considering. Remember to test drive, and see which model tickles you in the right places.
---
---
---
---
Comments