PKP 3.0 2021 – Senarai Sekatan Jalan Raya (SJR) Di Sekitar Lembah Klang
Auto News Setelah kerajaan Malaysia mengumukan Perintah Kawalan Pergerakan di seluruh negara bermula 12 Mei 2021 sehingga 7 Jun 2021, pihak berkuasa telah meletakkan beberapa sekatan jalan raya (SJR) di sekitar Lembah Klang bagi memastikan orang ramai tidak melanggar SOP yang ditetapkan semasa PKP ini.
---
Bagi sesiapa yang ingin melakukan pergerakan rentas daerah atau rentas negeri ketika waktu ini, anda perlu mengisi Borang Permit Pergerakan PKP atau Borang Permit Pergerakan PKPB yang boleh dimuat turun dari laman Facebook Rasmi Polis Diraja Malaysia.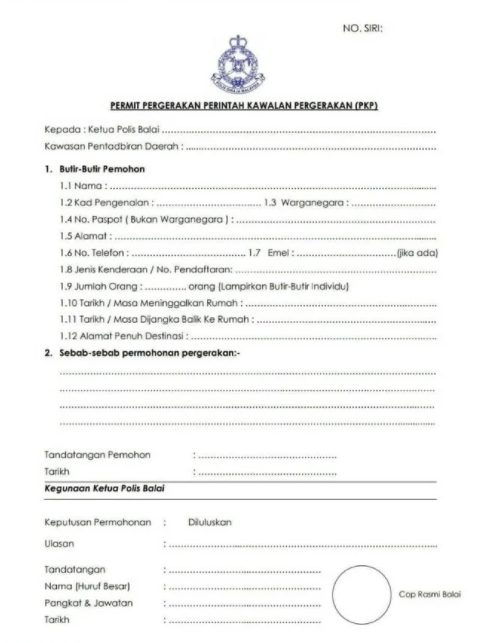 Walau bagaimanapun, orang ramai yang mempunyai surat kebenaran untuk keluar bekerja tetap dibenarkan untuk melalui jalan-jalan tersebut. Bagi mereka yang ingin merentas daerah bagi tujuan kerja, anda tidak perlu untuk mengemukakan permit kebenaran daripada PDRM. Cukup sekadar mempunyai surat kebenaran bekerja yang dikeluarkan oleh Kementerian Perdagangan Antarabangsa dan Industri (MITI). Namun jika anda ingin merentas negeri, anda perlu untuk mendapatkan kebenaran daripada pihak polis dengan mengisi borang ini dan dapatkan cop daripada balai polis yang berdekatan.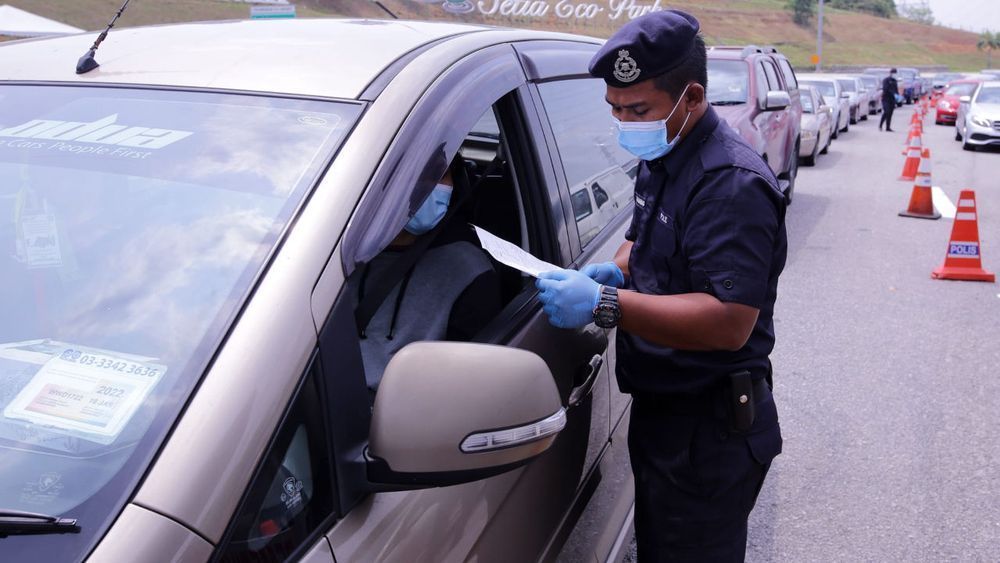 *Kredit foto: Astro Gempak
Meskipun mempunyai surat kebenaran untuk bekerja ketika PKP, namun kalau boleh, orang ramai lebih sanggup untuk mengelak SJR oleh kerana kesesakan yang bakal dialami bagi menempuhi jalan tersebut. Jangan risau, kita ada senaraikan beberapa SJR yang dikenakan di beberapa kawasan di Kuala Lumpur dan Selangor.
Lokasi Sekatan Jalan Raya di Kuala Lumpur:
IPD Cheras
Jalan 1/91 Taman Shamelin

SIRIM Lebuhraya Bukit Jalil Puchong
IPD Dang Wangi
Jalan Lok Yew

Laluan Jalan Ampang

Laluan Jalan Sultan Ismail

Jalan Kuching
IPD Brickfields
Jalan Burhanuddin Helmi (Hadapan Balai Polis TTDI)

Jalan 2/149 Sri Petaling

Taman Sri Sentosa 12, Jalan Sri Sentosa

Jalan Semantan

Jalan Maarof, Bangsar

Hadapan Pondok Polis NU Sentral

Jalan Sri Hartamas (Menghala ke TTDI)
IPD Sentul
Jalan Sentul Pasar (Hadapan Darul Hidayah)

Hadapan Balai Polis Kepong

Bawah Highway Duke-Manjalara Masjid Imam Al-Ghazali
IPD Putrajaya
Lebuh Sentosa Susur Keluar Ke MEX Highway (KM4.0)

Exit 2A Persiaran Utara (Susur Keluar ke Hospital Serdang)

Persiaran Selatan Susur Keluar ke Dengkil

Exit 3 Persiaran Utara (Susur Keluar ke Puchong – KM1.0)
IPD Wangsa Maju
Jalan 2/27A Wangsa Melawati
JSPT KL
Tol Jalan Duta (Susur Keluar/Susur Masuk)

Jalan Sungai Besi (TUDM Lama)
Lokasi Sekatan Jalan Raya Di Selangor
Kajang
Hadapan Balai Polis Beranang

Susur keluar Plaza Tol Bandar Seri Putra

Jalan Broga-Mantin

Susur keluar Plaza Tol Kajang

Plaza Tol Eco Majestic

Susur keluar Plaza Tol Bangi

Lebuh Raya Besraya berhampiran Minlon
Serdang
Lebuhraya Bukit Jalil di Bandar Kinrara 5

Hadapan Telekom Taman Tenaga, Jalan Puchong Lama menuju Jalan Klang Lama

Jalan Putra Permai

Jalan Utama Seksyen 8, Jalan Serdang Raya
Shah Alam
Susur keluar dan susur masuk Plaza Tol Shah Alam

Susur keluar dan susur masuk Plaza Tol Setia Alam
Subang Jaya
Plaza Tol USJ 8, Lebuhraya ELITE

Plaza Tol Putra Heights
Ampang Jaya
Laluan berhampiran Apartmen Desa 288

Jalan Pandan Indah-Cheras dari arah Lebuh Raya Sungai Besi ke Ampang

Jalan Lingkaran Tengah 2 (MRR2) berhampiran stesen minyak Petronas Klang Gates dari arah Gombak ke Ampang
Sungai Buloh
Susur keluar dan susur masuk Plaza Tol Hospital Sungai Buloh

Susur keluar dan susur masuk Plaza Tol Rawang

Jalan Selangor-Kepong KM12

Jalan Sungai Buloh-Shah Alam
Kuala Langat
Tol ELITE, Bandar Saujana Putra

Jalan Batu 7, Sijangkang

Tol SKVE

Jalan Seri Cheding

Hadapan Petronas Olak Lempit.
Petaling Jaya / Damansara
Susur keluar Tol Sungai Buloh

Laluan masuk Tol Kota Damansara

Susur keluar Tol Damansara

Susur keluar Tol Subang
Sepang
Laluan keluar dan masuk Nilai-Bandar Baru Salak Tinggi

Tol Serimas/Pekan Salak

Jalan Salak-Kampung Jijan
Gombak
Gombak (sekatan jalan raya) Plaza Tol Gombak di kedua-dua arah

KM12 dari Rawang ke Kuala Lumpur/dari Kuala Lumpur ke Rawang

Plaza Tol Rawang Kedua

Di Jalan Desa Aman Puri, Desa Jaya
Klang Selatan
Susur Majlis Perbandaran Klang

Plaza Tol KESAS

Jalan Langat

Kampung Delek

Jalan Dato Ahmad Sidin
Klang Utara
Lebuhraya Selat Klang Utara Baru (hadapan AEON Mall Bukit Raja)

Plaza Tol Bukit Raja (dari Klang ke Shah Alam)

Batu 10 Jalan Kapar (dari Kuala Selangor ke Klang)
Lokasi Penutupan Jalan Di Selangor
Hulu Selangor
Tanjung Malim – Jambatan sempadan Tangjung Malim-Hulu Bernam (Laluan Alternatif – Jalan Kuala Lumpur-Ipoh)

Laluan Kilometer (KM) 31.5 Jalan Kuala Lumpur – Ipoh, di sempadan Hulu Selangor-Rawang (Laluan Alternatif – Jalan Rawang Bypass atau Jalan Sungai Buaya)

Laluan KM13 Jalan Sungai Tua-Ulu Yam di sempadan Hulu Selangor-Selayang

Jalan Koskan ke Kuala Garing.
Kajang
Jalan Genting Peras

Jalan Bangi-Nilai.
Klang
Jambatan Musaeddin (Jalan Batu Tiga Lama) (Laluan Alternatif – Jalan Pos Baru, Bulatan Kota, Jambatan Kota, Tengku Kelana dan Kampung Jawa)

Jambatan Raja Nala (Jalan Tanjung Syawal) (Laluan Alternatif – Jalan Goh Hock Huat, Jalan Mantin, Bulatan Kota, Jambatan Kota dan Bukit Tinggi

Kilometer 3.5 Jalan Shapadu Lama (Laluan Alternatif – Lebuhraya Shapadu Selat Klang Baru, Kapar, Meru, Klang, Setia Alam dan Shah Alam

Kilometer 3.7 Jalan Shapadu Lama Ke Rantau Panjang (Laluan Alternatif – Jalan Spadu Lama, Jalan Kapar, Lebuhraya Shapadu
Gombak
Jalan Gombak Lama Batu 24, dari sempadan Bentong menghala ke Selangor

Jalan Ulu Yam dari Sungai Tua menuju Batang Kali, sempadan Daerah Hulu Selangor dan Gombak.
Berikut merupakan senarai Sekatan Jalan Raya di sekitar Lembah Klang serta beberapa penutupan jalan di Selangor. Jika tiada sebab untuk keluar rumah, seeloknya duduklah dirumah sahaja. Kes COVID-19 pun sedang mencanak naik sekarang. Kalau perlu untuk keluar, rancang perjalanan anda sebaik-baiknya dan berhati-hatilah di jalan raya. Juga perlu diingat pihak PDRM akan menilai dan menukar dari semasa ke semasa lokasi SJR dan penutupan jalan.


For more latest car news, reviews, car buying guides and videos visit us at Carlist.my Auto News.
Check out all the best new & used car deals in Malaysia at Carlist.my.
Sell your car fast with the best offer? Visit us at CarlistBid.my.
Get the latest new car promotions at New Car website now.
---
---
---
Comments