PKPD/EMCO Selangor - MITI Benar Lebih Banyak Sektor Beroperasi
Auto News Selepas 5 hari Perintah Kawalan Pergerakan Diperketat (PKPD/EMCO) dilaksanakan di beberapa mukim di Selangor dan beberapa lokaliti di Kuala Lumpur, Kementerian Perdagangan Antarabangsa dan Industri (MITI) telah memberi kebenaran kepada lebih banyak sektor untuk beroperasi meskipun berada dalam kawasan PKPD di Selangor.
---
Sebelum ini, PKPD yang dilaksanakan pada 3 Julai ini sehingga 16 Julai ini hanya membenarkan kilang bahan makanan dan keperluan asas harian seperti beras, roti putih, gula, minyak masak, tepung gandum, susu segar, susu tepung bayi, ubat-ubatan dan topeng muka untuk beroperasi.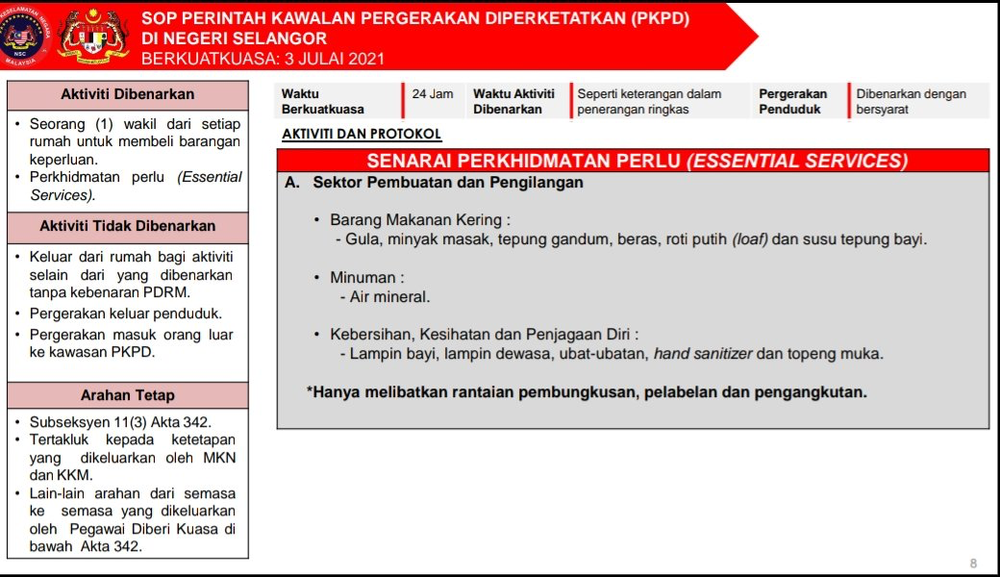 Tetapi kini, sektor seperti sektor elektrik dan elektronik (dan rantaian bekalannya), sektor aeroangkasa (penyelenggaraan, pembaikan dan pemulihan), sektor mesin dan peralatan yang khusus kepada pengeluaran produk kesihatan dan makanan serta syarikat pembuatan makanan dan minuman utama turut dibenarkan untuk beroperasi di mukim yang dikenakan Perintah Kawalan Pergerakan Diperketatkan (PKPD) di negeri Selangor.
Keputusan tersebut dibuat setelah perbincangan dilakukan menerusi mesyuarat Kabinet yang dipengerusikan Perdana Menteri, Tan Sri Muhyiddin Yassin hari ini, bersama MITI, Menteri Kewangan dan Menteri di Jabatan Perdana Menteri (Ekonomi). Langkah tersebut diambil kerana kerajaan berpendapat bahawa sektor-sektor berkenaan dilihat sebagai sektor penting dalam rantaian bekalan antarabangsa dan tempatan.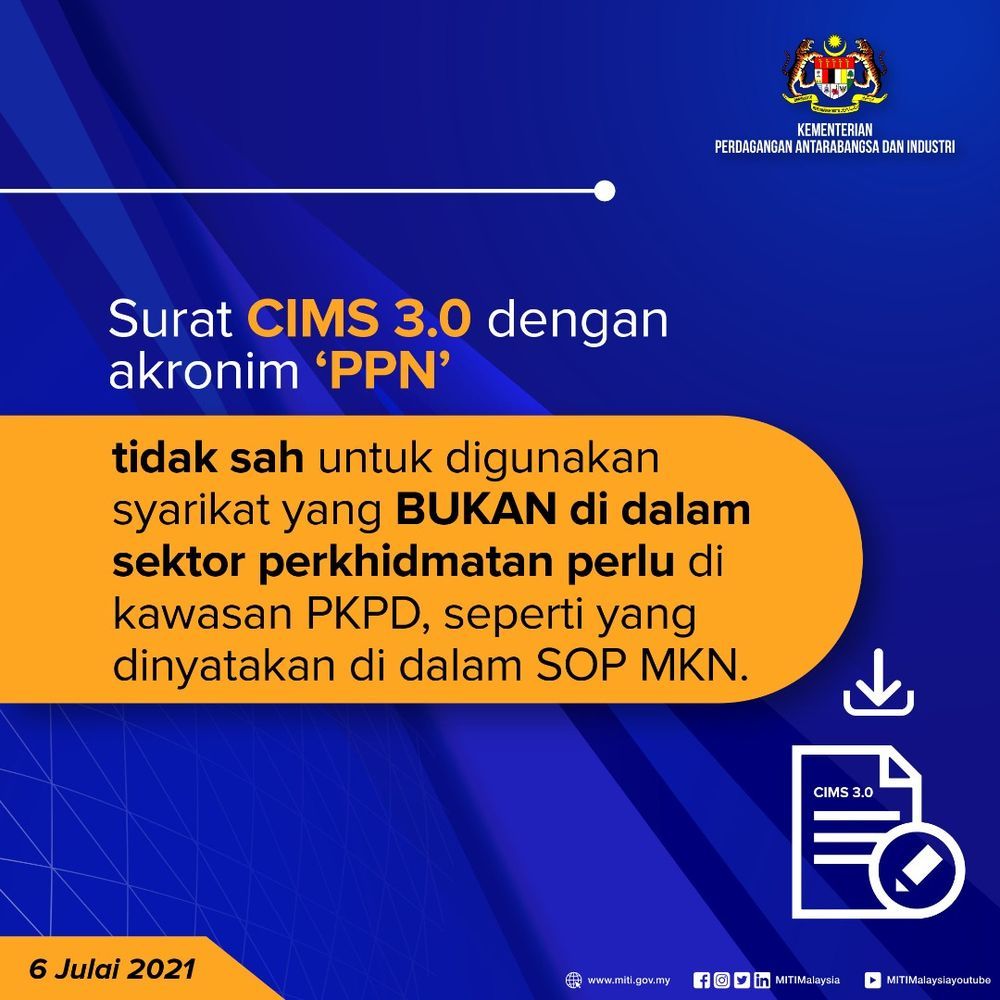 *Sumber: MITI
MITI menambah, syarikat-syarikat yang tersenarai sebagai sektor dibenarkan boleh memulakan semula operasi dengan menggunakan surat kelulusan COVID-19 Intelligent Management System (CIMS) 3.0 sedia ada yang mempunyai akronim 'PKP 3.0' serta bertarikh Jun 2021 ke atas.
Meskipun dibenarkan beroperasi, syarikat-syarikat tersebut wajib mematuhi prosedur operasi standard (SOP) Pengilangan dan Pembuatan di kawasan PKPD. Mereka perlu mematuhi kapasiti operasi pada kadar 60 peratus bagi pekerja di premis dan 40 peratus lagi pekerja untuk melaksanakan amalan bekerja dari rumah.
Senarai produk makanan dan minuman utama yang dibenarkan beroperasi disenaraikan dalam prosedur operasi standard (SOP) Pengilangan dan Pembuatan PKPD Selangor, melalui laman web rasmi MITI.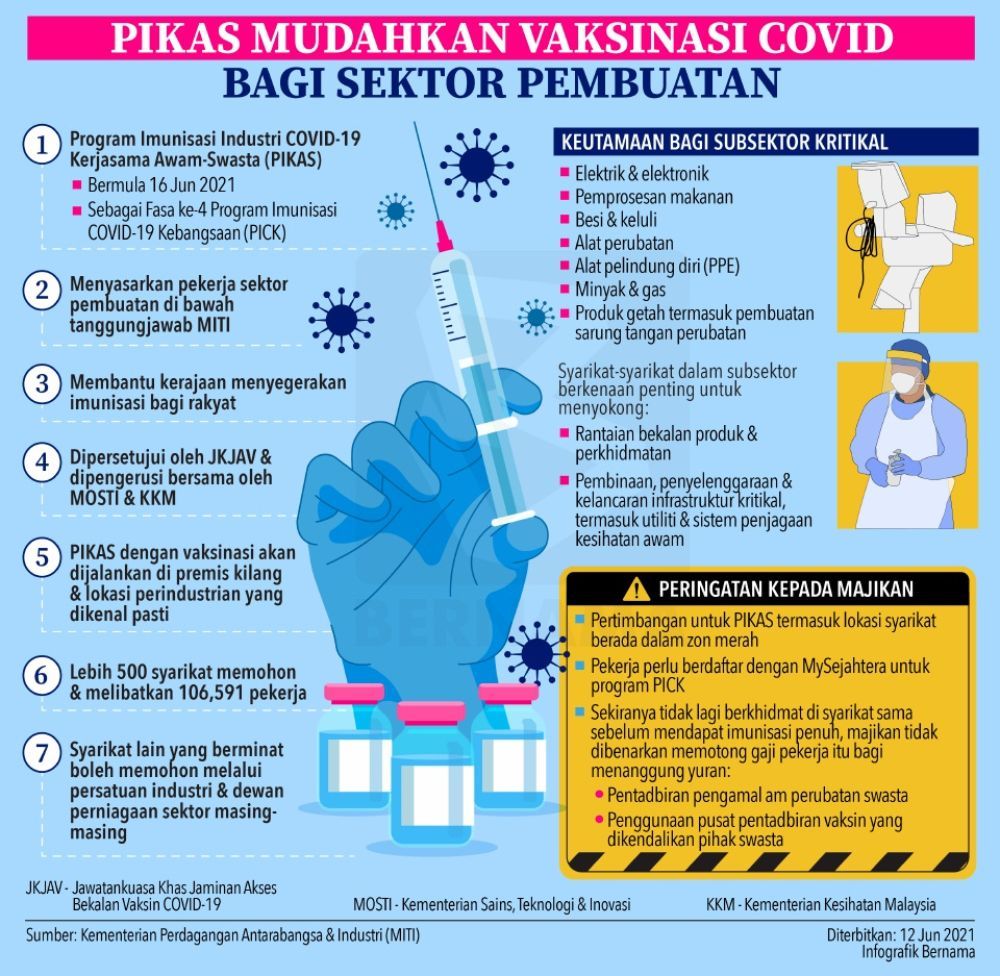 *Kredit infografik: Bernama
Bagi melindungi kesihatan pekerja dan menjamin kelangsungan ekonomi negara, MITI juga akan memastikan program vaksinasi dalam kalangan pekerja sektor pembuatan akan dipertingkat dan dipercepatkan melalui Program Imunisasi Industri COVID-19 Kerjasama Awam-Swasta (PIKAS) yang bermula 16 Jun 2021.
Kelmarin, laporan media ada menyebut bahawa 60 peratus kes kluster tempat kerja pada bulan pertama total lockdown datang dari kilang. Malah, berdasarkan taklimat berhubung perincian kluster yang disampaikan oleh Ketua Pengarah Kesihatan Tan Sri Dr Noor Hisham Abdullah pada hujung minggu lalu, sebanyak 18,065 kes berkait dengan kilang dalam tempoh bermula 1 Jun hingga 1 Julai, iaitu sebanyak 436 kluster dikesan di tempat kerja dengan 227 dari sektor pembuatan. Data tersebut juga mendapati 85 kluster sektor pembuatan terletak di Selangor.
Walau bagaimanapun, Menteri Perdagangan Antarabangsa dan Industri, Datuk Seri Azmin Ali yang kini berada di Qatar telah membidas kenyataan tersebut pada minggu lalu dengan berkata ianya tidak adil untuk menyalahkan kilang atas peningkatan jumlah kes COVID-19. Menurutnya, kes sektor pembuatan hanya merangkumi sebahagian kecil daripada keseluruhan kes yang dilaporkan.



For more latest car news, reviews, car buying guides and videos visit us at Carlist.my Auto News.
Check out all the best new & used car deals in Malaysia at Carlist.my.
Sell your car fast with the best offer? Visit us at CarlistBid.my.
Get the latest new car promotions at New Car website now.
---
---
---
---
Comments