"Proton X50 Feels Like a Porsche Macan" - When The Hype Is Over!
Insights When the hype is over-board - we break down fact from fiction about the 2020 Proton X50.
---
Malaysians have been going bananas over the Proton X50 for some time now, and the recent preview of the vehicle has taken this craze into overdrive.
While the media have tried their best to relay accurate information regarding the vehicle to Malaysians, there just seems to be no end to speculation as well as misinformation.
Until there is an official launch, people will continue to talk and hypothesize the vehicle based on what they know, and while this is good for hype, it has created some very creative and interesting self assesed information.
Just by looking at the X50 community pages on Facebook, we can see some very interesting postings. We thought we would take a look at some of them and debunk what has been said.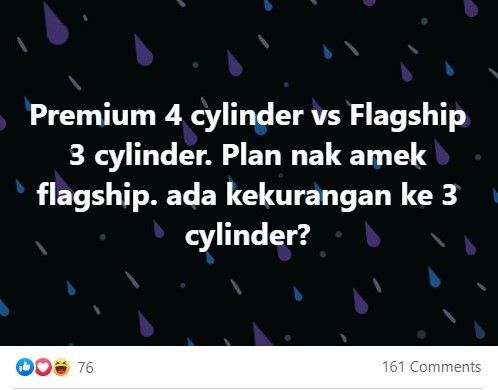 Proton X50 engine how many cylinders?
All variants of the Proton X50 will come with a 3-cylinder turbocharged engine. The only difference is that the top-spec flagship model will have a higher output thanks to the way fuel is delivered not the number of cylinders it has.
The direct-injection engine variant that comes in the Flagship model churns out a healthy 174 PS and 255 Nm of torque – impressive figures for an engine of this size. As opposed to this, the port injection engine variant makes 150 PS and 226 Nm of torque.
What is the difference between direct injection and port injection? Don't worry, we have you covered and you can read all about it here. It's amazing really how the way fuel is delivered can change things.
There's also some who say that three-cylinder engines naturally resonate a lot of vibrations, but to be honest, there's little of that in the modern 3 pot and the clatter that you hear when you are outside the car is more of a fuel delivery system matter rather than cylinder count.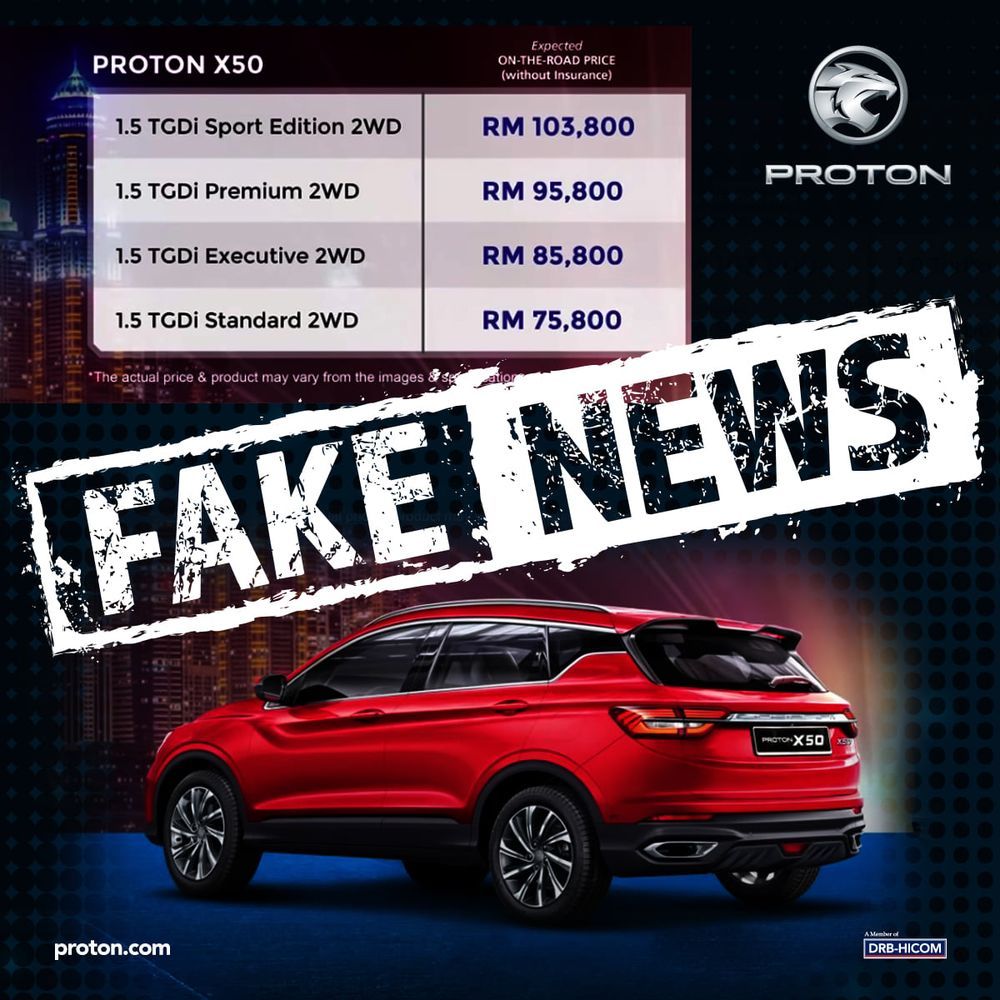 Proton X50 price?
Teasing a much-anticipated vehicle and then previewing it without slapping a price tag on it creates its own set of problems. With many eager to purchase the car based on the preview, many have just resorted to speculating, guessing and even coming out with their own prices.
Proton Cars have actually had to release a statement indicating that the so-called price in the picture above is wrong and in the era of the world wide web, companies must address fake news to help people from getting bamboozled. We know how you can solve this once and for all Proton, just release the price-lah.
Whether the picture above was an actual leak remains to be seen, but what if the prices of the X50 is as mentioned above? Yay or nay? Looks broad enough just like how Proton said it would be.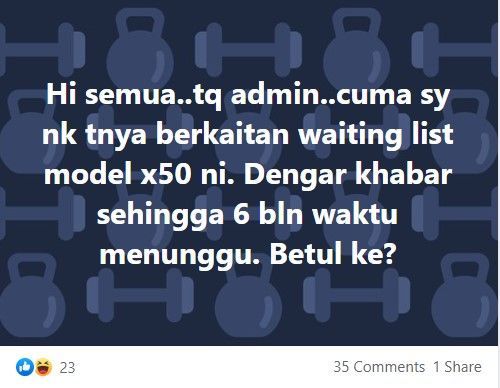 Will there be a waiting list?
With the astronomical amount of interest shown, it's most likely that there will be. Proton has said that while their target is to sell 4,000 units of the X50 for the rest of this year, their plant in Tanjung Malim can produce 8,000 units up until the last minutes of 2020.
If we look at the production numbers of the CKD X70 which was 1,800 units a month, then Proton seems to be conservative with their X50 production numbers coming in at around 1300 units a month. Even at those conservative numbers, there's no chance that everyone will get theirs by the end of the year because if the rumours are true, more than 10,000 bookings have been made.
Even if half of them fail to get their loans approved, it is still a big amount and we're nowhere near the launch either it seems, so for those who will be getting their X50 at a discounted rate because of the SST tax break , then congratulations, but for those who won't because their cars will come post December 31, 2020, Proton has mentioned that they will inform their customers through dealers on when they will be getting their X50 as well as whether they managed to utilise the tax break incentive - good luck everyone.

Proton X50 feels like a Porsche Macan...
Proton X50 fans are getting so excited, they've been circulating posts from Geely CoolRay Owners Club Philippines, where a CoolRay owner posted that the Proton X50's Phillipino twin feels like a Porsche Macan. We're not X50 haters or anything because we love the car and are proud of it, but saying that the Proton X50 feels like an RM450k Porsche is a bit much.
The Proton X50 will feel premium and will probably put smiles on owners faces for many years but don't get disappointed when you step into a Porsche Macan and feel like it is miles better than an X50. The problem with overhyping is that it tends to disappoint people so just let it be and take it as one of the best Proton cars ever made. At the very least, it'll definitely make P2 (no mentioning of names of course) feel more budget than ever.
All in all, we too can't wait to get the chance to drive the Proton X50. Why? To put it simply where else can you find a fully petrol-powered, new RM100k-ish (remember no price yet, just prediction) car in Malaysia that has 174PS and 255Nm of torque? Or the very least an RM75k-85k new car that has 148PS and 226Nm of torque?
---
---
---
---
Comments