Review – The 2016 Mazda CX-3 Diesel You Can't Have, Yet
Reviews Compact SUVs have been all the rage over the past couple of years, probably due to the fact that more and more motorists are looking for a vehicle in which they feel safer than being in a sedan or hatchback.
If we look at the Malaysian market, many compact SUV owners with whom we spoke mentioned that the deteriorating road conditions, the growing number of irresponsible drivers, and even the unpredictable tropical weather had them wanting a taller vehicle with better visibility.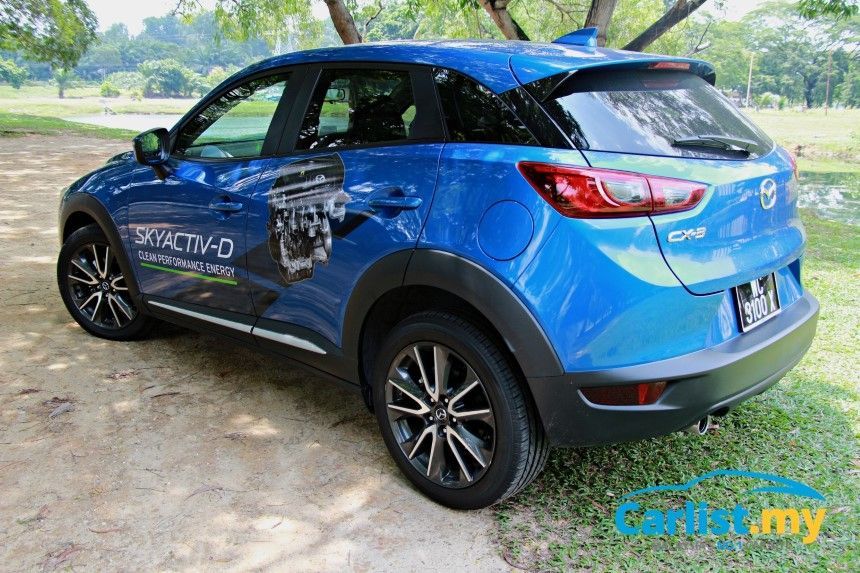 However, since full blown SUVs are too big and difficult to manoeuvre for this group of motorists, compact SUVs tick the right boxes for them. In realising this new trend and growing demand, almost every brand has a compact SUV to offer in their product portfolio.
And among all the models introduced, one particular model stood out like how Michael Jackson stood out among the other members of the Jackson 5 – the Mazda CX-3.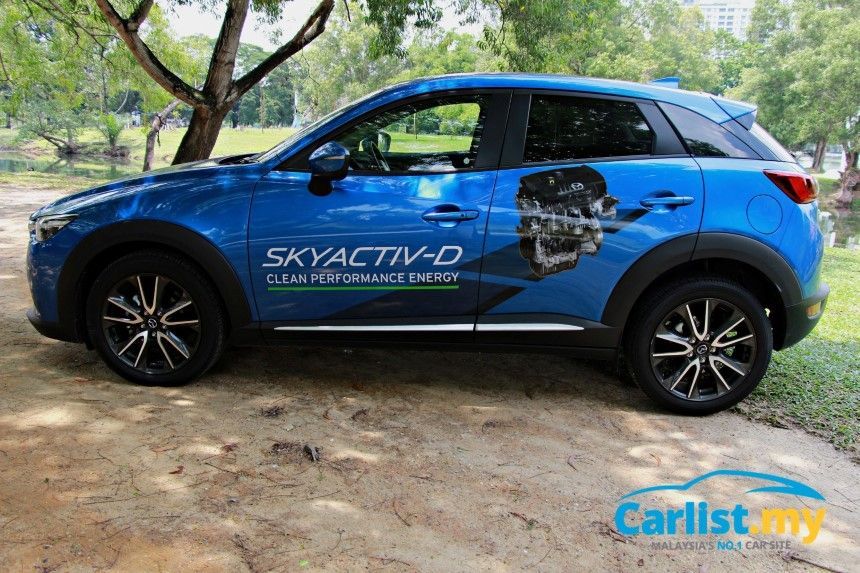 Featuring a stunning design, impressive build quality, and a very fun and engaging driving experience, many experts described it to be the best thing one can buy for under RM140,000.
Even though it asks more than the CX-5, Bermaz Motors, the authorised distributor of Mazda vehicles in Malaysia has had no issues in clearing whatever allocation it has so far.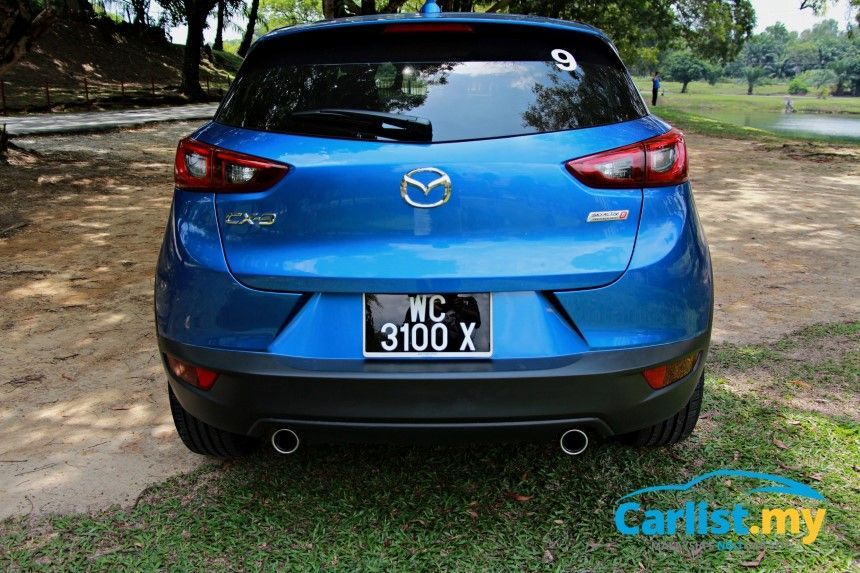 But while we were eagerly awaiting the arrival of the locally assembled version which is expected to be introduced in November, the company surprised us by showing a version of the CX-3 which we thought we will never see – the 1.5-litre SkyActiv D diesel variant.
Yet to officially go on sale; we managed to have a short stint with the CX-3 diesel over a couple of days recently, and we have to say that it is quite an interesting proposition.
Specifications for Mazda CX-3 1.5-litre SkyActiv D
Price: Not for sale yet
Engine: SkyActiv-D 1.5-litre diesel with single variable geometry turbo
Power: 105 PS @ 4,000 rpm
Torque: 250 Nm @ 1,500 – 2,500 rpm
Transmission: SkyActiv-Drive 6-speed automatic
Safety: 6 airbags, electronic stability control (DSC), traction control (TCS), anti-lock brakes (ABS), brake assist (EBA), Electronic Brake Force distribution (EBD), hill start assist (HLA), ISOFIX (rear)
Origin: Fully imported from Japan
Overview
Bermaz first showcased the CX-3 1.5L SkyActiv-D at the official launch event of the diesel variants of the CX-5 and Mazda 6 last month. However, the company said that it is still being evaluated and tested to see if it really suits our market.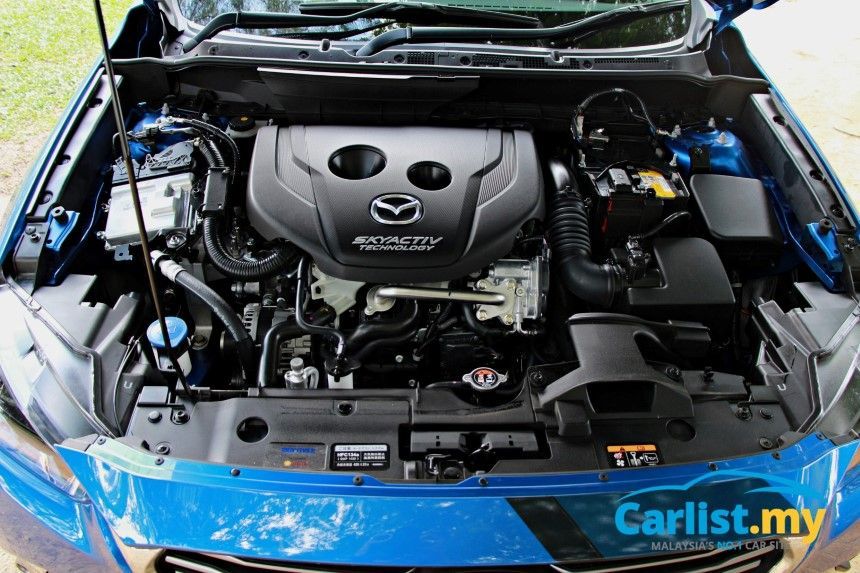 Specs wise, the model you're looking at now is similar to the petrol variant being sold here, with standard features like:
Automatic air-conditioning
Half-leather upholstery
7-inch touch screen full colour MZD Connect infotainment system with 6 speakers, Bluetooth and USB and reverse camera
Paddle shifters
LED headlamps with integrated LED daytime running lights
LED tail lights
Power-operated tilt and retractable sunroof
Keyless entry system with engine push-start button
Heads-up display
Exterior
On the outside, there were no unique features to distinguish it from the petrol variant. From the lights, grille, bumper, rims and all, the diesel variant is identical with the latter.
And as we mentioned in the review of the petrol variant, the CX-3 has the smallest body in its class (putting aside the 1.5-litre Ford EcoSport and 1.6-litre Peugeot 2008), measuring about 20 mm shorter than the HR-V and ASX, about 5 mm narrower and significantly lower than either models. Its 2,570 mm long wheelbase is a 100 mm and 40 mm shorter than the ASX and HR-V respectively.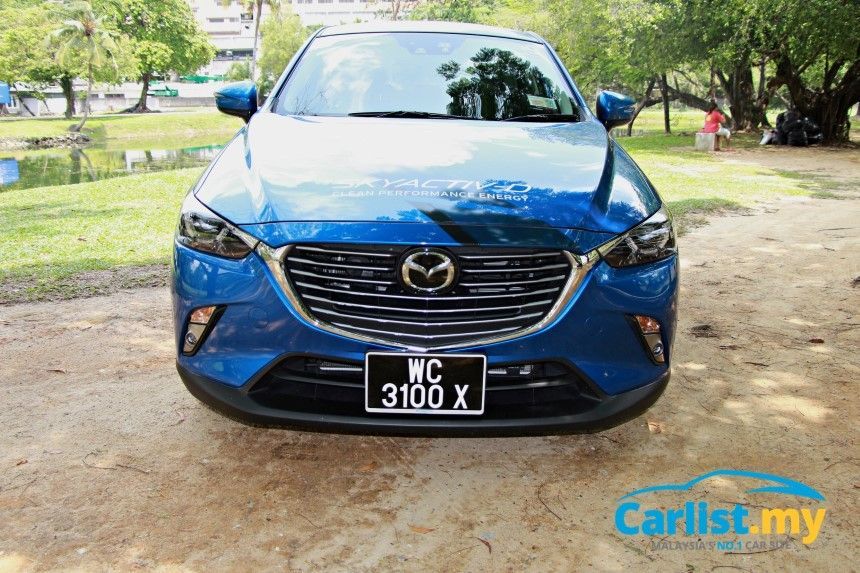 So, if you are looking for a vehicle that is taller and bigger, the ASX or HR-V are still the better choice, but as far as looks go, the CX-3 beats all of its rivals by miles. In fact, the CX-3's design remains its biggest strengths.
Interior
On the inside, the cabin feels premium, and comprises high quality material everywhere you set your eyes or hands on.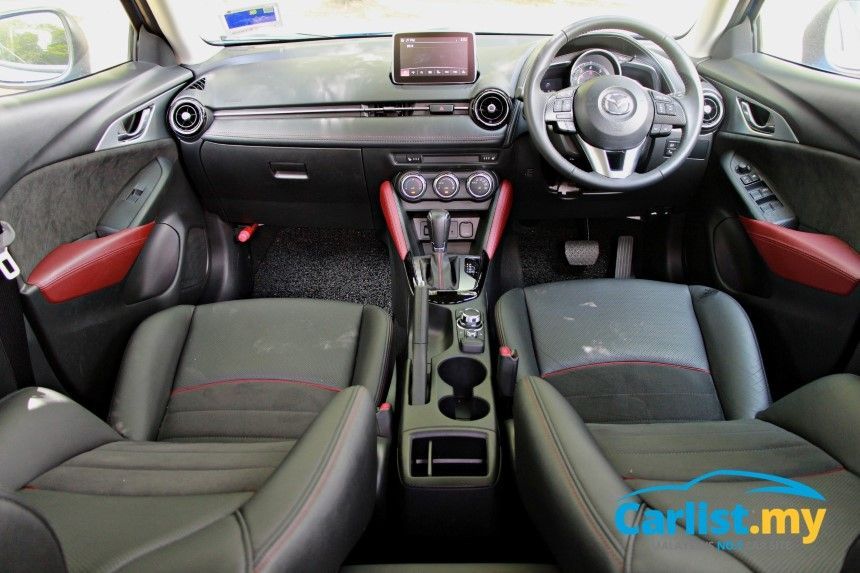 However, as good looking and well-built as it is, the CX-3's cabin lacks space. Storage compartments and also head, as well as leg room come at a premium.
Since the writer embarked on a journey with his family of three, all it took was a baby seat to cover half of the rear seats. The most the rear can take is three children or two mid-sized adults.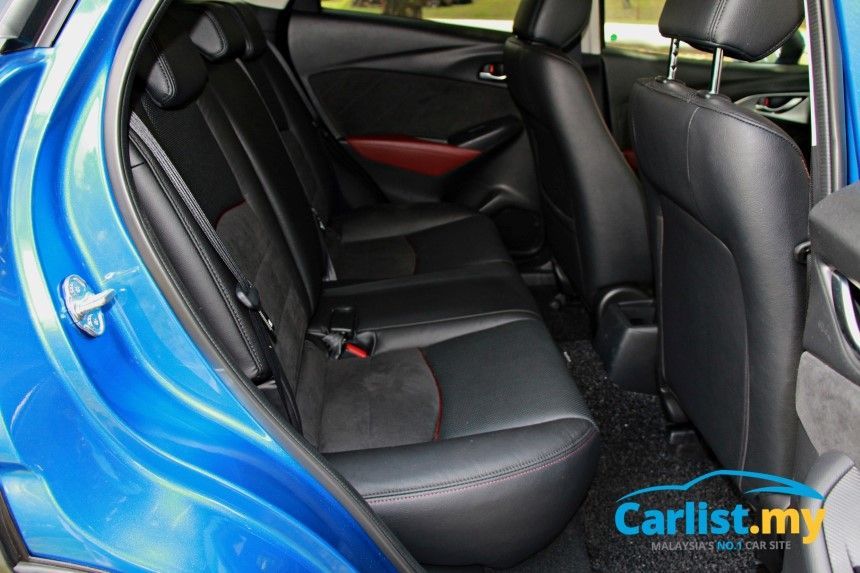 Add dad and mom in front and the CX-3's cabin space will already reach its limits. So, it is not really what you would want if space is your utmost priority.
Plus, there is no console box to keep your belongings. In fact the only way to keep your valuables away from prying eyes is to keep them inside the tiny glove box.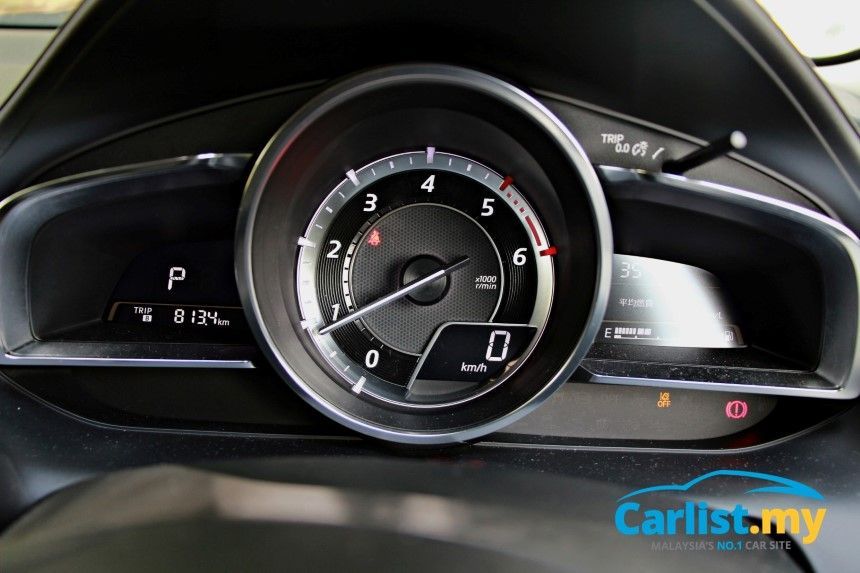 The seats are half-leather, just like the HR-V but the CX-3 uses higher grade fabrics, almost suede-like material. The dashboard and instrument cluster on the other hand, is made of with similarly high grade metallic materials. At night, it is illuminated by a very expensive looking white glow that radiates out from the centre.
But in terms of equipment, the CX-3 is generous. There is a 7-inch touch screen, two USB slots, decent audio, and the BMW i-Drive-ish dial on the centre stack to ease the process of accessing all sorts of information via the screen. Boot space came at a bargain as well, but the rear seats could be folded flat.
How does it drive?
The diesel variant of the CX-3 has a few significant differences compared to the petrol variant.
The first thing which we noticed while driving the diesel version is that it packs more punch than its petrol-powered sibling at low rpm. Since maximum torque was available from 1,500rpm itself, the way it accelerated was nothing short of impressive.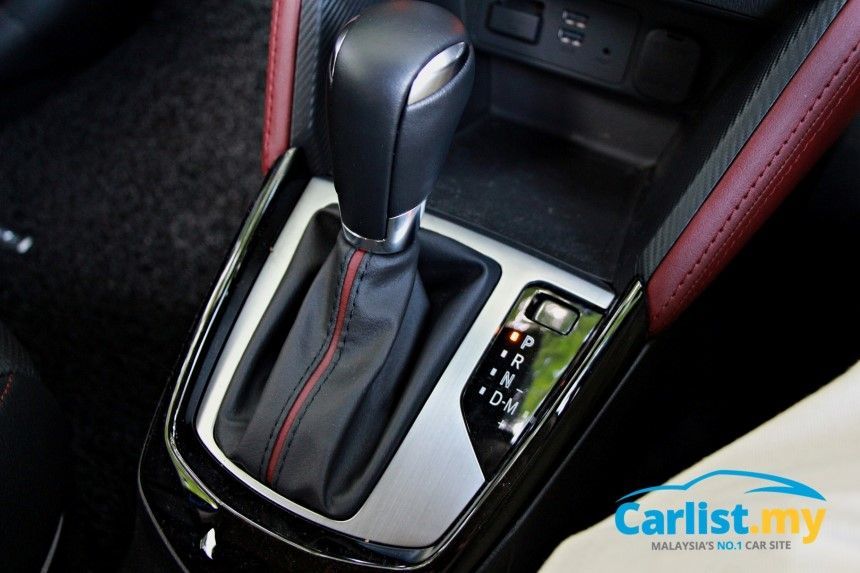 However, once we got onto the highway, the engine felt like it lost its mojo the moment we hit speeds of about 120km/h. So, as enjoyable as it is in the city, the CX-3 diesel lacks 'oomph' when it comes to cruising on the highway.
And when we worked the engine harder to squeeze whatever we could from it, it started sounding like a 1-tonne lorry and passenger comfort got compromised.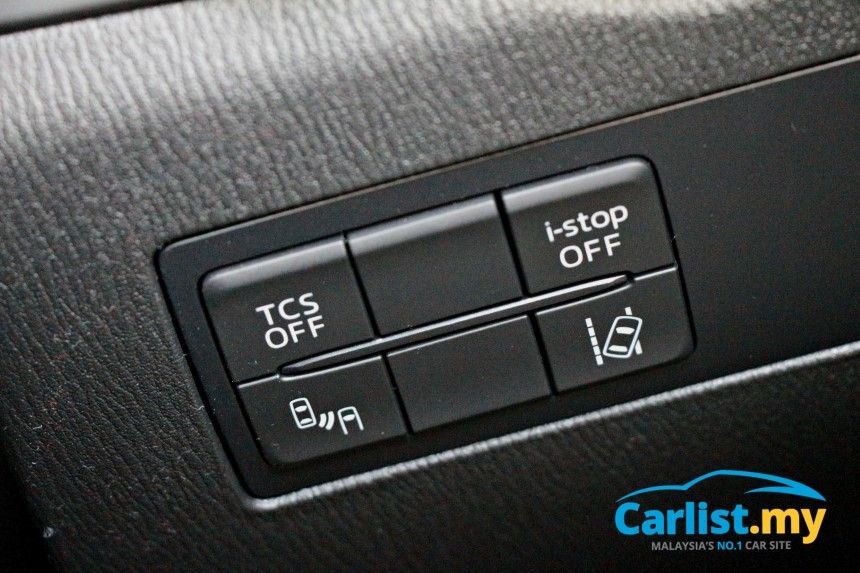 Pretty much a Mazda2 on stilts, the chassis setup is superb and steering feedback is spot on. Hence, cornering and manoeuvring the vehicle through tight spots can be done with ease. In fact, when driven along enjoyable twisty countryside roads, the CX-3 doesn't miss a beat and does exactly what you expect it to do.
How economical is it?
If at all the diesel variant of the CX-3 gets launched here, there's no doubt that it will be among the most economical choice in the segment for a few reasons.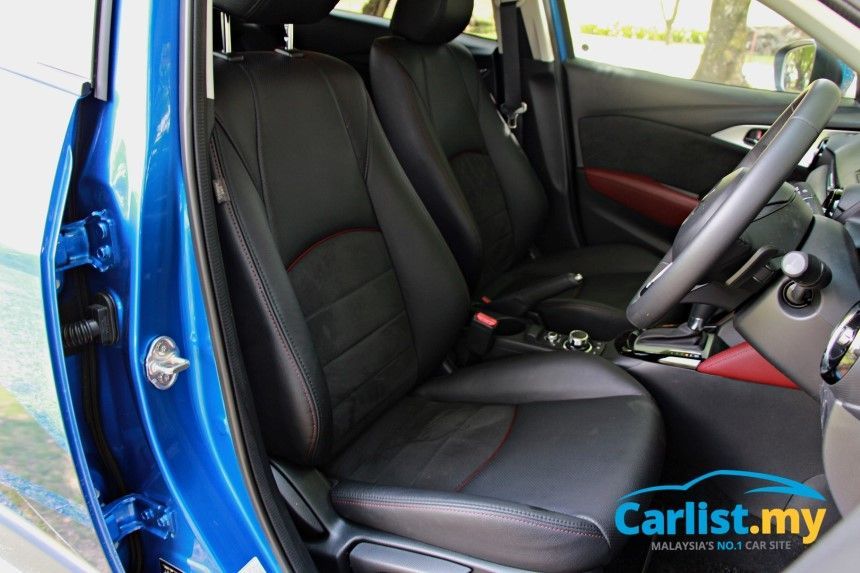 Firstly, we observed an average fuel consumption of 6.5-litres/100km after driving it for about 800km, through a combination of highway and inter-city roads. With a full tank of fuel, we could drive to Penang from Subang Jaya and spend two days there with non-stop driving from morning till night, before refuelling on our way out of the island.
Fuel consumption aside, the vehicle is powered by a 1.5-litre engine, which also translates to affordable road tax.
Conclusion
In all, the CX-3 1.5 SkyActiv D might look similar to its petrol sibling but there are many significant differences, especially in the way it drives.
It is still as exciting to drive but it lacks the top end power the petrol version delivers. So, as ideal as it is as a city-dweller, it is not that fun on long journeys. But on the brighter side of things, it is very economical.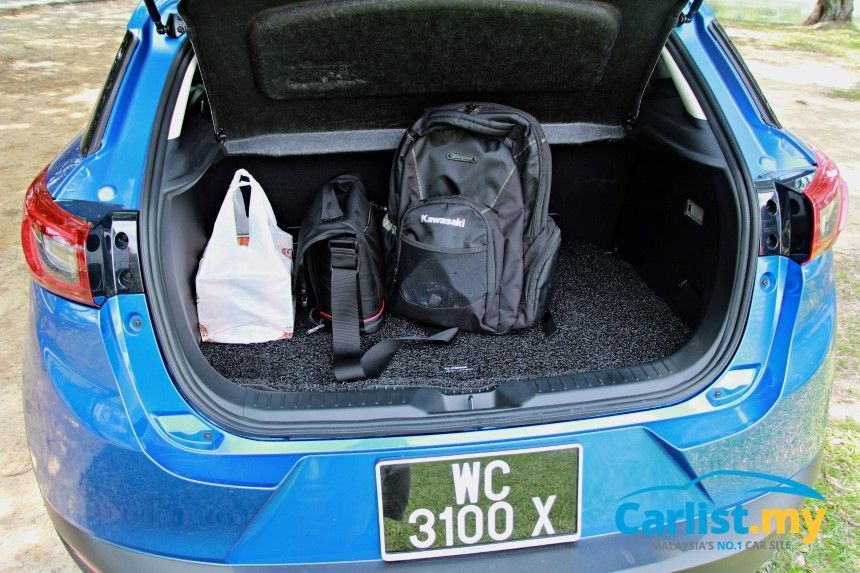 That being said, we stand by our opinion that this vehicle is not for everyone. While it might appeal to those who are all about style and driving dynamics, those who prioritise practicality are better off with other models in the segment.
Looking for a Mazda? Find one now at Carlist.my
---
---
---
---
Comments