Review: 2016 Honda Accord Facelift – Refining A Proven Winner
Reviews In competition, a commonly-held wisdom is that first spot is often easier to attain than it is to defend. Without an opponent in front to chase and overtake, the focus shifts to defending one's turf and ensuring complacency does not creep in, a task often easier said than done.
Honda pulled off a shock in 2015 by overtaking Toyota to become the best-selling non-national brand in Malaysia, a position it successfully defended in 2016. That position will be hard to maintain amidst challenging marketing conditions and intensifying competition, but one thing Honda will not do is sit still and be an easy target for competitors.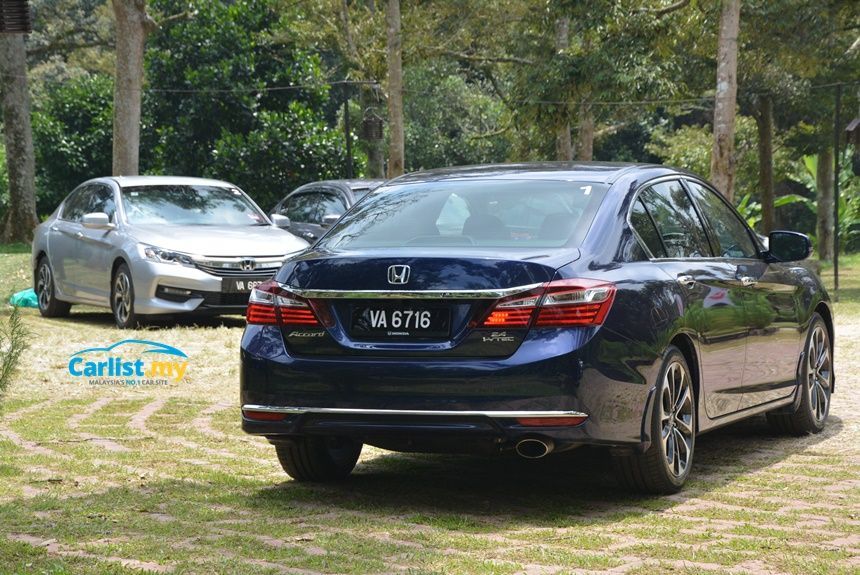 Across the board, Honda has class-leading products and among them is the Accord. After its most recent full model change in 2013, the Accord supplanted the Toyota Camry to become the best-selling model in the D-segment.
Three years into its model life cycle, Honda gave the Accord its mid-life facelift in 2016. In this review, we seek to find out, albeit belatedly, if Honda's efforts are sufficient to keep its D-segment flagship ahead of the pack.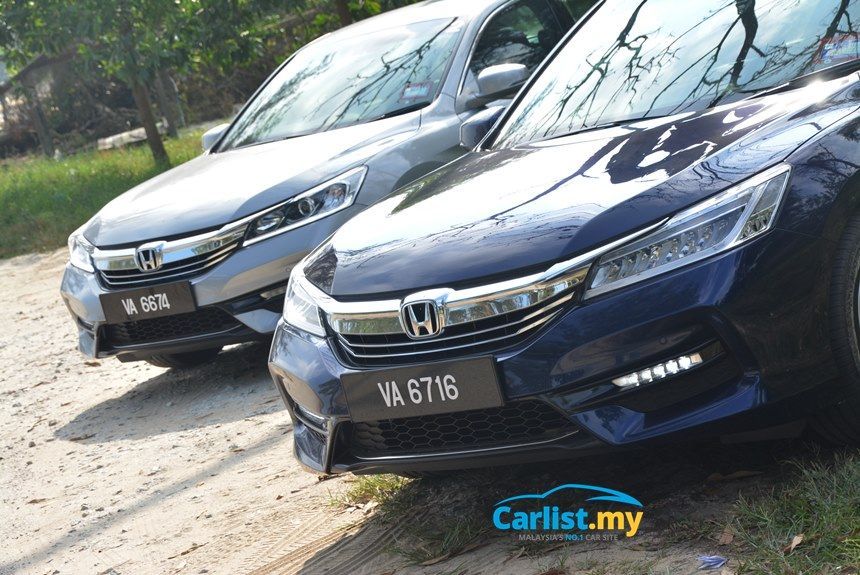 Specifications:
2.0 VTi, 2.0 VTi-L
Price: RM144,800 – RM153,800 (OTR with Insurance)
Engine: 2.0-litre, Inline-4 Transverse, SOHC i-VTEC, Petrol
Power: 155PS @ 6,500rpm
Torque: 190Nm @ 4,300rpm
Transmission: 5-speed torque converter automatic, FWD
Safety: 6 airbags, ABS, EBD, ISOFIX, Electronic Stability Control (VSA), Hill Start Assist, Emergency Stop Signal, Parking Sensors Front & Rear, Multi-Angle Reverse Camera (VTi-L), Lane Watch Camera (VTi-L)
2.4 VTi-L
Price: RM172,800 (OTR with Insurance)
Engine: 2.4-litre, Inline-4 Transverse, DOHC i-VTEC, Petrol
Power: 175PS @ 6,200rpm
Torque: 225Nm @ 4,000rpm
Transmission: 5-speed torque converter automatic, FWD
Safety: 6 airbags, ABS, EBD, ISOFIX, Electronic Stability Control (VSA), Hill Start Assist, Emergency Stop Signal, Parking Sensors Front & Rear, Multi-Angle Reverse Camera, Lane Watch Camera
Origin: Locally-assembled in Pegoh, Malacca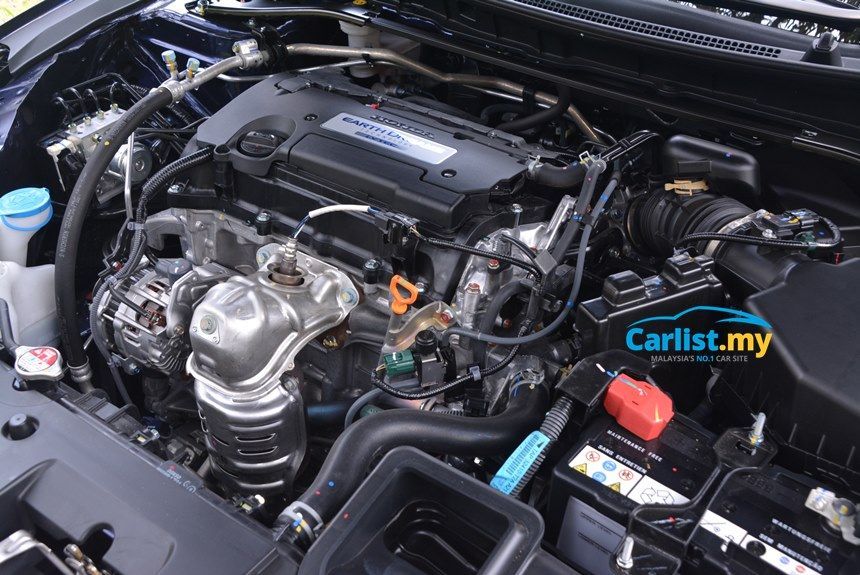 Overview
External alterations are minimal and mechanical changes are, for all practical purposes, negligible. What Honda has focused on its midlife facelift of this critically-acclaimed Accord is substantial enhancement of its value proposition whilst giving subtle tweaks of its design cues.
The same three variant line-up from before is carried forward and retained at roughly the same price points. Whilst new features aren't introduced, kit that was previously reserved for upper models have trickled down.
From two previously, the base 2.0 VTi model now gets six airbags along with keyless entry, engine start button, cruise control, and hands-free telephone as standard for a modest price increase of RM3,700 to hit the road at RM144,800 with insurance.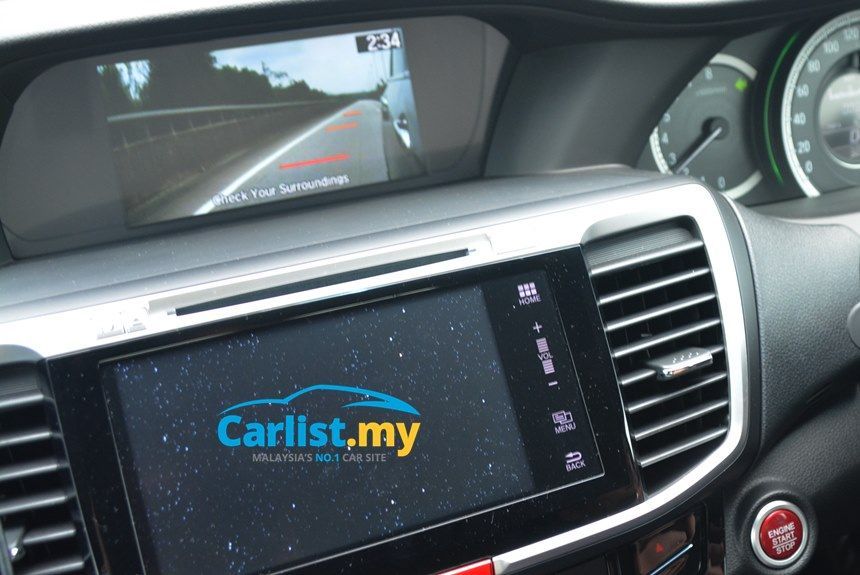 Moving up, the mid-range 2.0 VTi-L receives the award-winning Honda LaneWatch system, powered front passenger seat, auto wipers, and auto-dimming rear view mirror for an even slimmer price hike of RM1,500 to put its on-the-road price at RM153,800.
Finally, the range-topping 2.4 VTi-L gets no significant add-ons to its equipment manifest, but sees its price slashed by RM5,400 to RM172,800 on-the-road with insurance.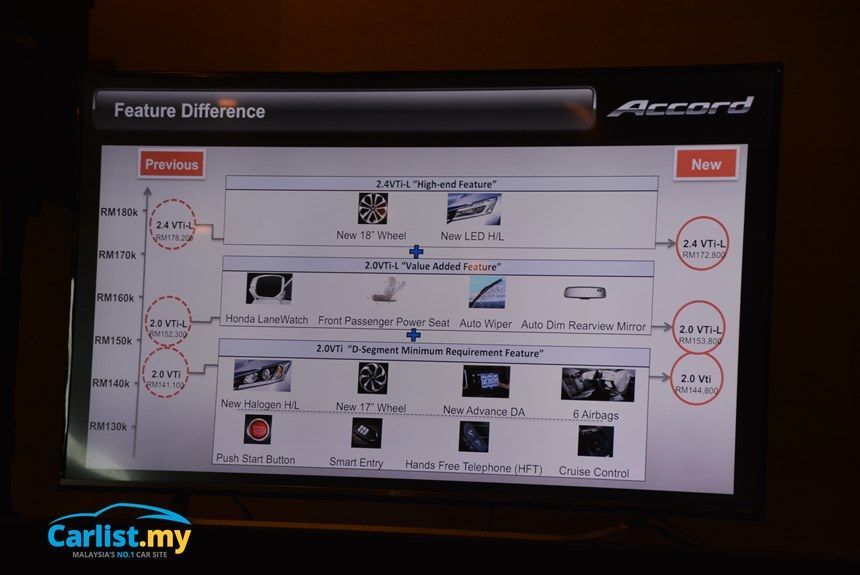 Exterior
New bumpers, new grille, new lights, new alloy wheels – that pretty much sums up what's new in the facelifted Accord's appearance.
As before, the 2.0-litre models get halogen headlamps with LED daytime running lights whilst the 2.4 VTi-L gets full LED illumination; LED daytime running lights have been and continue to be standard in all variants. The designs of both headlight variants have been altered, with the 2.4's LED headlamps getting the same Acura-inspired pattern as seen in the current Civic Turbo.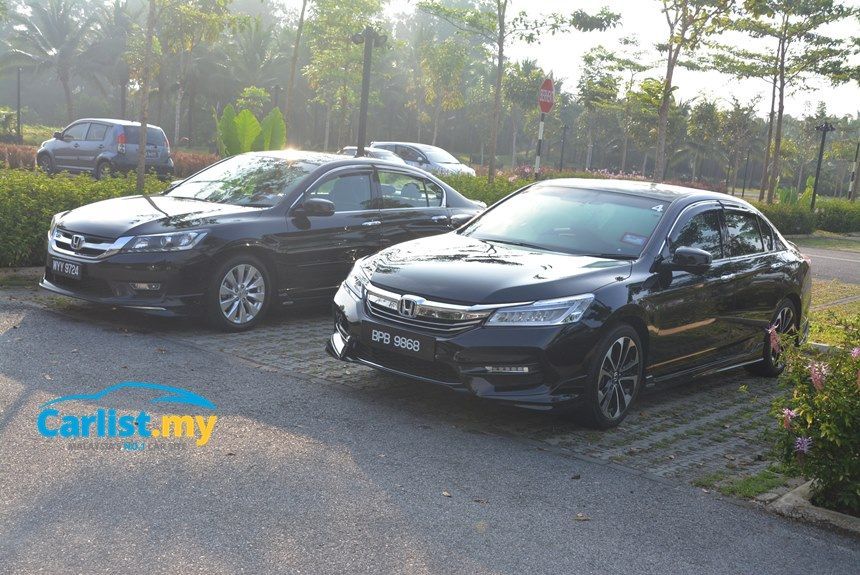 A bolder chrome grille, reprofiled bumper with sharper more aggressive edges, and LED-illuminated fog lamps complete the changes at the front end.
Alloy wheels sport new designs, but their sizes remain differentiated according to engine capacity as before – 17 inches for 2.0-litre variants and 18 inches for the 2.4. More crucial difference is the rubber they wear – Goodyear Excellence for the 2.0-litre, Michelin PS3 for the 2.4.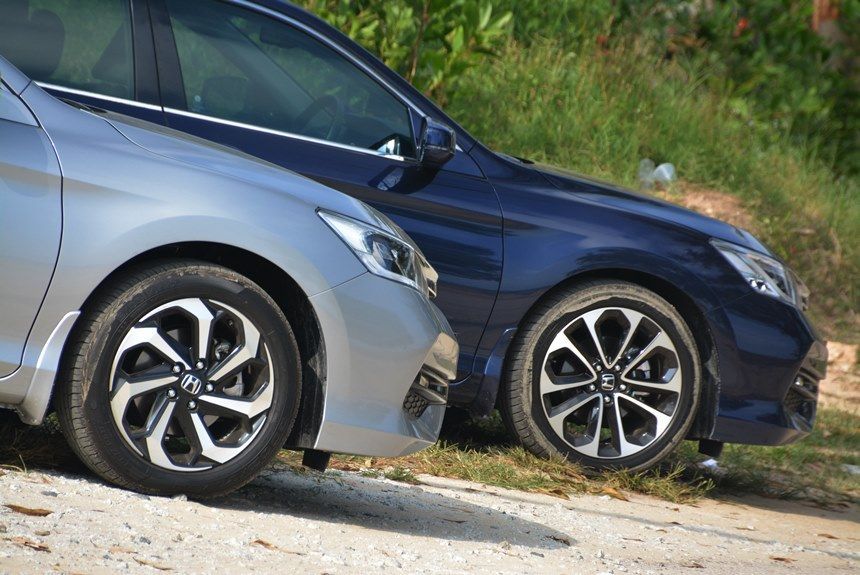 Astern, new LED-illuminated BMW-esque tail lights take centre stage amidst additional strips of chrome spanning the boot lid and bumper. Rear fog lights, previously unavailable, have been added for better visibility – no excuse to use the hazard lights on rainy days then.
Three new colours are introduced with this facelift, with White Orchid Pearl (RM400 extra), Lunar Silver Metallic and Obsidian Blue Pearl replacing the Champagne Frost Pearl, Alabaster Silver Metallic and Taffeta White shades previously offered. Two carryover colours from the pre-facelift model, Modern Steel Metallic and Crystal Black Pearl, are also available for selection.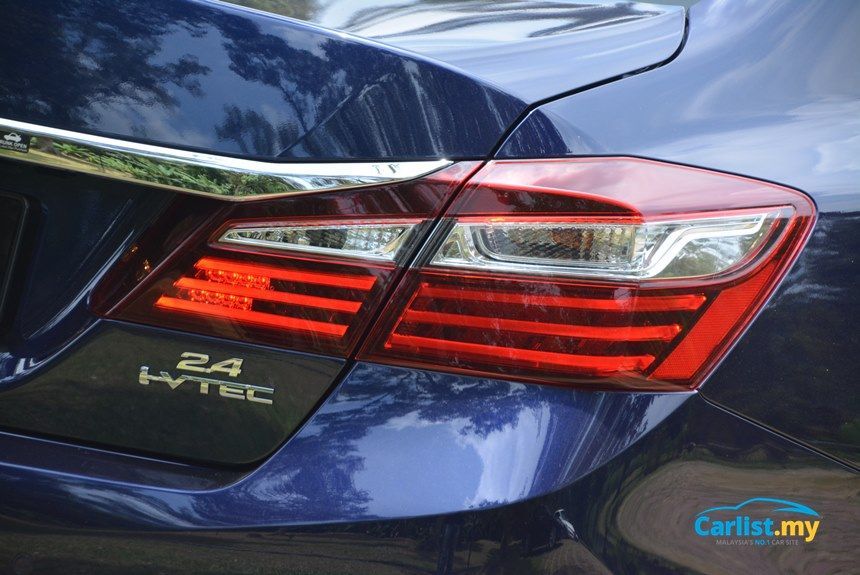 Interior
Just as we've seen outside, changes to the Accord's cabin are similarly minor. There is the odd smattering of new trim materials here and there, but the overall layout is largely unchanged.
Honda's intriguing approach of using two central screens with touch interface provided to lower one is retained and further refined. Satellite navigation is dropped, but in comes Android Auto and Apple Car Play, allowing users to directly tap in to their phone's GPS apps.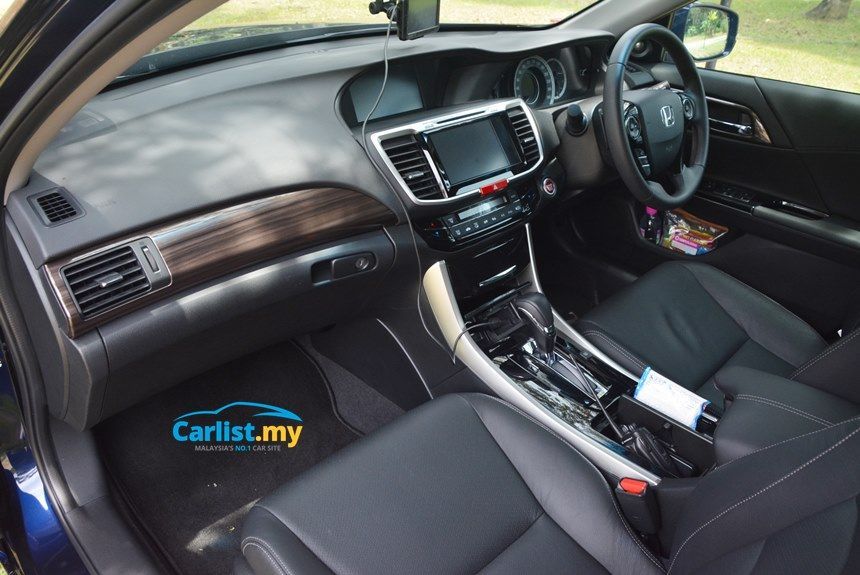 As usual, Honda's interior packaging and ergonomics are spot on. The abovementioned dual-screen centre console may sound confusing, but proved remarkably intuitive to operate upon familiarization. It also contributed to significantly reduced clutter.
In fact, all audio control elements have been migrated into the 7-inch display screen, usefully freeing up space to introduce an additional storage bin just below the climate control switch panel. The compartment is large enough to swallow even the largest mobile phones currently on sale and comes complete with a USB charging slot.
Driving Experience
The two four-cylinder petrol i-VTEC engines powering the Accord and the 5-speed automatic transmission tacked to them require no further introduction. They are far from cutting edge hardware, but with 155PS / 190Nm from the 2.0-litre and 175PS / 225Nm from the 2.4, they remain competitive on paper.
In practice, both powertrains proved adequately quick and smooth-revving, though decidedly old-school in the fashion of their power delivery, especially when pushed. Honda's 5-speed auto, whilst still smooth in its shifts, is starting to feel its age especially where shift times are concerned; 'S' mode in the 2.4-litre brings a more responsive shift programme out of the transmission.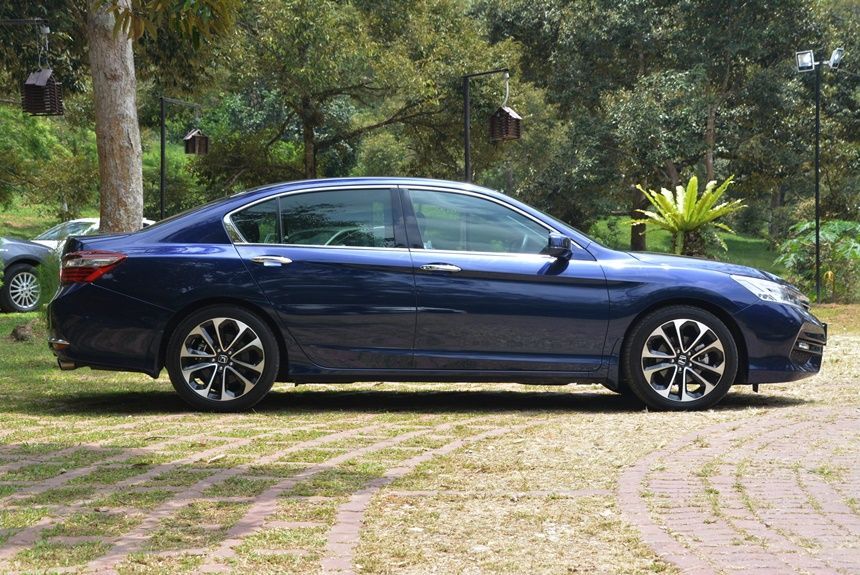 Honda has traditionally favoured a sportier setup for its suspension. The Accord in its current generation shifts its scope of priorities to give a greater emphasis for comfort, though it remains a highly competent driver's tool. Steering is not the last word in weight and feel, granted, but the chassis is sufficiently balanced to engender confidence around bends.
Whilst not entirely effective in its ability to isolate long-wave undulations, the suspension – MacPherson struts up front and multi links at the rear – does a fair job of keeping all four wheels on the ground, helping maintain a good modicum of body control. High speed stability is confident and reassuring.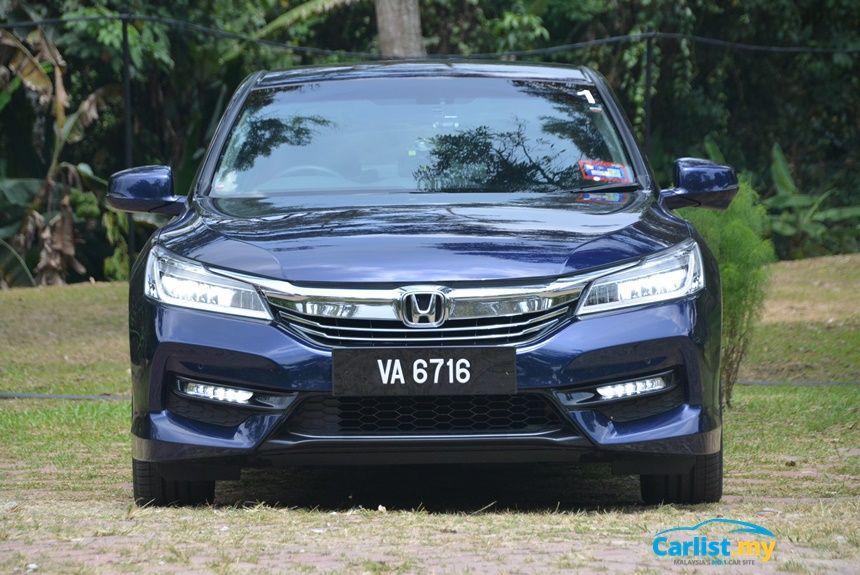 Comfort & Refinement
Rarely does a media drive excursion dedicate an entire section of its programme for journalists to be chauffeured over an extended distance, but that was what Honda Malaysia built into the itinerary of its 2-day trip with the Accord to Gambang, Pahang. It was a demonstration on Honda's part of its confidence in the Accord's viability to serve the needs of the rear-seated towkays who have typically gone for the Toyota Camry as their cut price alternative to a Mercedes-Benz.
Certainly, the accommodations are adequate. Aft section is not found wanting for space in all the relevant metrics – leg room, head room, and knee room. You get a centre arm rest with cupholders and retractable sunshades for both rear doors. Rear blowers are provided, but dedicated fan and temperature controls would be welcomed additions. Shoulder-mounted control switches for the front passenger switch as provided in the Camry wouldn't go amiss either, if Honda is serious about giving the Accord chauffeur duty credentials.
At least the ride quality is up to the task – the suspension copes well in absorbing sharp intrusions from potholes and speed bumps. Noise levels are acceptably muted too, quiet enough to carry out conversations at highway speed without needing to raise one's voice.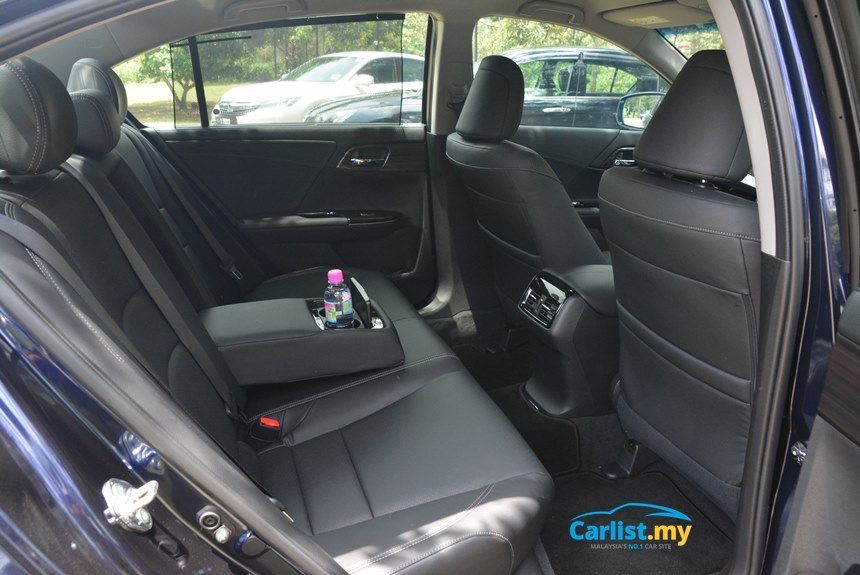 Against The Competition
Honda's current wave of success is fuelled by a range of competitive products each with a fine blend of abilities. Such is the company's confidence in its current model line-up that road-tests against competitor cars have become a staple in the itinerary of their local media drives for some time now.
On this occasion, Honda brought along the Accord's two closest competitors, the Toyota Camry and Nissan Teana, both vehicles present in their 2.0-litre guises. Other challengers in the segment, though not represented at the event, include the Mazda 6, Volkswagen Passat, Hyundai Sonata, Kia Optima, Peugeot 508, and the Ford Mondeo EcoBoost.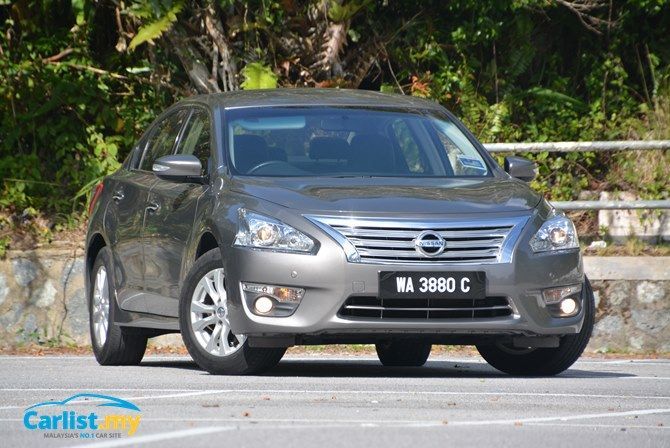 Despite starting with a seemingly weak hand, its rated outputs of 136PS and 190Nm being the lowest on paper, the Teana 2.0 felt surprisingly sprightly on the move. Credit is due, we feel, to Nissan's superb calibration of its X-Tronic CVT, which always seemed on the ball in making the most out of the engine's modest outputs. The chassis is pleasing too, almost European in behaviour, confidently thumping out rough patches of road whilst effectively reining in body roll when pushed. The Nissan is let down by its cabin ambiance, however, which feels no better than an oversized Sylphy with regards to materials and fit.
In many ways, the Camry is a contrast to what the Teana has to offer. Toyota built this car with chauffeur duty in mind, and its interior is finished accordingly; its selection of materials more classic and more exquisite in comparison with the Nissan. On the road, the Camry's class-leading 6AR 2.0-litre dual injection VVT-iW powerplant promises much on paper, but finds much of its delivery retarded by a reticent 6-speed automatic transmission. It's a smooth-shifting 'box, granted, but its ratios are spread too wide requiring one to utilize the entire rev band for any form of enthusiastic driving. Its body control is also the weakest of the trio present.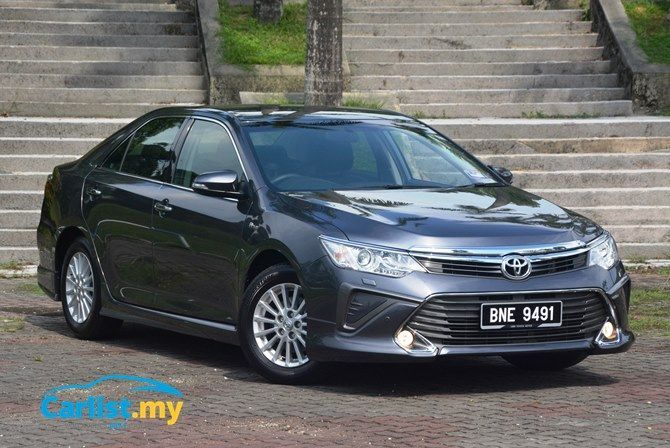 Conclusion
Our experience here reinforces our earlier findings in the 2015 great D-segment shootout. Against its diametrically opposed competitors, the Accord occupies a happy middle ground. It has a more appealing interior than the Teana and more enjoyable to the drive than the Camry. Conversely, in areas where it lags against these two competitors, the Accord isn't far behind. So, whilst its rivals do exceed it in some areas, the Accord ultimately redeems itself by offering a better-rounded skillset.
Honda had already found its winning formula with the Accord in 2013, and has sensibly chosen not to overdo the tinkering in this facelift exercise. The trickle down of extra equipment to the lower models was just what was needed to enhance the model's overall competitiveness. The next generation Accord will probably need to feature more significant alterations, including a full powertrain change, but for now, minor tweaks are all that's needed.
---
---
---
Comments