Review: 2016 Mercedes-Benz E200 (W213) – Continuing The Momentum Of Excellence
Reviews Mercedes-Benz is on a roll. Building on the success of the S-Class and C-Class launched in 2013 and 2014 respectively, the brand from Stuttgart completes a renewal of its holy trinity of core models with the coming of a new E-Class that was shown to the world for the first time in January and has quickly made its way onto Malaysian shores.
The latest W213 is the fifth model to carry the E-Class designation after the much-lauded W124 embraced the nomenclature toward the end of its model life-cycle. Prior to that, Mercedes-Benz's mid-sizers simply wore three-digit badges that denoted their engine capacities with an 'E' suffix placed at the back for variants that had fuel injection.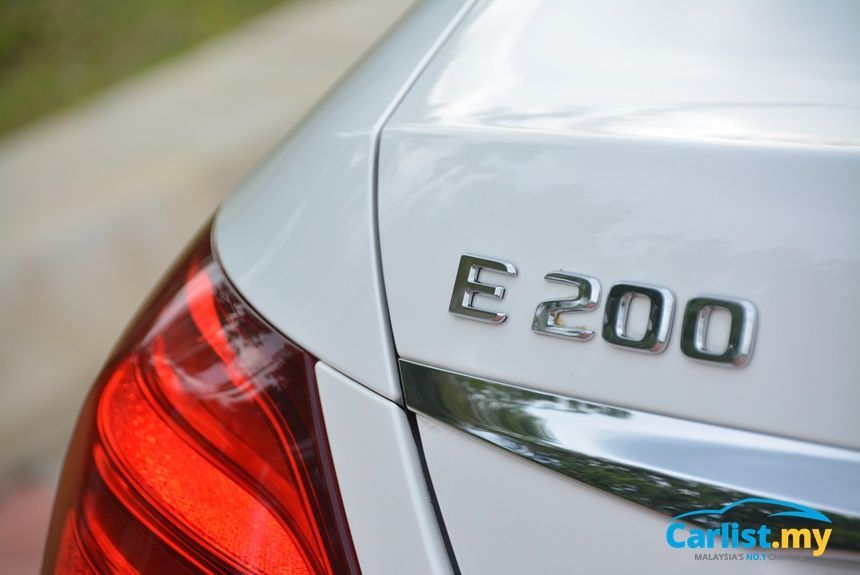 It's been two decades since the E moved to the front of the badge; and the E-Class has quickly embodied the spirit laid down by greats such from the W114 to the W123 and the W124. These notoriously over-engineered vehicles have distinguished themselves with flawless service to their happy and affluent owners – they are not only luxury vehicles, they are loyal companions that never break down.
Can the promising W213 uphold these cherished values whilst staying relevant to the more sophisticated themes of today?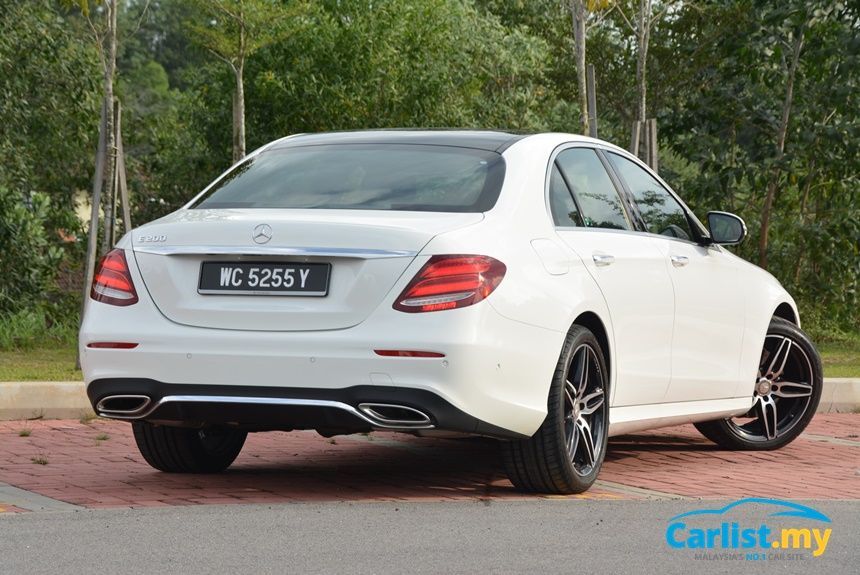 Specifications:
Price: RM395,888 (CBU, OTR without Insurance)
Engine: 2.0-litre, Inline-4 Longitudinal, Turbocharged Petrol
Power: 184hp @ 5,500rpm
Torque: 300Nm @ 1,200 – 4,000rpm
Transmission: 9-speed torque converter automatic with paddle shifters, RWD
Safety: 7 airbags, ABS, EBD, Electronic Stablity Control, ISOFIX, Autonomous emergency braking, Pre-Safe, Adaptive Brake Lights
Origin: Fully-Imported from Sindelfingen, Germany.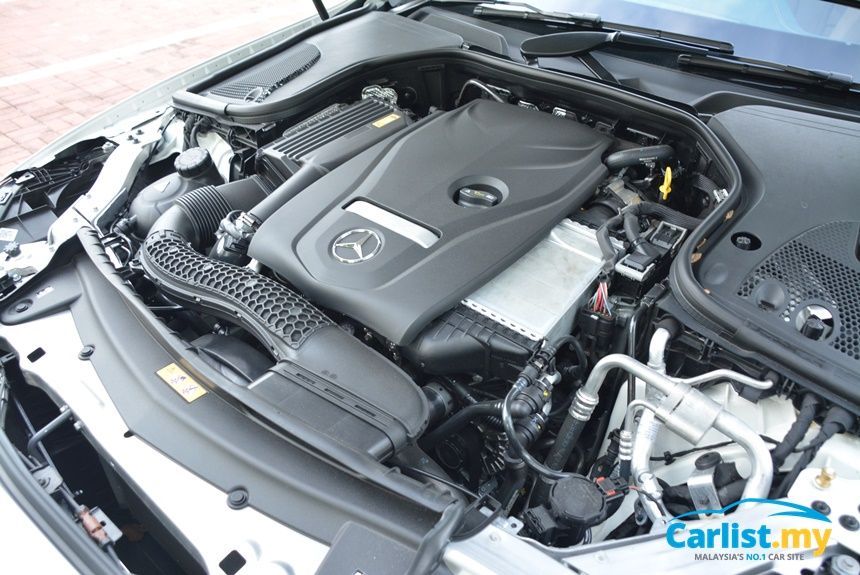 Overview?
Mercedes-Benz is performing a staggered introduction of the W213 E-Class range in Malaysia. Local-assembly is expected to commence next year, but for the moment, the cars come fully imported from Germany.
Complete range of the W213 CBU line-up will feature three engine variants, all powered by the 2.0-litre M274 turbocharged four-cylinder petrol in states of tune ranging from 184 in the E200 Avantgarde to 245hp in the E300 AMG Line. Midway between them is the 211hp E250 available in both Avantgarde and Exclusive trim lines.
Further tweaking of the line-up is possible when locally-assembled variants come into play, but expect the same combination of engines. The E350e petrol plug-in hybrid is a possible variant that may be introduced to take advantage of EEV incentives.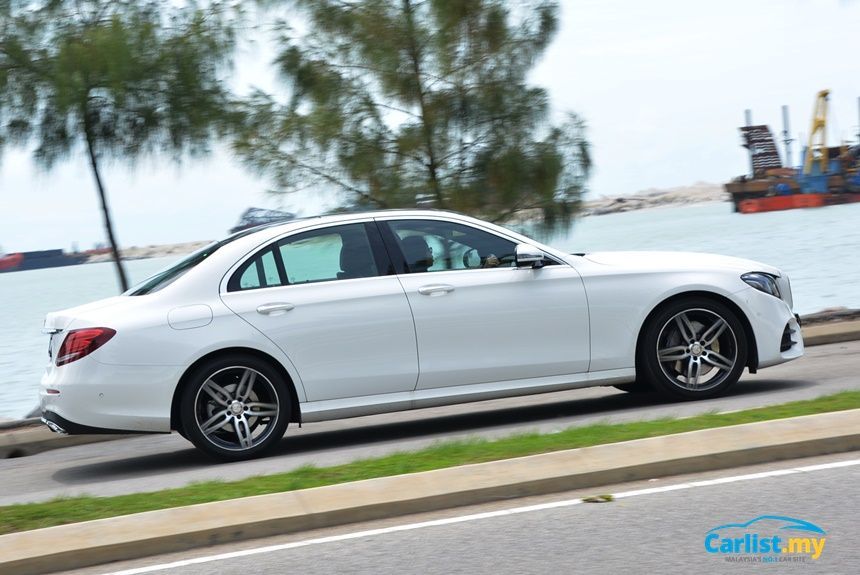 Even further down the road, we expect the entire engine range to be overhauled to feature engines from Mercedes' new €3 billion modular engine family that includes an all-new 2.0-litre inline-4 to replace the M274 and may be even a 3.0-litre inline-6.
The M274 itself remains a relatively new powerplant, having debuted in the W212 facelift back in 2013. In the W213, the numbers remain unchanged, but a new in-house built 9-speed automatic transmission replacing the previous 7-speeder helps improve acceleration and economy.
To recap, equipment levels available in the E-Class are summarized below:
E200 Avantgarde

Paddle Shifters
Apple Carplay, Android Auto
18-inch alloy wheels
Aluminium cabin trim
Front Seats: Heated, lumbar support
Park Pilot (side, perpendicular reverse-in, and perpendicular front-in)
Reverse camera

E250 Avantgarde &
E250 Exclusive

Adaptive High Beam Assist
19-inch alloy wheels
Panoramic sunroof
360-degree camera
Keyless entry
Black ash wood trim (AV)
Brown ash wood trim (EX)
Artico leather upper dash (EX)

E300 AMG Line

AMG Sport body kit
Sporty grille with large central star
19-inch 5-spoke AMG wheels
Burmester surround sound
AMG floor mats
Our test car for this review is the E200, but it's not a car entirely representative what's available in the market. The vehicle is one of several advance units brought in by Mercedes-Benz Malaysia for pre-launch testing and evaluation purposes. To summarize, it is an E200 dressed with the kit level of the E300 AMG Line.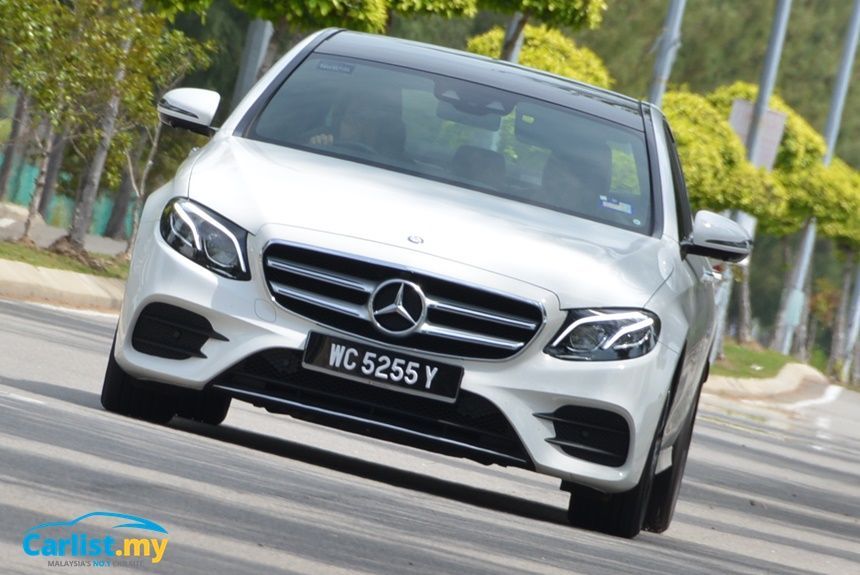 Exterior
Past three incarnations of the E-Class have typically followed more differentiated styling than other members of the family. The W203 C-Class and W220 S-Class of the early 2000s, for example, looked a lot like each other, but the contemporary W210 E-Class wore markedly different styling.
With the W212 facelift, Mercedes began a journey to more closely integrate the E-Class' design with the rest of the range, culminating in the W213 here that bears strong resemblances to both the W205 C-Class and W222 S-Class. These days, most of us would probably need a double take to conclusively tell a W205 C-Class, W213 E-Class, and W222 S-Class from one another.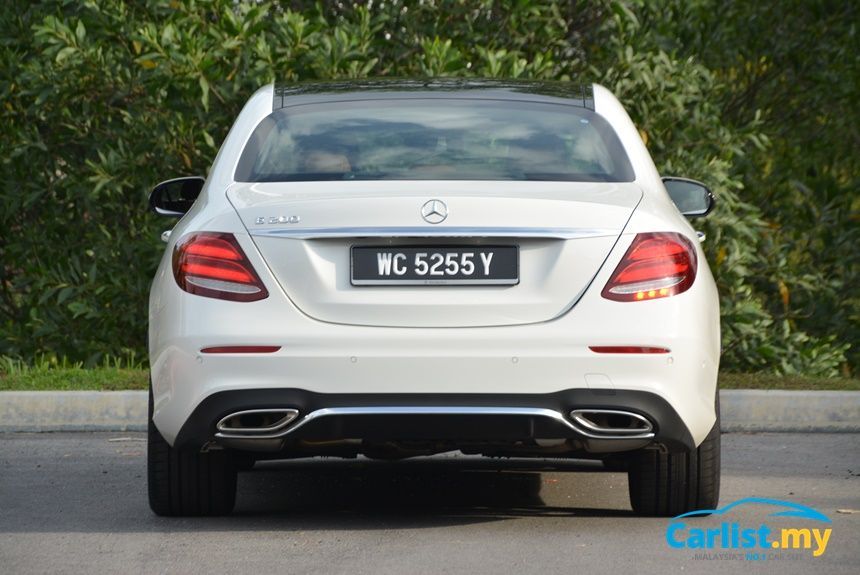 The LED daytime running lights, however, provide a subtle nod to past members of the E-Class lineage. Unlike the C- and S-Class that sport a single LED strip, the E-Class has dual LED daytime running light strips in each headlamp, giving nod to the classic four-eyed look that has become the E-Class' trademark over the last two decades.
Viewed head on, the new E-Class' cross-section is actually smaller than its predecessor – width and height are both marginally reduced by 2 and 6mm respectively. Those minor shortfalls are however offset by substantial gains in both length and wheelbase that sees the new car stretching past the 4.9m length threshold.
| | | | |
| --- | --- | --- | --- |
| | W212 | | W213 |
| Length | 4,879 mm | +44mm | 4,923 mm |
| Width | 1,854 mm | -2mm | 1,852 mm |
| Height | 1,474 mm | -6mm | 1,468 mm |
| Wheelbase | 2,874 mm | +65mm | 2,939 mm |
Those are sizeable dimensions can potentially make navigating through narrow spaces a stressful and intimidating experience. Thankfully, the engineers were able to keep the turning circle small, and the 360-degree camera fitted into our test car proved extremely useful in tight spaces. The system self-activates when any of the surround parking sensors are triggered by an object in sufficient proximity. For some drivers, we reckon this feature is perhaps less of a luxury and more of a necessity.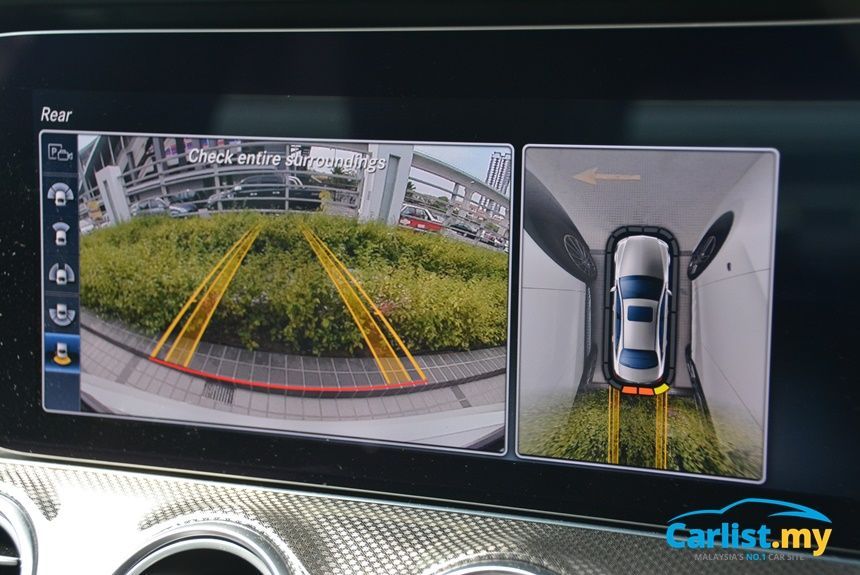 Those less confident with your own parking skill will be perhaps intrigued by the latest Park Pilot system fitted as standard in all variants. Able to handle parallel parking as well as perpendicular parking front in and reverse, Mercedes' system goes one step further from others available in the market – in addition to helping you with steering, the system actually takes over operation of the accelerator, brakes, and even transmission the drive once the preferred bay is selected. Very impressive and very nice to show off, but it is perhaps still best to learn to park the vehicle yourself if you own one of these. The car's bulk is quite manageable with the help of the 360-degree camera, which we must also commend for exceptional crispness of its images.
Interior
Recent Mercedes-Benz cabins have been nothing short of spectacular in the quality which they built with and this newly-minted E-Class shows no letting up of those lofty standards. In both material selection as well as fit and finish, the E-Class exhibits the same meticulous attention to detail that was evidently showered upon the latest C- and S-Class models.
Quality of switchgear is similarly beyond reproach; all controls return excellent tactile sensations when operated. Layout is decent too, major controls are within easy reach and good adjustability of both seat and steering meant finding a good driving position was easy for this 170cm-tall tester. Mercedes-Benz's column-mounted gear stalk continues to be a point of contention in this office, however, it's too easily mistaken to be a signal stalk by unfamiliar drivers.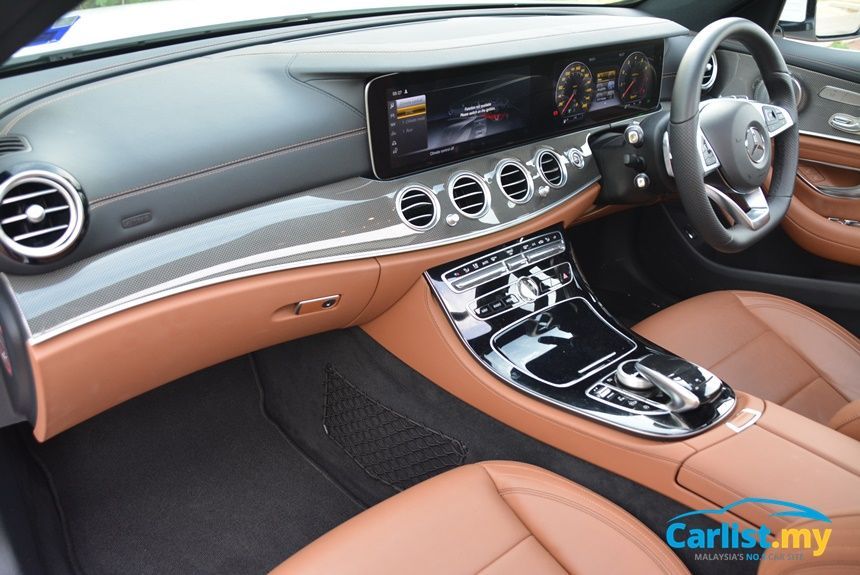 Many reviewers these days lavish praise at BMW's iDrive system for being the gold standard in infotainment setups, but the E-Class' latest Comand setup works well enough upon familiarization. The dual touchpads on the steering wheel – right controls the MFD on the instrument display, left controls the central monitor – allowed easy enough browsing of the layers upon layers of menus and sub-menus on the move without distracting too much of your attention off the road.
As standard for the Malaysian market, the E-Class gets the fully digital cockpit setup in all variants. This configuration features two adjoining 12.3-inch hi-res screens dominating the dashboard – one serving as a virtual instrument cluster, the other as the central infotainment monitor. The driver can choose between three display themes, and cycle between multitudes of information vying to be presented on the instrument cluster. On both screens, we were thoroughly impressed by the crisp rendering of the vibrant display graphics. Overall, it is a very sophisticated and upmarket looking setup that further elevates the E-Class' already towering showroom appeal.
Utility of the cabin is well-considered, the centre console being well-organized to offer generous amounts of small item storage – both the forward and aft storage bins are well tunnelled out to swallow your phones and keys. Seats offer excellent support too, ensuring that the E-Class will continue to excel in its time-honoured duty of being a tireless long-distance cruiser.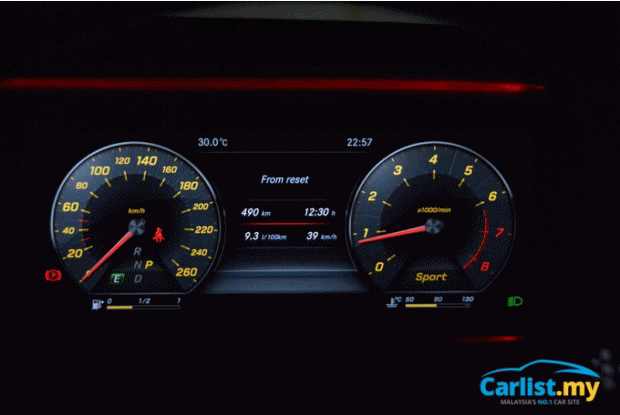 Driving Experience
Once upon a time, a 200 badge on the back of a Mercedes E-Class denoted lethargic performance; today, thanks to 184hp and 300Nm under the hood, a baseline E-Class needs only 7.7 seconds to reach 100km/h from rest. It manages to be 0.2 seconds faster than its predecessor for the benchmark sprint; consequently, also beating the BMW 520i and Audi A6 1.8 TFSI by the same margin.
Delivery of power has a surprisingly sporty taste too; whilst the 9-speed transmission's natural instincts are to keep revs low and upshift as early as possible, the engine pulls revs with an encouraging note whenever you choose to flex the muscles of your right foot.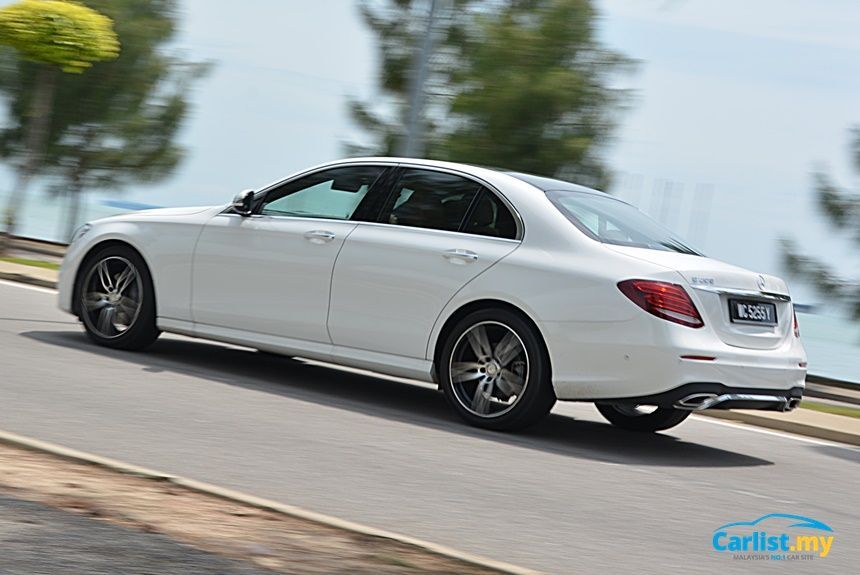 The new 9-speed automatic transmission is a major improvement over the previous 7-speeder. It benefits from a wider spread of ratios to more effectively exploit the engine's generous torque spread. Control software is well-calibrated too, selection of gears are sufficiently intuitive that the pair of paddle shifters on our test car were rarely troubled.
Sportiness has never been in the E-Class' bloodline and accordingly, the W213 does little to redefine new benchmarks in dynamism. The steering is surprisingly quick and sharp, albeit bereft of chatter; whilst the chassis maintains sufficient balance smoothly shift its weight about around corners.
Its rear-wheel drive architecture mean that the E-Class is inherently better-balanced on the turn than a front-wheel driven Audi A6, but a F10 BMW 5 Series remains more communicative and incisive at the limits. It is nevertheless competent enough, we trust, to keep the new G30 BMW 5 Series on its toes.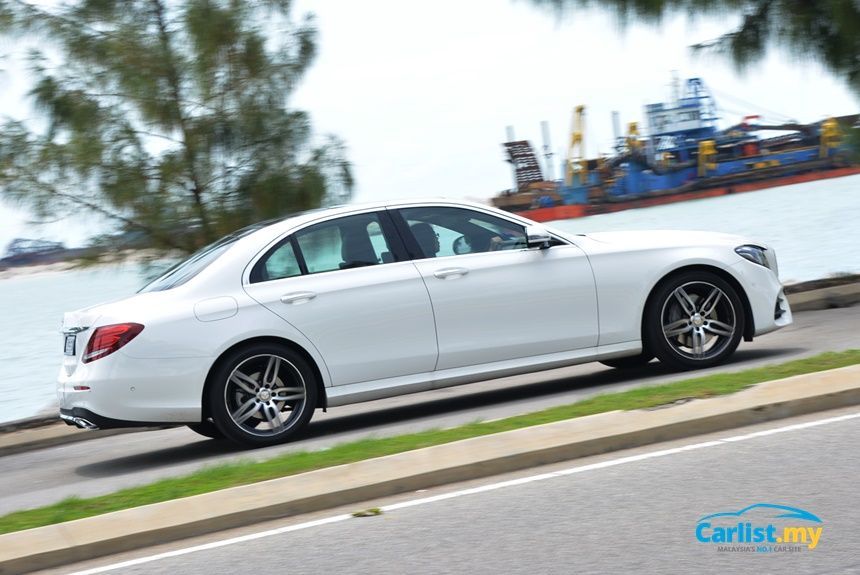 Comfort & Refinement
Appropriately matching the sumptuous finishing throughout its cabin, the E-Class displays commensurate levels of rolling refinement. External noises are expertly insulated giving us the opportunity to properly enjoy the crisp sound produced by our test car's Burmester speakers.
Ride quality, however, is not as entirely plush as we expected it to be. Whilst comfortable enough for the most part, sharp edges are not as effectively ironed out as one would expect of this segment. The feeling is that the E-Class, when setup as per our test car, is a little firmer than it need be. Marginally softer suspension along with slightly thicker tyres would perhaps be perfect.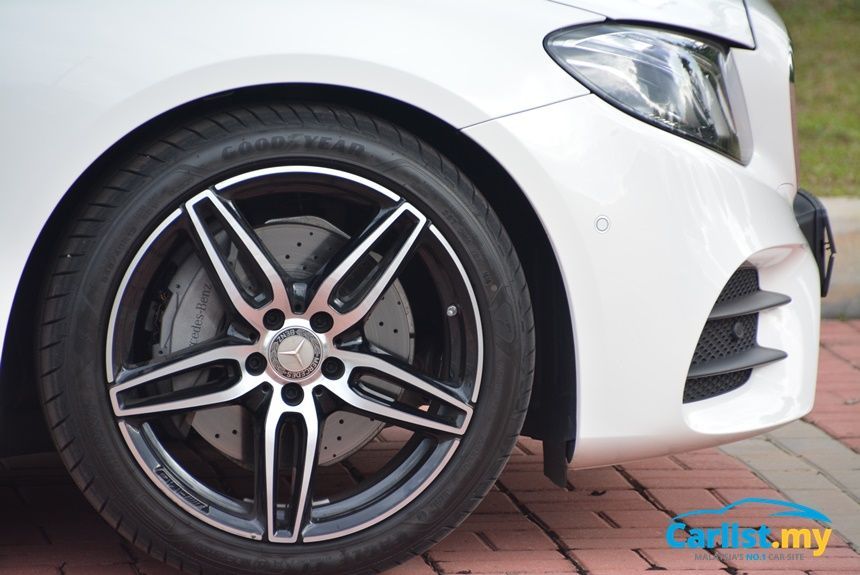 Fuel Economy
An average of 9.5 litres/100km clocked over a 720km route that took this car to locations as far as Malacca, KLIA, and Genting Highlands mixing highway, urban, and mountainous roads represent a very decent return for a mid-sized luxury sedan.
Pleasingly, thanks to a decently-sized fuel tank, we did not need to think about refuelling until about 650km into our stint. For regular long-distance travellers, this translates to fewer stops needed at the petrol station.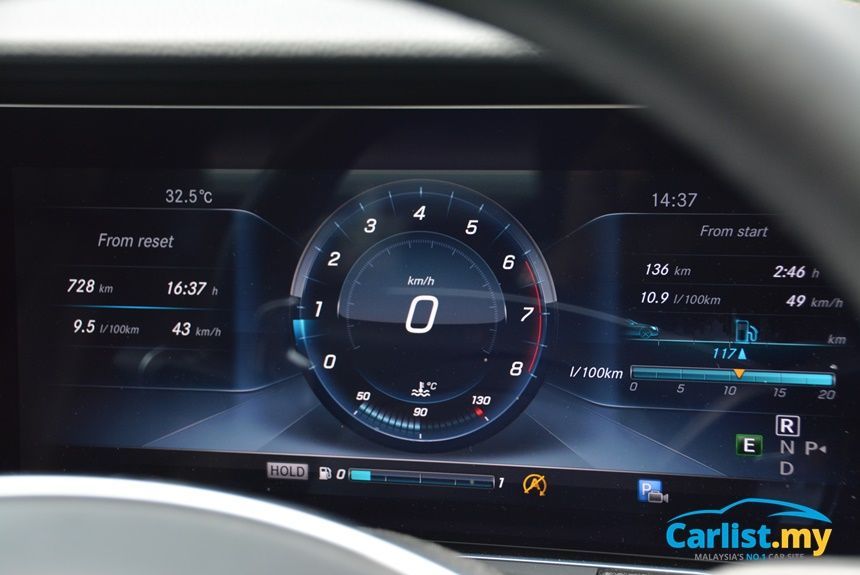 Conclusion
Evaluated on its own, the new E-Class offers us much to like. Even in E200 form, we have a car that is not found wanting for performance. As a matter of fact, this car is found wanting in very few areas and excels in many. It is competitive on the equipment front and peerless in its interior fit and finish. Showroom appeal is hitherto unmatched in its class.
For improvement, we'd prefer a slightly better resolved ride quality; we are also not big fans of the column-mounted electronic gear lever, but we suppose that is something which owners eventually adapt to. Styling-wise, we'd also like to see clearer design differentiation from the C- and S-Class as before.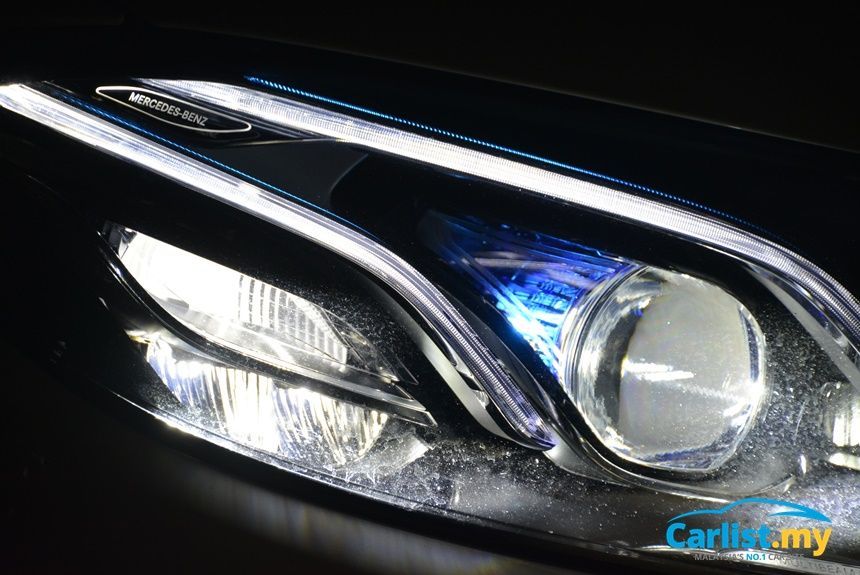 The best traditions of the E-Class encapsulated in a stylish modern package. The W213 is perhaps not the sportiest mid-sized luxury sedan in the market, but it continues the E-Class' finest traditions of being luxurious yet dependable companions over long-haul journeys.
One thing's for sure, a tough fight awaits BMW's new G30 5 Series.
---
---
---
---
Comments