Review: 2016 Toyota Hilux – Big Change
Reviews It feels like we're a broken record here, but we'll state it once more: pickup trucks are becoming lifestyle vehicles. In the same way the SUVs went from being workhorse cars to the softroaders we see today, the pickup truck market is slowly starting to encompass (but not shift to) an urban demographic. These were vehicles meant for bumping down muddy paths carrying construction equipment or materials- and the last thing you would expect to see in the car park of your local shopping mall (with hardly a speck of dirt on it).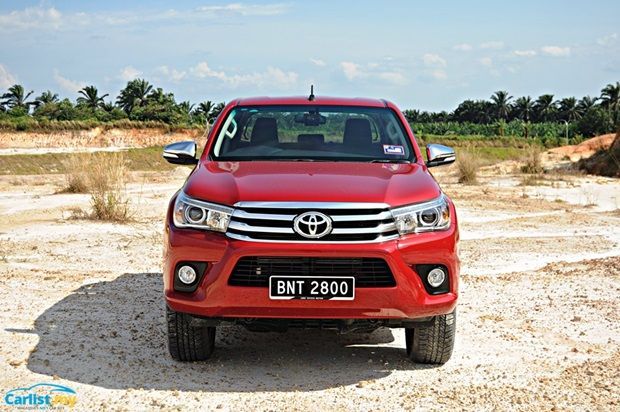 This increasingly diverse group of buyers means that manufacturers have to juggle the different expectations and requirements of their buyers. The most radical example we've seen thus far is the Mercedes-Benz X-Class concept that was previewed last week, which showed the world what can be done when you crank up the luxury to 11 for a pick-up truck. Unfortunately all of those luxury materials are impractical and quick wearing when subjected to the abuse of commercial applications, so a more practical solution is required.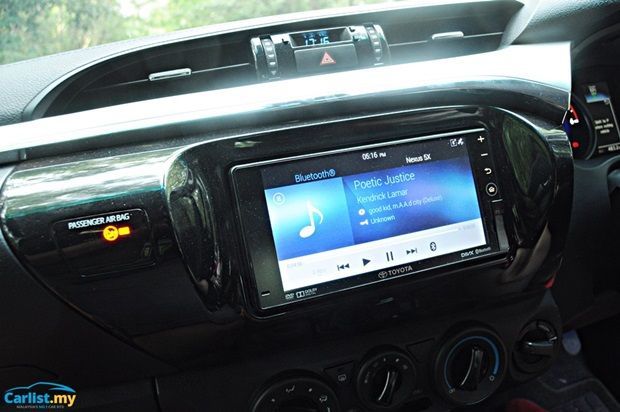 Each generation of pickup truck we see becomes more comfortable and luxurious than the one before. We've gone from having barely a radio to keep us company, to a full-on touch screen entertainment system with navigation and all kinds of other bits and bobs that wouldn't be out of place in a mid-sized sedan. For commercial operators there are still the workhorse models like the single cabs, which usually come without power windows or door locks, and these are affordable enough to suit their purposes.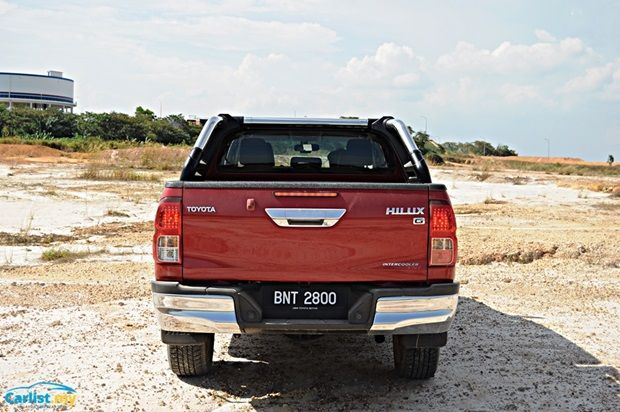 But here we have the full-fat version. This is the Hilux Double Cab 2.8G (AT) 4x4, representing the most that Toyota is willing to offer to a discerning pickup truck buyer. In simple terms, it is the sole variant with the 2.8-litre turbodiesel motor, with the full double cab body and in the 'G' trim level.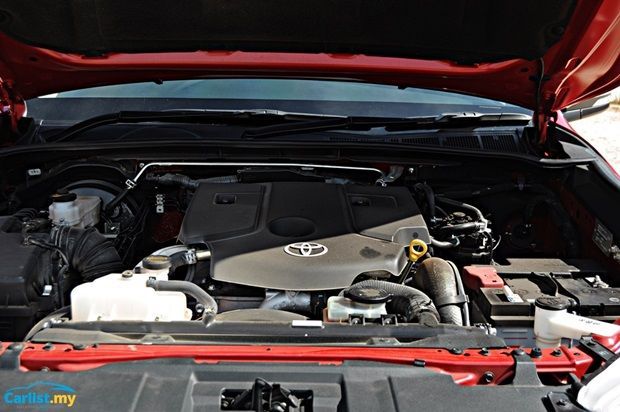 Specifications
Engine: 2.8-litre longitudinal four-cylinder 16-valve DOHC Intercooler VNT Diesel
Power: 177 PS @ 3,400 rpm
Torque: 450 Nm @ 1,600 – 2,400 rpm
Transmission: 6-speed Automatic with Super ECT & Sequential Shifter
Safety: 7 airbags, Vehicle Stability Control, ABS, BA, Active Tractrion Control, Emergency Stop Signal, Trailer Sway Control
Price: RM 133,900.00 (On The Road, with GST and Insurance)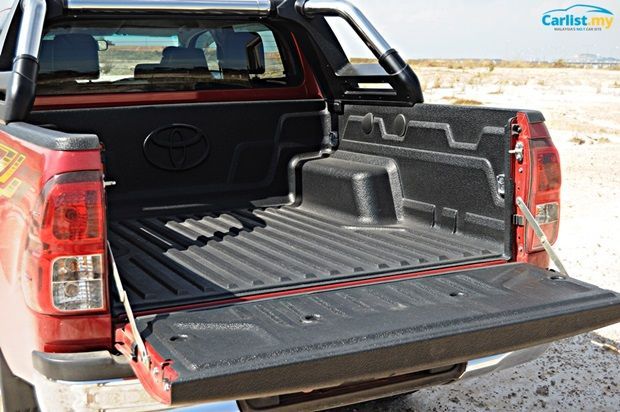 Overview:
The Hilux is a name that has been familiar to our market for decades. They've proven their hardiness in East Malaysia especially, becoming a popular choice for their reliability and robustness in difficult situations. That's not to say that other pickup trucks aren't up to the task, but when people had to choose a vehicle that would stand up to the rigors of commercial use, the Hilux was a name they could rely on.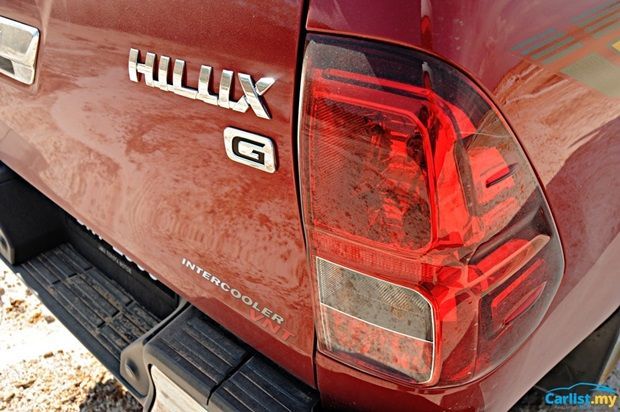 Of course, things have changed in the last decade or so. With more and more people purchasing pickup trucks for use in an urban environment, Toyota had to consider the needs of this new demographic. These are people who are willing to forgo the compact size and comfort of their regular sedans or hatchbacks, in favour of the sheer practical ability of a pickup truck. In some cases an SUV simply won't cut it, especially in terms of load carrying ability and outright space, but neither do buyers want a bare bones workhorse.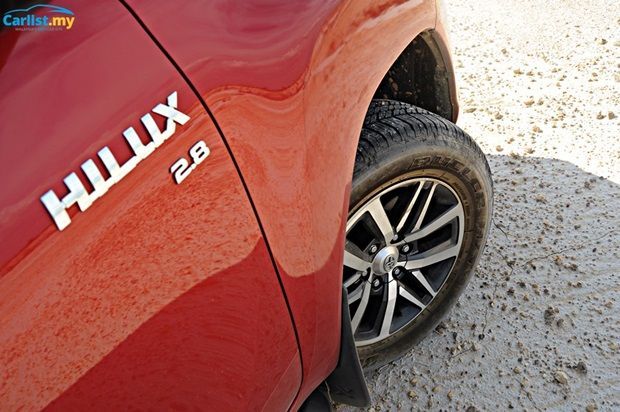 Construction of the Hilux has been fairly consistent through the years. It still sits on a ladder frame chassis, and this generation comes with independent double wishbones at the front and leaf springs at the rear. It's a pretty traditional form for a pickup truck, and Toyota has always stuck to their guns when it comes to areas like robustness and strength- which is probably why the Hilux has maintained its popularity.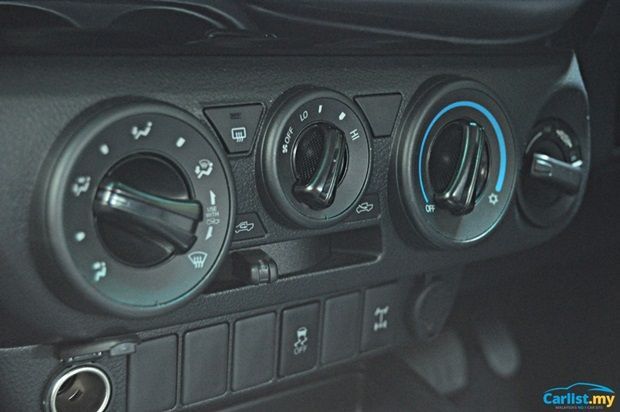 It's on the inside where the changes are the largest. There is still a lot of leeway for manufacturers to improve the quality of their interiors, and Toyota capitalized on this with a solid leap for this generation. In terms of the mechanicals, this generation of Hilux has part-time 4WD with an automatic disconnecting differential, and rack and pinion steering- not quite the simplest of mechanical items, but perhaps a necessary change on the basis of comfort and liveability.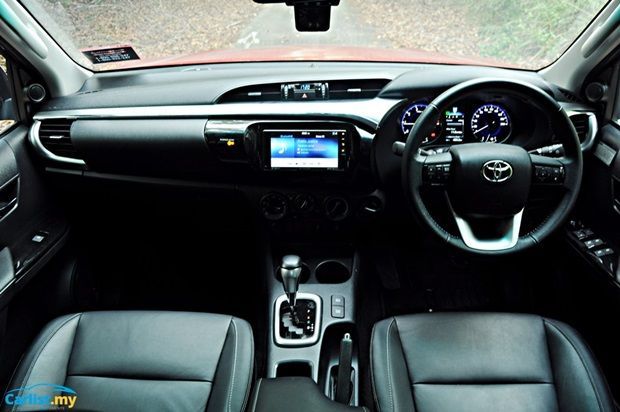 Interior
Like we mentioned earlier, this is the area where the changes are the most impressive. The dashboard is far from Spartan and straightforward, with sweeping lines and curves that stretch across two distinct levels. The vents are placed above the entertainment system- which is an excellent 6.1-inch touch screen setup- and a contrasting brushed aluminium-esque strip separates the two. There's start-stop and keyless entry as well, which are premium features you come to appreciate over spending some time with it.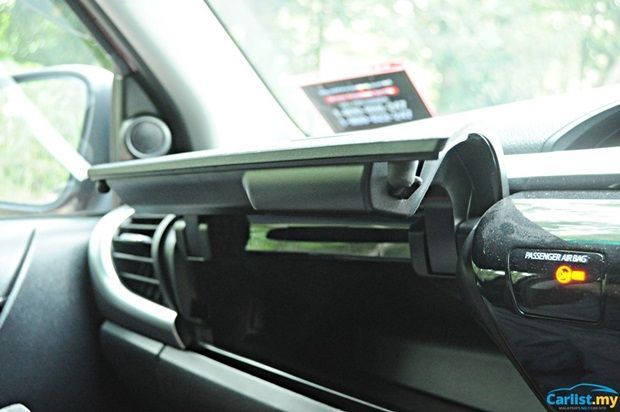 The centre console receives a cubby hole and two cup holders up front, with the majority of the space dominated by the gear lever and ECT mode buttons. There's also a small stowaway compartment above the glovebox that can house small documents or pens but doesn't take bulkier items. It doesn't leave you wanting for more storage space, but similarly it doesn't provide anywhere near the amount that companies like Honda are capable of offering.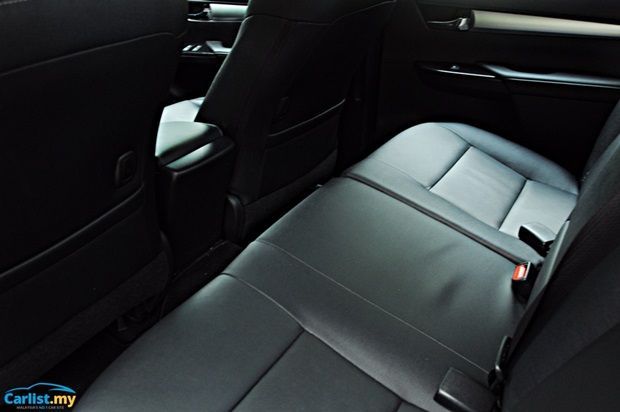 Cabin space has come a long way, and there is pretty of rear legroom to show for the Hilux's 90 mm increase in overall length. The Hilux is easily capable of hauling 4 to 5 adult passengers on long distance trips or around a dusty construction site- although it's worth nothing that rear passengers may not take kindly to bumps in the road.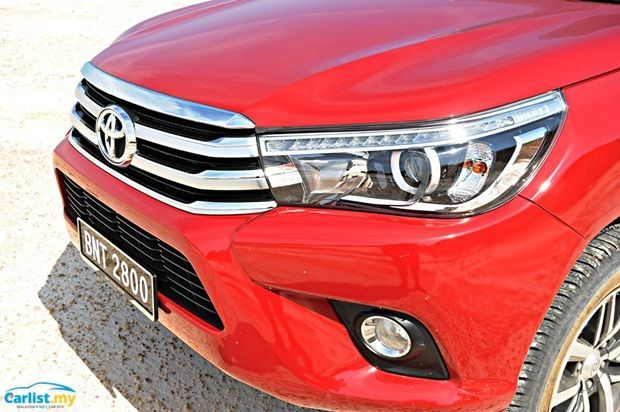 Exterior
Pickup trucks don't have to be blunt objects, as evidenced by the sleeker and sharper models we see with each passing year. Design may not have been as important in the nascent years of pickup truck development, but it is now becoming a fairly serious factor to consider when customers are perusing their various options. While the overall form is that of a traditional pickup (let's hope we don't see bizarre coupe-crossovers in this segment), there are some nice sharp design cues that help to keep the Hilux looking fresh and appealing.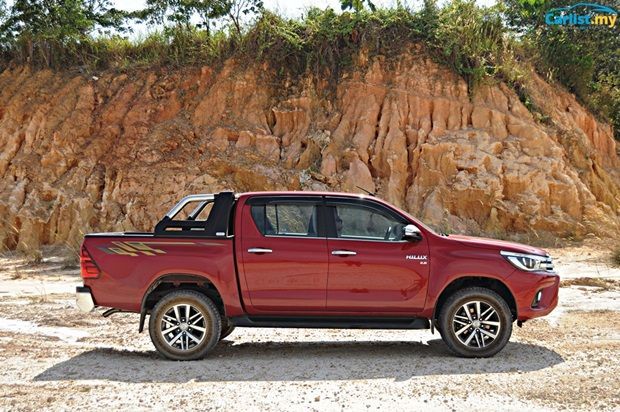 The new Hilux looks fairly sporty, although proportionally it seems narrower and taller than it should be, which may lead some to feel that there is a degree of potential instability. The bed is fairly wide and long with very minor intrusions from the rear wheels, meaning that cargo space isn't as compromised in that respect. This top-spec Hilux also comes with 18-inch alloy rims to help fill out those wheel arches, although perhaps 17-inch rims would have been a better choice for absorbing bumps on a dirt path.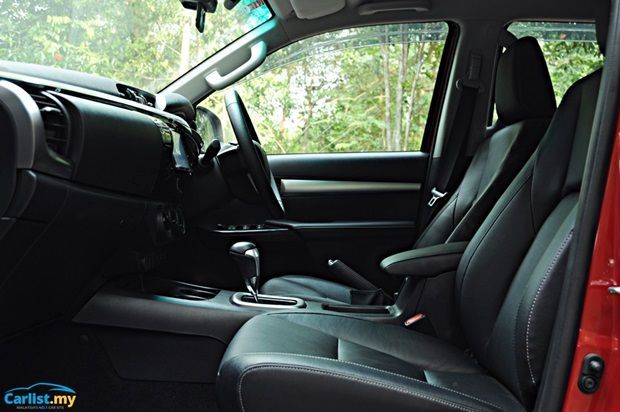 How does it drive?
For a pickup truck, on-road manners and off-road manners are fairly equal in terms of importance. Most buyers in the city will want a vehicle that can accelerate easily and be manoeuvred easily through tight spaces, and for the most part the Hilux delivers. The transmission feels a little lazy at times and is occasionally prone to shift-shock, but there are very few situations where the Hilux feels as if it cannot get up to speed when merging on the highway, or accelerate quickly enough for you to overtake slower moving traffic.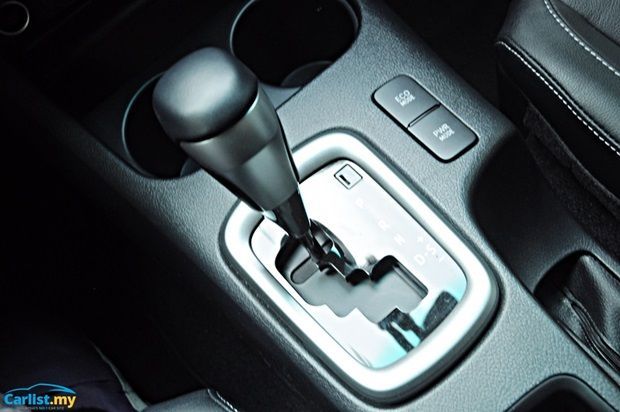 Once you leave the beaten path, however, things become a little trickier. Automatic transmissions are far superior to their manual counterparts (blasphemy, the purists cry) when it comes to off-roading, as it allows drivers to apply gentle torque to get the car moving on slippery surfaces and to maintain an effective pace when moving across rough terrain. This aspect of the Hilux is fine, as is the effectiveness of the lower gear ratios and the traction of the all-wheel drive system. We have few complaints in this department.
On the off chance that you do decide to push the Hilux through bends and along dirt roads at higher speeds than you should, you won't be at (serious) risk either. Sure, there are videos of Americans flipping Hiluxes in their dreaded moose test, but the chassis rigidity and the steering response is adequate in keeping the car in a controllable state (and making you feel a little like a rally driver). Just don't expect your rear passengers to be particularly happy when you eventually come to a stop.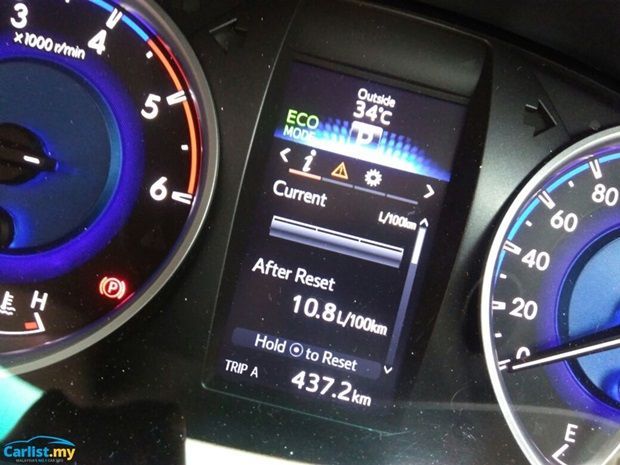 How efficient is it?
As a diesel powered vehicle it may not be the best consumption, but as a pickup truck it isn't all too shoddy. We clocked a solid 10.8 litres per 100 kilometres with a mixture of town driving, highway driving, and off-road antics- but you could probably achieve a much better figure if you stuck to the city streets. The best consumption achieved was around 8 litres per 100 kilometres, before we decided to kick up clouds of dust and crawl up the sides of reasonably sized mole hills.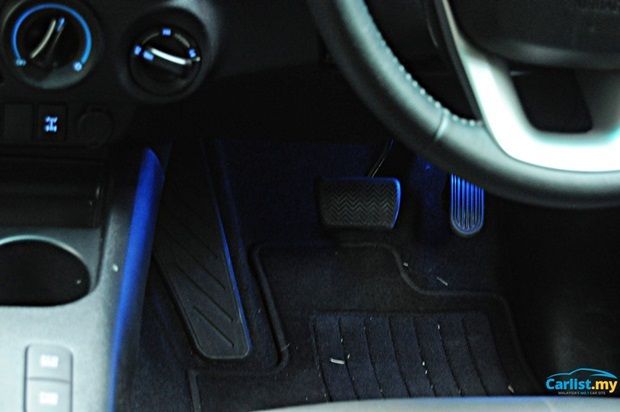 How comfortable is it?
For passengers in the front, the Hilux is quite nearly as good as any reasonably set up passenger car. It isn't as floaty as the previous generation model, which could be nausea inducing at times. It may not provide Camry levels of comfort, but it is a car you can live with around town. For rear passengers, however, it might be worth slowing down for bumps and undulations as the leaf springs are particularly stiff with an empty load bed. On the whole, it's a very easy car to live with.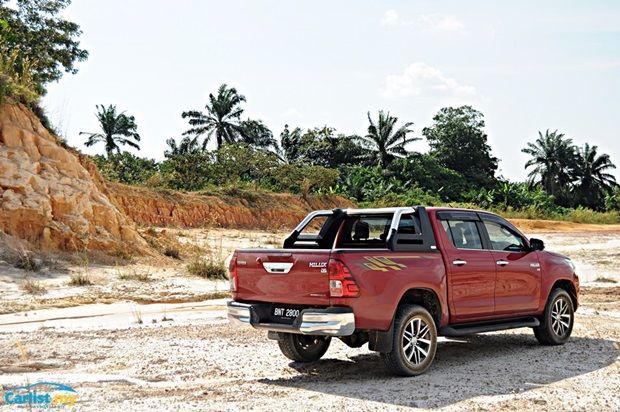 Conclusion
The new Hilux is a fair improvement over the previous generation- more than the incremental change we've come to expect from Toyota. Things are changing at Toyota, and if the Hilux is anything to go by then we can expect some fairly exciting new models. It is a solid balance between urban appeal and commercial practicality, and this is something that is not easily pulled off. Little touches like interior footwell lighting and an integrated dashcam are nice features that help to distract you from the fact that this vehicle started life as a workhorse, and a workhorse alone.
---
---
---
Comments