Review: 2017 Ford Ranger Wildtrak – Jet-Setting Pick-Up
Reviews For a time, pick-up trucks were viewed as affordable tax-free alternatives to budget B-segment sedans. Then, as their popularity grew amongst private owners, in came more features and better refinement; suddenly, pick-up trucks have become a lifestyle choice.
Pick-up trucks have been on this journey of progressive refinement for some time now, but the quantum leap moment happened in 2012 when Ford launched the current-generation Ranger T6 that raised the standards of features and technology margins never before seen in the segment.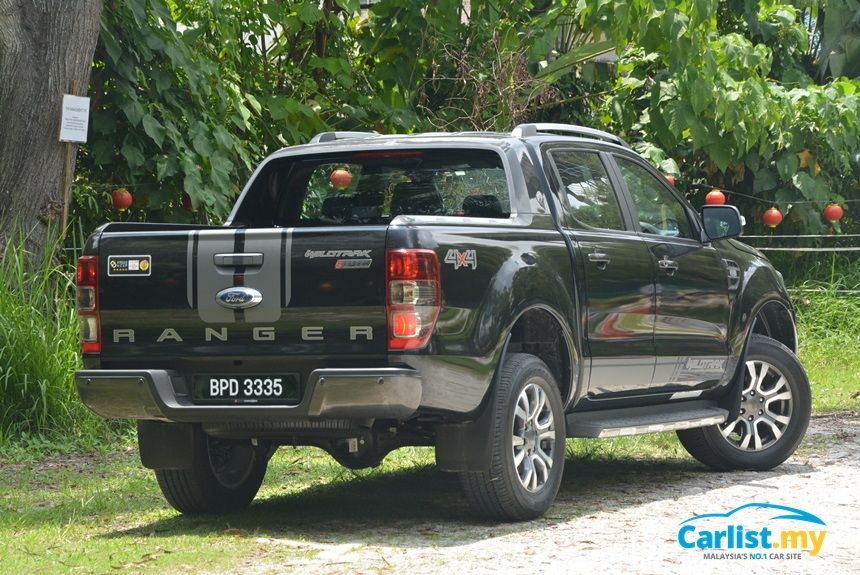 Ford's bravado with the highly-sophisticated Ranger T6 paid off handsomely. Despite not quite managing to surpass the Toyota Hilux in sales volume, the Ranger won much plaudits and is still widely regarded as the class-leading pick-up. Rivals have since caught up with newer models, however, but there is no question that it was the Ranger that blazed the trail for others to follow.
The Ranger continues to be a hot seller for Ford. A surprisingly early facelift came in 2015 that made it an even better truck, but prices have been steadily creeping up too; owning a Ranger is hardly cheap these days, especially not if you opt to go for the full bells & whistles in the recently-launched Wildtrak 'Jet Black' edition as tested here.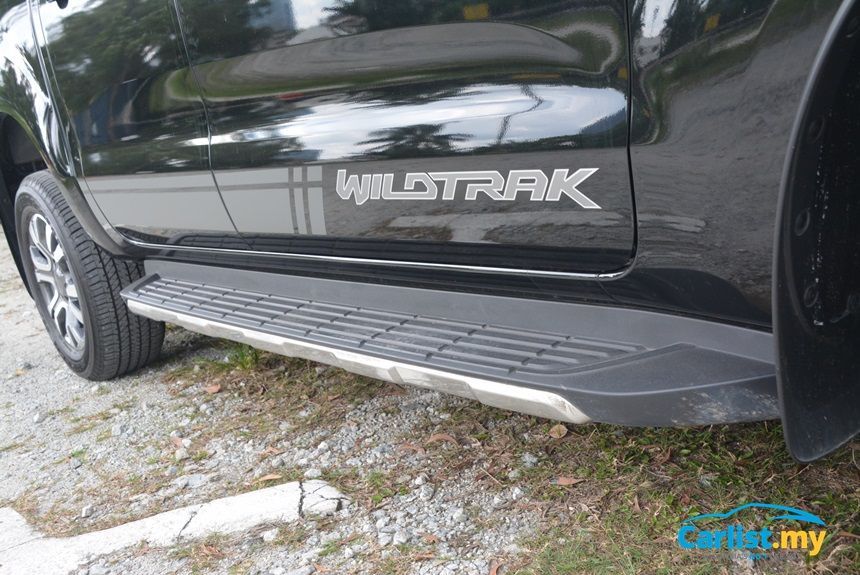 Specifications:
Price: RM145,829.84 (OTR with Insurance)
Engine: 3.2-litre, Inline-5 Longitudinal, Turbodiesel
Power: 200PS @ 3,000rpm
Torque: 470Nm @ 1,750 – 2,500rpm
Transmission: 6-speed torque converter automatic, 4x4
Safety: 6 airbags, ABS, EBD, Brake Assist, Load-Sensing Proportional Valve (LSPV), Electronic Stability Control (ESC), Hill Descent Control, Hill Launch Assist, Roll Over Mitigation, Trailer Sway Assist, Lane Departure Warning, Lane Keep Assist, Autonomous Emergency Braking, ISOFIX
Origin: Fully-imported from Thailand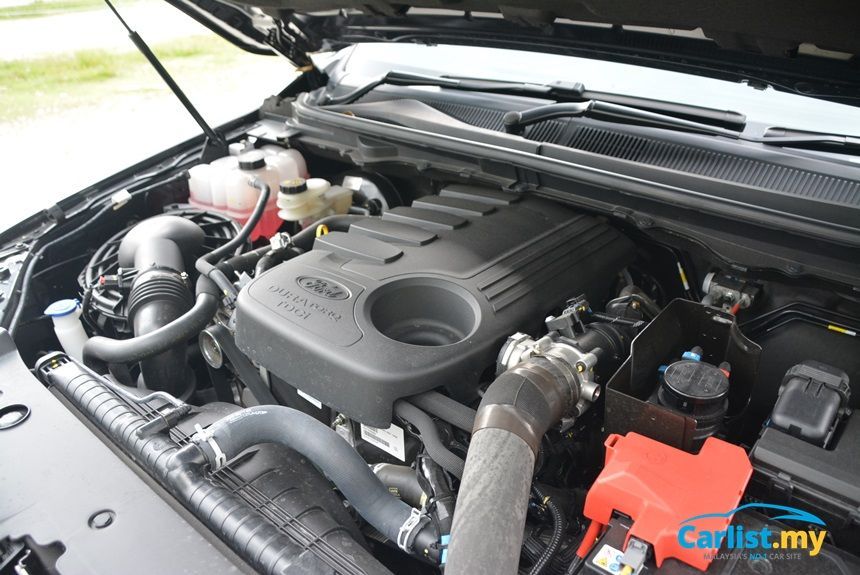 Overview
The XLT variants are the ones most people buy, but it is the Wildtrak spec that everybody wants; less so, we suspect, for the added performance of its 3.2-litre five-cylinder engine, but more perhaps for its sportier aggressive styling.
The limited 'Jet Black' edition here decks the Ranger Wildtrak in black paint and runs a pair of racing stripes down its centre. Infotainment gets a software upgrade to feature the latest Sync 3 operating system. A price premium of RM1,750 over the non-limited Ranger Wildtrak is reasonable in this case, but a final asking price of RM146k with insurance is no small amount of money.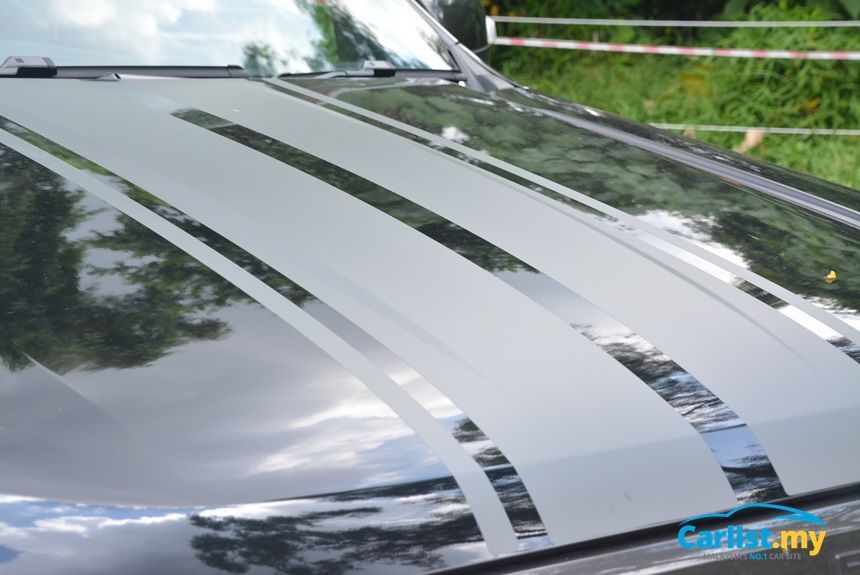 In addition to its more rugged appearance, the Wildtrak model also gets a substantially longer equipment list than the already generous manifest of the regular Ranger XLT. Features such as autonomous emergency braking, adaptive cruise control, lane departure warning, and lane keep assist puts the Ranger at premium vehicle level.
Noteworthy to mention too, that reverse camera and electronic stability control are standard right from the regular XLT variants upwards. Curious then, that with this many class-leading features already incorporated, Ford has left out keyless entry.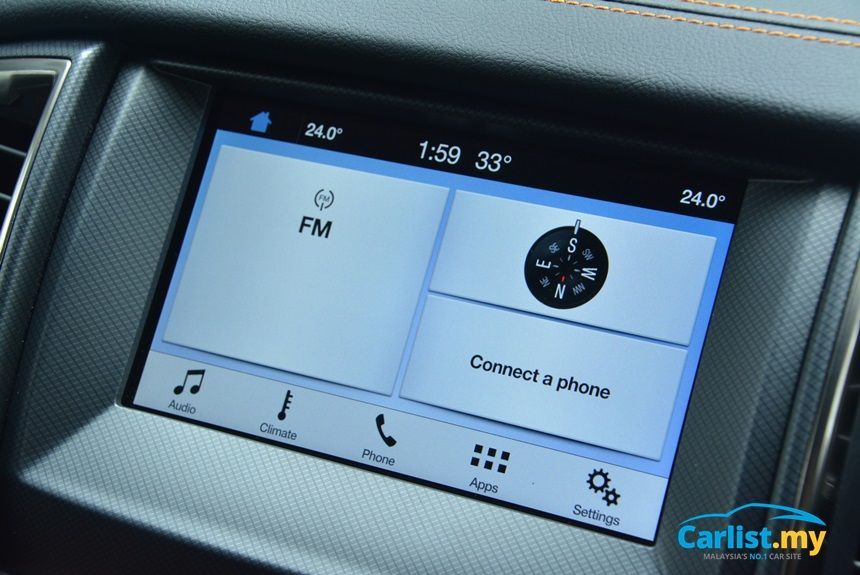 Exterior
Looks is an area which the Ranger has scored very highly since the T6 was first launched in 2012. Five years on with a major facelift in between, the Ranger continues to be an exceedingly handsome-looking vehicle even if rivals are fast catching up.
A big part of the Wildtrak variant's special appeal is the way its bright orange colour scheme contrasts with dark claddings and trim inserts to give off a funky yet rugged aura. In eschewing the Wildtrak's signature bright colour, but retaining its rugged trim elements, the 'Jet Black' edition here projects an added air of menace in its looks. If you're the type that dig the look of subtle aggression, this truck, we suspect, should look highly appealing.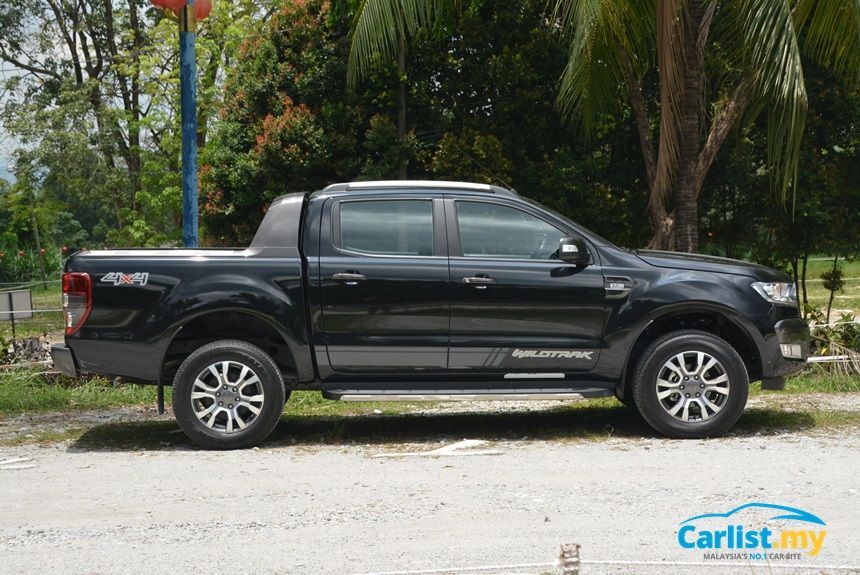 Ford remains surprisingly conservative with its choice of headlamps with all variants of the Ranger making do with halogen headlamps and bulb-type daytime-running lights. Rival pickups have mostly begun offering xenon and LED illumination in their upper variants, though it is also worth remembering that these fancy new headlights can also be significantly more expensive to replace.
Exclusive to the Wildtrak, the cargo bed gets a covered 12V power socket and a pair of cargo lights to illuminate the deck in the dark.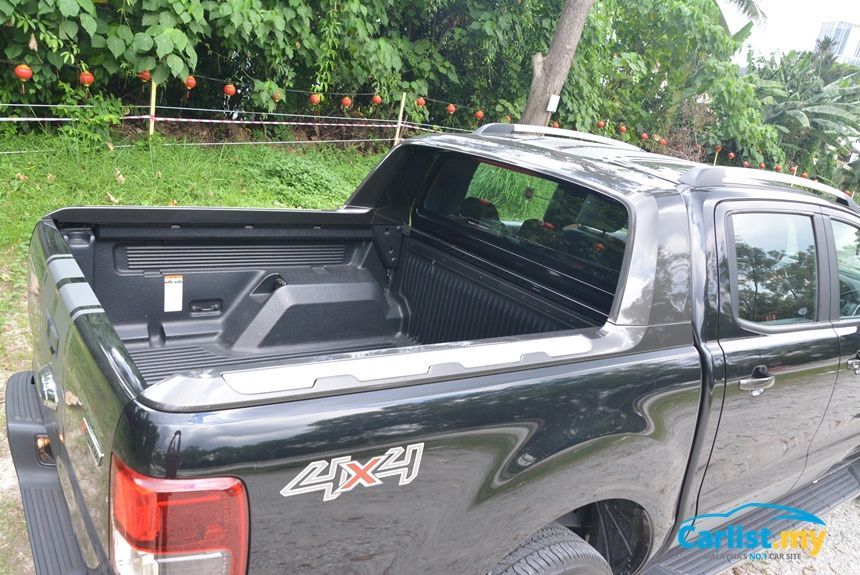 Interior
Besides extensively revising its fascia, Ford also gave the Ranger's already modern cabin a substantial makeover for the 2015 facelift. Noteworthy is a revised semi-virtual instrument cluster that features a pair of LCD screens flanking the central speedometer. Looks positively slick at first glance, but it makes the virtual tachometer too small for our liking. Also, the organization of information isn't as well sorted as the brilliantly simple four-quadrant layout as seen in the multi-info display of the Focus, Mondeo, and S-Max.
The new Sync 3 infotainment system, on the other hand, is praiseworthy for its smooth operation and intuitiveness of its interface. Resolution of display is good and response to touch commands is positively free of lag. We particularly appreciate the manual FM tuning feature that gives users the option of manually keying in a specific frequency on the virtual keypad.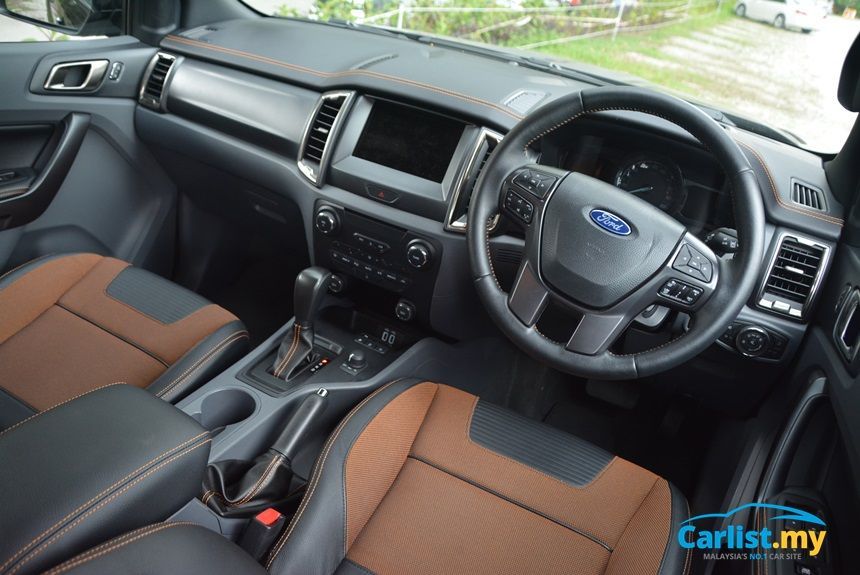 Driving Experience
The Ranger set new standards in dynamics and refinement for the segment when it was launched in 2012 and still has yet to be convincingly surpassed by any rival since. Only the Mitsubishi Triton and, more recently, the Chevrolet Colorado any sort of legitimate claim of being anywhere near the same league as the Ranger with regards to their respective road manners.
Although the base 2.2-litre four-cylinder engine already provides a thoroughly competitive balance of performance and economy, the 3.2-litre five-cylinder powerplant here adds a new dimension of smoothness and refinement to the equation. The bigger five-pot engine makes full use of its extra cylinder and cubic capacity to not only offer better performance, but also to provide smooth and effortless accumulation of speed.
The 2015 facelift also added in significantly improved safety, which included, for the first time, autonomous driving aids in the segment. We didn't put its autonomous emergency brakes to the test, but did try to provoke the lane keep assist system a few times – the calibration proved surprisingly good with intervention delivered in a firm, yet gentle manner.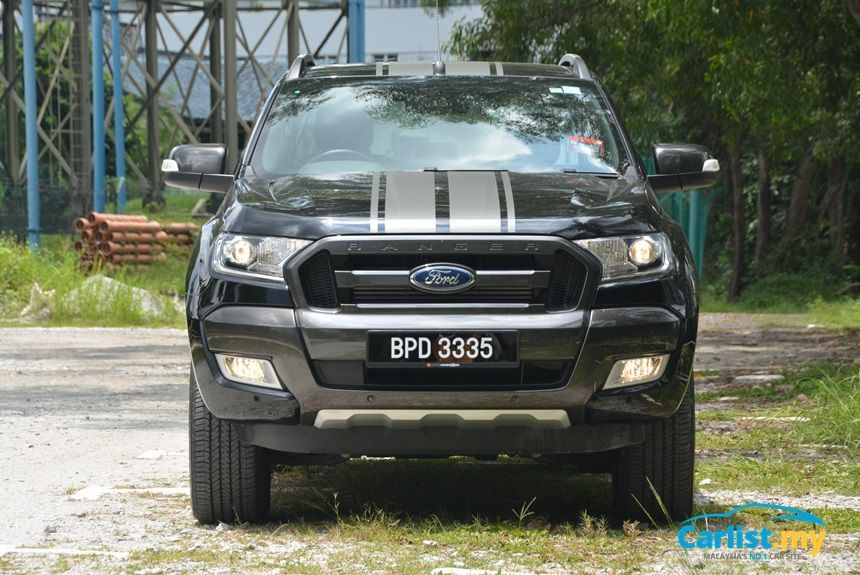 Comfort & Refinement
We typically have to brace for shaky stiff rides with pick-up trucks, but the Ranger is indeed better than most in this respect. Its damping is, perhaps, still second best to the Triton, but is otherwise good enough that folks accustomed to the comforts of a passenger car are unlikely to be severely shaken. It is as comfortable as one can reasonably expect of a chassis that still has to be tuned to haul palm oil from the estates.
As mentioned earlier, the 3.2-litre five-pot is exceptional in its smoothness and refinement. Together with an excellent soundproofing package, Ford has succeeded in making the Ranger a truly quiet truck on the move. At highway speeds, conversations can be carried out without raised voices and neither was there any need to dial up the radio volume.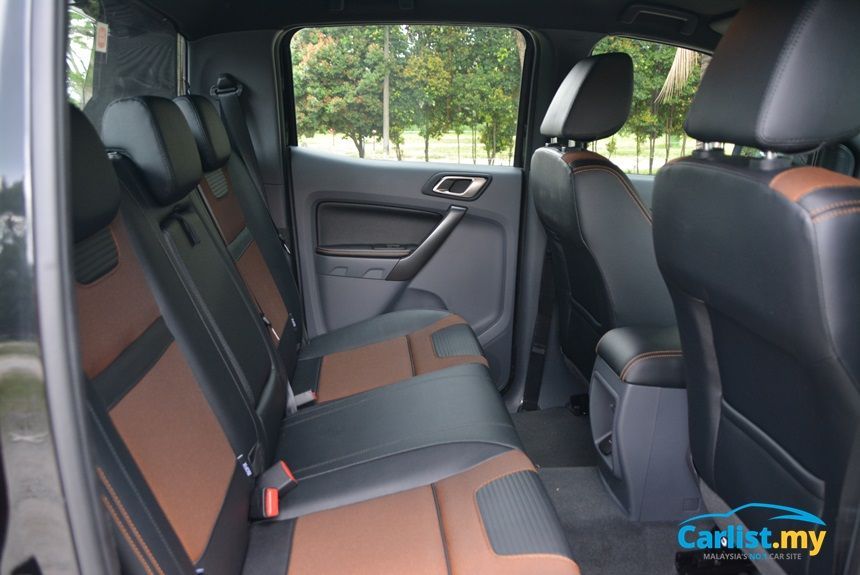 Economy
Over 320km of driving in mixed conditions covering highways and urban roads, the Wildtrak returned a measured average of 10.5 litres/100km on the trip computer; high in comparison to sub-2.5-litre trucks that are more popular in Peninsular Malaysia, but decent, in context, for a 3.2-litre engine.
The Toyota Hilux 2.8, for example, averaged 10.8 litres/100km in our hands; whilst the Chevrolet Colorado 2.8 returned 13.9 litres/100km, although that was admittedly under highly enthusiastic driving conditions. We have not thoroughly reviewed the Isuzu D-Max, but its ability to travel all the way from Bangkok to Singapore without needing to refuel suggests it is a significantly more economical truck even in 3.0-litre format.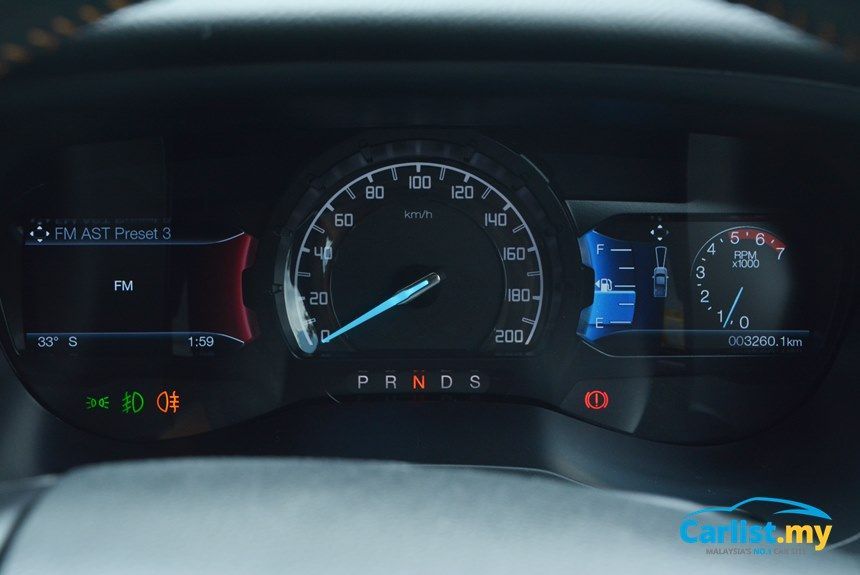 Conclusion
More than its added muscle, the appeal of Wildtrak trim on the Ranger centres around its enhanced rugged styling cues and features. We strongly believe that if Ford were to offer the Ranger 2.2 in conjunction with Wildtrak trim, the resultant product would quite literally fly off the showroom floor. The recently-introduced Ranger FX4 2.2 is perhaps the answer for this demand.
Having pioneered ongoing modernization of its segment, the Ranger continues to lead the market as one of the most refined pick-up trucks in the market. The Wildtrak's 3.2-litre engine does not offer a significant performance advantage in the real world over the 2.2, although the bigger engine's manners are admittedly more refined. For most, however, we reckon the 2.2 is more than good enough.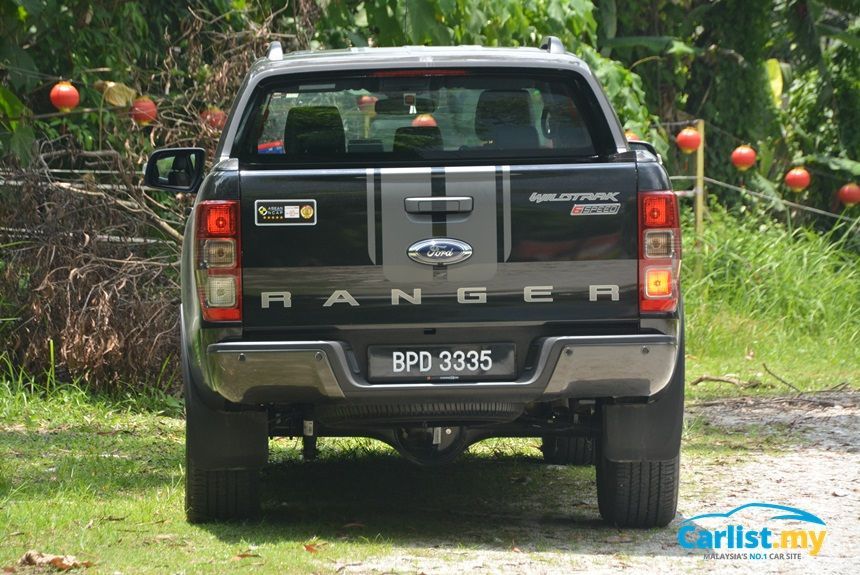 Whichever version of the Ranger you choose, be in no doubt that you are picking a highly advanced product. With features such as electric power steering, autonomous braking, lane keeping assist, and many others, it is no longer sufficient to describe the Ranger as 'car-like', because it is, in certain aspects, even superior to regular passenger cars.
It does however, leave us with the question – as pick-up trucks become increasingly more complex machines, what's left for those seeking uncomplicated easy-to-fix workhorses for no purpose other than haul loads and can be mended with nothing more than screwdrivers and wrenches?
---
---
---
Comments