Review: 2017 Hyundai Ioniq – Value For Money Doesn't Get Any Better Than This
Reviews We could start this review with some cliché green car hybrid car talk but let's be realistic, the peculiar dynamics of the Malaysian car market means that a fuel-saving hybrid car for the masses don't make much sense.
If you are looking to save petrol, buy a Perodua Axia or a Bezza. In fact, you can buy multiple Peroduas for the price of one Hyundai Ioniq – which is already the cheapest hybrid currently on sale in Malaysia.
While Malaysians may complain of high fuel prices, simple arithmetic will tell you that to recoup to the added cost of buying a fuel saving hybrid car versus a similarly fuel-efficient Perodua, you will have to drive to close to a million kilometres! Elsewhere, cars are relatively cheap to buy, but petrol is very expensive. In those markets, hybrids make sense. Over here, things are a bit on reversed.
So if you are looking at the Ioniq because you want to lower your driving cost, look elsewhere. However if you are looking to buy a practical family car that offers the best and the highest levels of safety features, at the lowest price, we can tell you upfront that Ringgit for Ringgit, nothing else on the market comes close to matching the Ioniq. Piqued your interest?
Specifications for 2017 Hyundai Ioniq HEV Plus
Engine: 1.6-litre, Atkinson cycle, transverse four-cylinder, direct injection, naturally aspirated
Power (engine only): 105 PS at 5,700 rpm
Torque (engine only): 147 Nm at 4,000 rpm
Hybrid system: Petrol-electric, single motor full hybrid
Traction battery: 42 kW, Lithium-ion Polymer
Power (motor only): 32 kW
Torque (motor only): 170 Nm
Total system output (engine+motor): 140 PS
Transmission: 6-speed dry-type dual-clutch automatic
Safety: 7 airbags, ABS with Brake Assist, autonomous emergency braking, hill start assist, electronic stability control, blind spot detection, lane keeping assist, adaptive cruise control
Price: RM114,008 excluding insurance
Origin: Locally-assembled in Kulim, Kedah
Overview
Globally, the Ioniq is available with three powertrain options, each with progressively higher levels of electric drive. The range starts off with a regular full-hybrid HEV (Hybrid Electric Vehicle) model that you see here, with limited electric-only driving range of just several kilometres.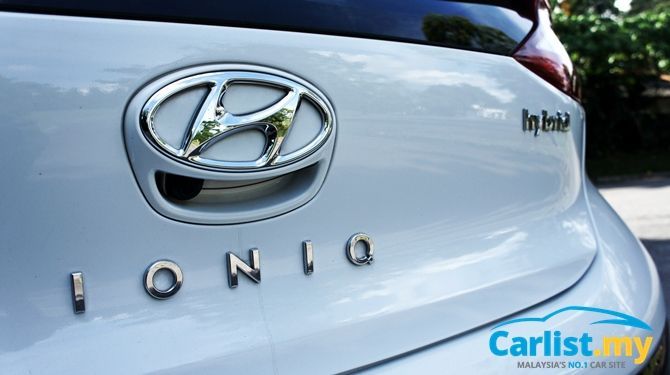 Further up is the PHEV (Plug-in Hybrid Electric Vehicle) model, which can be plugged in to a domestic power socket to recharge its traction battery to extend its electric-only driving range to up to 63 km.
Lastly, the Ioniq EV (Electric Vehicle) is a fully electric vehicle with a driving range of up to 280 km.
Of the three, only the HEV model is sold in Malaysia. Being a full-hybrid, the Ioniq is able to accelerate from stationary in electric power alone, with the engine firing up only at higher speeds when more power is needed.
In the real world, having a full-hybrid drivetrain means that the Ioniq drives smoother in stop-go traffic as opposed to mild-hybrids used in the now discontinued Honda Insight or Civic Hybrid or CR-Z, whose early generation Integrated Motor Assist (IMA) system had to fire up the petrol engine to drive the car from standstill. Later this year, Honda is expected to debut its i-DCD Sport Hybrid full-hybrid system in the upcoming Honda Jazz facelift.
And unlike early Honda hybrids (except the FB-generation Civic Hybrid) the Ioniq's air-conditioning runs independently from the petrol engine so cabin cooling performance is consistent irrespective of whether the engine is running or not.
Exterior
Being a dedicated hybrid model, the Ioniq is styled in more or less the same silhouette as the Toyota Prius and Honda Insight, not because one is copying the other, but because this silhouette, which smart people in lab coats refer to as a Kammback/Kamm tail design, is the most aerodynamically efficient.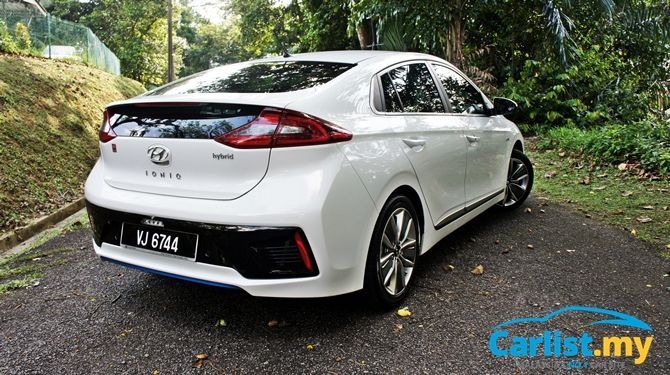 With a gently tapering roofline that truncates abruptly, a Kammback shape creates the least amount of aero drag – a condition where low air pressure zone forming behind car acts as a huge vacuum sucking the car's rear and slowing it down.
In terms of size, the Ioniq sits between a City/Vios-class B-segment car and a Civic/Corolla Altis-class C-segment car. Its 2,700 mm wheelbase equals the Honda Civic and Corolla Altis' but as you will read later, the Ioniq cabin size is actually closer to a B-segment car rather than a C-segment car.
From the outside, this top of the range HEV Plus variant is differentiated from the entry HEV variant (RM100,328 excluding insurance) by its HID Bi-Xenon headlamps and LED tail lights.
Interior
As mentioned earlier, the Ioniq's usable interior space is closer to that of a B-segment car. Think Honda Insight instead of a Toyota Prius and you will get the picture.
Like many recent Hyundai models, the Ioniq's interior feels more expensive than its selling price suggests. Tactile feedback from the trim materials, buttons and switches are solidly positive, with a hint of premium touch to them.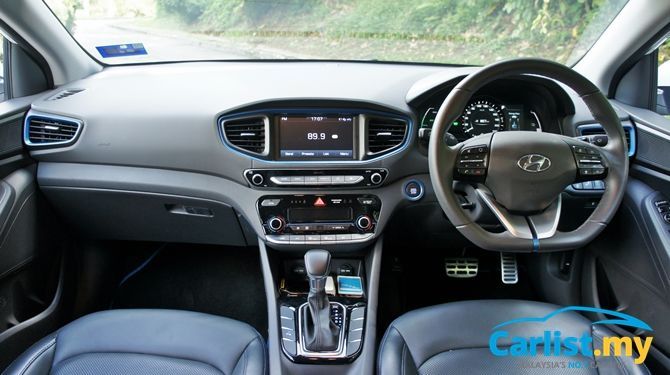 The cabin materials are comparable to even a Hyundai Sonata, nevermind the Elantra because that's an aging model that's well past its model lifecycle so it's not a good benchmark.
The almost flat-bottomed steering wheel and aluminum pedal inserts give the car a rather racy character, which is not quite what you expect from a car like this.
The parking brake is foot-operated, which some buyers upgrading from lower segments might need to learn to get accustomed to, but it frees up more usable space in the car's otherwise tight interior.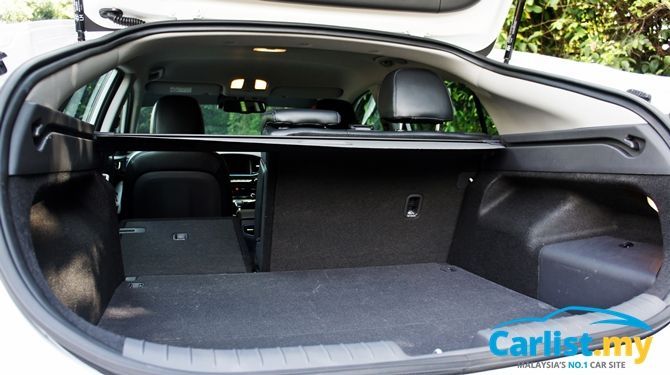 Driving performance
Hybrids are often made fun of by the American/British press, something which we find to be greatly exaggerated, because there are many cars that handle poorer than the Honda Insight, or even the Toyota Prius for that matter. And the CR-Z is quite a hoot to drive, nevermind the BMW 330e or Volvo XC90 T8.
Drivers who are new to hybrids will need to adapt to the silent start-up of the Ioniq. Press the engine start button and the only thing that happens is the instrument panel lighting up.
Shift the 6-speed dry-type dual clutch automatic transmission into Drive and off the car goes in total silence. Given the price, the Ioniq could be the first full-hybrid for many people and this driving in total silence can be quite an experience.
Don't be too concerned if the traction battery charge level indicator on the right doesn't show a full charge. Even by regular full-hybrid car's standard, the Ioniq's 1.56 kWh battery capacity is quite big so it requires longer driving time to recharge it. As a comparison, the last generation Toyota Prius sold here, which was a larger and heavier car, had only a 1.2 kWh capacity battery.
In regular urban driving, charge levels are unlikely to go beyond the three-quarters mark. Besides, hybrid car's traction batteries are not meant to be charged to 100%. In interest of reliability, the battery rarely charges/discharges to 100 percent or 0 percent. To extend the battery's service life, the power control management software ensures that no two neighboring cells within the battery pack are charged/discharged consecutively.
Driving at low speeds, the steering wheel is unusually light, even by the standards of a hybrid car, but at higher speeds, it stiffens up nicely. The rim is thick, coupled with a small-ish diameter, quasi flat-bottomed designed with a rather tight steering ratio, the Ioniq gave the impression that it will handle well, an impression that it lived up to quite well.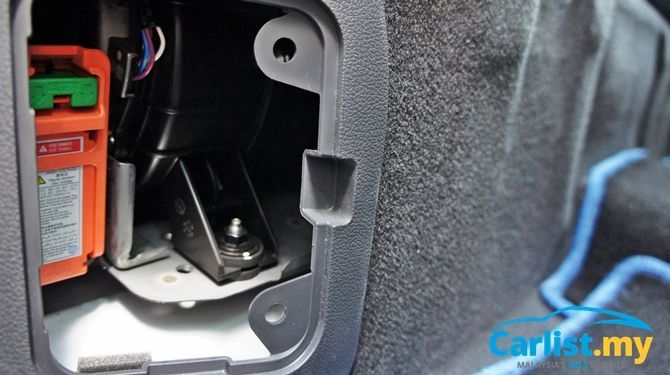 Chuck it into a sweeping corner, the Ioniq feels hunkered down well. The placement of both the 12V auxiliary battery (in the boot) and the 240V traction battery (under the rear seat) probably aided in giving the Ioniq a very balanced handling. Of course, having multi-link suspension as opposed to torsion beams that one would normally expect from cars in this price point helps too.
On paper, the Ioniq should give rather decent acceleration and straight line driving performance. With a total system output that's 4 PS more than the 55 kg heavier previous generation Toyota Prius (current fourth generation Prius is no longer sold here), coupled with a snappy dual-clutch transmission, you would expect to feel a strong shove in the back when you floor it, except that you don't.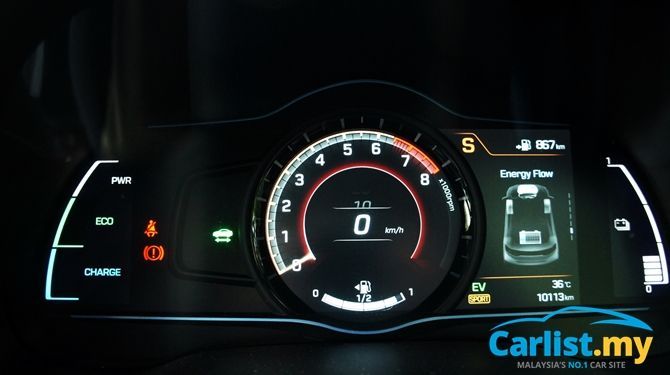 Shifting the transmission into S sharpens the throttle and steering, but it doesn't do much in terms of making the car faster, even by the standards of a hybrid car.
Despite its advantages on paper, the Ioniq just doesn't have the get up and go urgency that was found in the previous generation Prius, which can give a surprisingly strong surge of power, albeit momentarily, and only when the traction battery has sufficient charge.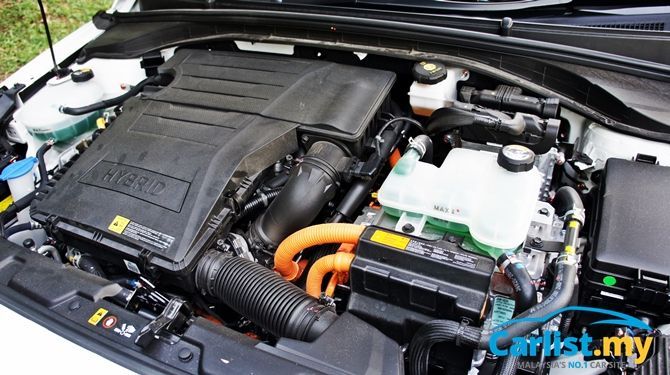 This is not to say that the Ioniq is slow, because it isn't, but the immediacy of delivering maximum torque, a forte that we would expect of any car with a sufficiently large traction motor, just wasn't to be found in the Ioniq.
With a dual-clutch transmission (DCT), we had initially expected the Ioniq to be less smooth in slow traffic than regular torque converter automatic transmission equipped cars – because that is just an inherent character of dual-clutch transmissions, that it shifts more like a manual transmission car in traffic. Thus we were pleasantly surprised to find that the Ioniq's DCT is nearly as smooth as a CVT, never mind regular automatics.
With a powerful electric motor filling up the gap in torque every time the transmission shifts, the Ioniq has removed all the negatives of DCTs, while retaining the positives.
When the petrol engine does fire up, it does in a very seamless manner. Without looking at the energy flow chart, it's not very obvious when the petrol engine comes on.
However we noted that under certain low-speed driving conditions, there is a mild but distinct pulse on the brake pedal every time you feather the brake pedal and regenerative braking is active – a default feature in any hybrid car that allows it to recover otherwise wasted energy during braking to recharge the traction battery.
A key highlight of the HEV Plus variant is the long list of advanced driver's aids features, some of which we like, others less so. Autonomous emergency braking is certainly useful, but keep in mind that the system only detects large metallic objects (i.e. cars). It can't detect pedestrians or small motorcycles.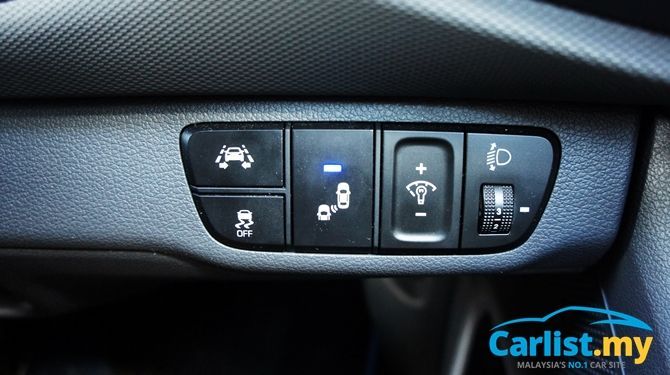 Blind spot warning is also appreciated, although the warning buzzer could be improved with a less alarming noise.
The feature that we have mixed feelings the most of Lane Keeping Assist. There are three modes to choose from, each with a higher level of intrusion. Lane Keeping Assist works best when you are driving on highways, as it prevents you from straying between lanes, but in urban traffic, it gave us a few heart stopping moments when the steering wheel momentarily refused to allow us to swerve to avoid pot holes and motorcyclists, because the computer believes that we are distracted/sleepy and are straying out of our lane.
Comfort
For its price, the Ioniq is easily the quietest car for highway cruising. Only the Volkswagen Vento and Polo, and if you push the price point a bit higher - the Honda Civic, can match the Ioniq's cabin quietness.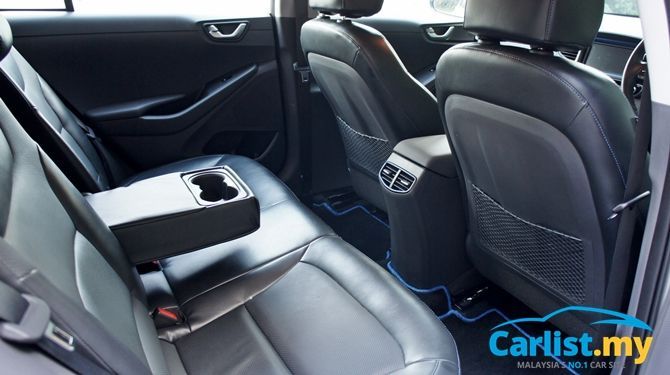 The Ioniq is surprisingly quiet even at 160 km/h, and the seats offer better support than what you would normally expected at this price. It may not accelerate as fast as a Prius, but it's definitely a lot more comfortable at highway speeds.
Headroom and legroom in the rear is comfortable enough for two full-size adults riding behind, but not three.
The Ioniq also comes with a wireless charger for mobile devices but to use this, your smartphone has to be able to support this feature. When active, it the charging pad does heat up and it is not advisable for you to leave you any magnetic cards or credit cards or Touch N Go cards on it. When not use, it is recommended that you disable this feature.
Fuel Economy
After driving nearly 150 km in the Ioniq, 90 percent of it in urban traffic conditions, we Ioniq returned an average fuel consumption of 4.9-litre/100 km, which is very impressive but then again, we wouldn't expect any less from a full-hybrid.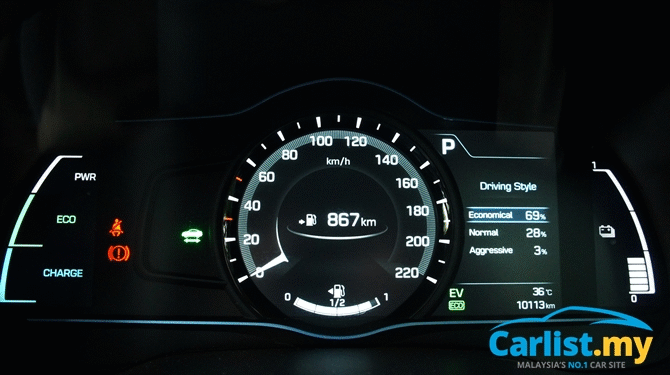 Conclusion
With such a high level of safety features for a little over RM100,000, and backed by a 5-year/300,000 km warranty plus an 8-year/unlimited mileage warranty specifically for the traction battery, the Ioniq is easily a highly recommended choice.
Don't look at it as a hybrid car, because as we've mentioned earlier, if you are looking to save fuel, you can buy multiple Peroduas for the price of one Ioniq. If you want something a little bit more sophisticated, the cheaper and (shockingly) spacious Honda Jazz is fuel-efficient enough – with the difference in prices from the Ioniq enough to buy you many years' worth of fuel.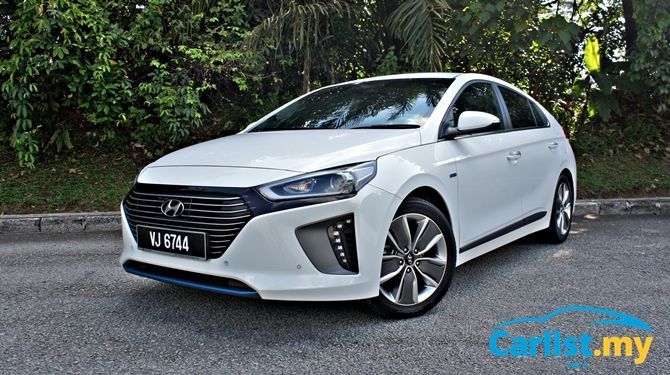 Instead, look at the Ioniq as a very complete, practical family car that offers an astounding value for money, with the added bonus of offering good handling and ride comfort that can rival cars from one or two classes above it.
There are some minor niggles with its user-interface and its small-ish interior space, but at this price, we are certainly not complaining. Judging by how the Ioniq is fast becoming Hyundai Malaysia's best-selling model in recent time, Hyundai certainly has a winner on its hands.
---
---
---
Comments