Review: 2017 Isuzu MU-X Type S - The Sensible Choice
Reviews Truck-based SUVs may not offer the comfort of car-based SUVs, but they do offer a unique preposition.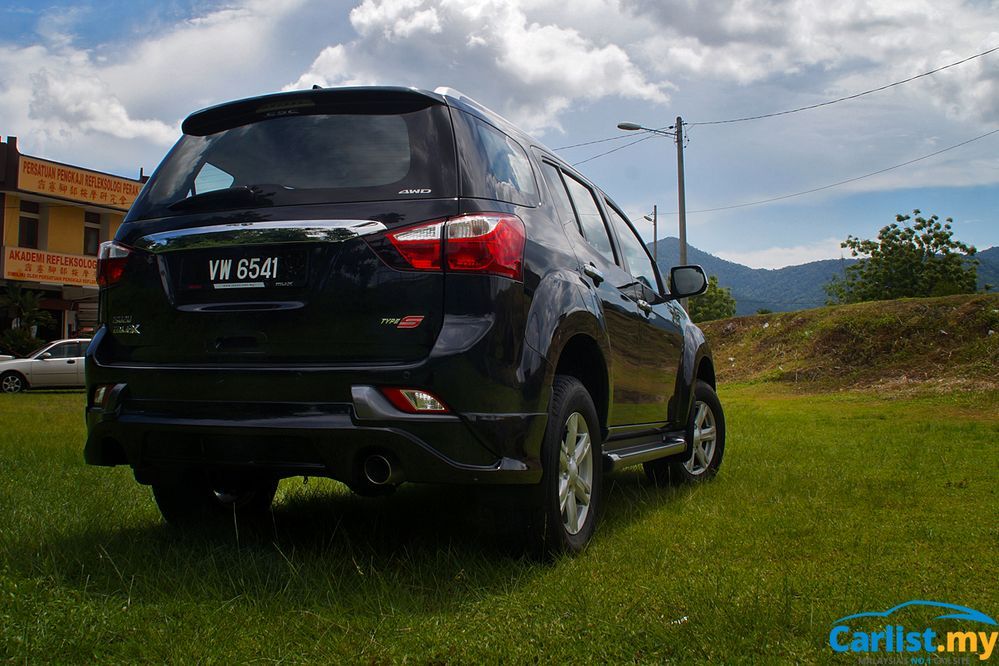 At the moment, the segment is occupied by the Isuzu MU-X, Ford Everest and Toyota Fortuner. The Mitsubishi Pajero Sport is still on sale, but will be phased out without a successor in sight.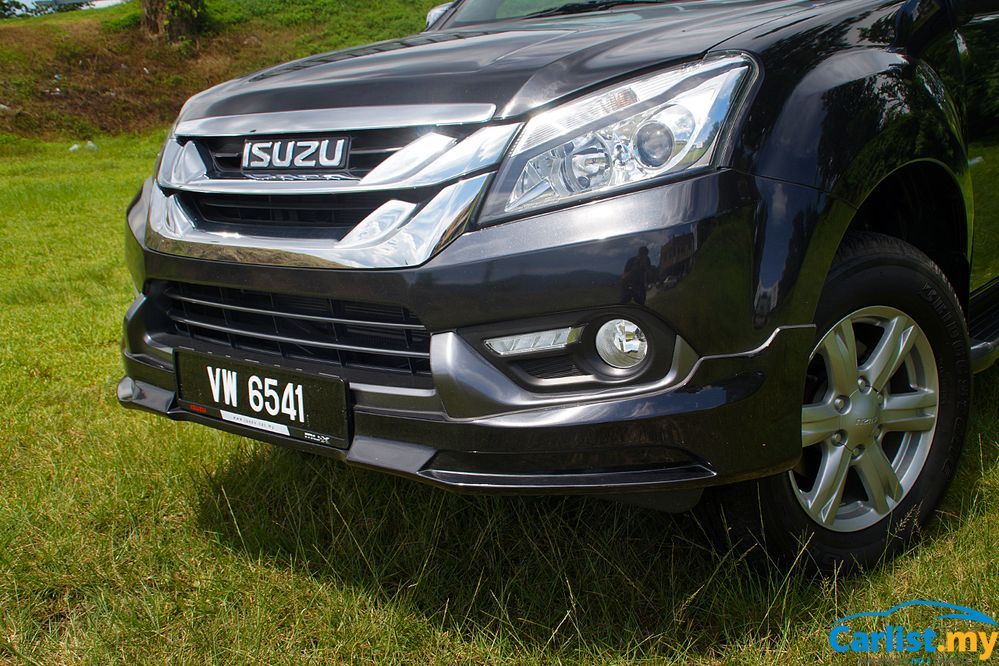 Compared to their car-based counterparts, these truck-based SUVs offer superior off road capabilities coupled with unrivalled durability. However, ride comfort is often compromised when it comes to these large SUVs.
Isuzu Malaysia introduced the enhanced MU-X Type S back in late 2016 as the company's flagship model, priced at almost RM182k OTR.
Specifications:
Engine: 2.5-litre 4JK1-TCX VGS Turbodiesel
Power: 136 PS @ 3,400 rpm
Torque: 320 Nm between 1,800 rpm – 2,800 rpm
Transmission: Five-speed automatic, Four-wheel drive
Safety: Dual airbags, ABS with EBD, Brake Assist, Electronic Stability Control (ESC), Traction Control System (TCS), ISOFIX anchor points
Origin: Fully imported from Thailand
Price: RM181,840 (OTR with insurance)
Overview
In essence, it looks like the Isuzu MU-X is an Isuzu D-Max with a rear boot tacked on plus some seats added in. However, it isn't that straightforward. Isuzu has done a lot to separate the D-Max from its MU-X.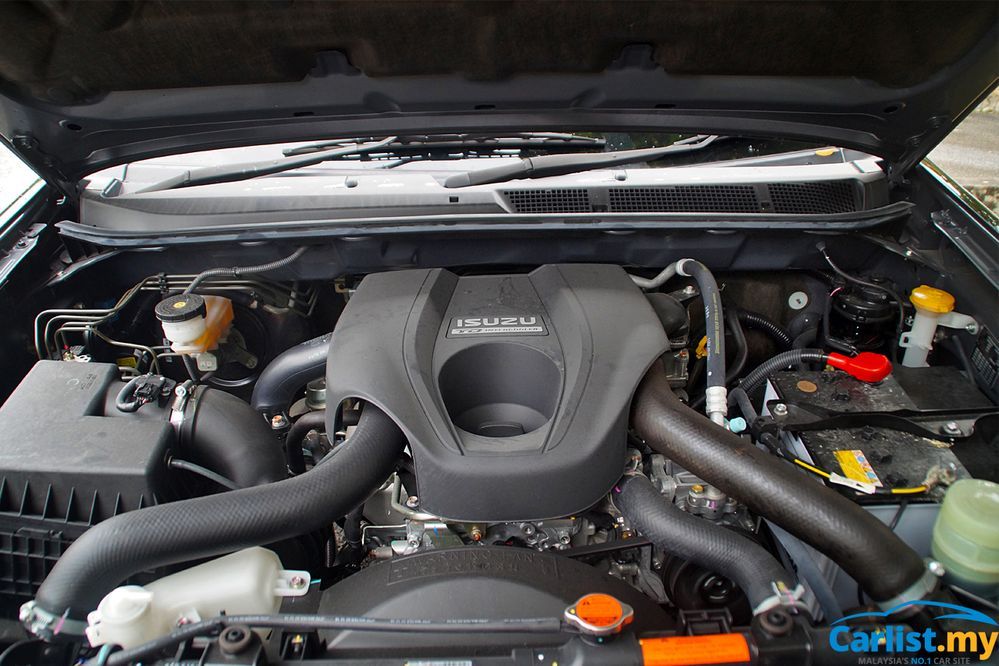 Power is derived from a 2.5-litre VGS turbodiesel that's shared with the Isuzu D-Max. Power figures quoted by Isuzu isn't earth-shattering, but the keyword here is that Isuzu engineers have tuned the engine to offer superior reliability. Power is delivered to all four wheels via a five-speed automatic, though for town and highway driving, the drivetrain should be set to two-wheel drive mode.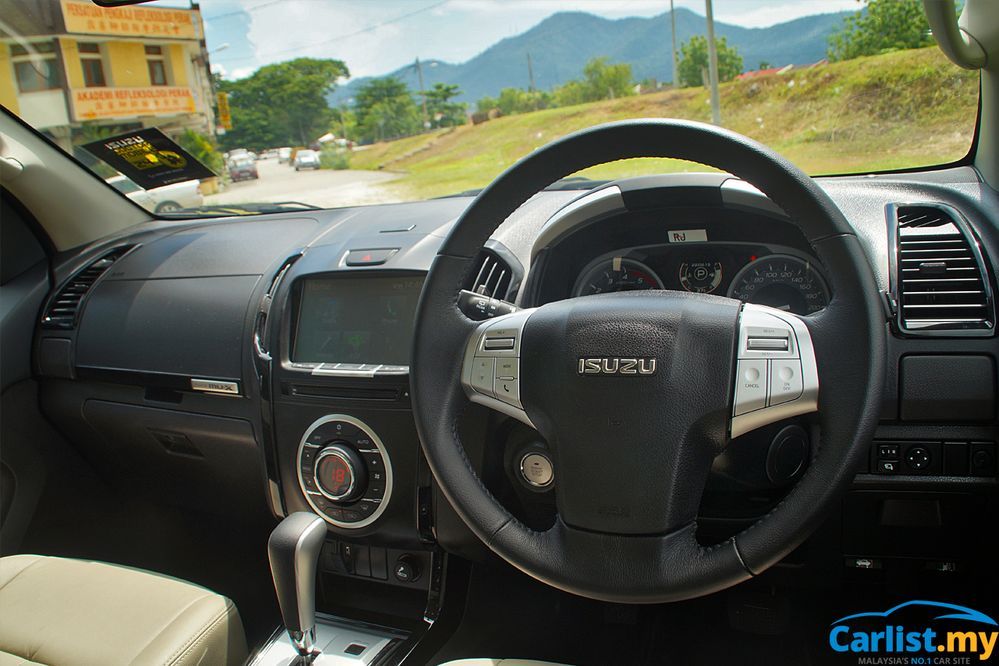 Our Isuzu MU-X came in the range-topping Type S trim, which adds keyless entry and start, a new 8-inch infotainment system, new illuminated e-Lumax meter panel, leather upholstery with piano black interior trim and all round body kit. These kit add another RM16,288 to the base MU-X, bringing the total price of the Isuzu MU-X Type S to RM181,840.
Exterior
Whilst the Isuzu MU-X may not feature fancy LED headlights of the Toyota Fortuner, or large alloy wheels of the Ford Everest, we reckon that the design is rather muscular. We like the swollen wheel arches of the MU-X, which we feel gives the MU-X added road presence.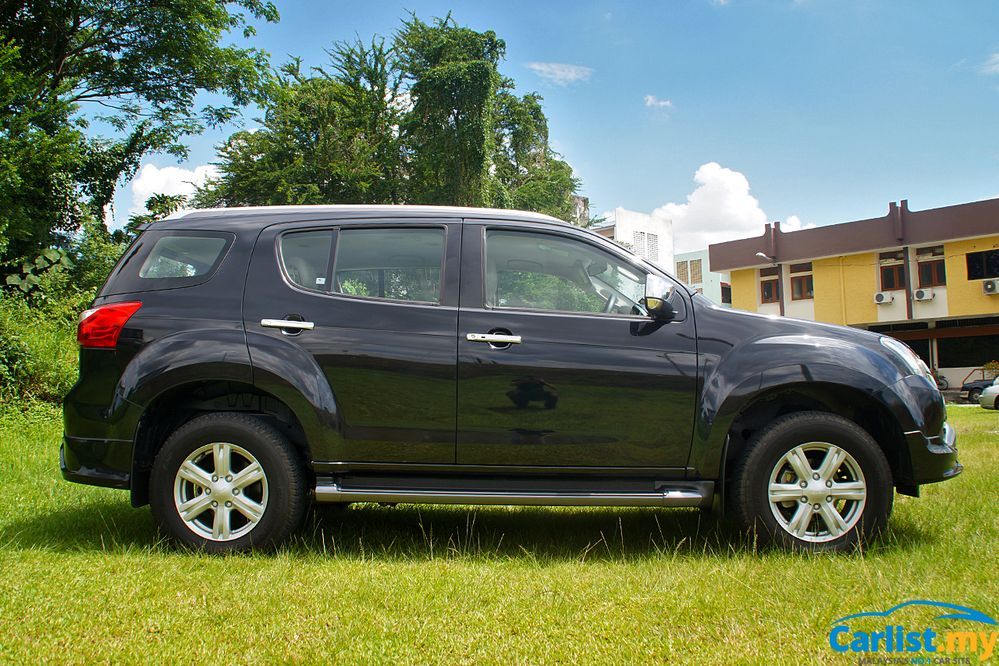 Our test unit came in Cosmic Black, complete with bodykit all round. For us at least, the bodykit, especially towards the rear, makes the MU-X look rather gaudy. The faux twin muffler configuration does not do the MU-X justice, we believe.
Tacky bodykit aside, the rest of the Isuzu MU-X Type S is identical to the model we tested a couple of years ago, down to its projector headlights, LED DRLs and 17-inch alloy wheels.
Interior
Being a truck-based SUV, the best way to describe the interior is that it's utilitarian. Hard plastic may be found throughout the cabin of the Isuzu MU-X, but build quality plus fit and finish is top notch. During our time with the MU-X, the interior did not rattle or squeak. Everything was put together very well.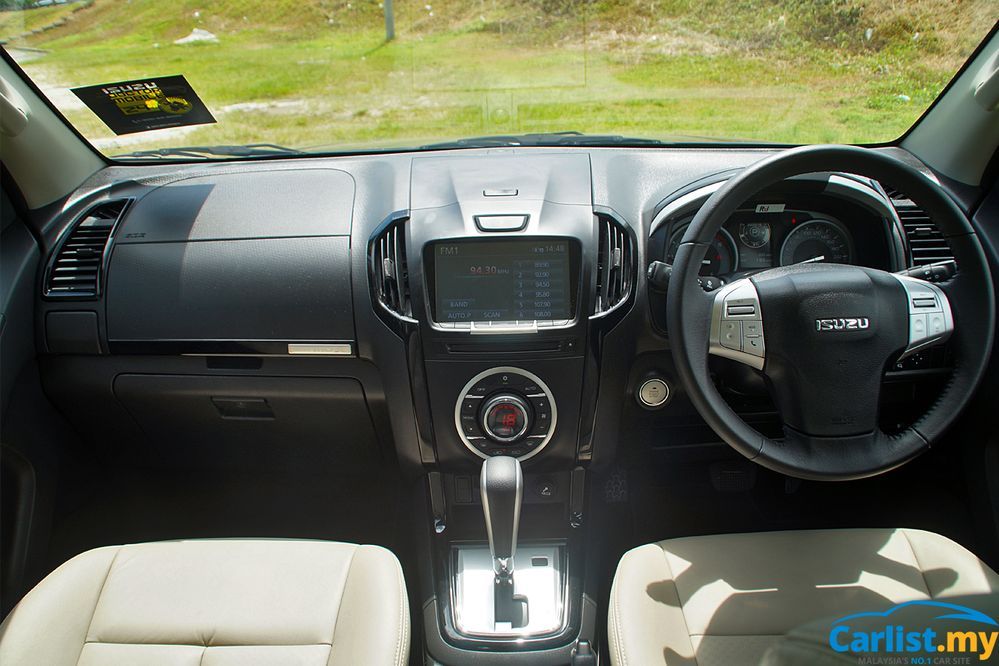 Leather upholstery comes as standard fitment across the range, though the range-topping Type S receives what Isuzu calls Ivory Premium Leather Seats. While these seats certainly improves the showroom appeal of the MU-X, long term wise, stains could be an issue on light coloured leather upholstery.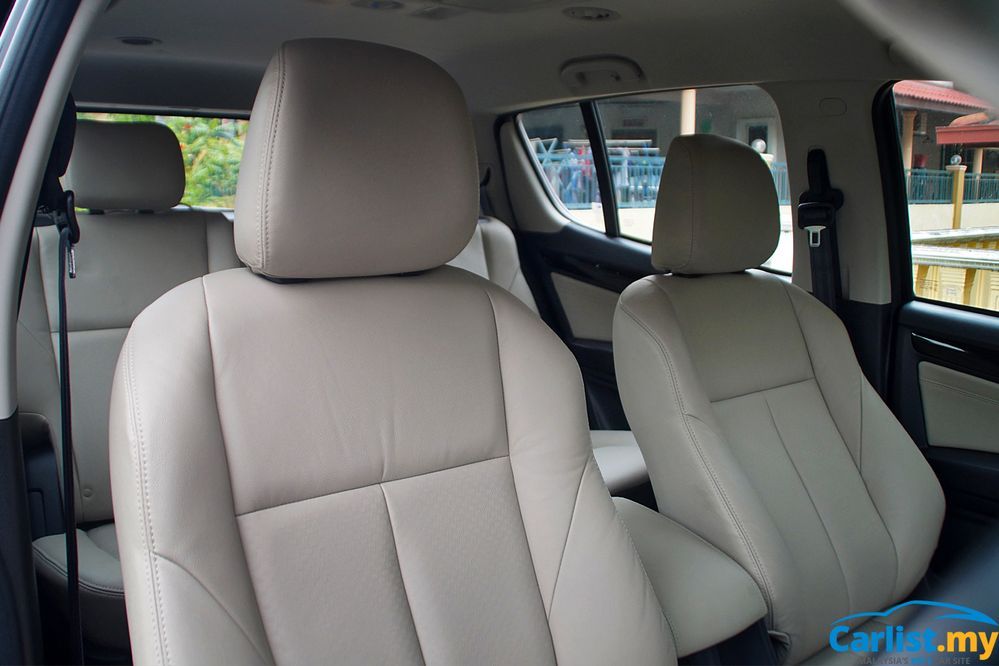 In the centre of the dashboard is a new 8-inch infotainment system that features USB and AUX input. Compared to the one we reviewed earlier, it appears that this infotainment system is a step down in terms of features.
Frankly, if a luxurious interior is what you're after, rivals such as the Toyota Fortuner or Ford Everest will suit you better. However, if what you seek is an interior that stands up to abuse on a daily basis, then the Isuzu MU-X is right up your alley.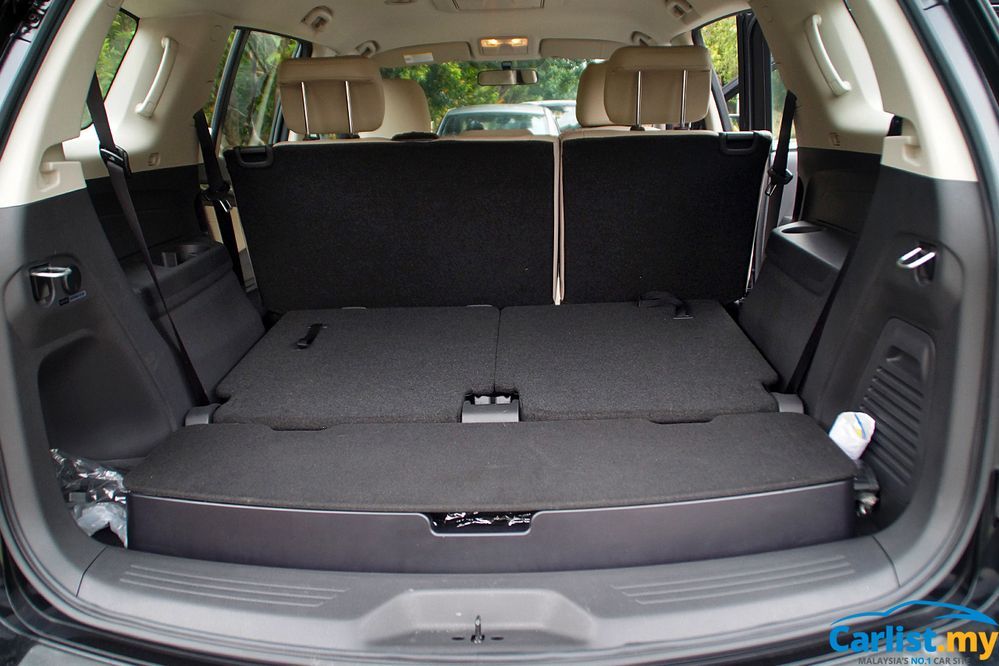 We also love the way the third row seats fold flat, something which the Toyota Fortuner couldn't achieve. It is also worth noting that the third row seat is slightly higher than the second row seat for that stadium seating effect. Leg room at the third row is also sufficient for young ones.
Driving Experience
The Isuzu MU-X isn't out there to win any awards when it comes to driving performance. But with that being said, we can't help but to notice that the Isuzu does chew up highway kilometres with ease. Set the cruise control at your desired speed, and you're good to go.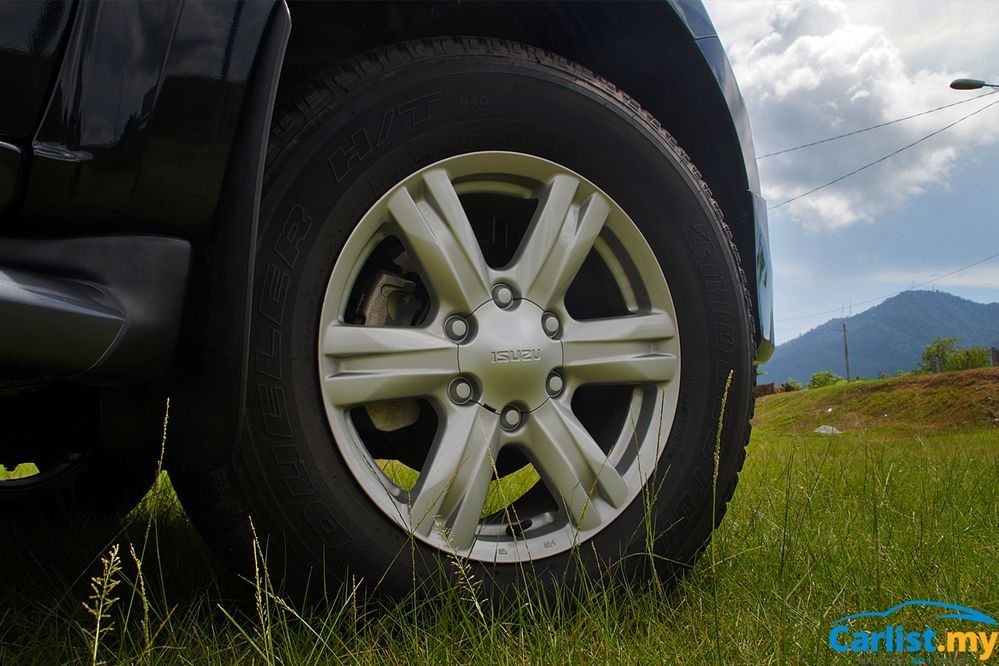 Ride comfort is commendable for a truck-based SUV. The Isuzu MU-X rides rough roads with ease, as its long travel shocks and thick sidewalls does an excellent job of soaking these up. We reckon that the MU-X rides more comfortably than the Toyota Fortuner. Noise suppression is also commendable, as the engine note is only noticeable when given the beans.
With that said, the Isuzu MU-X is not a vehicle you would take through corners enthusiastically. The high center of gravity means that you'll be pinned on the sides of your seats as body roll is present on the MU-X.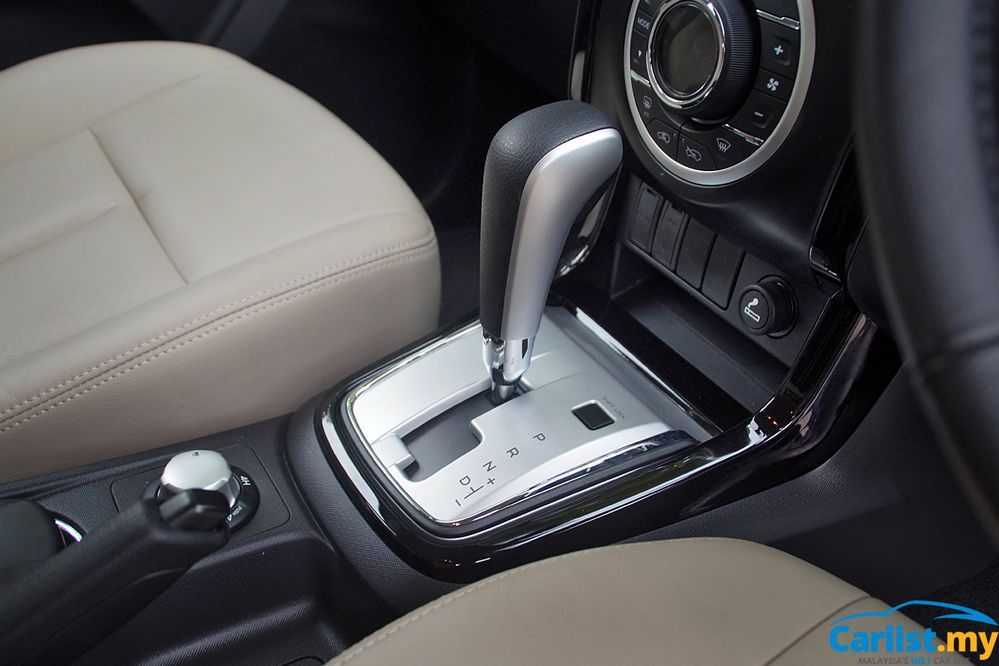 Torque delivery is smooth from its 2.5-litre unit, and coupled with a jerk-free five-speed automatic, driving the MU-X doesn't get tiring.
Fuel Economy
We would be lying if we said we are not impressed with the fuel economy of the Isuzu MU-X. During our weekend with the SUV, we took it to Kampar and Ipoh for some food hunting, before driving back on the North South Expressway. By the time we returned the MU-X, the trip computer was reading an estimated fuel consumption of 13.3 km/L. Impressive for a 2.5-litre SUV weighing in at over 2 tonnes. In total, we covered well over 500 km without needing to refuel.
Conclusion
Looking at its key rivals and back at the Isuzu MU-X, we believe that the Isuzu MU-X offers the best overall package. Although the Toyota Fortuner offers a more upmarket interior coupled with a moden exterior, the 2.7-litre petrol engine fitted to the range-topping Fortuner SRZ is its weakest point, offering poor fuel economy and lacklustre performance. On the other hand, the Ford Everest is a decent choice, but marred by a price tag that is well beyond the reach of many.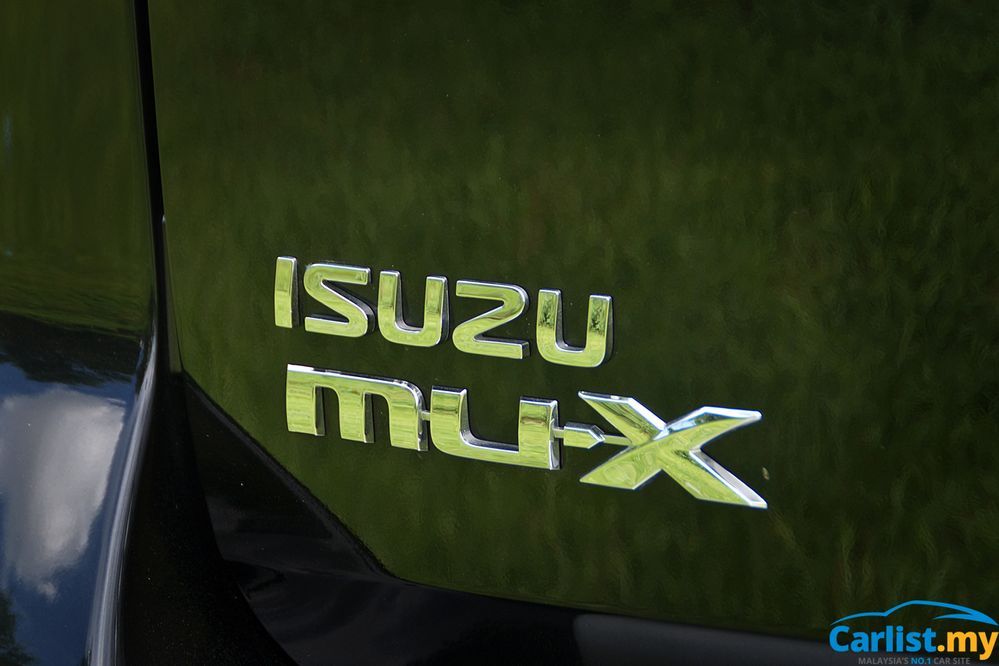 Given Isuzu's excellent track record with powertrain reliability, the MU-X is a compelling option for those looking for a truck-based SUV to carry their family around. The Isuzu MU-X Type S ticks the right boxes, including reliability, handsome looks, safety and durability. If that is not enough, Isuzu Malaysia is backing the MU-X with a 5 year unlimited mileage warranty to sweeten the deal.
---
---
---
---
Comments