Review: 2017 Porsche Panamera 4S – Agility Of A Sports Car, Street Cred Of A Flagship
Reviews The Mercedes-Benz 500E W124 and the Audi RS2 Avant. Both seemingly dissimilar cars yet they share one common strand in their respective DNAs – Porsche engineering. The story goes that in the early 1990s, Porsche found themselves strapped for cash and these side jobs had helped the company stay afloat.
At a time when Porsche showrooms only had the 911, 928 and 968 to show, the lesson learned was that you need more than just a few sports cars to keep customers interested in your brand. With the proceeds from the 500E and RS2 in the pocket, Porsche aggressively expanded its line-up in the decade that followed.
First came the Boxster and Cayman that simultaneously offered the charm and balance of a mid-engined sports car whilst lowering the price of admission to own a Porsche. But perhaps the most controversial move in the company's history was the daring gamble to build a big luxury SUV with the Cayenne.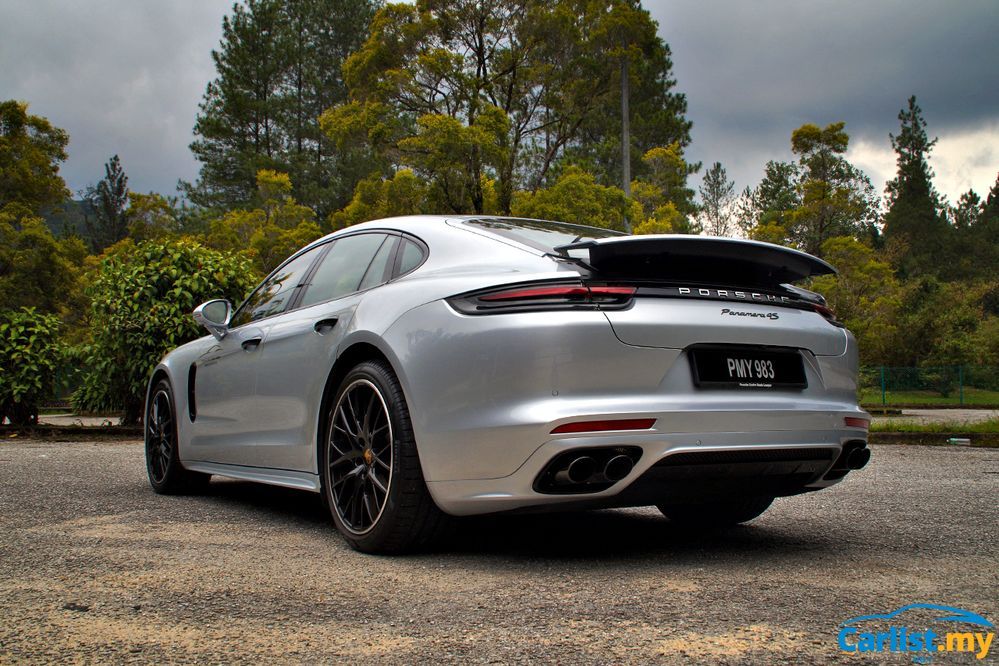 Success of the Cayenne, over two model generations and going into a third no less, emboldened Porsche's belief that its badge cachet can be expanded to work outside the realm of sports cars, and just as the Cayenne offered 911 DNA in an SUV body, inevitably came the four-door luxo-barge with the same credentials – the first generation Panamera in 2009.
Inevitably, the Panamera, like the Cayenne before it, proved its detractors wrong at the sales chart, becoming another successful (and no doubt very profitable) project by Porsche. You know a car maker got the product right when the said car has a 'fresh in the market' feel right to the end of its model cycle – the Panamera is one of those cars. It hardly felt overdue for replacement when the second-generation model debuted globally in 2016.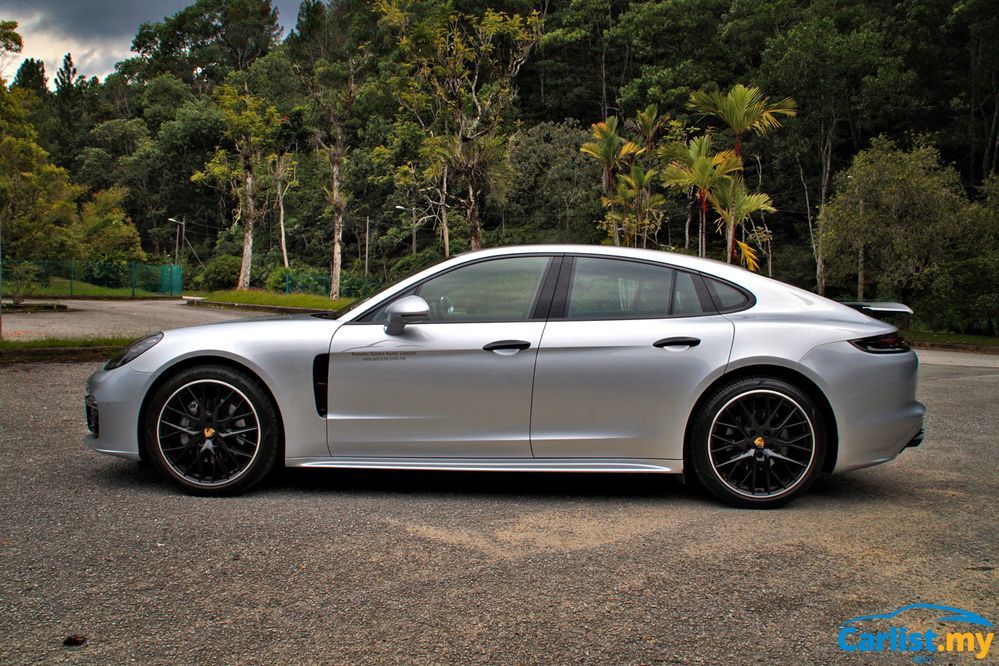 Specifications:
Price: RM1,100,000 (nett selling price without options); RM1,289,231.58 (as tested)
Engine: 2.9-litre, V6 Longitudinal, Turbocharged Petrol
Power: 440 hp @ 5,650 – 6,600 rpm
Torque: 550 Nm @ 1,750 – 5,500 rpm
Transmission: 8-speed dual-clutch automatic, AWD
Safety: 8 airbags, Electronic stability control, ISOFIX, Active Bonnet (Pedestrian Protection),
Origin: Fully-imported from Germany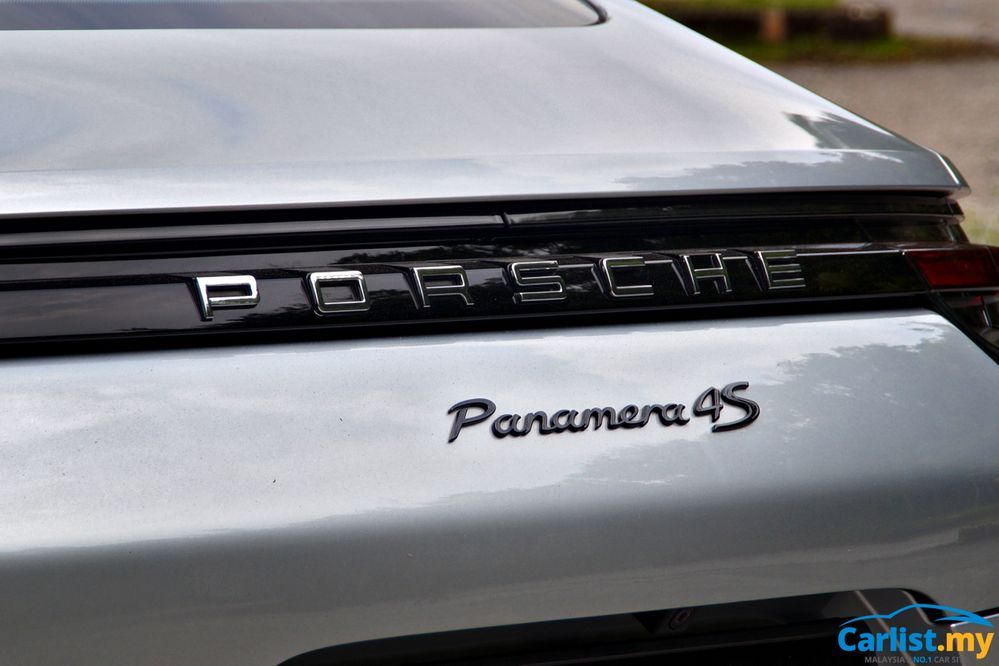 Overview
The first generation model's success gave Porsche encouragement not just to continue the Panamera name, but to grow the family outright. An estate variant, bombastically named the Sport Turismo, is available in select markets, whilst the not inconsequential demands of the Chinese market meant that the long-wheelbase Executive variant was all but an inevitable development.
Malaysia, for the moment, carries on exclusively with the tried and trusted four-door fastback profile. As you would expect, all engines on offer are turbocharged, even though the 550 hp V8 flagship model carries a Panamera Turbo callsign. A 3.0-litre V6 powers the base model, the only rear-wheel driven variant in the line-up.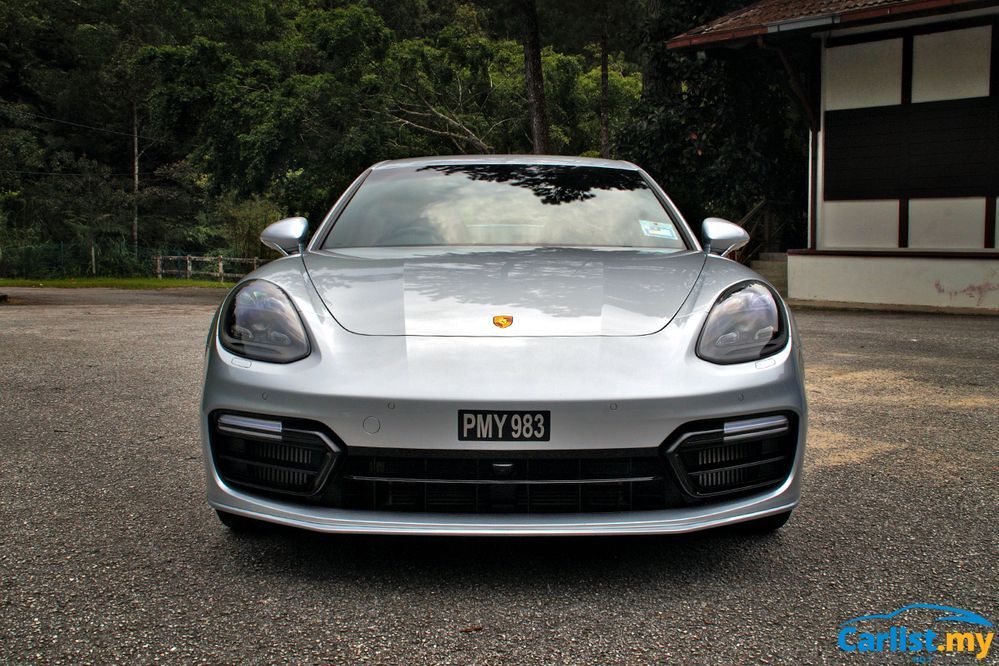 For the purpose of this review, we found ourselves behind the wheel of the mid-spec Panamera 4S, a variant powered by a 2.9-litre bi-turbo V6 with 440 hp and all-wheel drive. We also have memories of from the recent Porsche Media Driving Academy to call upon during which we had a few half-laps around Sepang in the 4S back-to-back against the Turbo.
As standard for Malaysia, the 4S comes fitted with adaptive air suspension, LED headlights, and 14-way powered seat adjustment for both front passengers; these coming with the vehicle's net selling price of RM1,100,000 before on-road costs.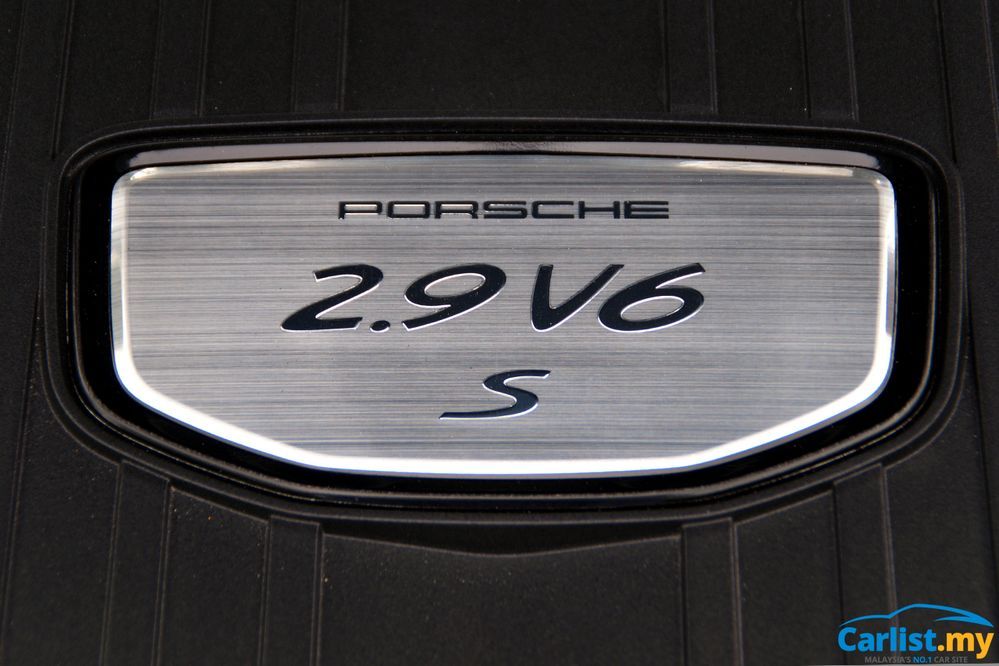 The options list is, however, lengthy and can inflate the car's asking price substantially if boxes are checked without restraint. As tested, the vehicle pictured in with this story comes with nearly RM190k worth of add-ons. We highlight keyless entry (RM4,788.71), ParkAssist with 360-degree surround view camera (RM3,224.79), and a rear USB port (RM1,402.36) as your must-have items.
We should also point out that whatever dynamic findings we make with this test car comes in conjunction with two key options worth a combined RM17k – rear axle steering (RM8,950.56) and Sport Chrono Package (RM8,142.75).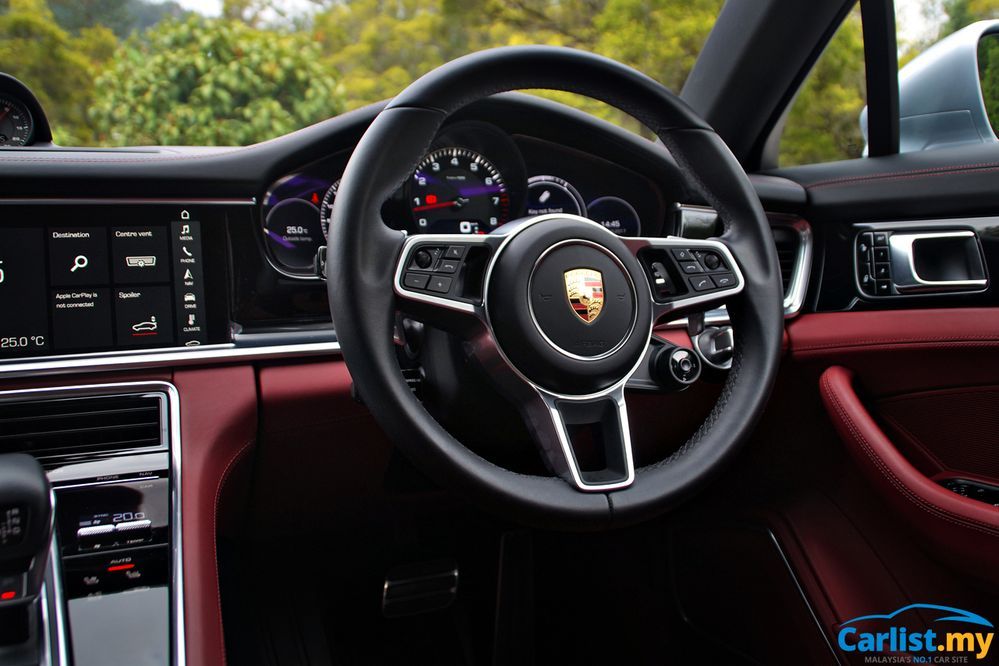 Exterior
Just as the Cayenne was not universally well-received among critics at its launch, the Panamera had its fair share of doubters too. Some denounced it as another cynical attempt at milking the worth of the Porsche brand, others had less than flattering remarks on its awkward styling that attempted to fit a 911-esque shape into a functional body of a four-door tourer.
Still, criticisms or not, the Panamera's shape has endured and has become one of the most recognizable silhouettes among cars – it's certainly more distinctive than a conventional three-box sedan. The second-generation model here carries forward the familiar design template, but with the rough edges suitably sandpapered away.
The most important aesthetic amendment takes place at the roofline, which is lowered by some 20mm at the rear. No doubt this comes at the expense of rear passenger headroom, but it has the visual effect of trimming off the predecessor's ungainly posterior and has helped create a far more dynamic-looking profile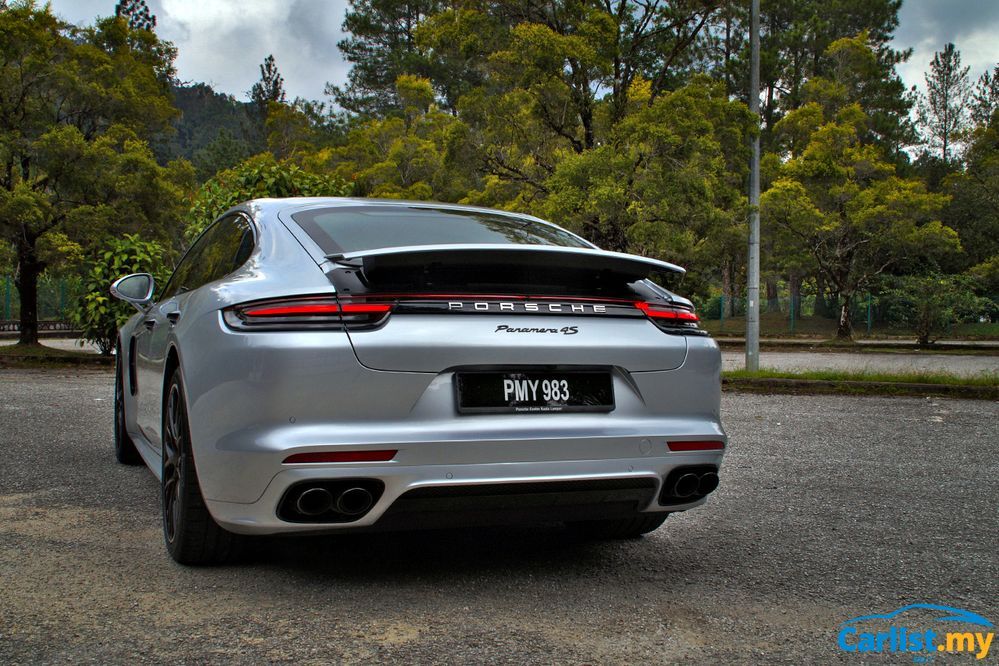 Interior
A similar design approach that brought us the evolutionary exterior is evidently applied inside as well. Like its predecessor, the Panamera's cabin strictly seats only four occupants and neatly bisected through the middle by a high-rising centre console that starts from the centre screen and stretches all the way back to the rear armrest.
Building on a well-established formula, Porsche focused its attention to further refine its selection of materials and to sharpen the collection of switchgear. A driver jumping over from the predecessor will find oneself ensconced in the broadly familiar aircraft-inspired cockpit; looking closer however, one finds that the array of buttons that lined the outgoing centre console replaced by shiny black panels.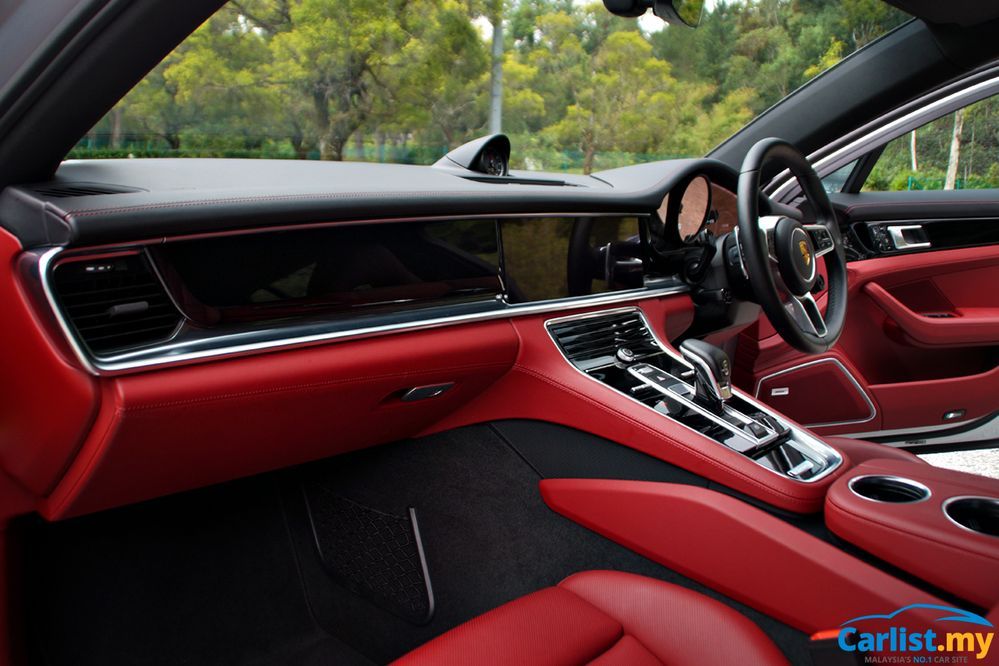 At a glance, you may think it's all touch-operated, but you actually need to press the black panels down hard until it returns a tactile feedback to activate whatever function you are attempting to access. One panel takes the place of several switches – desired functions are accessed according to which section of the black panel you press. Not entirely intuitive to operate, but if the intention is to portray and ambiance of sophistication, the designers did their job.
Back seat occupants get their own climate control and infotainment access. The scope of access is not as comprehensive as what's available in the Mercedes S-Class or BMW 7 Series, but crispness of the display images and tactile sensations of the surrounding switchgear nevertheless help paint a convincing picture of legitimate luxury.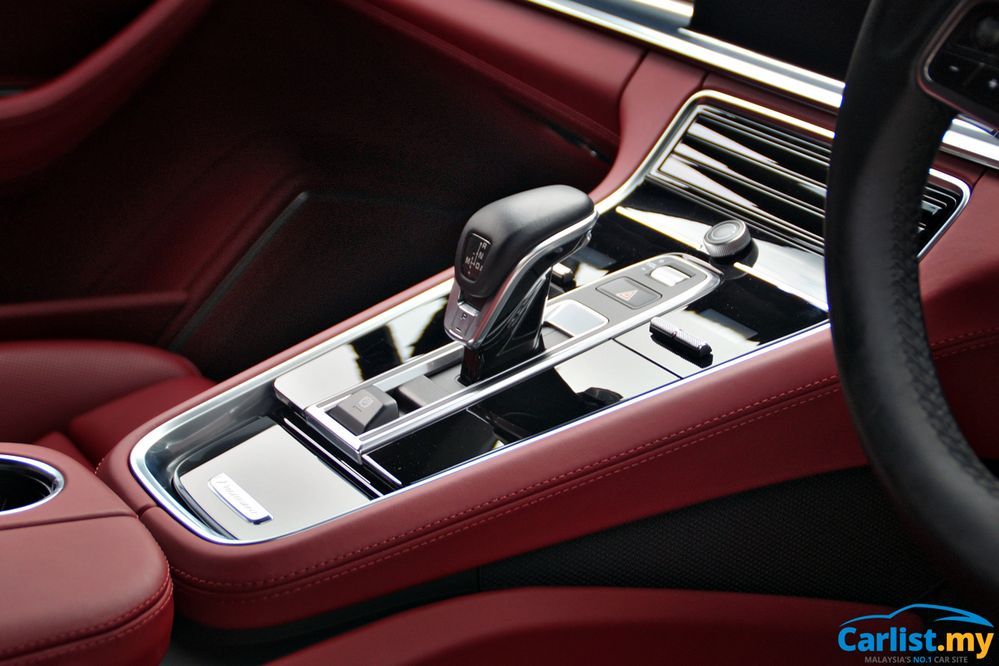 Driving Experience
The traction of all-wheel drive in conjunction with the added maneuverability of rear-wheel steering means that the Panamera manages to strike an enviable balance of assured stability with agile handling.
Throw in Porsche's mastery in suspension setups, the Panamera is also blessed with almost unflappable body control that it maintains even when driven with some vigour. The car also manages to be at the same time agile without being overly excitable; it'll nonchalantly munch the highway miles all day long and at the same time pull itself around corners with admirable tenacity.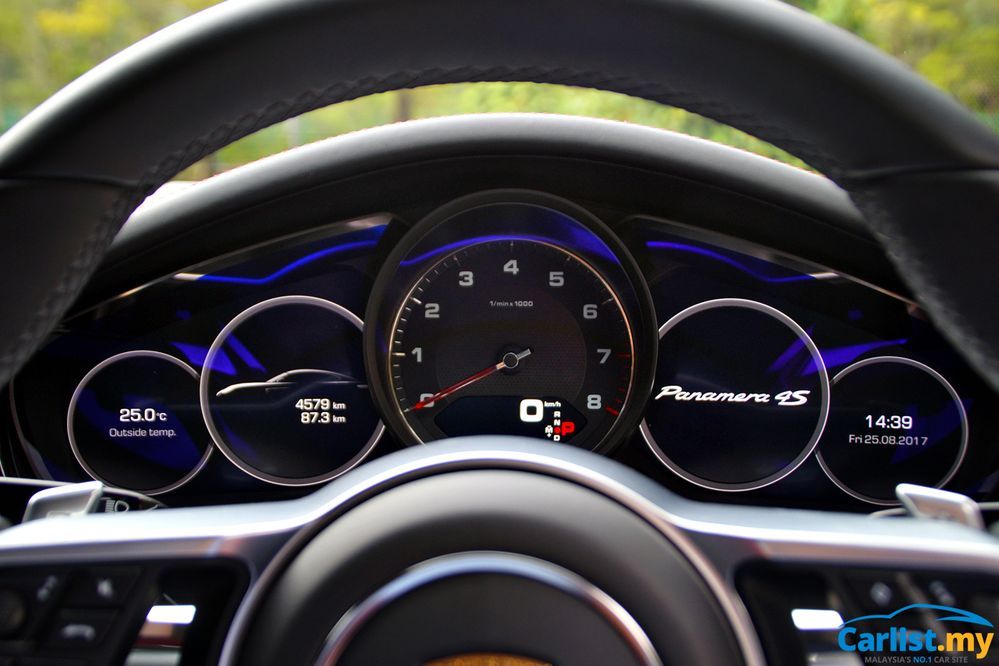 A less exciting, but highly welcomed effect of its rear-wheel steering system – an RM8,950 option, we must remind you – is its tightened turning circle. A Panamera without this option ticked requires 11.9 metres to clear a U-turn without troubling its reverse gear; spend that RM8,950, you'll do it in 11.4 metres.
Driven back-to-back with its more expensive Turbo sibling at Sepang, the Panamera 4S shows a marked deficit in straight line pace, but is otherwise found lacking in very little else. In isolation and, more pertinently, in the real world, the 4S is plenty fast enough, and its 2.9-litre bi-turbocharged V6 is a rather charming engine; revving more eagerly and sounding sweeter than the Turbo's V8.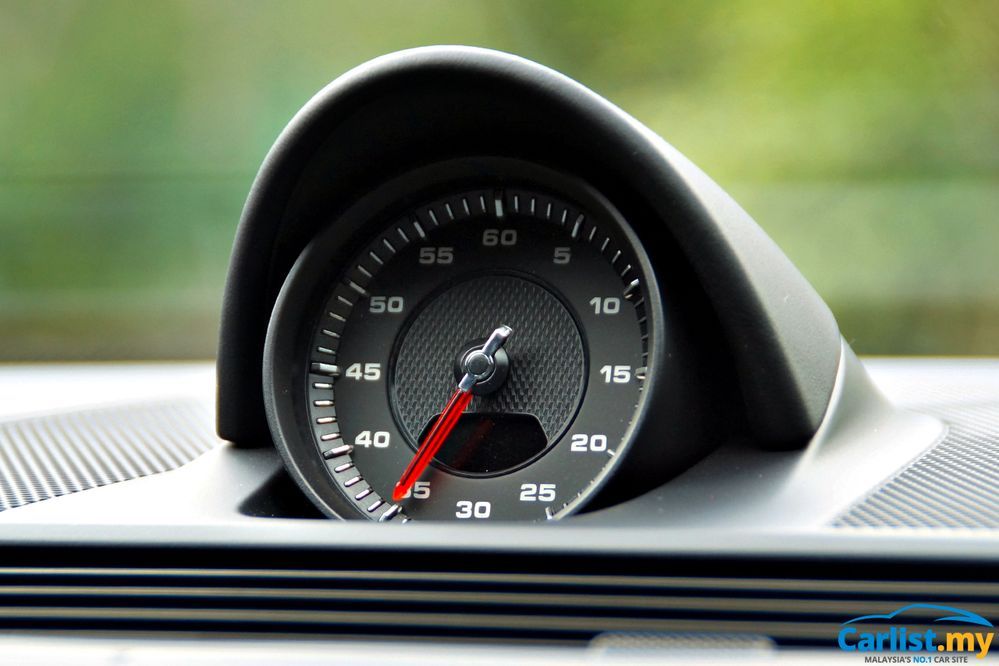 Comfort & Refinement
The Panamera passes our usual metrics of comfort and refinement with a decent score. Ride comfort over most surfaces, whilst not at Mercedes S-Class levels, certainly surpasses expectations for a car of such an overt sporting brief. The suspension does not quite isolate the cabin from surface imperfections, but does a more than adequate job of filtering them.
In need of work, however, is the low speed refinement of its 8-speed PDK dual clutch transmission. Whilst faultless at high speed and hard driving, the PDK is susceptible to the kind of low-speed jerkiness that blights the day-to-day driving experience of many dual clutch-equipped cars.
Interestingly enough, the older 7-speed PDK of the 718 Cayman, which we will be featuring in a separate review to be published later, is a far smoother gearbox in slow-moving traffic. For us, we can't help but wonder if ZF's 8HP 8-speed torque converter auto might have been a better fit for the Panamera's needs.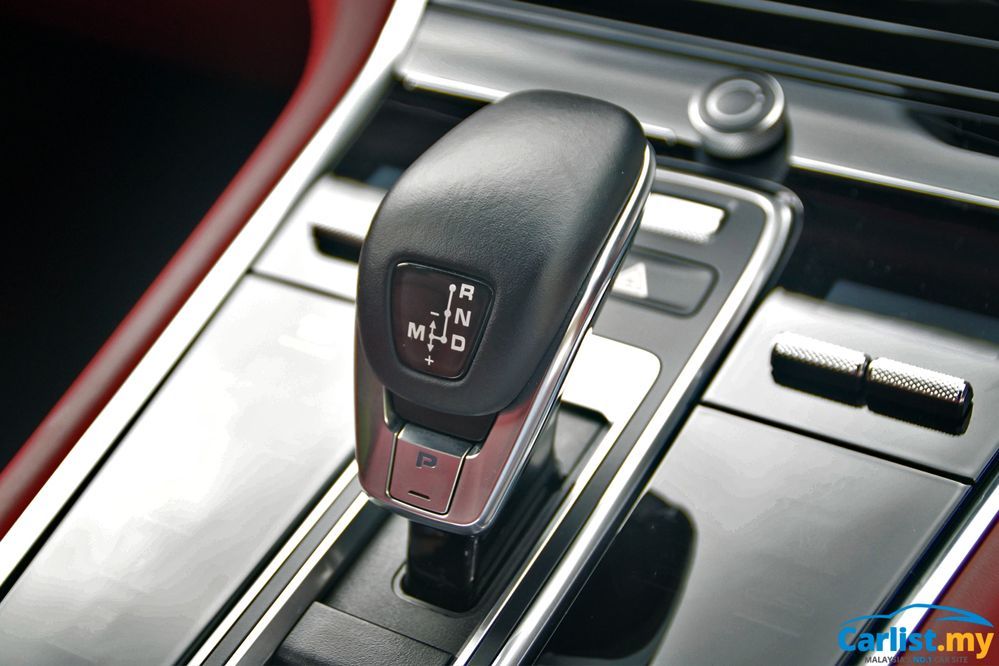 Conclusion
Despite boasting all-new mechanicals underneath, such has been the success of the original Panamera – awkward looks notwithstanding – that Porsche has deemed fit to revert back to a similar template with the new model. This is a formula that has served successive generations of the 911 well, and there's no reason why it wouldn't work with the Panamera.
Besides loading up the car with the most updated tech available, much of Porsche's efforts appear to be focused on polishing the outgoing car's weak spots. That the new car looks so similar to the outgoing one whilst appearing much improved vindicates the approach.
Where function is concerned, the Panamera's breadth of talents is wide. It is focused on delivering sportiness, yet it also puts on a fine shift on its many other supplementary duties that include effortless long-range cruising and day-to-day urban driving. That it competently accomplishes such mundane duties without sacrificing its ability to thrill the driver shows that Porsche has dutifully learned the biggest lesson of its past - sports cars are great, but you need a wider range of tricks to keep your customers interested.
>
---
---
---
---
Comments