Review: G20 BMW 330i M Sport – When Beauty Is Not Only Skin Deep
Reviews Following our initial review of the European market specifications G20 generation BMW 330i, we finally had a chance to sample the Malaysian market specification 330i, on Malaysian roads.
From our previous review, you would have noted that we were suitably impressed with the G20's handling but were less impressed with its ride and the opposite facing dials of the Live Cockpit Pro instrument cluster. Now that the G20 has been launched in Malaysia, let's see how it fares in our local driving conditions.
Specifications for G20 BMW 330i M Sport
Engine: B48 2.0-litre four-cylinder, turbocharged, direct injection
Power: 258 hp at 5,000 – 6,500 rpm
Torque: 400 Nm from 1,550 – 4,400 rpm
Transmission: 8-speed automatic transmission
Safety: Six airbags, ABS, electronic stability and traction control, cruise control with braking function (holds speed during downhill, non-adaptive),
Origin: Imported from Germany
Price: RM 328,800 excluding insurance
At the moment, the 3 Series range has only one 330i M Sport variant. Lower priced, locally assembled variants are certainly in the plans - but not so soon.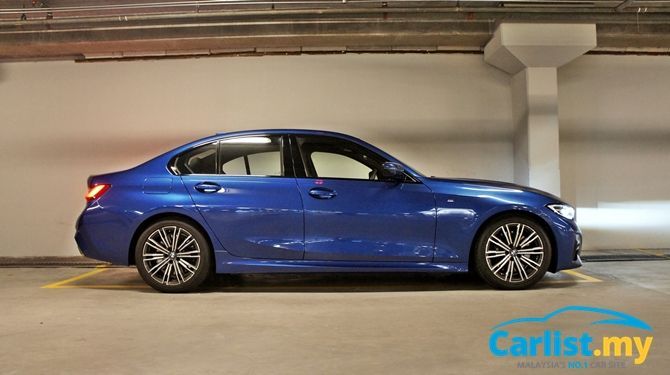 Exterior
Compared to the model we drove in Portugal, our local 3 Series misses out on laser headlights, making do with LED headlights. The mixed sized tyres are also smaller: 18-inches instead of 19-inches, with 225/45 R18 rubbers in front and 255/40 R18 behind.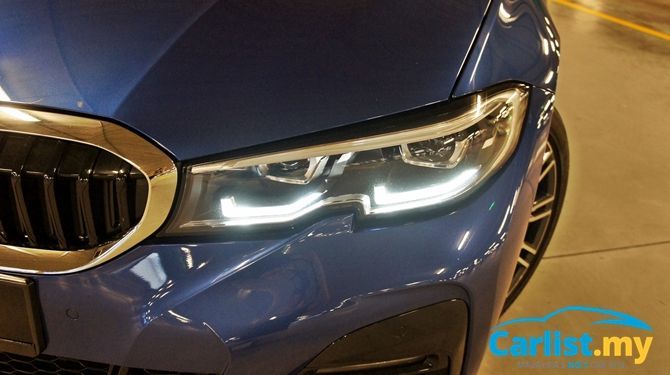 Painted in the same signature Portimao Blue Metallic, the G20's side profile looks very similar to an Estoril Blue F30 generation 3 Series. Viewed from the front, it's also easy to mistake the G20 for a G30 530i M Sport, which has a similarly wide grille – which now closes/opens depending on vehicle's speed and engine cooling requirements.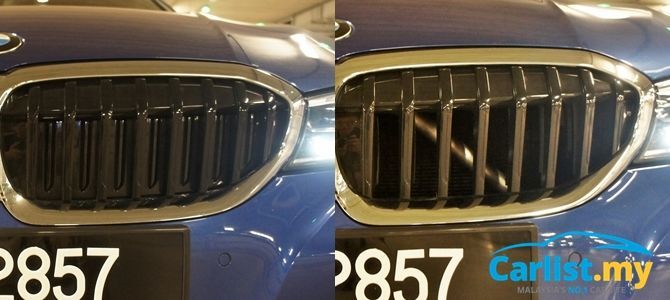 It is only when you look into details like the small kink in the headlights and the blacked out Hoffmeister kink that's now on the C-pillar rather than the rear three-quarter window, that you know this to be a G20.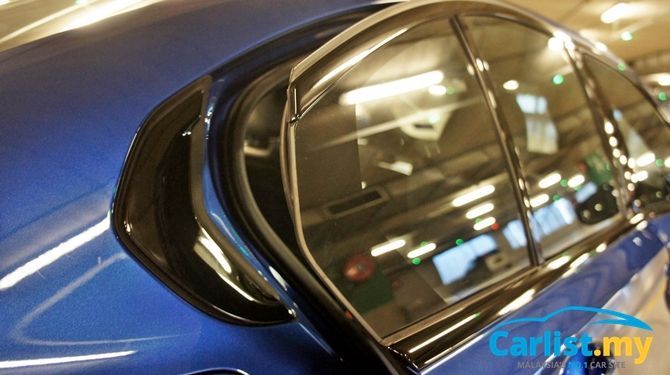 Despite the strong resemblance to the previous 3 Series, the G20 still stands out as the prettiest in its class. Not even the similarly new Audi A4 can match the G20's captivating looks, never mind the aging Mercedes-Benz C-Class.
Interior
Inside, our local 3 Series misses out on the colour Heads-Up Display as well as other driving aids like the blind spot monitor, adaptive cruise control, and autonomous emergency braking - that's quite a step backwards as such features are already common in cars costing just half as much. The 3 Series' infotainment also doesn't support gesture control, but at least it comes with the 'Hey BMW' contextual, natural language voice command system.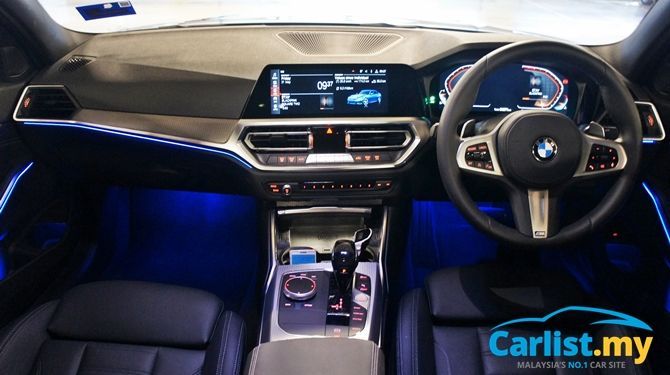 Aesthetically, the G20's interior is a lot better than before and there's now a lot more leg and shoulder room at the back, plus bigger storage bins in larger numbers.
A driver-centric dashboard layout also makes a return. The infotainment screen, controls for vehicle functions and amenities are all angled towards the driver, just like iconic 3 Series models of yesteryear.
Cabin materials are also better than before. It is now more in keeping with the car's premium positioning, thus addressing a main shortcoming of the previous F30 model.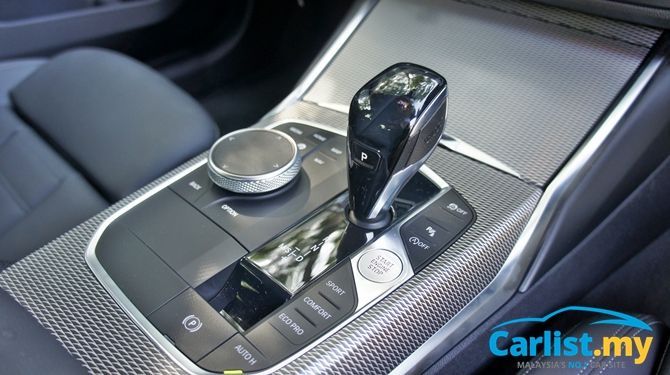 However if we are to be honest, the G20's interior still falls short of our expectations. The all-new Mazda 3 for example, actually feels more expensive - shocking but true. Ergonomics have also been compromised slightly. For example, the relocated iDrive rotary dial feels like a step back from the F30. The dial is now located further away and you can no longer operate it while resting your wrist on the armrest. The new crystal gear knob also has an oddly placed Park button. In the past, you could easily select Park with your thumb, but the new gear knob requires a bit more dexterity to select Park.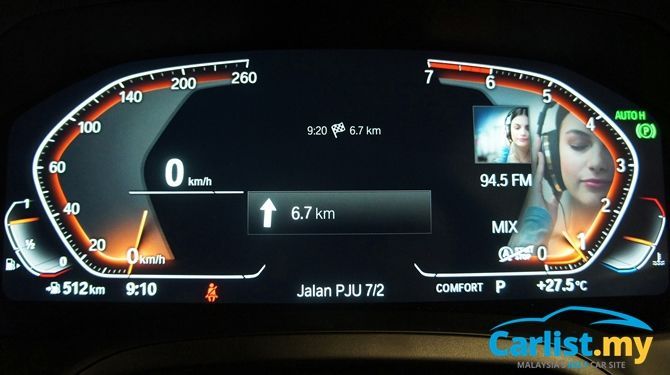 The biggest shortcoming however, is the 12.3-inch Live Cockpit Pro full LCD instrument panel. Where Mercedes-Benz or Audi will use the same technology to allow for different display modes, BMW insists on displaying the same simulated, opposite facing analogue dials at the extreme edges irrespective of which driving mode is selected.
The empty space between the tachometer and speedometer is used to display the navigation and music selection, duplicating what's already shown on the 10.25-inch infotainment screen. Do you really need to have the radio station's logo or Taylor Swift's album cover on the instrument panel?
Even after a few days of driving, we never quite got used to it. For a driver-centric car, the new instrument cluster confuses more than it informs.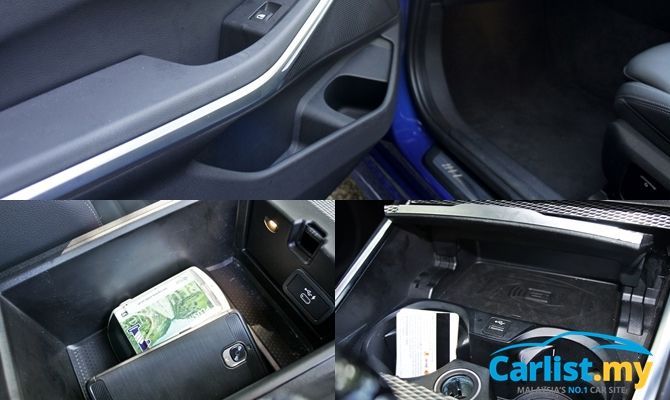 On the upside, the new iDrive control layout plus migration to an electric parking brake has freed up more space in the centre console box - which in the previous F30, was rather useless for anything thicker than a smartphone. The front console box also houses a wireless smartphone charger now. There's also more leg and shoulder room at the front and back. Finally, this is a 3 Series that four adults can comfortably travel in.
Driving experience
Throughout its 40 plus years history, the 3 Series has cycled through various interpretations of sports luxury, never once reaching a setup that satisfied everyone – which is of course, impossible.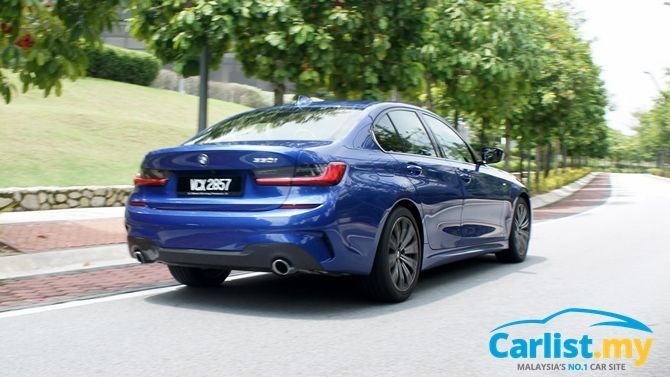 The early E30 and E36 had a laser-like focus to appeal to keen drivers. The E46 was tasked with broadening the 3 Series' appeal and thus had a softer ride, which keen drivers didn't like. The E90 was an overreaction to that, with sharper handling but at the expense of an unnecessarily stiff ride. The F30 was ideal for Malaysian roads but this G20 however, is best seen as a progression of the E90's stiff but sharp handling character.
It now handles a lot better but ride comfort is also poorer, which just goes to show that the F30 had the best setup for our local roads.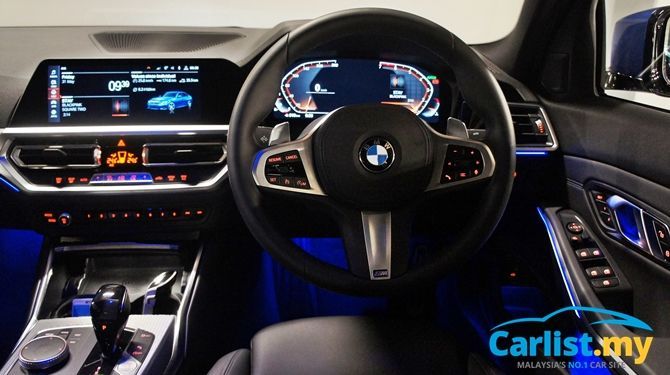 On the move, the G20 sets the pace for all its peers. The steering is sharp and precise, front and rear axles tracking your intended path with a hint of playfulness - always keen to dance but never missing a step.
The steering wheel is thicker than before. Depending on your preference, it may or may not be a good thing. Some like thick-rimmed steering wheels for the confidence inspiring feel while others say thinner rims offer better feedback. Personally, it doesn't really matter when the chassis is this well balanced.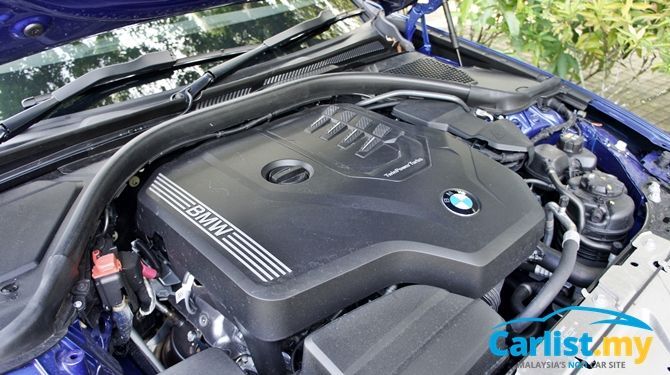 The 330i might have only four cylinders but it still makes a pleasant, almost six-cylinder like noise when you up the pace. No doubt a good deal of digital trickery is involved but the important thing is that it works.
The power band is broad and sustained throughout the rev range, offering a high level of performance reserve that's easily accessed in all driving conditions.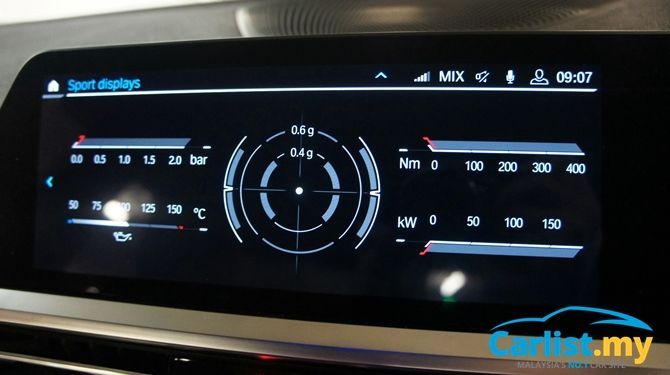 The grabby brakes take quite a while to get used to though. Even when judged by the standards of German cars in this segment, the brakes lack linearity in their bite, making driving in stop-go traffic less pleasant.
The ZF 8-speed automatic transmission has one cog less than the Mercedes-Benz C-Class but it doesn't matter. The gearbox is far more responsive and makes for a much more dynamic drive than the C-Class' slow shifting 9-speed.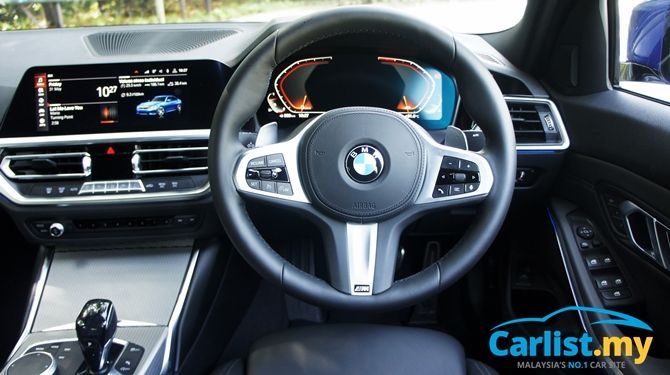 In Sport mode, the exhaust note pops with every upshift, but in a far more subtle way compared to the delinquent that is the Golf GTI.
On public roads, you will run out of talent before you can make full use of the updated B48 engine's 258 hp/400 Nm - it's the ideal daily car for the enthusiast driver. The G20 is BMW's dominating territory marker. It's a statement that this an area that BMW commands and it owns the competition.
Ride comfort
Switching to smaller 18-inch tyres did little to improve the G20's ride. Fitted with run-flat tyres, our local G20 with M Sport suspension rides as poorly as our European specification test car with 19-inch wheels. The G20 M Sport's improved handling came at the cost of the previous F30 M Sport's pliancy, which is a shame because the improved leg and shoulder room would have made it into a decent family sedan.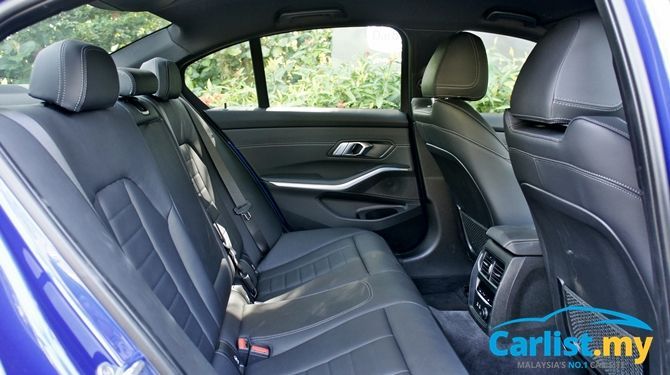 Even when driving over mild speed breakers, occupants can feel jarring jolts sent to the cabin. It was stiff enough to make us realize road surface irregularities than we previously never paid attention to.
Still, the ride is much better than a C-Class with passive-type AMG sports suspension, which has an even harsher ride but none of the G20's sharp handling. The only exception to that is the AMG C43, which has adaptive suspension.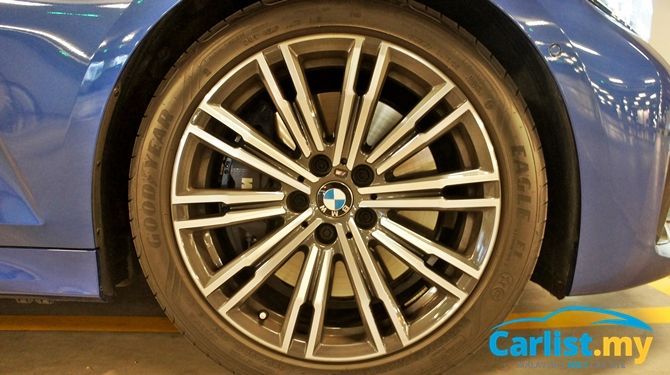 It would be interesting to see if a softer Sport Line variant (currently not offered here) without M Sport suspension, would strike a better midway compromise between handling and comfort.
Conclusion
Critics will use the omission of adaptive cruise control, blind spot monitor, and autonomous emergency braking as reasons to walk away from the 330i M Sport. On paper, it's a valid criticism given the car's asking price, but to us the bigger challenge is to accept the Live Cockpit Pro's instrument panel. After all, this is supposed to be a driver-oriented car.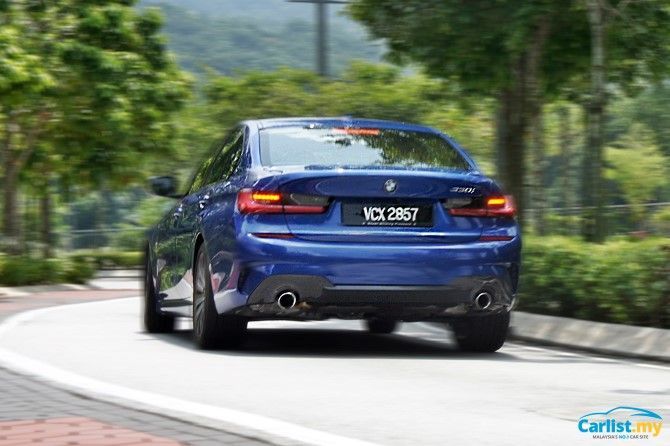 However, BMW's ethos has always been about joy rather than value. If you can overlook all the details and ask yourself what it is about a car that brings you joy - and if your answer is how the car makes you feel when you get behind the wheel, then there is no substitute to the 3 Series. Unless of course you are referring to an even better 3 Series, like a six-cylinder 340i, which BMW Group Malaysia doesn't offer (but if you are willing to pay up, special orders can be arranged).
The G20's chassis offers huge potential but in its current setup, the stiff M Sport suspension makes it harder to live with everyday than the previous F30 (although you will enjoy your Saturday morning drives more). A less intense variant without the M Sport suspension would improve the G20's appeal.
Find the best deals for new BMW vehicles here.
---
---
---
Comments