Review: Mercedes-Benz A180 (W176) – Dynamic Entry into Luxury
Reviews Looks sell. It is one of the greatest truisms you will encounter in the automotive industry. Reviewers can wax lyrical about a car's ride, handling, and performance, but you'll need more than that move any serious volume of metal out of the showrooms if the said vehicle is aesthetically challenged.
This brings us then, to the Mercedes-Benz A-Class, a vehicle originally conceived with an innovative packaging sandwich floor concept that enabled big car space and big car safety to be encased within compact dimensions. On paper, it was a commendable formula, and one which Mercedes stuck to gamely for two model generations, but it was not a desirable one.
Although the first two generations of the A-Class sold a combined two million units over one and a half decades, most of these were bought by people, you'd suspect, who reasoned that the A-Class filled a need in their lives – they certainly didn't go to bed every night dreaming of owning one.
The third generation W176 A-Class was conceived with different priorities in mind than its forebears. It embraces a newfound focus on style and sportiness, with an overarching objective to create a more alluring entry point into the world of Mercedes-Benz ownership.
There is little argument that Mercedes' fundamental revamp of the template has increased the A-Class' 'want' factor tenfold. It is now a car for the chic and trendy; Mercedes' in-house data indicates that in Europe, buyers of the W176 are on average 13 years younger than those who bought the previous two generations of the A-Class.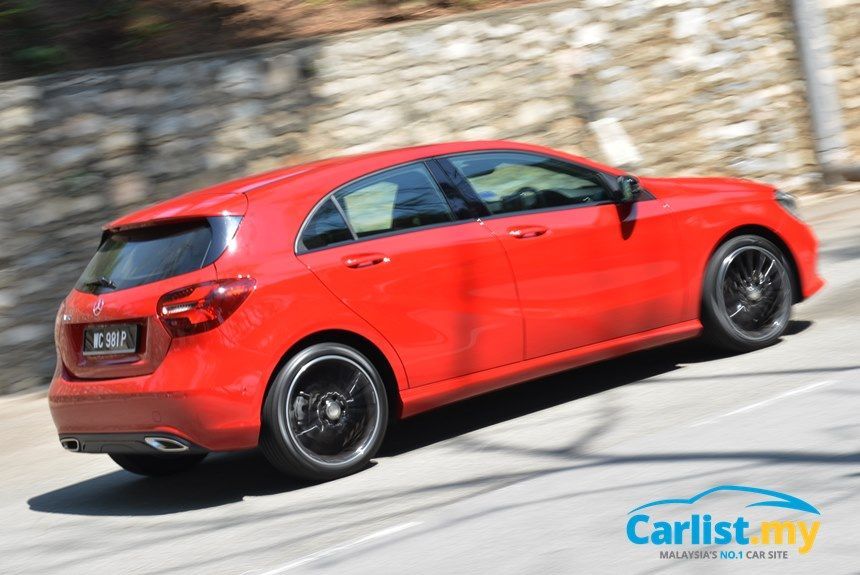 Specifications
Price: RM195,888 (OTR without insurance)
Engine: 1.6-litre, inline-4 transverse, turbocharged, petrol direct injection
Power: 122hp @ 5,000rpm
Torque: 200Nm @ 1,250 – 4,000rpm
Transmission: 7-speed dual clutch with paddle shifters, FWD
Safety: 7 airbags, ABS, EBD, electronic stability control, front passenger airbag deactivation, adaptive brake lights, tyre pressure monitoring system, Pre-Safe occupant protection, autonomous emergency braking, and rear-end collision warning
Origin: Fully imported from Germany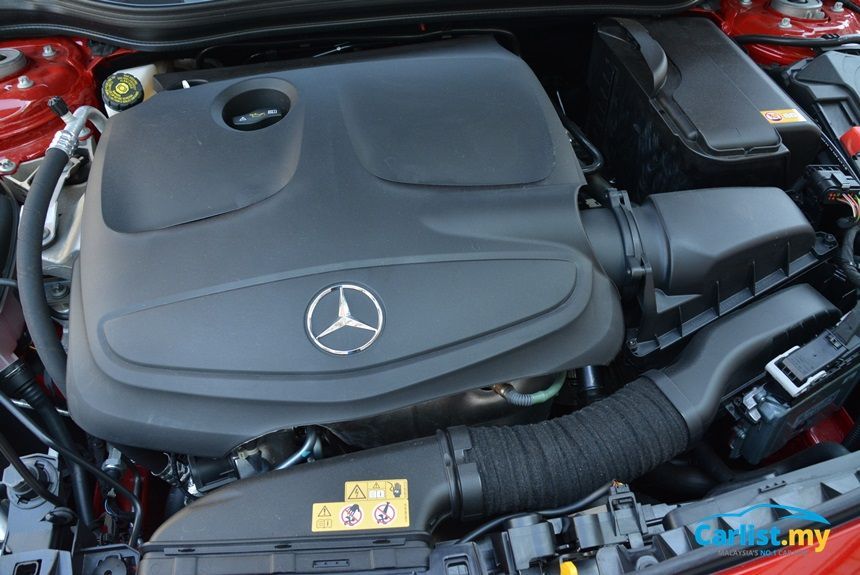 Overview
Now at a tender age of four, the W176 has received its makeover only very recently. In this review, we feature this new and improved version of the A-Class in its most basic state of existence, the A180 priced at RM195,888 before insurance.
This is far from a bare bones entry-level variant, however. Standard fitment of items such as reverse camera, electric seat adjustment for both front seats, and active park assist ensures that even the most austere A-Class starts off respectably with regards to equipment.
Motive power is provided by a turbocharged 1.6-litre four-cylinder engine with 122hp on tap. Recalibrated software sees the same engine churn out 156hp in the A200, and above it come 2.0-litre mills producing 211hp in the A 250 and a highly tricked out 381hp in the manic A 45 AMG variant.
The most direct rival for the A-Class would be the Audi A3 hatchback which we don't get in our market. Incidentally, the A3 1.4 TFSI sedan that we do get in Malaysia meets our A180 at eye level with regards to engine output, producing a claimed 122hp and 200Nm. Comparisons will inevitably be drawn with the BMW 118i which, due to its EEV incentives, enjoy a considerable price advantage over the Mercedes.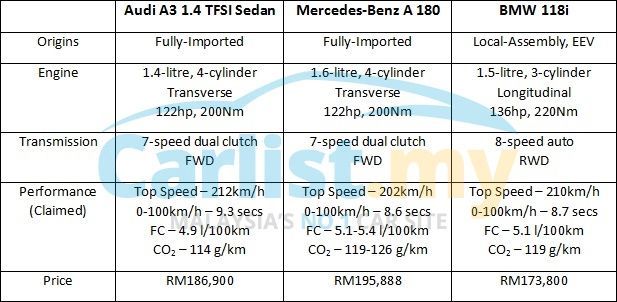 Exterior
Now four years from its launch, the A-Class remains a thoroughly alluring and sexy-looking piece of kit. There is no doubt that its well-styled sheet metal has earned it a whole new generation of fans; many of which perhaps did not previously consider the Mercedes brand beyond its traditional scope of catering for corporate bigwigs or senior managers.
There is therefore very little reason to drastically revamp the way the A-Class looks and Mercedes-Benz, to its good senses, has opted to keep overall alterations to a minimum. The result is what you would typically get in a textbook facelift exercise – new lights, new rims, and reprofiled bumpers, with no changes made to the vehicle's actual sheet metal.
In A180 guise as tested, it is notable that Mercedes already fits 18-inch rims and xenon headlamps as standard, ensuring that even the most basic A-Class carries a dignified upmarket appearance that is commensurate with its price tag. The intentions are noble, but as we would elaborate later, a slightly more conservative rim size might be a wiser option.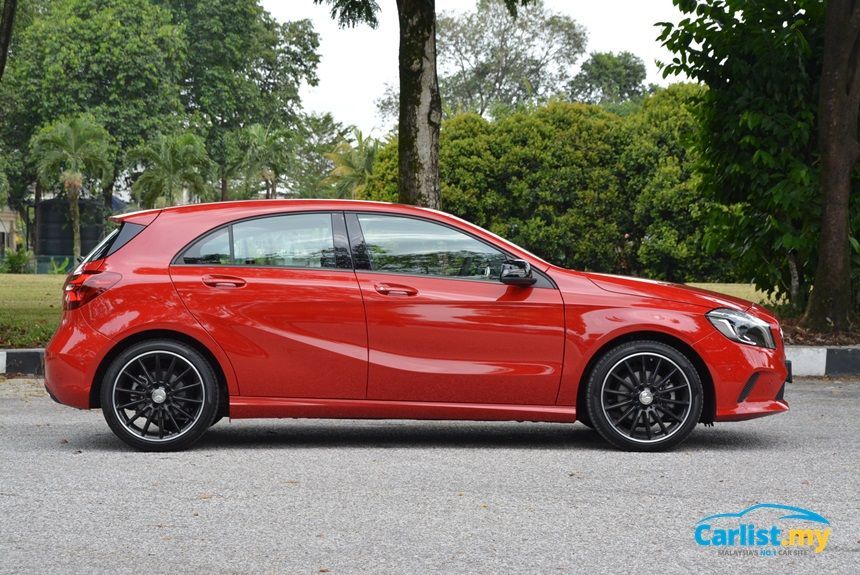 Interior
If you sit inside a recent vintage Mercedes, you would have been wowed by a cabin ambiance and luxury that feels second to none this side of a Rolls-Royce or Bentley. Models such as the W222 S-Class, W205 C-Class, and the soon-to-arrive W213 E-Class present convincing evidence that Mercedes-Benz is returning to the good old days of building cars with cost considerations made subservient to the need of delivering unrivalled quality.
The W176 A-Class is another model that embodies this philosophy. Although its switchgear is evidently shared from the previous-generation parts bin, the cabin as a whole is composed of excellent materials built to a high standard of fit and finish. The only evidence of cost cutting that caught our attention was the plastic panel covering the B-pillar, a surface that gets knocked very often every time one unbuckles a seat belt. A surprising blot in an otherwise flawless copybook.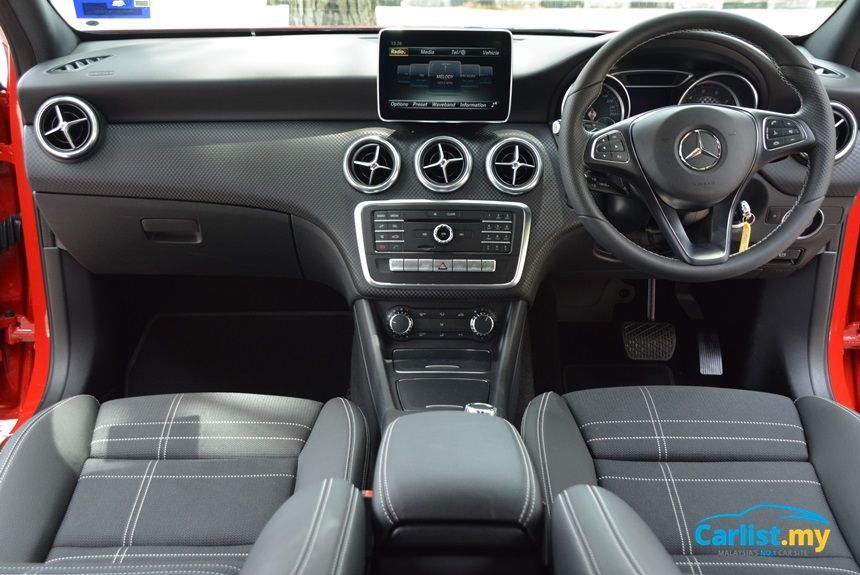 Ergonomics are good in the sense that crucial control elements are placed within easy reach. Our resident Papa Bear especially appreciated the door-mounted seat adjustment switches, which allowed him to conveniently move the seat rearwards before he plumped his considerable frame into the driving seat.
That being said, migrants from other brands may find themselves faced with a steeper than usual learning curve to master the Mercedes' unconventional control layout, where the electronic gear lever is steering column-mounted and looks no different from an indicator stalk.
As with the pre-facelift model, space continues to be a major weakness of the A-Class' interior. The inherent packaging benefits of a transverse engine front-wheel drive architecture is not put to good use, and the thick C-pillar further contributes to an overall impression of tightness at the rear quarter.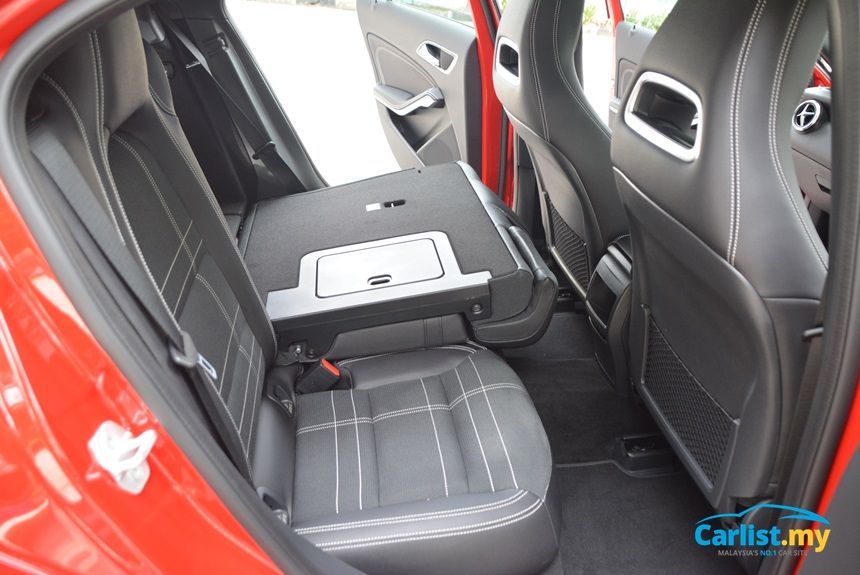 How does it drive?
The adoption of more dynamic styling going from the previous to current-generation A-Class is a clear signal of increased sporting intentions from the baby Merc. In that sense, the W176 meets expectations with a chassis that offers commendable body control along with a steering that is both sharp and feelsome.
This being the entry model, one naturally does not expect blistering performance; and numbers like 122hp and 200Nm do not exactly put the A180 anywhere near the top of the automotive food chain. In the real world, the engine's grunt is just about enough to pull the A180 along, but even in its most aggressive driving mode, throttle response feels blunted by lag – a surprising find for such a modestly-boosted engine.
The A180 puts its power to the front wheels via a Mercedes in-house 7-speed dual clutch transmission for which we have no real complaints. It is largely free of the low-speed jerkiness typically associated with this category of gearboxes, and the transmission control unit was sufficiently intuitive in its selection of the right gear for the right time. Although paddle shifters were provided, we never found the need to use them.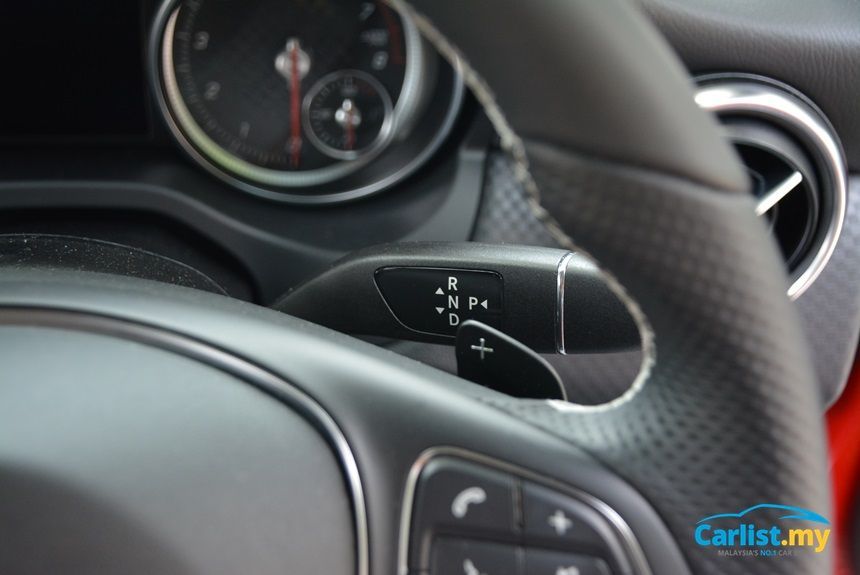 How comfortable is it?
One of the biggest criticisms levelled at the W176 as well as other members of the Mercedes MFA platform-based compact car family has been about a generally poor ride quality throughout the range.
It was noteworthy, therefore, that the international product release that accompanied the A-Class facelift sent out last year specifically stated 'comfortable as never before' in its title. To us, it felt like a tacit admission on Mercedes' part that they may have dialled the firmness a little too far with the A-Class and that lessons have been learned for this facelift.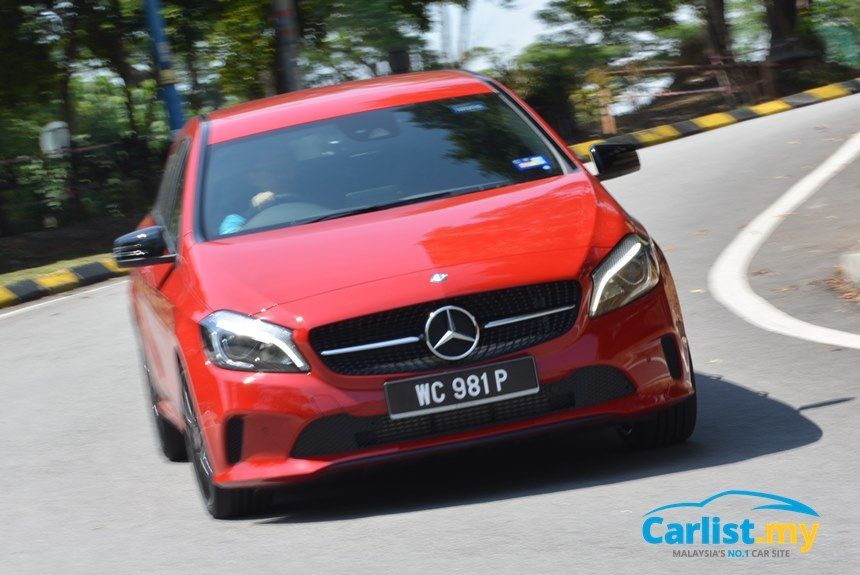 There is no question that the engineers have added a level of suppleness to the suspension, but make no mistake about it, this is not your dad's E-Class. According to the specs sheet, the A180 in Malaysia is sprung on Comfort suspension setup; whilst it certainly feels more pliant than we recalled of the pre-facelift A-Class, or even the CLA 200. Surprisingly, it rides firmer than even the M Sport-sprung BMW 330i we tested recently.
In view of the above, we suspect that the A180's ride would have benefitted tremendously from the fitment of smaller rims (17 inches perhaps), which would in turn lead to better performance and fuel economy as well. We believe that the A-Class' chassis is sufficiently stiff that any sacrifice in handling sharpness would be minimal.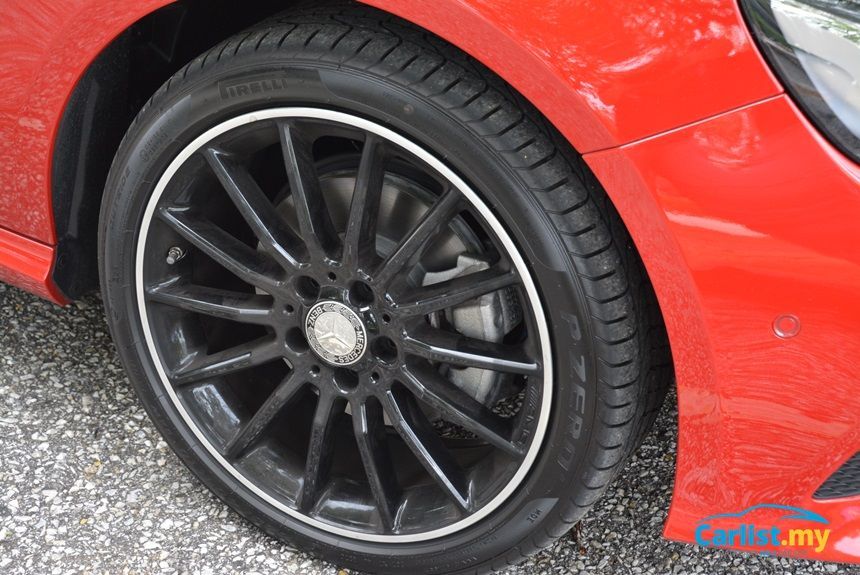 How economical is it?
For a 1.6-litre engine of such conservative tuning, the A180 is surprisingly thirsty at the pumps. Over a 330km test route mixed with highway, town, and hard driving, our test car's trip computer measured a rather high 10.7 litres/100km.
Official numbers from Mercedes indicate that the European test cycle returns identical consumption for both the A180 and A200, both variants rated as ranging between 5.1 and 5.4 litres depending on vehicle features and tyre size.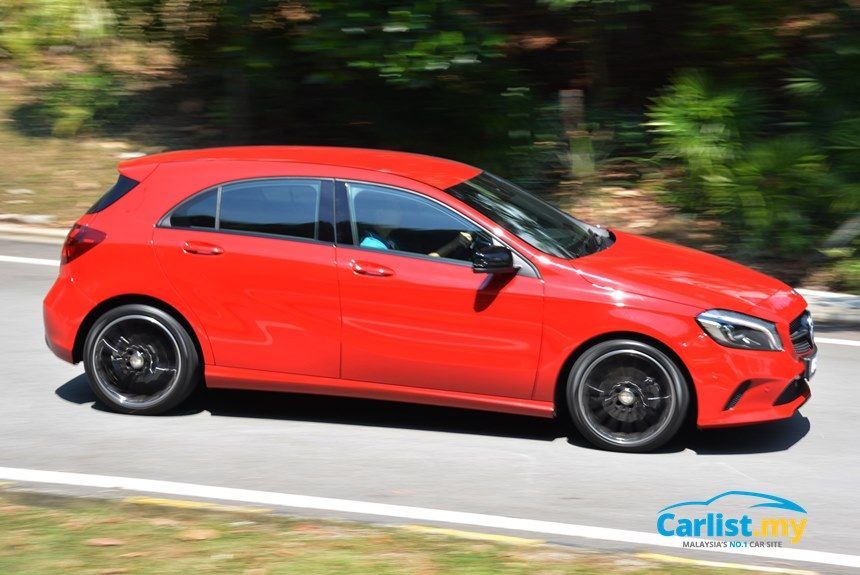 Conclusion
A flawed beauty. The Mercedes-Benz A-Class is a thoroughly attractive and alluring vehicle. Age has done nothing to repeal its visual charms. Being seen behind the wheel of one of these certainly broadcasts plenty of positive messages about your goodself to onlookers – that is of a young and successful person with great taste in style.
Beneath the attractive façade, however, is a vehicle that asks considerable compromises from its occupants. Its cabin, whilst beautifully constructed, is pinched for space, and despite substantial improvement from its predecessor, ride quality could be softened even further for it to be a viable for day-to-day usage.
As an entry model to the range, the A180 is a respectable one. The Mercedes-Benz product team checked enough boxes in the equipment list to ensure that owners are not reminded that they have merely settled for the base model, even if its performance is slightly lacking.
---
---
---
---
Comments