Review: Mercedes-Benz C200 Coupe (C205) – Sensual Purity With Sophistication
Reviews The C-Class Coupe is, in name, a relatively new product in Mercedes-Benz's line-up. In practice, however, the concept of building a coupe off the C-Class' platform goes right back to 1997 with now-discontinued CLK.
The previous-generation C207 E-Class Coupe that replaced the CLK in 2009 was also based on hardware from the W204 C-Class. The new C238 E-Class Coupe, however, brings this practice to an end by going back to sharing components with the E-Class sedan.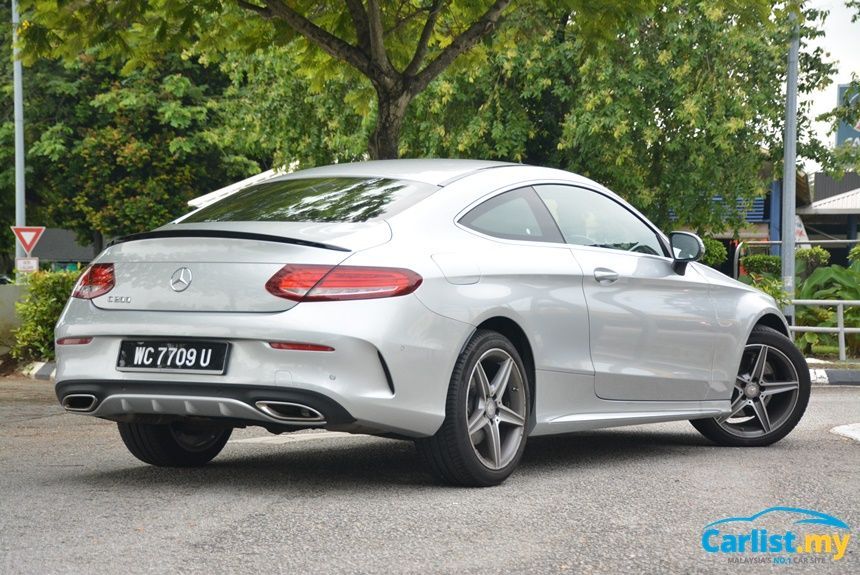 There was also the curious CLC three-door hatchback-cum-coupe that wore W204 styling with W203 hardware underneath, but the less that is said about this is the better. Mercedes-Benz eventually dropped the CLC in 2011 mid-way through the W204's model cycle and replaced it with a conventional two-door C-Class Coupe.
So, despite actually having a somewhat lengthy history behind it, the Mercedes-Benz C-Class Coupe now enters only in its second model generation.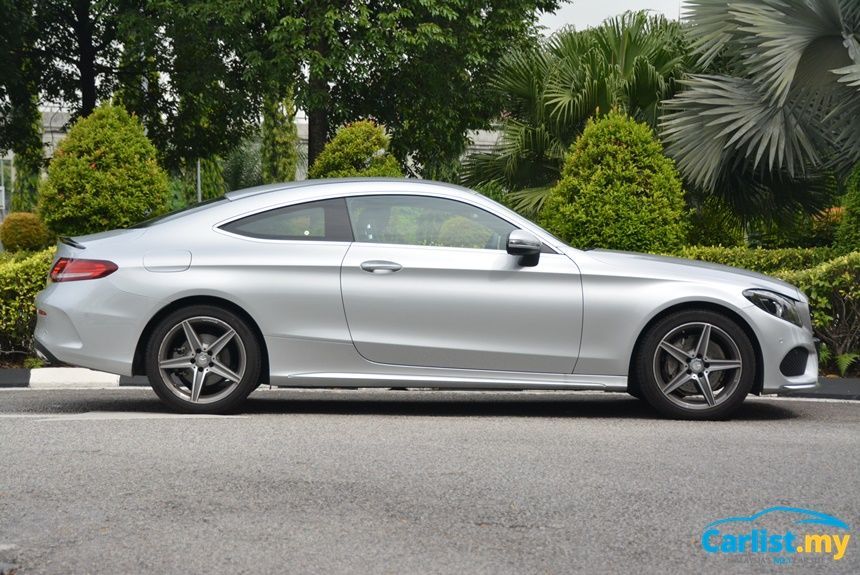 Specifications:
Price: RM308,888 (CBU, OTR without Insurance)
Engine: 2.0-litre, Inline-4 Longitudinal, Turbo, Petrol Direct Injection
Power: 184hp @ 5,500rpm
Torque: 300Nm @ 1,200 – 4,000rpm
Transmission: 7-speed torque converter automatic, RWD
Safety: 7 airbags, ABS, EBD, ISOFIX, Electronic Stability Control, Autonomous Emergency Braking
Origin: Fully Imported from Germany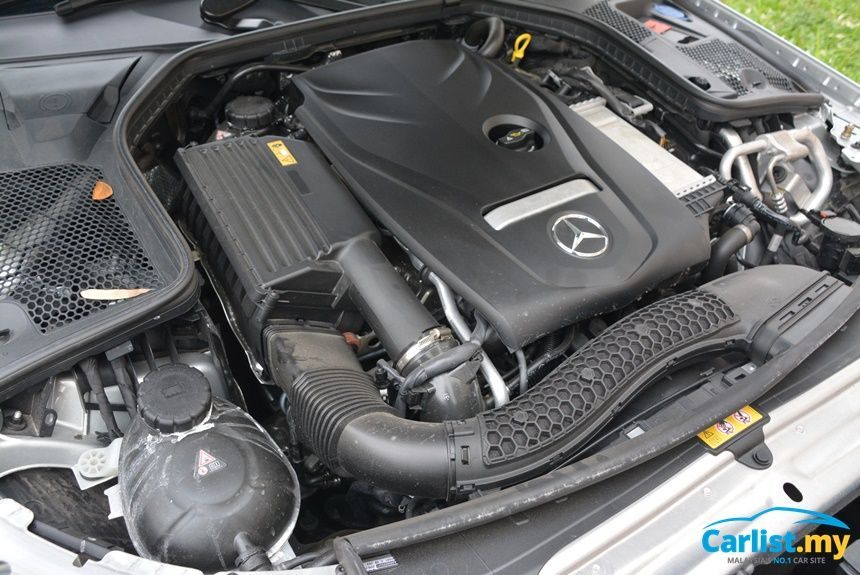 Overview
If you're familiar with the C-Class sedan line-up, the Coupe's model mix should not need much introduction. The range kicks off with the C200 that is the subject of our review today at RM308,888 on-the-road without insurance followed by the C250 and C300 at increments of RM30,000 and RM50,000 respectively.
Like their sedan counterparts, and indeed much of the Mercedes line-up at present, all variants of the C-Class Coupe in Malaysia are powered by the 2.0-litre M274 petrol engine in varying states of tune. Outputs peak at 184hp/300Nm for our C200 test car, rising to 211hp/350Nm in the C250 then on to 245hp/370Nm in the C300.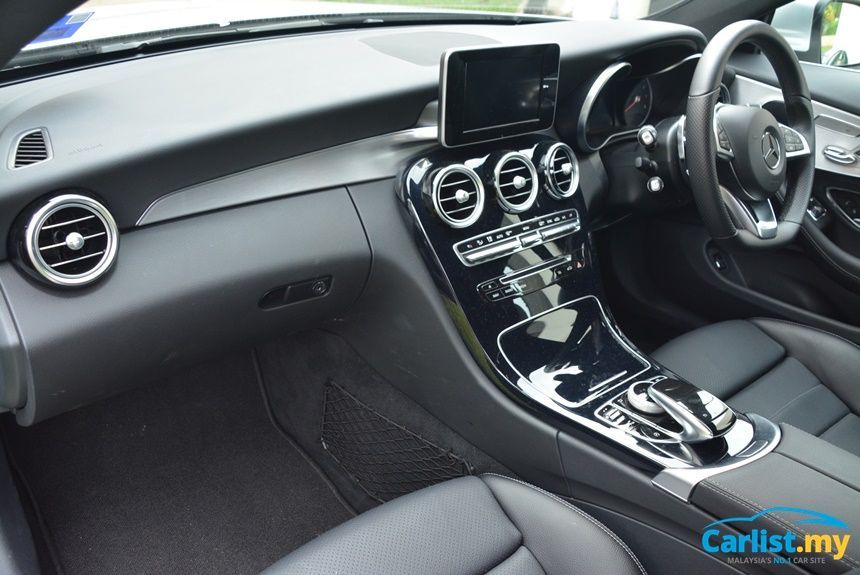 Merc's in-house 7G-Tronic auto is the standard transmission for all sending drive astern, and operated by the brand's unique electronic column-mounted selector stalk complete with paddle shifters for manual selection.
On the equipment front, keyless entry is available only from the C250 upwards, but reverse camera is standard, and a very good one at that – images were crystal clear in all lighting conditions. Safety is given commendable emphasis too, the C-Class Coupe gives autonomous emergency braking as standard – something which neither of its closest rivals, the BMW 4 Series or Audi A5, offer even as an option.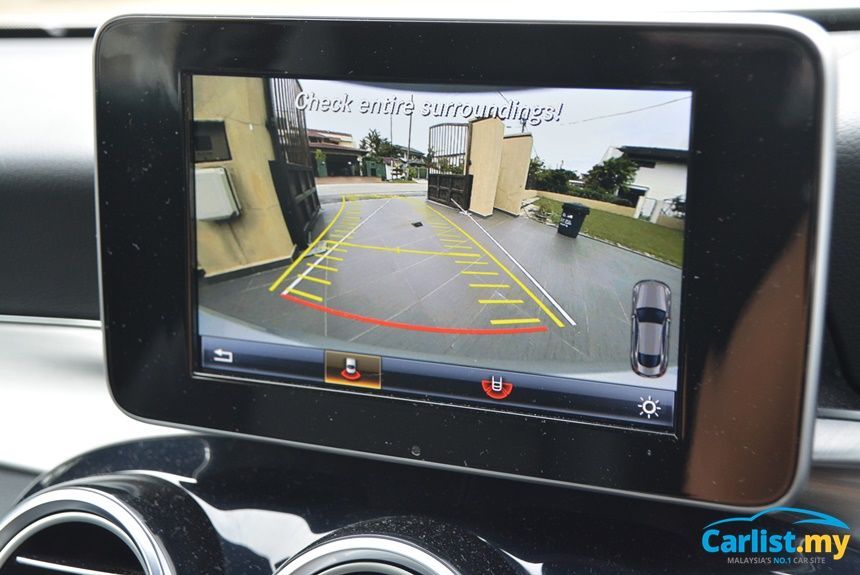 Exterior
The C-Class Coupe occupies roughly the same footprint as its sedan counterpart; both vehicles measuring identically in length (4,686mm), wheelbase (2,840mm) and width (1,810mm). The sedan stands slightly taller, however, at 1,442mm against the coupe's 1,405mm. The coupe tucks its wheels closer into the body though, its front and rear tracks both narrower than the sedan by small margins.
In appearance, the Coupe's membership in the C-Class family is immediately obvious from the fascia although telling a C-, E-, and S-Class apart at one glance can be a bit of a tricky art of itself these days. The raking C-pillar gives the car a wedge-like silhouette that distinguishes itself from the more conventional three-box look of the 4 Series and A5 coupes.
Mercedes coupe styling cues both traditional and modern are accounted for – the Avantgarde grille proudly houses the large three-pointed star up front; narrow slit tail lamps and bumper-mounted number plates, meanwhile, define the rear in similar fashion as seen in the S-Class Coupe and also the more recently-launched E-Class Coupe.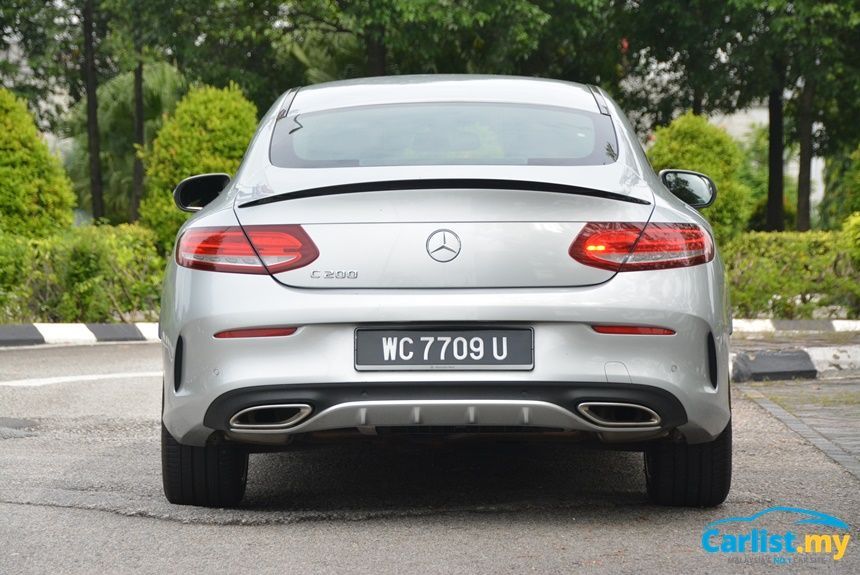 All variants of the C-Class Coupe in Malaysia come standard with AMG Line exterior trim for an added touch of aggression in appearance. Wheels are AMG Line items too – the C200 as tested get 18-inch five-spoke rims with stagger-sized tyres (225/45 front, 245/40 rear); the C250 and C300 both gain an inch in rim diameter with tyres measuring 225/40 front and 255/35 rear.
LED headlamps are standard fit as well, but the C250 and C300 get multi-mode intelligent lights that are able to self-adapt to a variety of lighting and weather conditions in addition to also incorporating auto swivelling and high-beam assist.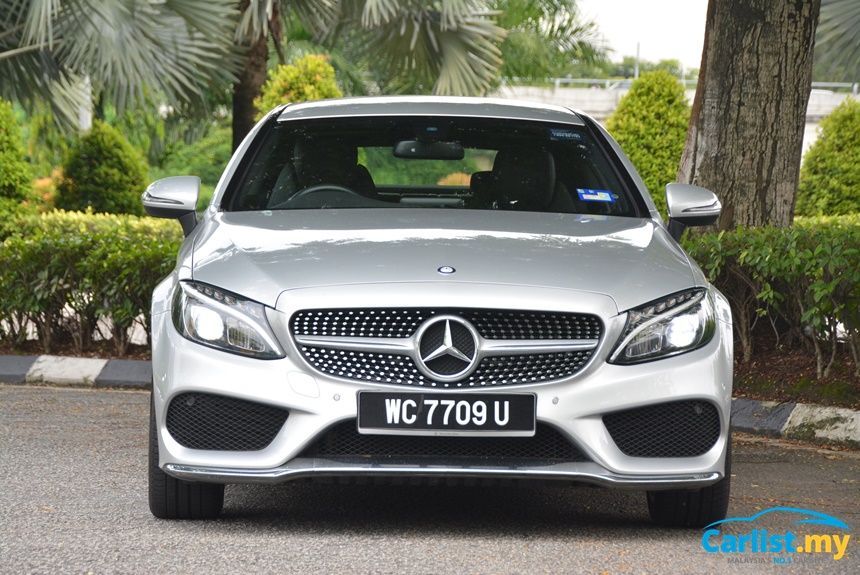 Interior
The sumptuous interior that we've grown accustomed to in the C-Class sedan requires no further introduction here. The dashboard is transplanted like-for-like along with its highly exquisite combination of materials prevalent across the cabin.
Switches exude good tactile feel when operated, though certain parts lack the functional solidity that you'd find in an A5 or 4 Series. There is, however, no doubting that where ambiance and showroom appeal is concerned, the C-Class looks and feels pleasingly expensive.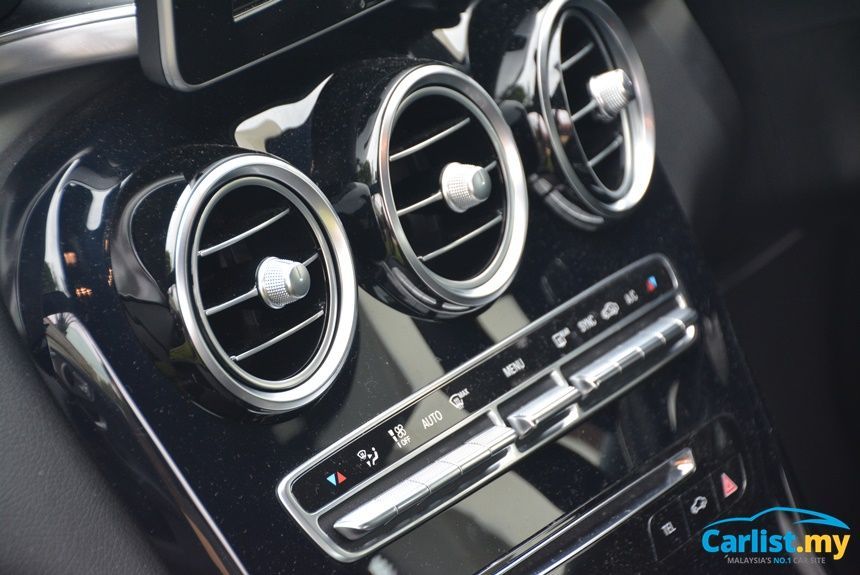 The only slight niggle concerns the piano black trim along the centre stack. It makes for good pictures, but the surface seems to attract dust more easily than we'd like. Parts of it also feel hollow when knocked.
No complaints on the cabin's utility. Only two lidded storage compartments are provided along the centre console, but they are both deep and shaped well enough to swallow a generous volume of small items.
Rear section takes only two passengers in individual seats. You wouldn't expect it to offer much, but there actually is enough room to accommodate the 180cm 97kg frame of Malaysian EVO's Bobby Ang. We wouldn't push our luck with Gokul though.
Boot capacity is rather decent at 400 litres, and shaped well enough to accommodate two full-sized suitcases without problems. Nothing too tall, of course.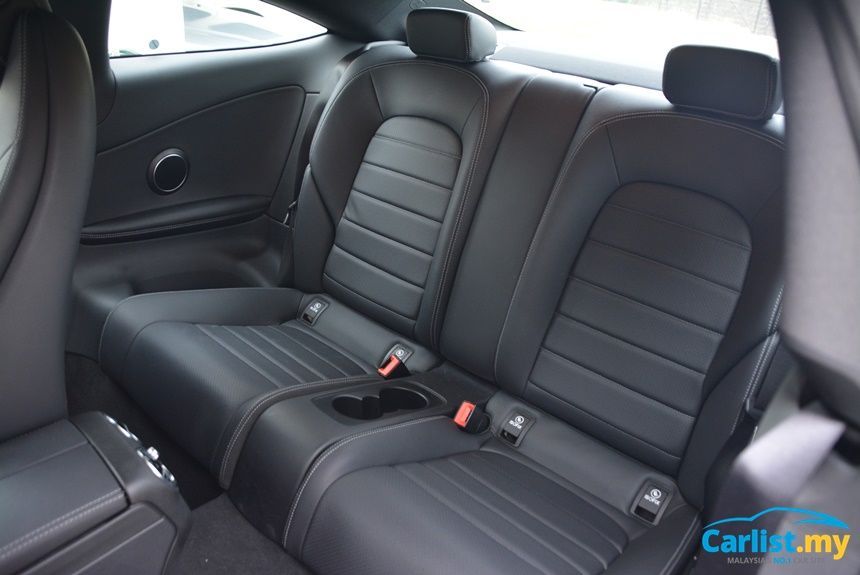 Driving Experience
Mercedes-Benz offers two suspension setups for the C-Class Coupe in Malaysia. The C200 gets the more comfort-oriented configuration of the two, though it still sits 15mm closer to ground than the sedan. Unsurprisingly then, that the car feels noticeably tauter than its four-door sibling on the move, with body roll impressively well-contained around corners.
The C200's talents can be experienced in four pre-set driving modes – Eco, Comfort, Sport, and Sport Plus – in addition to a fifth Individual mode customizable by the driver. Each driving mode offers a different combination of engine/transmission mapping, steering assist, climate control, and auto start/stop settings.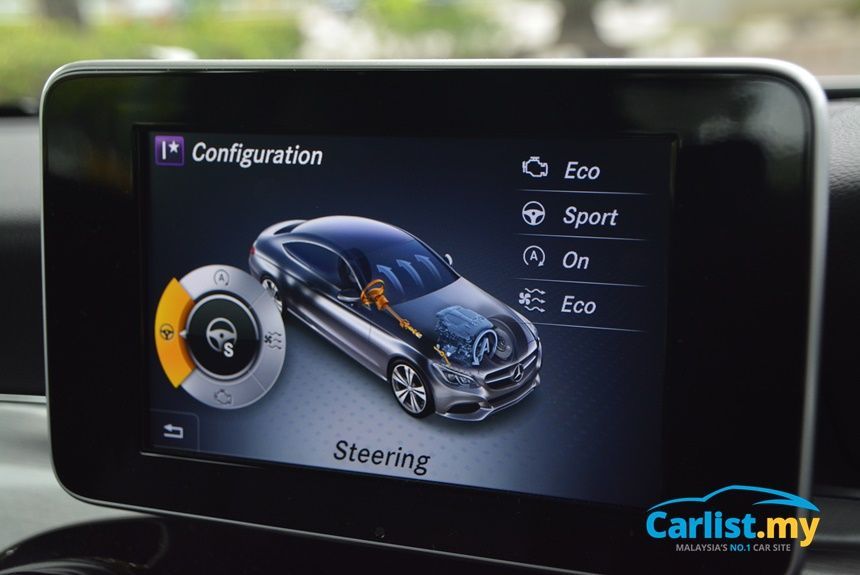 Steering turn-in is keen and direct, but be warned that the electric-assisted steering can feel over-assisted in the softer of two settings. If you have a preference to drive the vehicle in Eco or Comfort mode, it is recommended to duplicate the settings of these two drive modes in Individual mode but set steering assist levels to Sport.
Despite the relative modesty of its engine's outputs, straight line pace is more than adequate. If you're in a hurry, coaxing serious pace out of this car is not a problem. Power delivery is, in fact, outright savage in Sport Plus driving mode; the car feels almost angry in this configuration – not recommended in congested traffic.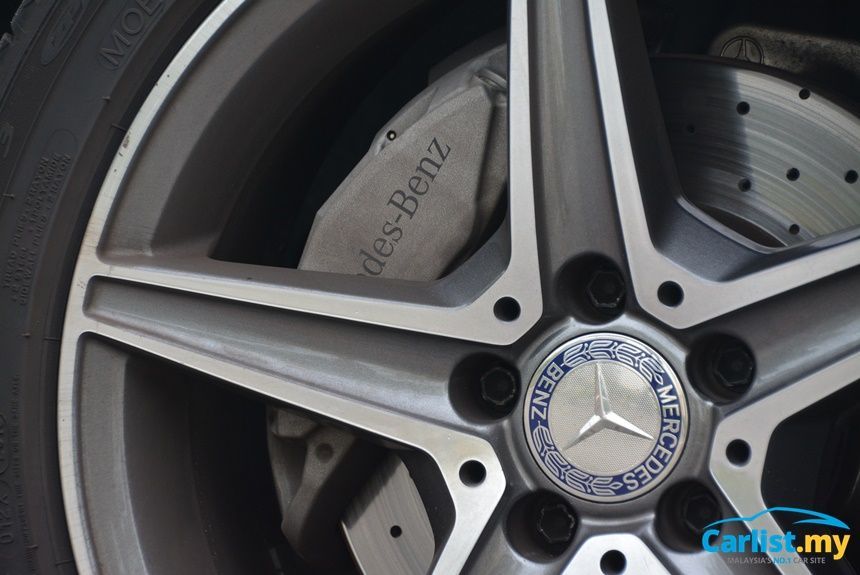 Comfort & Refinement
Despite seemingly rediscovering its mojo in building cars of real integrity and quality, Mercedes also appears to have somewhat relaxed its emphasis on comfort in many of its recent models. The lack of pliancy in its range of compact vehicles is well-noted; the C200 Coupe, even with what's supposedly described as a comfort-biased suspension, feels firmer on uneven surfaces than it needs be.
Granted, it is understandable that the Coupe is conceived to occupy a sportier positioning than the sedan, but with the BMW 4 Series already establishing its sporty credentials in the segment, the opportunity was for Mercedes to provide a stylish yet supremely comfortable counterpoint. Instead, what we have is a ride quality that, whilst not as ham-fistedly stiff as the A-Class, is almost as firm as a BMW on M Sport springs but without that final degree of handling finesse.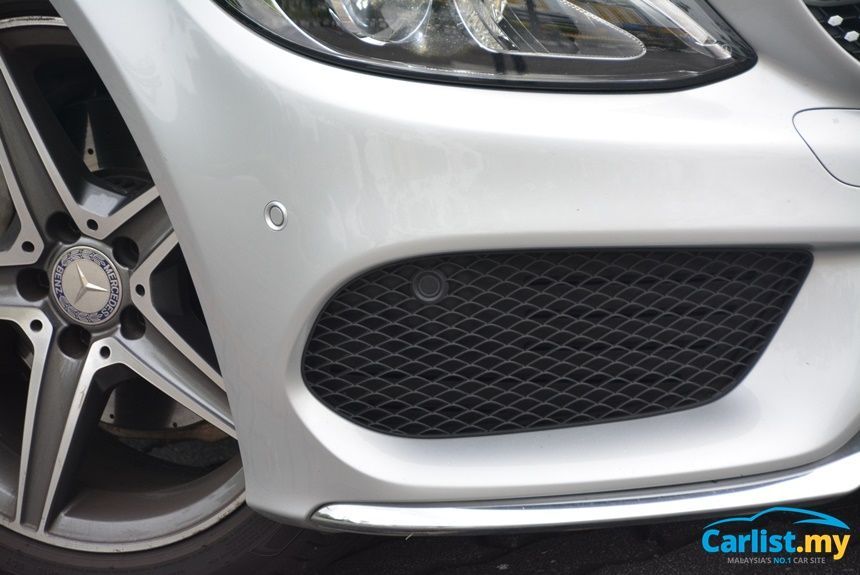 Economy & Maintenance
Mercedes-Benz quotes official fuel consumption of the C200 Coupe as between 5.4 and 5.9 litres/100km in combined cycle testing depending on the actual vehicle's equipment levels and tyre size. The same numbers are repeated for the C250 – make of that what you will. The C200 Sedan, in comparison, is quoted to be slightly more efficient but still in the same ballpark between 5.3 and 5.7 litres/100km.
Our own testing over 300km of driving through sparse urban traffic during the long New Year weekend returned a reading of 10.3 litres/100km on the trip computer. It's nearly double the official numbers, but consistent with our experience in the sedan models – 8.5 litres/100km in the C180, 11.8 litres/100km in the C300. In context, it's better than the A180, however, which returned a shocking 10.7 litres/100km from its modestly-boosted 1.6-litre engine.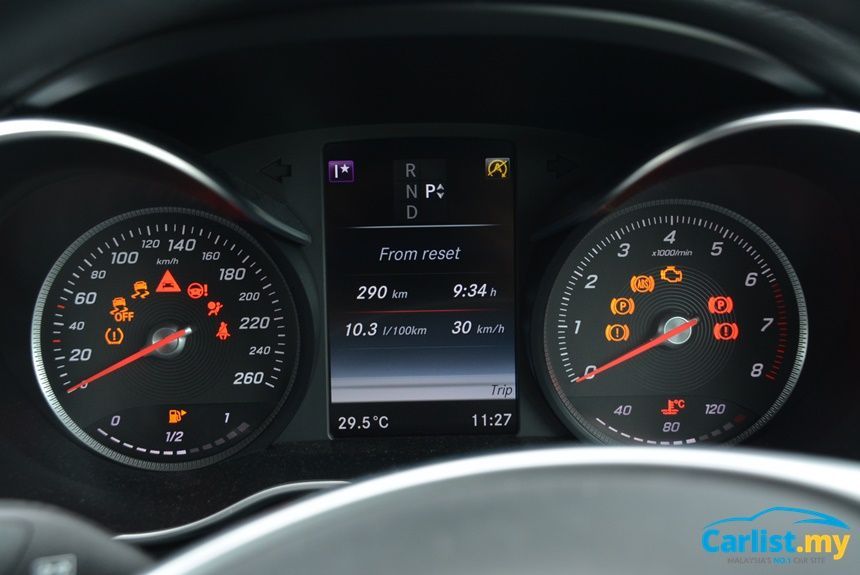 Conclusion
The old adage used to go that if you want to announce that you've made it in life, there's no better way to do it than turn up in a Mercedes-Benz. The validity of that thinking has been challenged for some time, but Stuttgart's latest range of models has returned a great degree of truism to that old wisdom whilst also enhancing their appeal to a younger crowd.
As we can see in the C-Class sedan right from the base C180 upwards, Mercedes-Benz is not only returning to its former self that makes cars with unrestrained luxury, but also endow them with great desirability. In a segment of the market where style is at least as important as substance, that extra pull factor is crucial.
The C-Class Coupe builds on the strong basics laid by its sedan sibling, but with an added touch of style and sophistication. A BMW 4 Series or quattro-equipped Audi A5 will trump it for dynamic prowess, but if it is a statement you want to make, the C-Class' bold design and classy interior will send all the right messages to onlookers.
---
---
---
Comments