Review: MINI Countryman Park Lane – Last Man Standing
Reviews Following the recent launch of the all-new Clubman and discontinuation of the ultra-niche Paceman crossover-coupe, the Countryman is now the last surviving member of MINI derivative models that spawned off the second-generation R56 hatchback.
Introduced in 2010, the R60 Countryman was the MINI brand's first crack at the growing crossover market, and as far as Malaysia is concerned, it has the significance of being the first MINI model to be locally-assembled.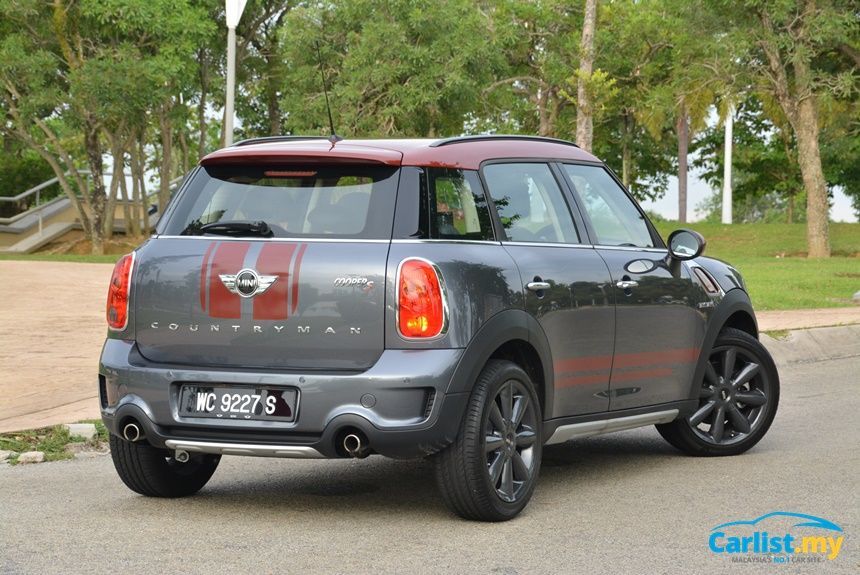 At the time of its introduction, the Countryman was the largest member of the MINI family, although it has since been superseded in that respect by the new Clubman. Certainly, indications are that the next Countryman will be anything but mini in size.
Kicking on the final leg of its model life cycle, a limited 88-unit only Countryman Park Lane based on the Cooper S Countryman was launched earlier this year.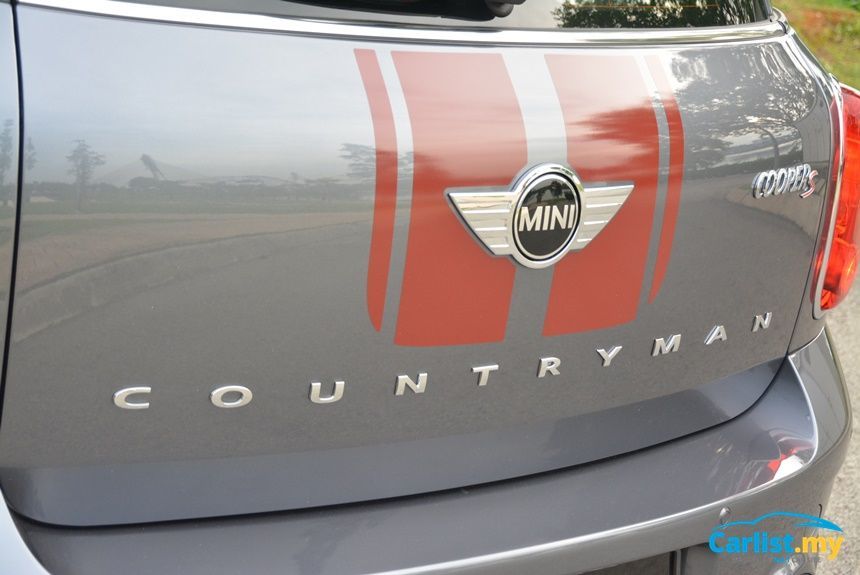 Specifications:
Variant Tested: Cooper S Countryman Park Lane
Price: RM253,888 (OTR without insurance)
Engine: 1.6-litre, Inline-4 Transverse, Turbocharged
Power: 190hp @ 5,500 – 6,500rpm
Torque: 240Nm @ 1,600 – 5,000rpm (Overboost: 260Nm @ 1,700 – 4,500rpm)
Transmission: 6-speed torque converter automatic with paddle shifters, FWD
Safety: 6 airbags, crash sensor, electronic stability control (DSC), traction control (DTC), ABS, pull-away assistant, electronic differential lock.
Origin: Locally-assembled at Kulim, Kedah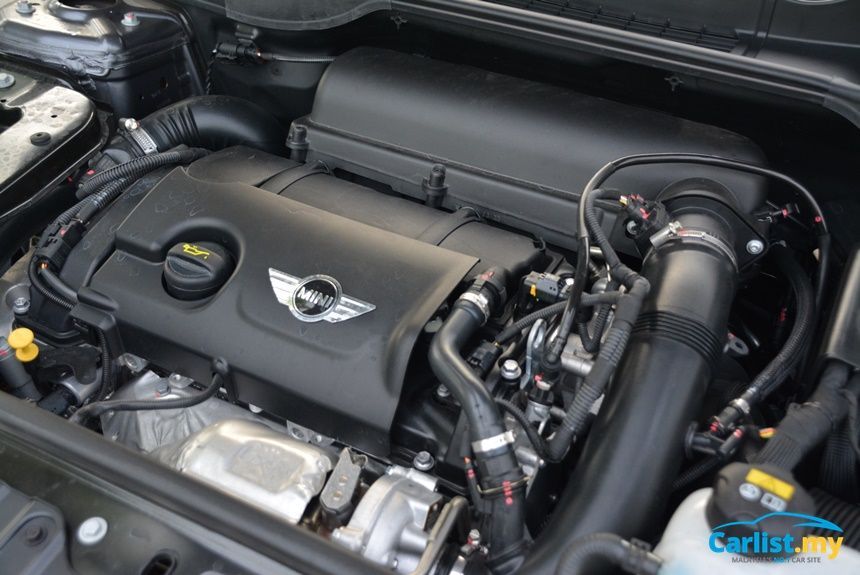 Overview?
In short, what we are looking at here, is a front-wheel drive Cooper S Countryman decorated with various exclusive aesthetic ornaments, priced at an RM11k premium over the regular model.
Mechanical configuration sees the venerable twin-scroll turbocharged 1.6-litre Prince engine paired with a 6-speed automatic transmission to bestow the front wheels with outputs of 190hp and 240Nm, the latter swelling to 260Nm on brief overboost on full throttle.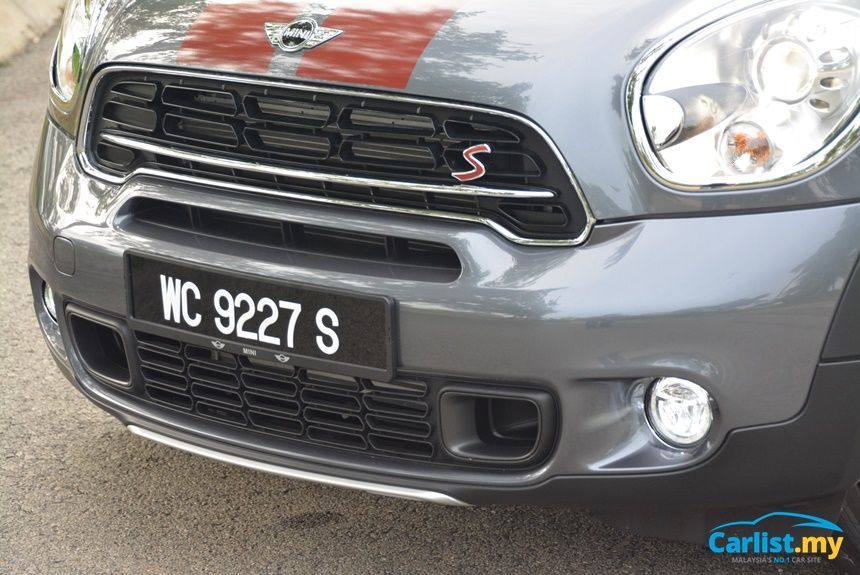 Alternatively, the Countryman in its regular guises is available at RM198,888 (OTR without insurance) for the 120hp naturally-aspirated Cooper model or RM242,888 for the Cooper S, both of which are locally-assembled and front-wheel driven only. The performance range-topping 218hp JCW variant, which comes fully-imported, is priced much higher at RM313,888.
Interestingly, the all-new Clubman in Cooper S format and sold as a fully-imported model, is priced identical to our Countryman Park Lane edition model at RM253,888.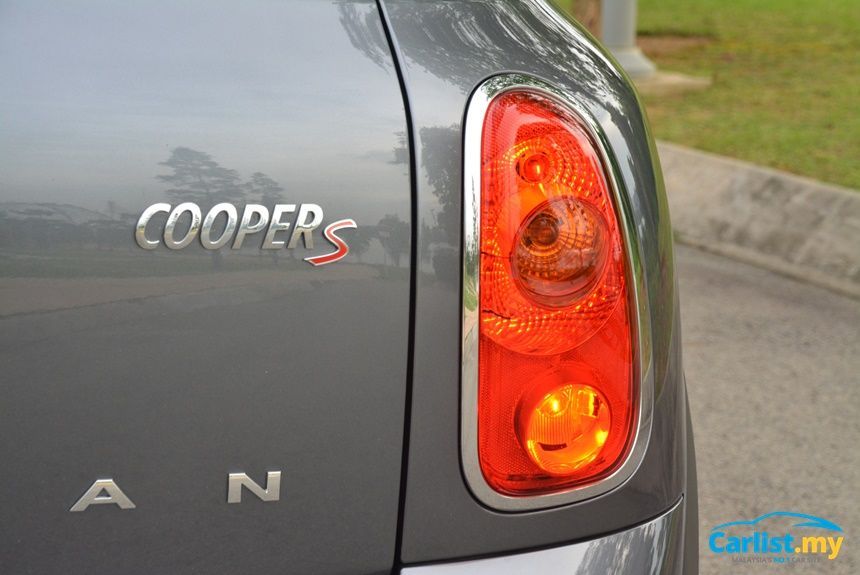 Exterior
From afar, the Countryman Park Lane can be recognized by its Earl Grey body colour with Oak Red contrast finish on the roof and side mirrors, as well as decal stickers on the bonnet, tailgate, and along the flanks.
Despite not being equipped with all-wheel drive, the Countryman Park Lane is nevertheless decked in a more rugged-looking ALL4 Bodykit that notably includes scuff plates on the front and along the sides. Finally, if you still don't get the visual cues, 'Park Lane' emblems on the fenders give you a definitive answer of its identity.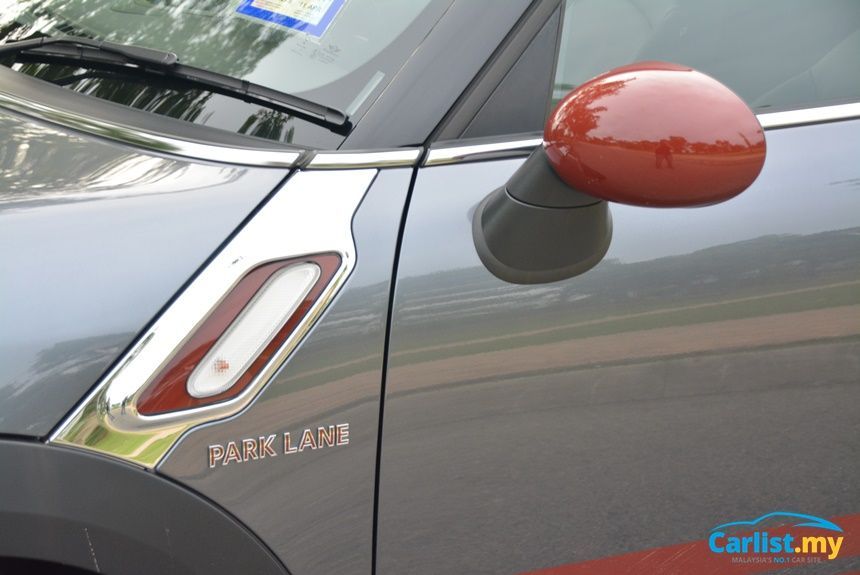 Interior
Being the more playful extension of the BMW Group, MINI interiors typically avoid the no-nonsense business-like cabin ambiances of its parent company. Contrasting the functional clarity of a typical BMW cabin, MINI interiors are embody funky stylishness in their design philosophies.
At a glance, the Countryman's cabin clearly carries the established design ethos with commendable faithfulness. Visually, the cabin looks hardly aged and gives off the impression of being a very fun place to be in.
Functionally, however, it leaves much to be desired. Ergonomics, for starters, are less than intuitive. Whilst this writer had no problem settling into a good driving position and found switch gear within easy reach, they are not laid out in a manner that can be easily operated a quick glance. The rows of toggle switches admittedly score full marks for aesthetics, but operating them required taking our eyes off the road for more seconds than it is safe whilst driving.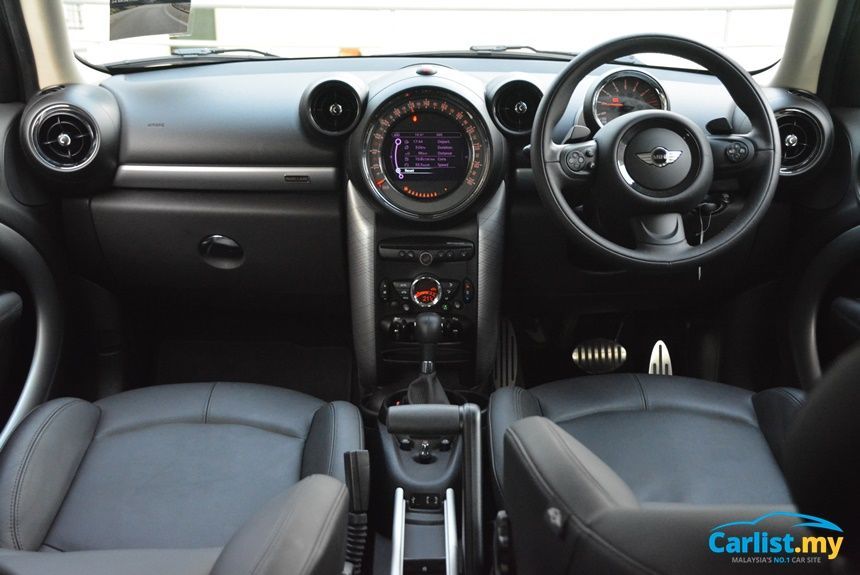 Available storage space is not fantastic, but enough to live with. The four cupholders along the centre console are decently sized, whilst the rail that extends from the gear lever rearwards can swallow a decent number of small (emphasize small) items. MINI offers a number of optional accessory boxes that can be fastened to the railing, so speak your sales consultant on this.
Build quality feels distinctly average for the price tag. Whilst fit and finish are decent, material selection, at prominent touchpoints at that, are unimpressive. On our test car, the transmission lever's lock button was jammed in a fully-pressed state, meaning we could freely move the lever into any position (P, R, N, D) at any time.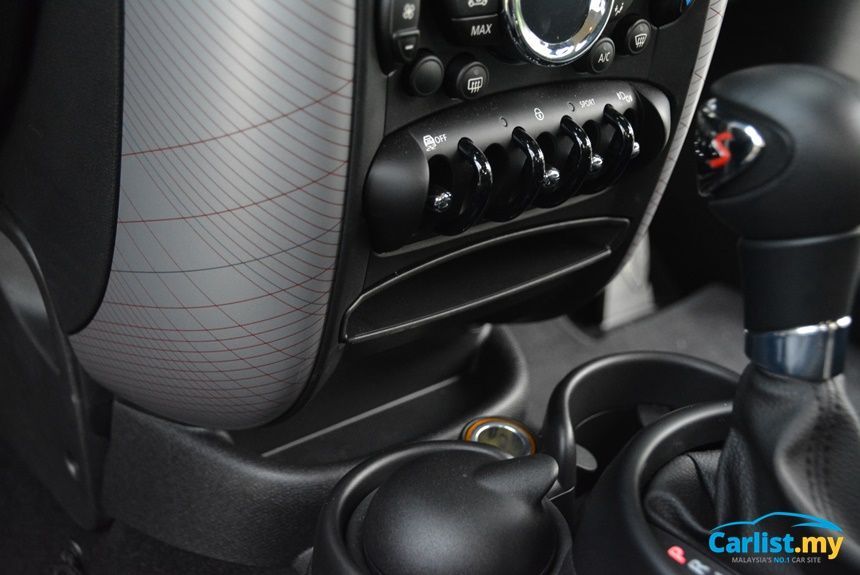 How does it drive?
Considering its age, and having sampled members of the third-generation F56 family, we unsurprisingly find the Countryman feeling a little 'last generation' in its performance and refinement.
We are still big fans of the Prince engine, it didn't win eight consecutive Engine of the Year category of the year awards for nothing, but newer rivals expose the gruffness at its top end as well as the slight but noticeable amounts of turbo lag.
That being said, the engine pulls strongly in its mid-ranges and is pleasantly eager in its willingness to rev. It's one of those engines that seems to egg you on to rev it. Aging as it may be, this engine certainly still has its charms. Watch out for torque steer whenever you put your foot down.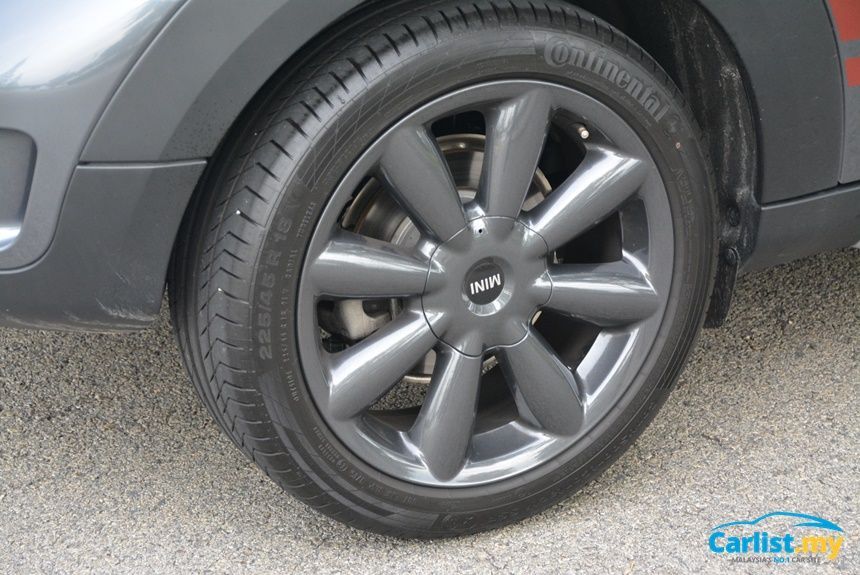 Body motions around bends feel well-controlled, but there is unsurprisingly more pronounced levels of body roll than you would experience in other lower-riding members of the MINI family.
Steering turns keenly with good levels of feedback. Its assist levels are generous enough to make life easy in tight spaces, yet it also weighs substantial enough to inspire confidence at higher speeds. It's a setup that well-balanced enough to appeal to the needs of enthusiasts and city-dwellers alike.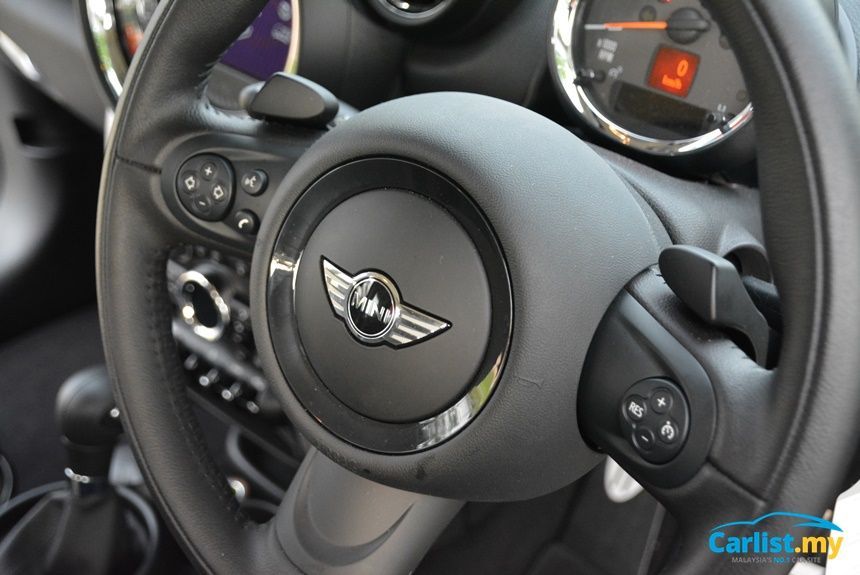 How comfortable is it?
Ride comfort has never quite been the forte of any MINI model, but the Countryman has generally made a better job of it than its smaller siblings. It is still a firmly-sprung car, however, with a primary ride that lets in short-wave disturbances such as road patches, bumps, and potholes. Secondary ride is decently sorted, however, helping the Countryman to achieve good high speed composure.
How economical is it?
MINI claims a combined average fuel consumption of 7.5 litres/100km for the Cooper S Countryman. Our test average of 9.9 litres/100km over a 318km run combining urban and highway driving.
We should note, however, that the engine's peppy nature has inspired us to drive this particular test car with much greater exuberance on the throttle than most. In that context, we'd say 9.9 was a decent return.
All MINIs sold in 2016 are covered by a four-year unlimited mileage warranty in addition to a four-year / 60,000km free service package covering engine oil, oil filter, air filter, micro filter, spark plug, and brake fluids. Maintenance intervals are condition-based, meaning on-board diagnostics tell you when it's time to send your Countryman in for some tender loving care.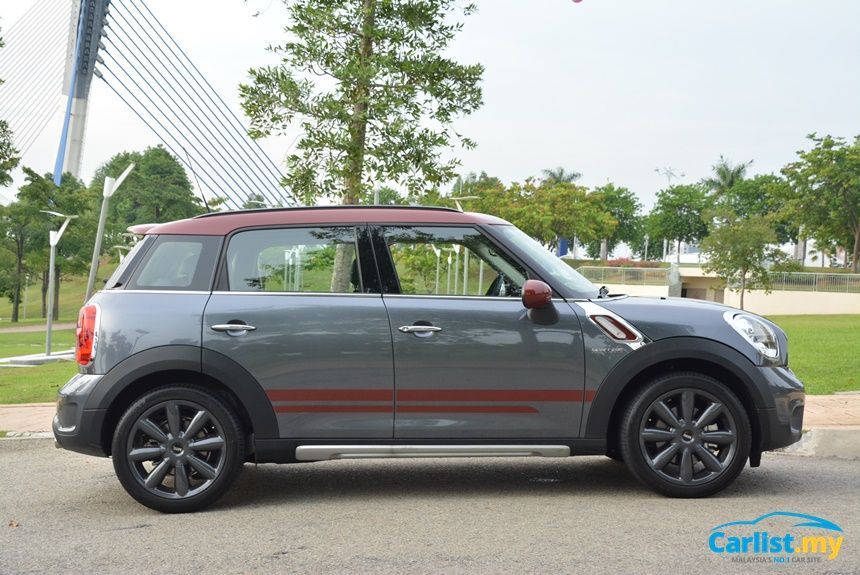 Conclusion
Rational reasons do not come into play when one considers the purchase of a MINI. The Countryman is perhaps the most practical model of the lot, but it's still not what we would call the last word on sensibility. More than a car, the MINI brand is an expression of one's tastes and lifestyle, and one that still offers the driving thrills synonymous with the BMW family at large.
That being said, MINI brand has accrued a large fanbase of young and affluent people attracted to its pleasing combination of outward style and driving dynamics. The Countryman was evidently conceived to allow these fans to continue expressing their identities as their needs outgrow the cramped surroundings of their MINI hatchbacks.
---
---
---
Comments