Review: Perodua Bezza 1.3 – Getting The Basics Right
Reviews Perodua makes a sedan. The company that has ruled the roost in Malaysia for a decade with only two hatchbacks and an MPV has finally come up with the classic three-box sedan that many Malaysians have been asking for.
A Bezza concept was first shown at the 2010 Kuala Lumpur International Motor Show; and speculation of a Perodua sedan has been rife since then. Perodua officials on their part, have hardly tried to quell those rumours, responding to prods on the topic at press conferences with wry cryptic answers.
The Bezza we see today bears next to no resemblance to the show car from six years ago, but it once again demonstrates Perodua's knack for responding to the needs of consumers and delivering products that people want. Now that it's here, does the Bezza push all the right buttons for Malaysian motorists?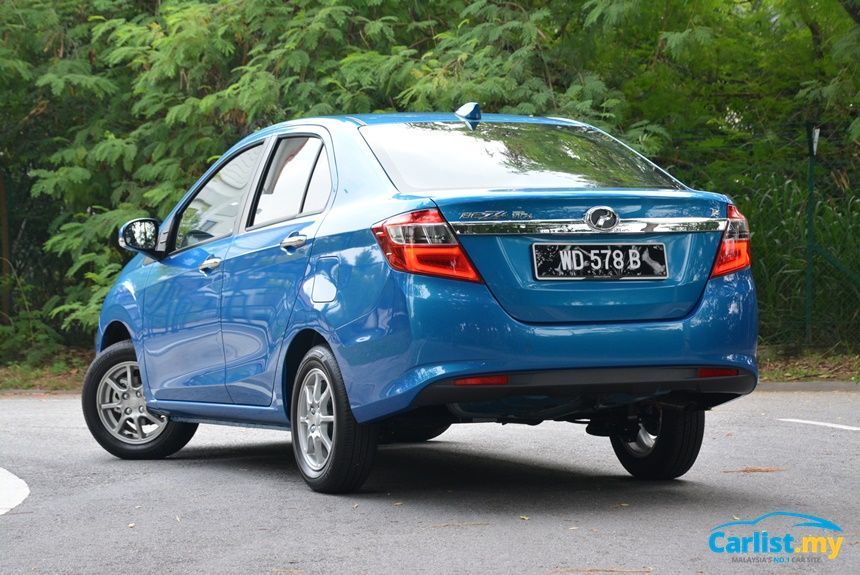 Specifications:
Price: RM42,800 – RM50,800 (CBU, OTR without Insurance)
Engine: 1.3-litre, Inline-4 Transverse, Dual VVT-i, Petrol
Power: 94hp @ 6,000rpm
Torque: 121Nm @ 4,000rpm
Transmission: 5-speed manual, 4-speed torque converter automatic, FWD
Safety: 2 airbags, ABS, EBD, ISOFIX, Electronic Stability Control*, Traction Control*, Brake Assist*, Hill Start Assist*. (* - 1.3 Advance only)
Origin: Locally-manufactured at Rawang, Selangor.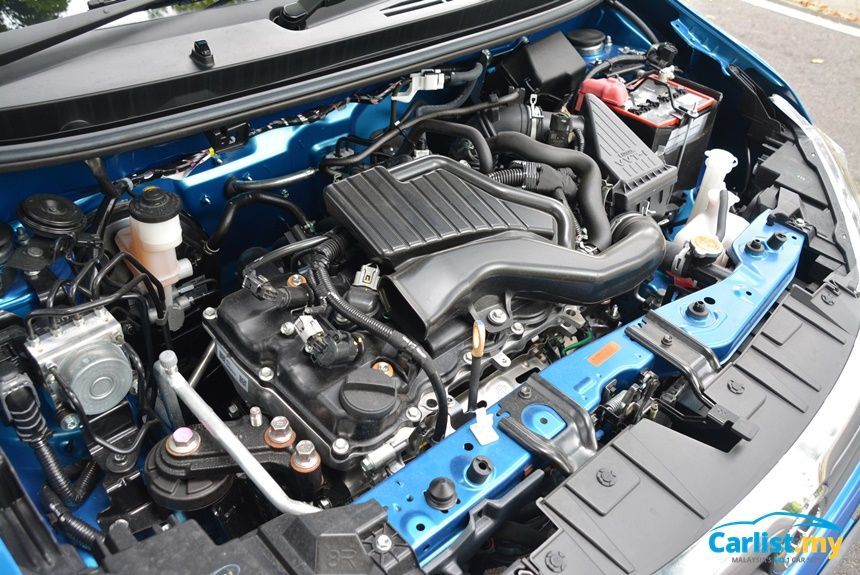 Overview
Two engines, each in turn available with manual and automatic transmission and organized into three model lines make up a total of five variants for customers to choose from. Prices start at RM37,300 for the 1.0-litre Standard G variant with manual transmission.
This review focuses on the 1.3-litre variants, starting at RM42,800 for Premium X spec with manual transmission; the other test car featured here is the range-topping 1.3 Advance, offered exclusively with automatic transmission and priced at RM50,800. Between these two, buyers also have the option of specifying Premium X trim with automatic transmission.
A stretched version of the Axia's platform underpins the Bezza. Like other Perodua models, the Bezza leverages heavily on Daihatsu's engineering expertise, but its design is said to be specific to our market and tailor-made for the tastes of our people. It is, in other words, not a rebadged Toyota or Daihatsu model – 95% of its components are made in Malaysia.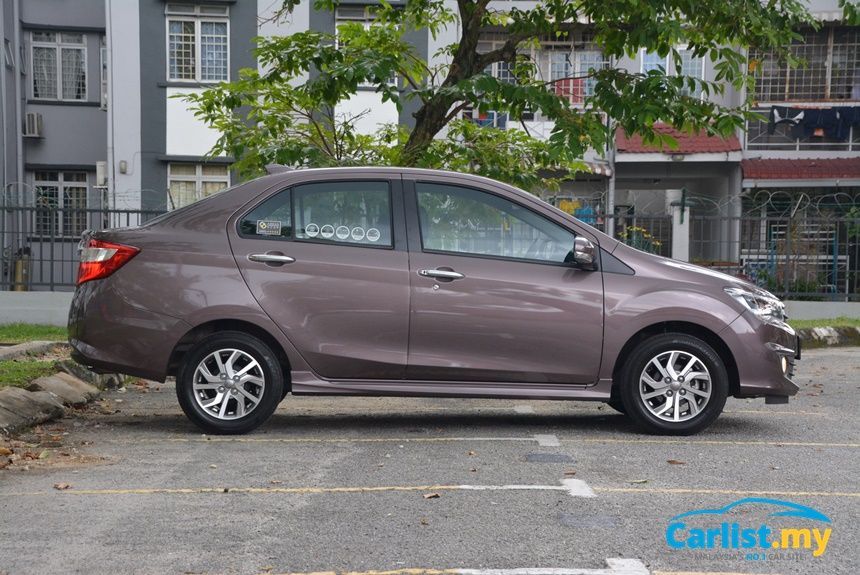 The three-cylinder engine of the 1.0-litre model is based on the 1KR lump found in the Axia, but improved with the addition of variable valve timing. The four-cylinder engine of the 1.3-litre model is more advanced, boasting dual variable valve timing and, in the case of the range-topping Advance model, equipped with Auto Stop/Start. It is part of the new NR series engine family that is being manufactured in Perodua's new engine plant in Sendayan; the 1.5-litre Dual VVT-i engine now powering the Toyota Vios hails from the same family.
Equipment levels are decent across the range for the price. This is the first Perodua model with electronic stability control, although remains restricted to the flagship variant. Further below, the 1.0-litre base model starts things off with 60:40 split-folding rear seats, reverse sensors, dual airbags, ABS, EBD, and ISOFIX mounts. Keyless entry and front parking sensors usefully come in at Premium X spec with steering-mounted audio controls, multimedia touchscreen, and reverse camera requiring you to splurge for the Advance model.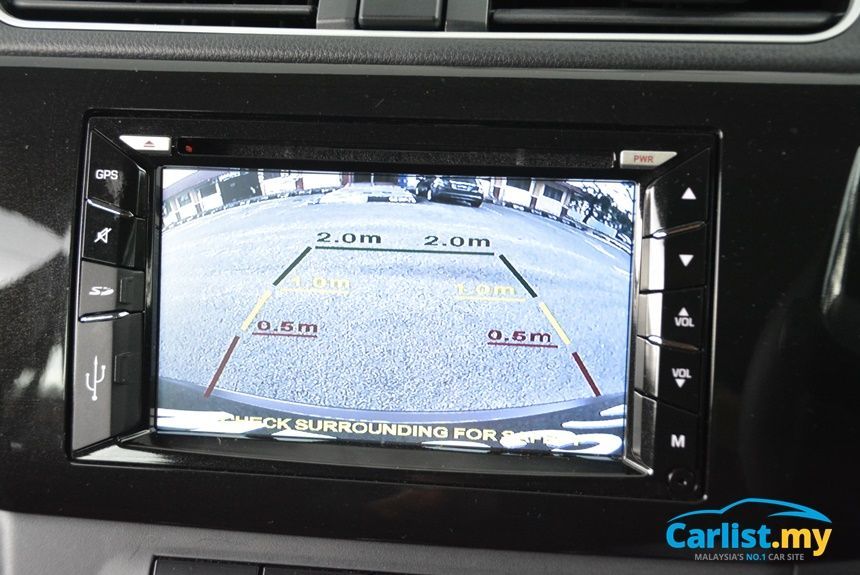 Exterior
Typical of most sedans built on hatchback underpinnings, the Bezza has a tall rear end which in turn gives it a rather lanky slab-sided silhouette. There's no kinder way to put this, but the Bezza's shape is not a naturally attractive one.
Badges aside, there aren't many cues that differentiate the 1.0- and 1.3-litre models from each other. Alloy rims measuring 14 inches are standard for all grades, as are, remarkably, automatic headlamps.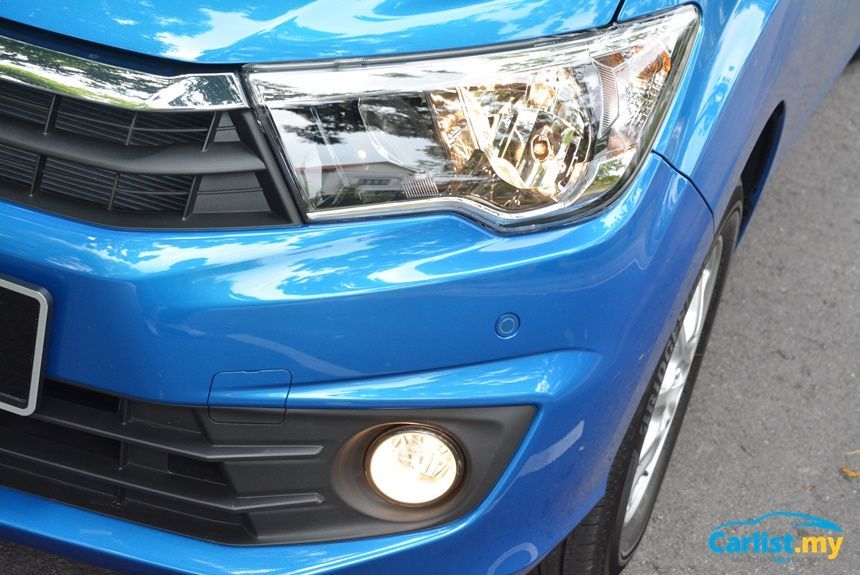 The 1.3 Premium X models gain front fog lamps, side mirror-integrated signal lamps, and chrome door handles. Finally, the Advance model receives side skirtings and its own unique 5-spiral-spoke alloy rim design. The vehicle's appearance is otherwise pretty homogeneous across the range.
Stretching just 4,150mm long and spanning 1,625mm wide, the Bezza is one of the smallest four-door sedans in the market. The next closest in size is the Mitsubishi Attrage, which stretches the tape measure to 4,245mm long by 1,670mm wide. The new Proton Saga, which the Bezza competes most directly with on price, is a full size larger at 4,331mm long by 1,689mm wide.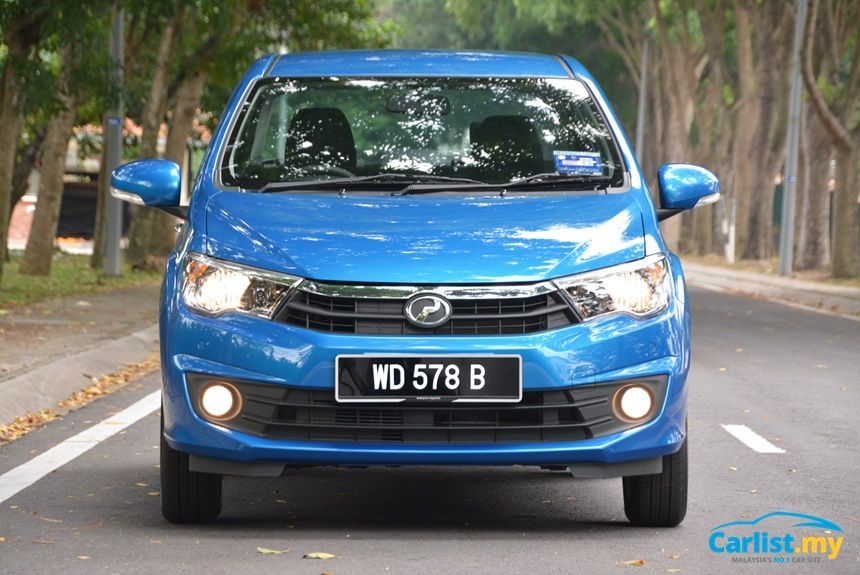 Interior
At the Bezza's price range, we are less concerned with matters such as design flair or plush materials than we are with robustness and utility value. We can forgive hard plastics so long as they feel hardy, but that being said, we also accept no excuse for poor consideration of usability as well as the various little things that matter in the day to day commute.
To start off, instruments and controls are clear and easy to use, but we were surprised to find that the steering column does not even offer height adjustment, let alone reach. I was also unable to settle on a seating position to accommodate my 170cm frame – to get a good reach of both the pedal and steering wheel, I had to sit more upright than is necessary or comfortable for a long trip. Reclining the seat one notch back put the steering wheel farther than it is safe for execution of emergency maneuvers.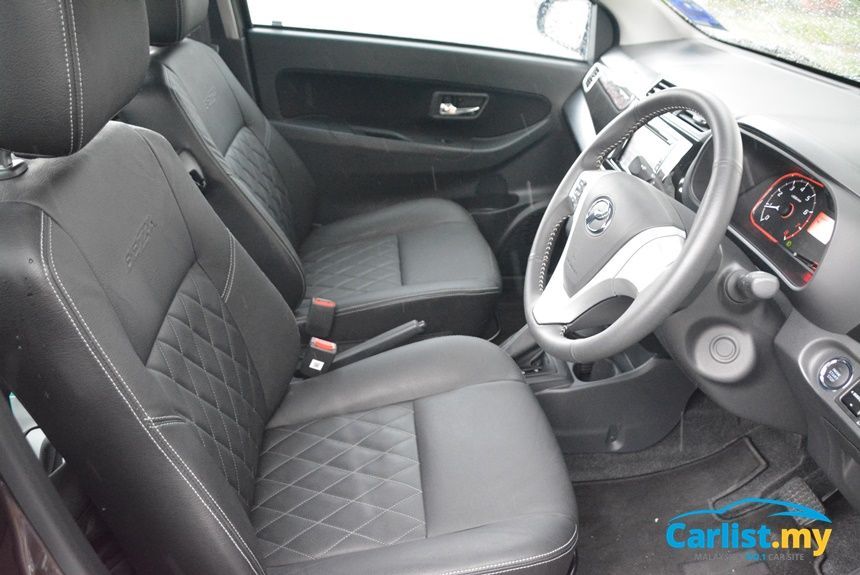 Overall interior packaging is a bit of a mixed bag. On one hand, Perodua did a fine job eking out commodious cabin and boot space from within the Bezza's compact dimensions; on the other hand, however, we feel the allocation of in-cabin storage spaces can be further improved. Space along the centre tunnel, in particular aft of the gear lever, feel under-utilized with very limited space to empty the contents of our pockets into.
The door pockets are a little too narrow for our liking too, but the glove box is at least decently sized, and we also appreciate the Smart Tag drawer tucked away to the right of the steering column. Also likely to prove useful on a day-to-day basis are the pair of teh tarik hooks installed at the back of each front seat as well as the anti-snatch hand bag hook placed at the side of the front passenger seat.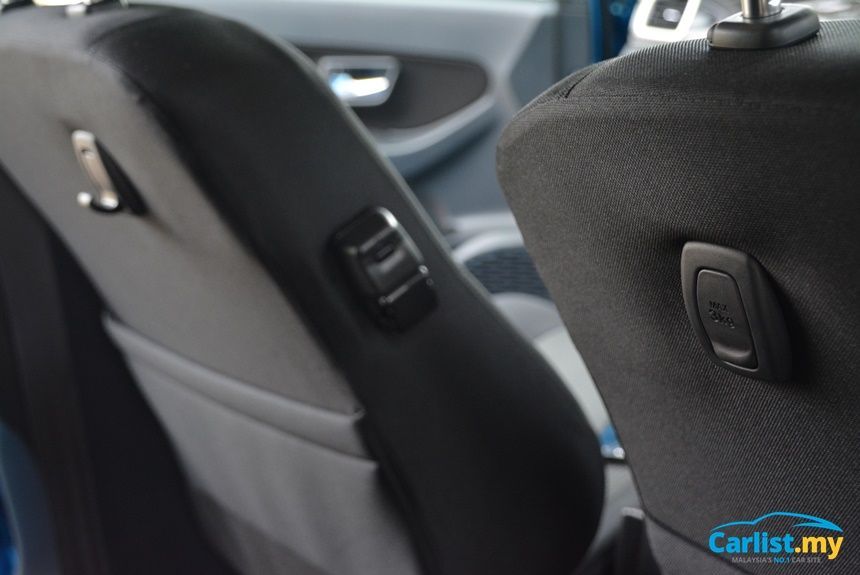 Driving Experience
It doesn't take many kilometres for a driver to discern that this a vehicle built less for long-distance trips than it is for the daily urban commute. Light controls, compact dimensions, and a small turning radius – all elements engineered to ease the car through tight confines.
The manual version gives off a good first impression with a light clutch as well as well-defined slots to row through the gears; moving off, however, it immediately becomes a less convincing prospect – the clutch did not bite convincingly upon take off and neither was overall pedal calibration conducive for heel-and-toe downchanges.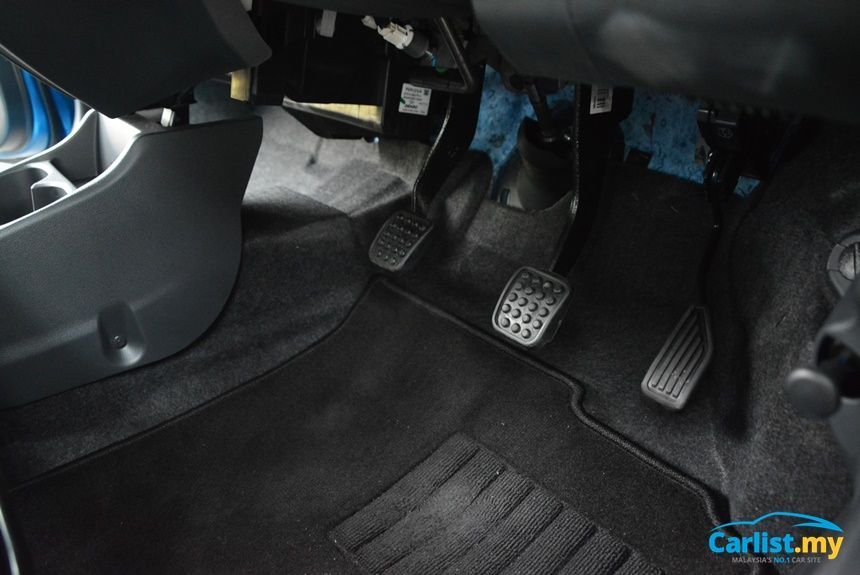 Clearly, it is best to just pick your Bezza with an automatic transmission; the four-speed 'box works through its ratios smartly enough and is adequately smooth in its operation. As a whole, this car feels like it is made to function best with an auto.
Regardless of transmission, the Bezza does not take kindly to any form of enthusiastic driving. At high revs, the engine loses its veneer of refinement, and stability at high speeds is also not reassuring. Performance is adequate, mind you, and the car will steadily build up speed to the national limit without struggling.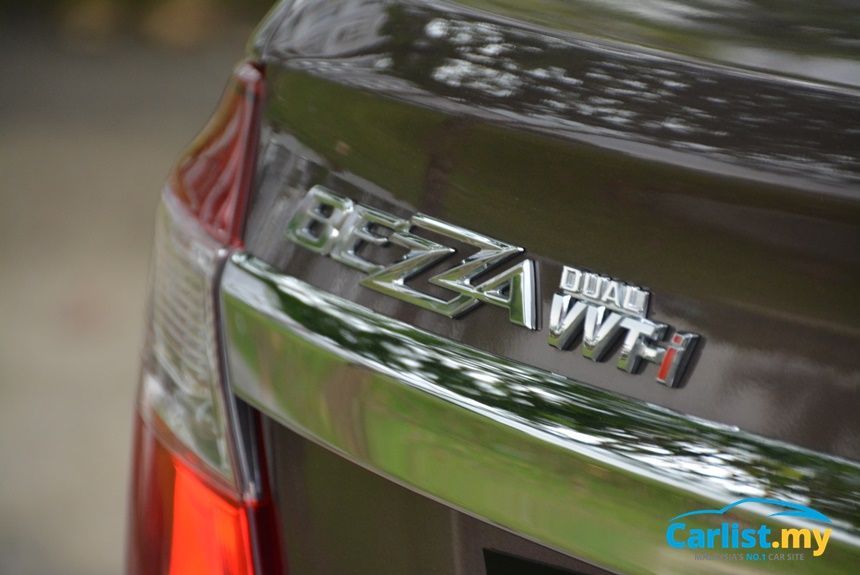 Comfort & Refinement
The Bezza's suspension is a touch firm, but there is enough damping to isolate the cabin from the harshnesses of poor surfaces. The vehicle too, as a whole, is largely free from unwanted forms of vibration and itself generates very little noise – except when you tax the engine under hard acceleration.
Where it could do with some improvement is the isolation of externally-generated sounds. On rainy days in particular, you will quickly find your conversations drowned out by the pitter-patter of rain drops hitting the roof and also the sound of water splashing at the rear wheel arches. There is also a lot of road noise generated by the tyres on the move.
So, whilst the Bezza does not rattle or make much noise on its own, it also seems to lack sufficient insulation to block off sounds from the outside.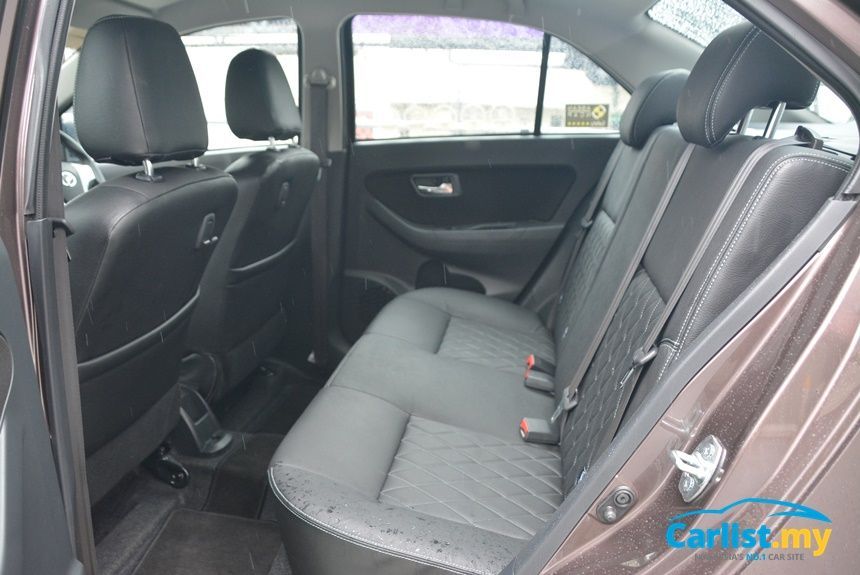 How economical is it?
Official published fuel consumption of the Bezza ranges from 4.4 to 4.8 litres/100km depending on the engine and transmission combo. As tested, the 1.3-litre manual model is rated at 4.6 litres/100km whilst the 1.3-litre Advance model with auto start stop is claimed to be even more efficient at 4.5 litres/100km.
In our hands, the 1.3 manual test car returned 7.0 litres/100km over a mixed route of urban and highway driving. The 1.3 Advance test car indeed proved to be more efficient, turning over 6.4 litres/100km under the same conditions. Far off the claimed figures, but still one of the more economical cars we've reviewed this year.
Perodua has yet to provide detailed breakdown of servicing costs for the Bezza, but an ongoing promotion providing service vouchers worth RM1,200 (promo valid 17-30 Nov) is said to be good for 2 years of free maintenance. Those who buy the Advance model with auto stop/start will need to be mindful of slightly higher battery replacement costs, estimated to be in the region of 10-15%. As with all Perodua models, servicing for the Bezza is set at 10,000km intervals.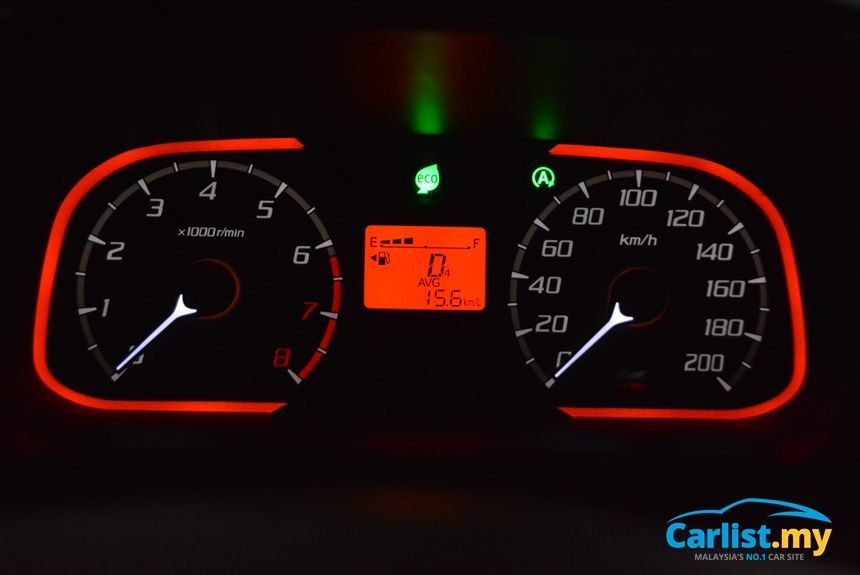 Conclusion
You asked for it, they've made it. People have been calling for a Perodua sedan for sometime now, and they've got it. Perodua has the habit of reading what the market needs and promptly acting to meet them - 20,000 cars sold in the first 90 days would indeed seem to vindicate the company's approach.
Affordable to buy, spacious, and replete with all the requisite equipment of a modern automobile; it's as if as Perodua compiled a checklist of items and features that a Malaysian would want in a car and built the Bezza accordingly.
The Bezza is not a car to excite one's senses, nor is it a car built with any grandiose claims. It is admittedly not a driving experience to savour; but Perodua's excellent track record of reliability and after sales do mean that you get an ownership experience that is as painless as can be. If you're looking for an affordable, fuss-free, and ever dependable mode of transport, this is it.
---
---
---
---
Comments