Review: Porsche Cayman GT4 – A Taste of Distilled Greatness
Reviews Talk about Porsche and the conversation will surely centre on the 911. How could you not talk about Porsche's arse-engined wünderwagen when you are talking about Porsche? It is like discussing KFC without the chicken or Malaysian politics without the billions. Sadly as much as the 911 hogs the limelight as Porsche's sacred icon, its presence had unintentionally overshadowed the brand's other achievements, because when you think about it, some of Porsche's finest hours were seen in their mid-engine creations, such as the great 904 GTS, the incredible 917, the dominating 956 and 962, the screaming Carrera GT, and the mesmerising 918 Spyder. These shining examples from Porsche's stable all had their engines sitting between the axles rather than over the rear ones.
Sadly, great mid-engined Porsches come with heavy price tags. As such only the wealthiest of Porsche enthusiasts or professional racing drivers, were able to drive one, two conditions that not everyone in their mortal existence are in the right stead to be in.
Porsche's other mid-engine creations, the Boxster and the Cayman, are fine cars themselves, but you get the impression that they were built with a goal of complementing the 911's established place in Porsche hierarchy, rather than challenge it. Enthusiasts has always wondered what would happen if Porsche gave the Cayman the same treatment it gave to the seminal 911 GT3, and joy of joys, they have just done that with this, the Cayman GT4.
Beefed up, groomed, and put together by the folks at Porsche Motorsports, the same talents behind the 911 GT3 RS, the Cayman GT4 is the first time the illustrious outfit has done something on the Cayman platform. So is this the Cayman that fans has been waiting for? Or is it another more expensive Cayman with wings spouting out of its ends?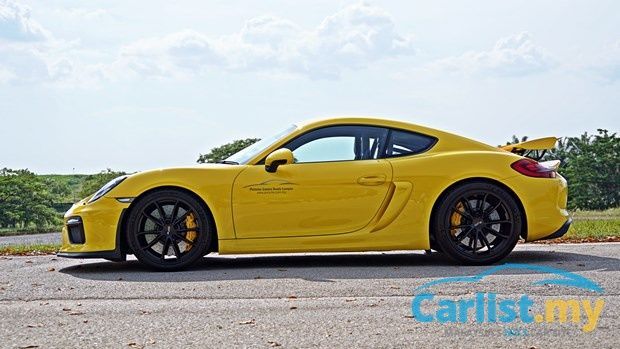 Porsche Cayman GT4 Specifications
Price: From RM840,000
Engine: 3,800cc, flat-six, petrol
Max Power: 385hp @ 7,400rpm
Max Torque: 420Nm @ 4,750-6,000rpm
Transmission: Six-speed manual, rear-wheel drive
Acceleration (0-100km/h): 4.4 seconds
Top Speed: 295km/h
Overview
If you don't know your Porsches from your Protons, Porsche already offers the Cayman in three different variants, each with varying degrees of power outputs and suspension tunings. However the Cayman GT4, being a product of Porsche Motorsport isn't just another Cayman derivative with slightly more power liberated from its engine and a stiffer suspension.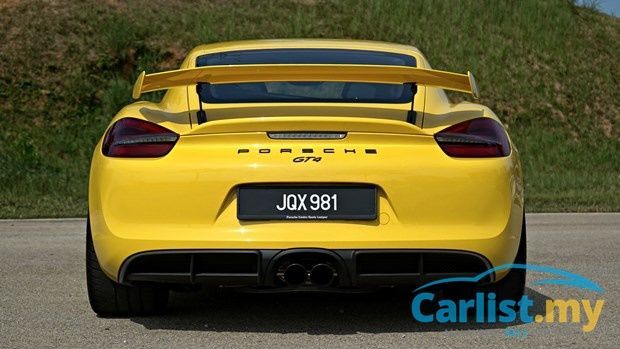 Porsche Motorsport calls the Cayman GT4 as one of its a pure products, a claim backed up by the serious hardware that is packed beneath. Behind the driver sits the 3.8-litre flat-six powerplant from the 911 Carrera S with only 385hp on tap and attached to a six-speed manual. The front suspension together with its PASM dampers hail from the 911 GT3, so are the brakes. The rear suspension on the other hand is completely new and reinforced for good measure with a mechanical limited-slip differential wedged between the rear wheels. And lastly its aerodynamic bodywork generates plenty of downforce – 100kg of pressing force at its Vmax of 295km/h to be exact.
These additional bits and pieces also had the effect of cancelling out weight saving efforts Porsche Motorsport - even with its carbon-fibre shelled bucket seats, fabric door pulls, and barest of creature comforts, the Cayman GT4 is only a mere 5kg lighter compared to the family's next hottest derivative, the Cayman GTS. At 1,340kg, the Cayman GT4 is already a relative featherweight.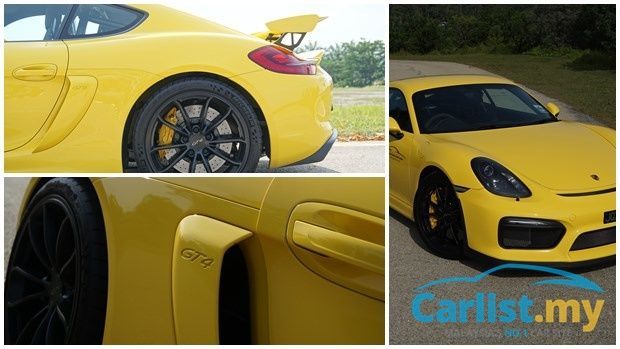 Exterior
Dressed in GT3-style flared intakes on the front, a generous adjustable rear wing seated on sculpted struts, huge 20-inch GT3-inspired multi-spoke rims housing massive 380mm front discs and 340mm rear discs, and sitting 30mm closer to the ground, the Cayman GT4 looks like an escaped GT racer without sponsorship stickers. Its form has the sort of beauty that reminds one of the second-generation Lotus Exige – compact, purposeful, and beguiling; far from the bloated shouty mess that the new Exige has become.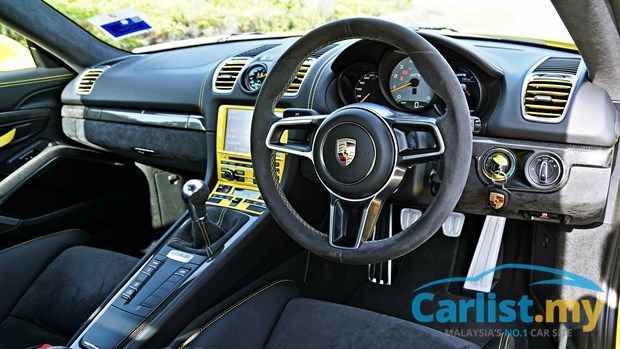 Interior
Jokes on paying fancy money for fabric door pull strap and a bare button-less steering wheel aside, drivers would be of little want in the Cayman GT4's interior. There is dual-zone climate control, an optional Porsche's infotainment system available, and a cabin suited to be customised to your heart's content, such as adding contrasting yellow stitching, seatbelts, or even highlights on the air conditioning vents – as is demonstrated on our test unit.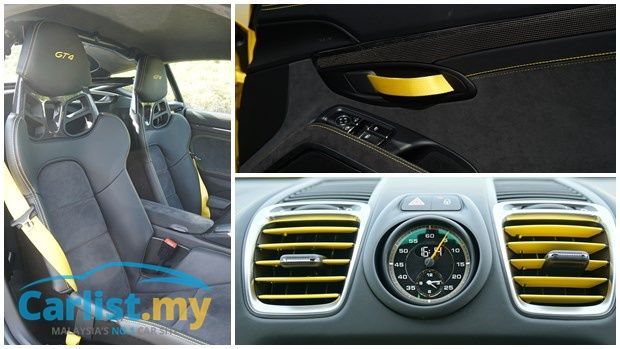 The optional leather and alcantara wrapped carbon-fibre shelled bucket seats are beautifully built, and offers plenty of lumbar and side support – although they can be a tight fit for the lardier chap. Specify the Clubsport option and Porsche will throw in a roll cage behind the seats. Of all the options available for the Cayman GT4 however, there is no box for a self-shifting dual-clutch gearbox. This is a pure car for the driving enthusiast so best get your hand-feet coordination right to work its standard six-speed manual.
How is it like to Drive?
To give you an idea of just how good the Cayman GT4 is, consider that finding fault in either one of the Cayman's other variants is considered nit picking. They are well-balanced, beautifully-built, and amazingly competent sports cars on any given road. But by the magic only known unto Porsche Motorsports, the GT4 treatment elevates it to another level.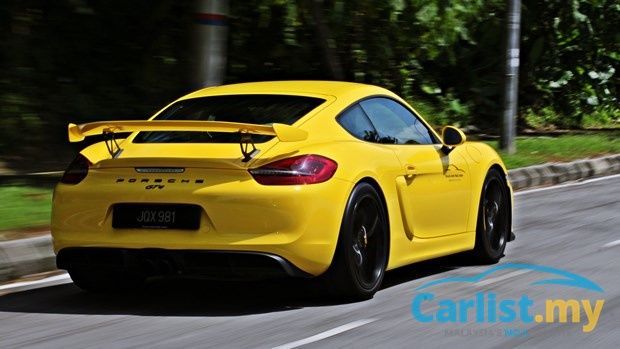 Where the regular Cayman impresses us with its subtle demeanour, the Cayman GT4 kicks you in the back of the head and sticks electrodes onto your spine for laughs. It is intense, and part of it is thanks to that big 3.8-litre Carrera S engine. Although peak power comes in at a normal 7,400rpm, its lightened dual mass flywheel gives it plenty of zing and that instantaneous throttle response. You don't even need to wait for the revs to build to build up the speed as the low-end torque makes quick work of the manual's first three ratios, and easily propels it from 0 to 100km/h in 4.4 seconds. As expected of Porsches, the shift quality of its six-speed manual is delightful with a substantial, slick mechanical movement to be felt with every shift.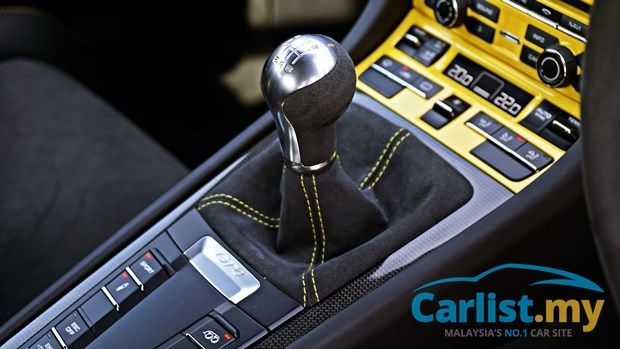 As expected of a Porsche Motorsport product, power is only the garnishing, whereas the meat of the business is always in the drive. First thing you would notice is that the electric power steering system has been retuned over the standard Caymans, and you can certainly feel it dance with more alacrity, weight, and feedback. The chassis may be a smorgasbord of new and used bits and pieces bolted together, but by gum do they know how to make it work at transforming the demure Cayman into something this exciting. The Cayman's inherent mid-engine balance is still present, only the GT4-treatment has left it with far less body roll – complementary of its new suspension system – and feels more focused than before. Unlike the 911, whose tail-heavy nature can be a surprise amongst novices, the Cayman GT4 is far easier to get the best out of it, while delivering the same sort of thrills you get from its bigger road-racer inspired brother.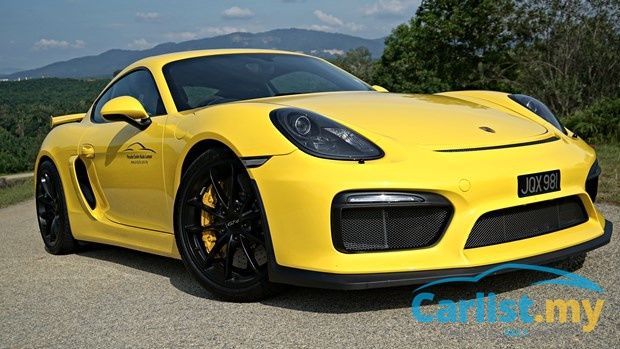 With a mechanical differential aided by Porsche's non-intrusive electronic traction and stability systems, the Cayman GT4 is so playful you forget that it is having an engine they had to develop a new crankcase and intake just to shoehorn it inside. Not to mention the fitment of Michelin's new Pilot Sport Cup 2 tyres generating loads of traction and its massive GT3-sourced disc brakes that delivers plenty of bite, this winged Cayman feels truly special to drive.
How is it like to Live With?
Porsche Motorsport knows how to build a cracking good driver's car for those with a Banzai attitude to ride comfort, but you have to hand it to them, they also know how to deliver a setup that is just right to take on Malaysia's ruddy roads, and the Cayman GT4 is evident of that talent. Though the chassis is stiffer, the dampers – on the 'Normal' setting – maintains the suppleness that subdues the shocks pretty well. Even on 'Sport', with the dampers cancelling traces of body roll, the ride is still very bearable on a commute, so much so that you can drive this day-to-day. That is if you don't mind have to fold yourself into and climb out of its figure-hugging bucket seats regularly. Despite the addition of a rear roll-cage and its big rear wing, all round visibility is just as good as any other Cayman, and so is its luggage space remains unhindered.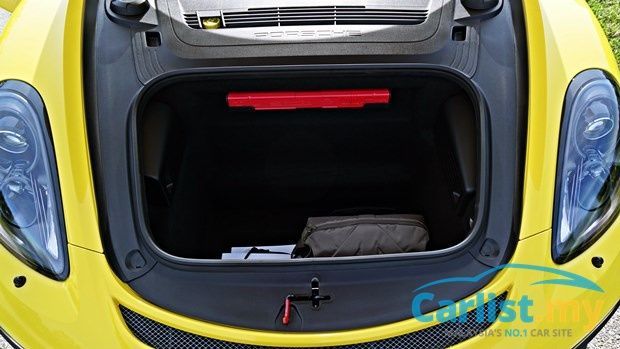 How Economical is it?
If you have to ask, and if you practice some self-restraint, you should be able to get 520km out of its 54 litre fuel tank. But nobody is going to practice self-restraint in a car like this, not even Pope Francis on sedatives, so realistically one can expect to get between 250 and 300km between the pumps.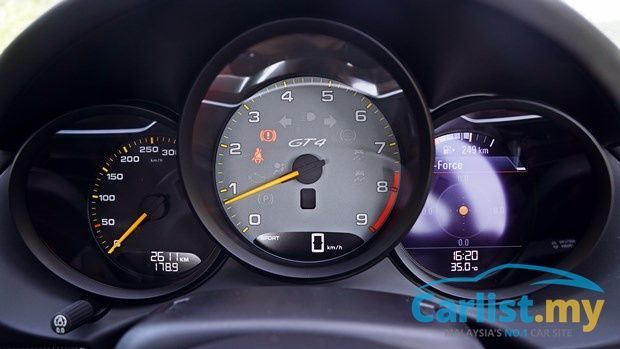 Conclusion
Big engine, compact body, with hard core parts and experience gleamed from the highly-rated 911 GT3, the Cayman GT4 is like a dish served with the finest ingredients in the world, and prepared by the most experienced and talented chefs in the business. Where the Caymans are more all-rounded sports cars for every sort of journey, the Cayman GT4 delivers the simple, pure, and unadulterated experience that drivers at heart had always hoped from the Cayman.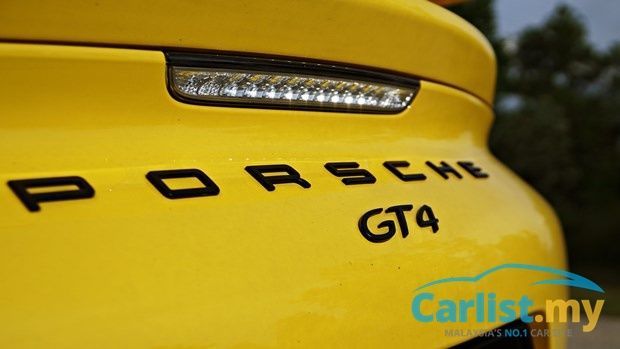 Furthermore with Porsche taking the 911 GT3 and GT3 RS into more extreme territory with the use of technological wizardry such as rear-wheel steering and dual-clutch transmissions, the Cayman GT4 eschews from the ultimate 911's pursuit of outright performance. Instead the Cayman GT4 sets out to deliver pure driving pleasure with a balanced chassis, great steering, and of course, a slick and delectable six-speed manual. And for once, you don't need to be that obscenely rich or racing for glory on the tracks to enjoy this mid-engine Porsche.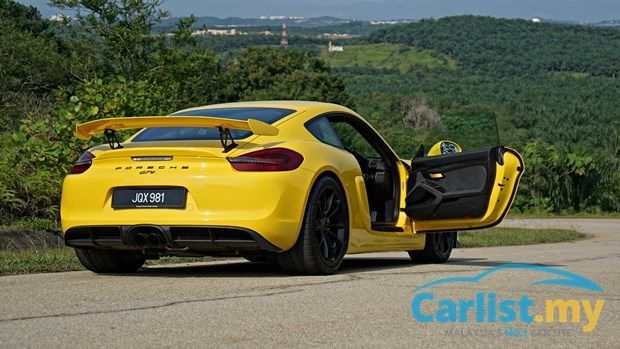 ---
---
---
Comments