Review: Volkswagen Golf 1.4 TSI – Refining an Icon
Auto News With over 30 million units spread across the world, the Volkswagen Golf is one of the world's most recognizable cars. In terms of ubiquity, it is right up there with the Toyota Corolla and it is without doubt one of the most iconic vehicles of the Volkswagen brand.
Figuratively speaking, the Golf is the spine of Volkswagen and this statement has never been truer today. The current Golf 7's modular platform is being scaled to all sizes to underpin cars of all sizes across the Volkswagen Group. The importance of this model to the folks at Wolfsburg, therefore, cannot be overstated.
The Golf 7 is now four years old. Although it remains a highly sophisticated vehicle, that's still advancing years in the automotive world. In an effort to inject fresh impetus to the product, Volkswagen Malaysia has recently announced two new variants of the Golf that offer updated equipment at more competitive prices.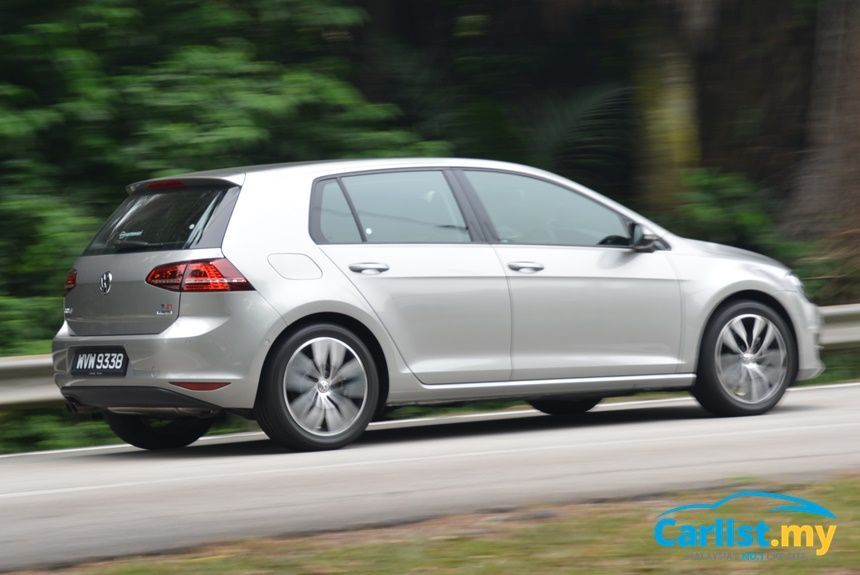 Specifications:
Variant Tested: Highline
Price: RM160,635, on-the-road without insurance
Engine: 1.4-litre, Inline-4 Transverse, Turbocharged, Petrol Direct Injection
Power: 150PS @ 5,000 – 6,000rpm
Torque: 250Nm @ 1,500 – 3,500rpm
Transmission: 7-speed dual clutch, FWD
Safety: 7 airbags, ABS, ESC, ISOFIX (rear), multi-collision brakes, front and rear parking sensors, drowsiness detection.
Origin: Fully imported from Germany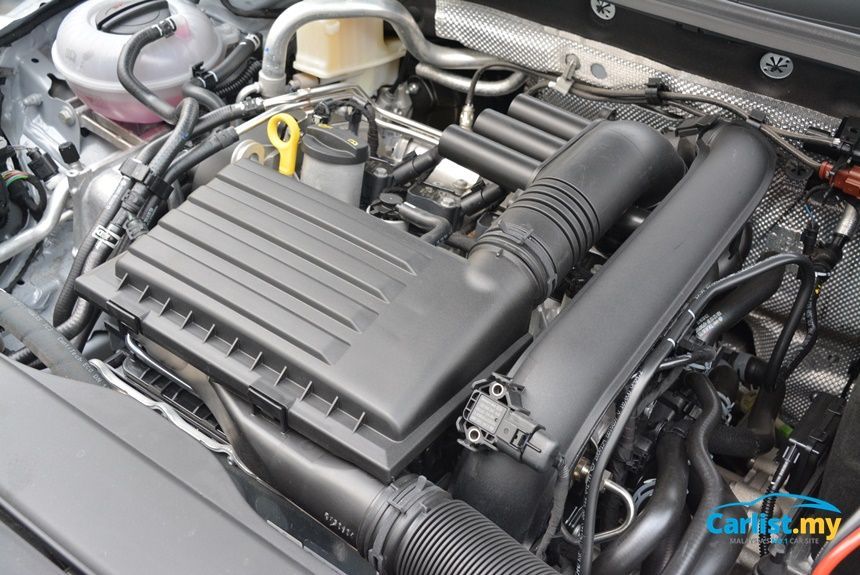 Overview
The Golf family in Malaysia splits into three branches – the mainstream Golf TSI that we are reviewing here, the sporty Golf GTI, and the hard core performance Golf R. They are sufficiently distinct that Volkswagen Malaysia's official website lists them as separate model lines.
Globally, the regular Golf is available with a variety of turbocharged petrol and diesel engines, but as is usually the case for Malaysia, a solitary petrol powertrain is made available as the only choice. The familiar EA211 1.4 TSI continues to be featured, albeit with slight revisions to its outputs.
Peak power of the single turbo engine has been raised from 140PS of the 2012 launch spec to 150PS, although delivery of the maximum is squeezed through a narrow window of revs. In the original engines, full power was available from 4,500 to 6,000rpm, as opposed to the current spread between 5,000 and 6,000rpm. Peak torque remains unchanged at 250Nm @ 1,500 – 3,500rpm.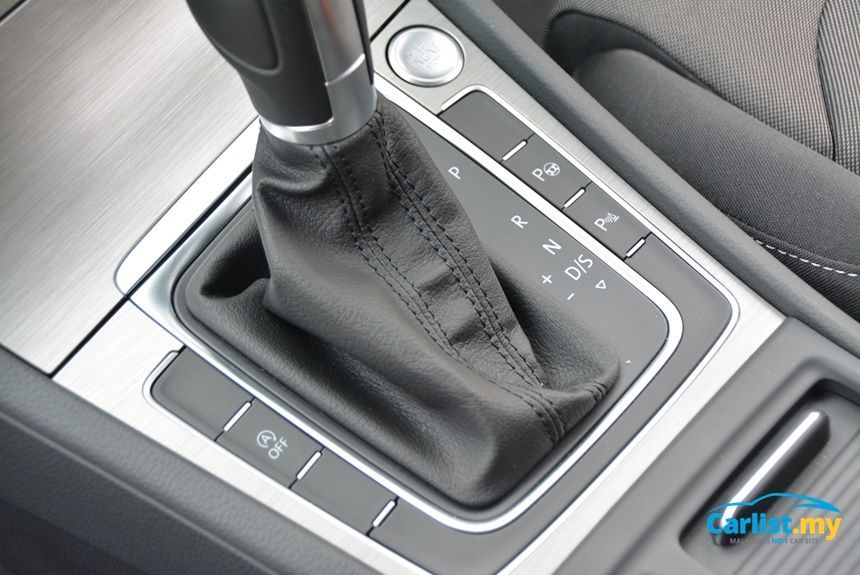 Transmission continues to be the existing 7-speed dry clutch DSG as before, but the paddle shifters that were previously available have been removed for this 2016 re-spec.
Buyers of the Golf now have a choice between two trim levels, both of which are priced lower than the existing variant. There is the basic Comfortline variant priced at RM150,635 on-the-road without insurance, or the better-furnished Highline as tested in this review asking for RM10k more. Detailed equipment breakdown between the two variants is listed in our intro story of this re-spec.
Due to the peculiarities of the Malaysian market, the Golf TSI exists in a class of one. Theoretically, it competes in the C-segment against the Ford Focus, but import duties imposed on the Golf's German origins have pushed it to a higher price bracket than locally-assembled and ASEAN-sourced rivals.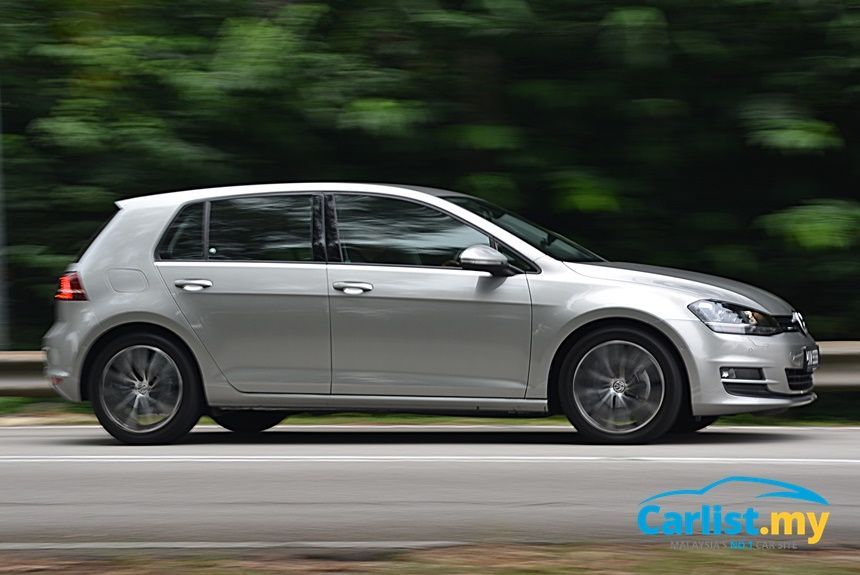 Exterior
The Golf 7's familiar shape requires no further introduction to us here, although both variants of the 2016 re-spec receive subtle alterations from the preceding model.
Starting from the front, the dynamic bi-xenon headlamps of the 2012 model are deleted, replaced with halogen reflectors in the Comfortline model. The Highline model still gets xenon illumination, but it no longer has auto-swivelling and the distinctive LED daytime running lights; these two functions being replaced by static cornering lights and halogen bulbs respectively.
Still on the subject of lights, the Highline model has been updated to incorporate Golf R-style LED tail lights, whilst the Comfortline model carries on with the existing items. Similarly, the Comfortline also retains the existing model's 16-inch Dover alloys, with the Highline model upgraded to 17-inch Madrid rollers.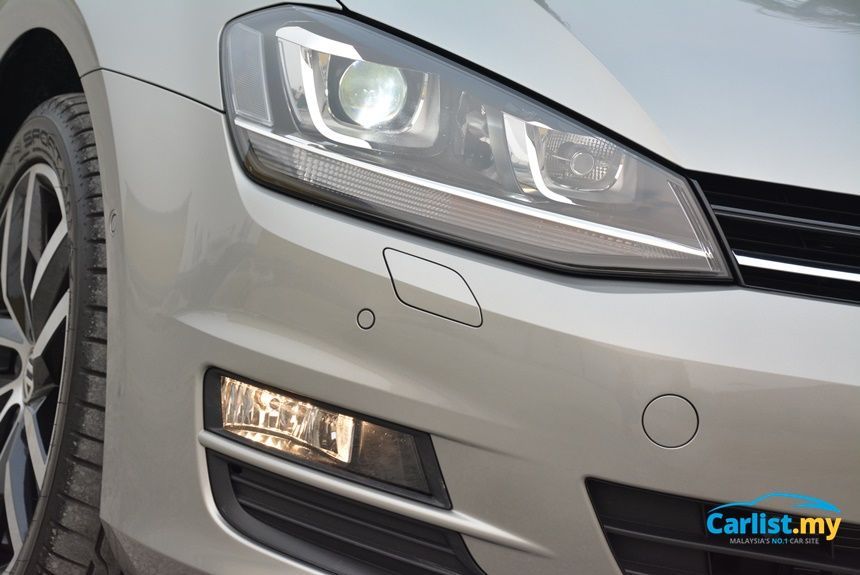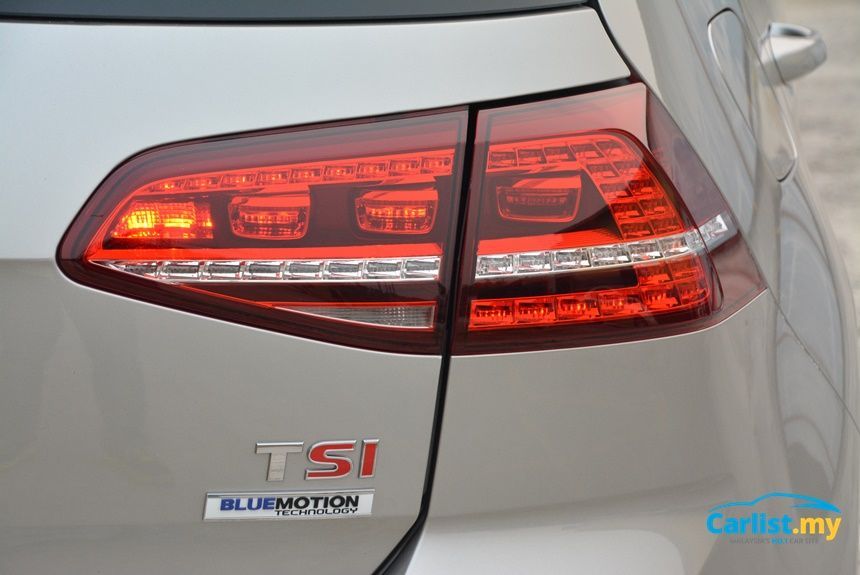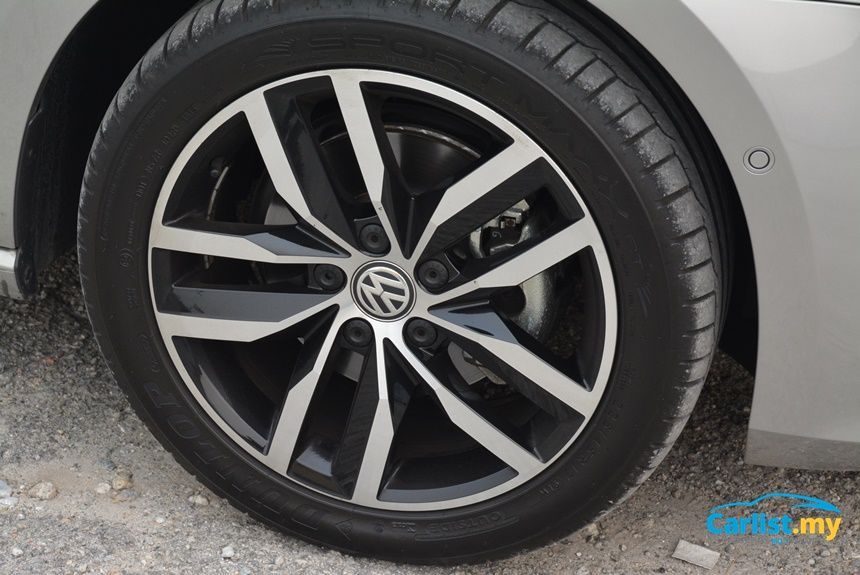 Interior
If you're the type that favours classy and understated environments, the Golf's cabin will make for very pleasant surroundings indeed. Overall arrangement of the interior is executed with tasteful restraint accompanied by an agreeable palate of materials from front to back.
It is also an easy place to live in. Volkswagen evidently configured the dashboard with sensibility as its buzzword and the result is a layout of instruments and controls that are clear, intuitive, and with quality switchgear placed within easy reach of the driver. A deep recess ahead of the transmission lever and two lidded boxes along the centre console provide ample accommodation for your Smart Tag, wallet, phones, and keys on the move.
Fit and finish is generally good throughout, although unfortunately marred by unexplained rattles coming from behind the instrument panel whenever our test car went over a hump or rutted surface. This is not something we've experienced with previous Golf 7 demo units, so this is probably a one-off.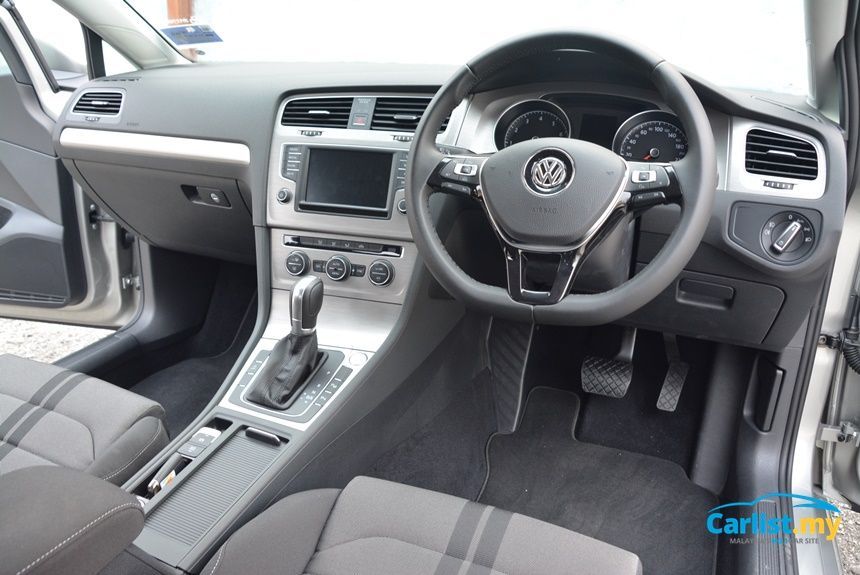 How does it drive?
Previous acquaintances with the Golf and indeed any Volkswagen Group vehicle underpinned by the new generation MQB platform show a common theme of well-polished driving dynamics featuring sharp handling characteristics as well as a high degree of mechanical refinement. The vehicle gives the general impression that its various individual parts are meticulously honed to work with each other in perfect harmony.
Around bends, the Golf steers with commendable poise and neutrality whilst serving a decent amount of feedback through the steering. The rack filters out enough kick back to not be bothersome, yet lets enough info through to permit accurate judging of available grip on the driver's part. Steering assist is also calibrated with a just right feel – not too heavy to be burdensome in tight spaces, not too light that its unnerving at high speeds. Overall, the chassis tuning covers a wide enough base of talents to appeal to enthusiasts and non-enthusiasts alike.
The on-paper addition of 10PS does not seem to have significantly enhanced the Golf's straight line performance, although the original 140PS tune, in fairness, already offered adequate punch for most needs. In this respect, the twincharged Jetta 1.4 TSI still offers more substantial acceleration when push comes to shove. We did notice slightly increased amount of turbo lag compared to the 2012 model.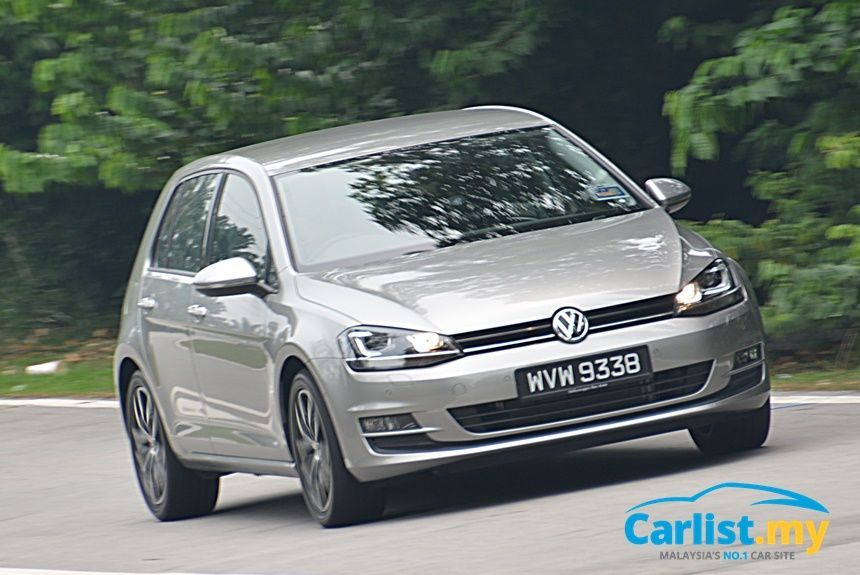 Having started offering dual clutch transmissions in the Golf for nearly a decade by now, Volkswagen's experience with this technology exceeds most of it peers. Much of what we typically complain about these transmissions, namely their infamous low speed jerkiness, have been effectively eliminated from this latest iteration. There are inevitably question marks as to the long term reliability of these transmissions, but that's something that can only be answered over a proper ownership cycle. For would-be punters, our advice is to be pro-active with maintenance and ensure fluids are changed regularly.
We also need to highlight a characteristic of the Golf's auto start/stop system, which kills the engine before the vehicle comes to a full stop. It also does not immediately restart the vehicle upon release of the brake pedal when the electronic parking brake's auto hold feature is in use – you'll need to step on the accelerator pedal to restart the engine, that can make for less than smooth take-offs. Isolation of vibrations is well-sorted, however. All being said, our word of advice is to de-activate auto start/stop in a traffic jam.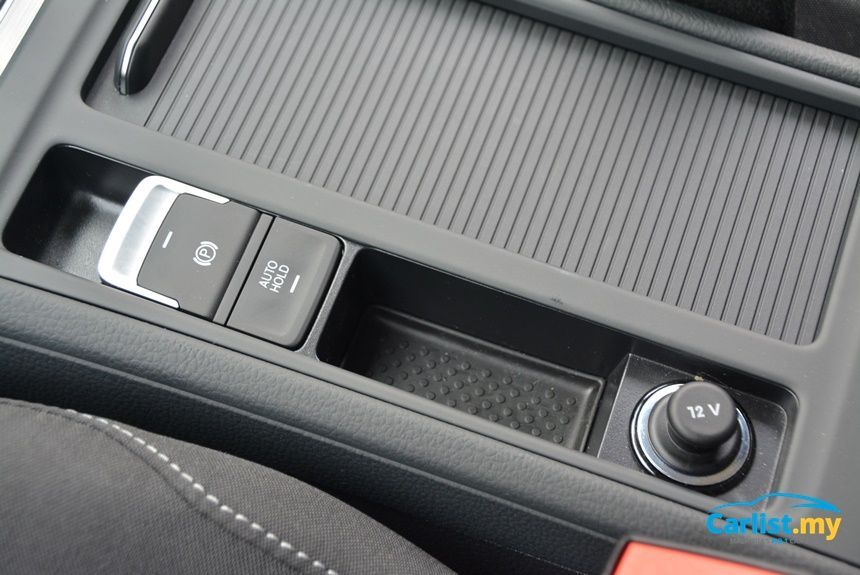 How comfortable is it?
One of the Golf 7's standout quality when launched was its impressive balance of dynamic handling with supple ride achieved without the need for any trick electronic suspension control. Whilst adaptive dampers are offered as options in the regular Golf TSI overseas, Malaysia-spec vehicles do not get this feature, but do not feel in any way the worse for it. This contrasts the case of the Golf GTI, which requires the fitment of DCC to get not only good handling, but a decent ride as well.
Fast forward to the 2016 model, our Highline spec test car felt slightly firmer than what we recall of the 2012 model, but our suspicion is that the added minor jiggles felt over road patches are the result of the upsized rims and lower profile tyres. We have yet to test the Comfortline model with 16-inch rims, but we suspect the ride should live up to the name of its trim level. Overall, however, it's still a relatively comfortable place to be in. Certainly, it's way more forgiving to live with than the Mercedes A180 we drove recently.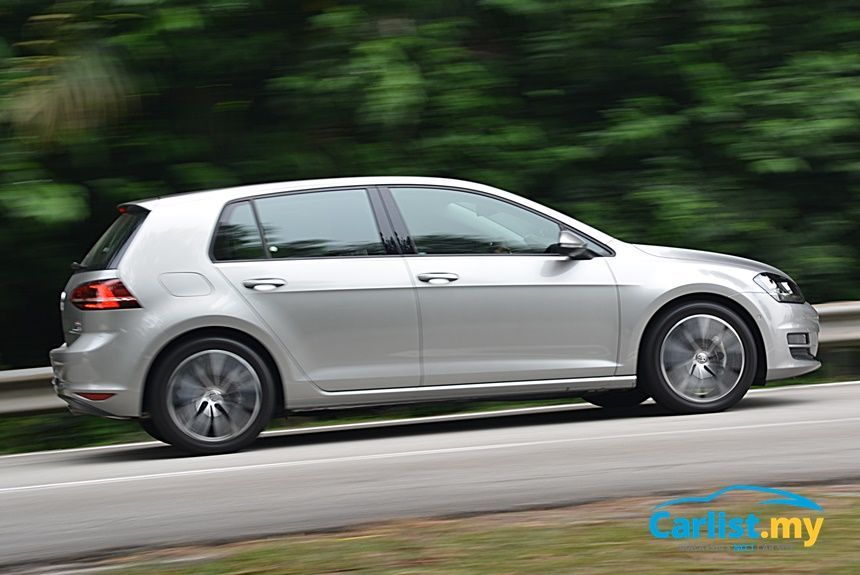 How economical is it?
Volkswagen may have been a little naughty with their diesel emission numbers, but we know from experience that these guys know a thing or two about making fuel efficient cars.
We didn't quite meet Volkswagen's claimed average consumption of 5.0 litres/100km, but a reading of 8.5 litres/100km on our trip computer still puts the Golf TSI as one of the more economical cars we've tested in recent times. As usual, our 450km test route covered a mix of urban and highway conditions with some spirited uphill driving thrown in.
Maintenance of the Golf is recommended at 1-year / 15,000km intervals. Estimated servicing cost at each visit to the VW dealership ranges from RM500 to just over RM1,200. Assuming you get a trouble-free unit, net servicing costs of a Golf over a 5-year / 75,000km period would add up to just under RM4,000 – if all goes well.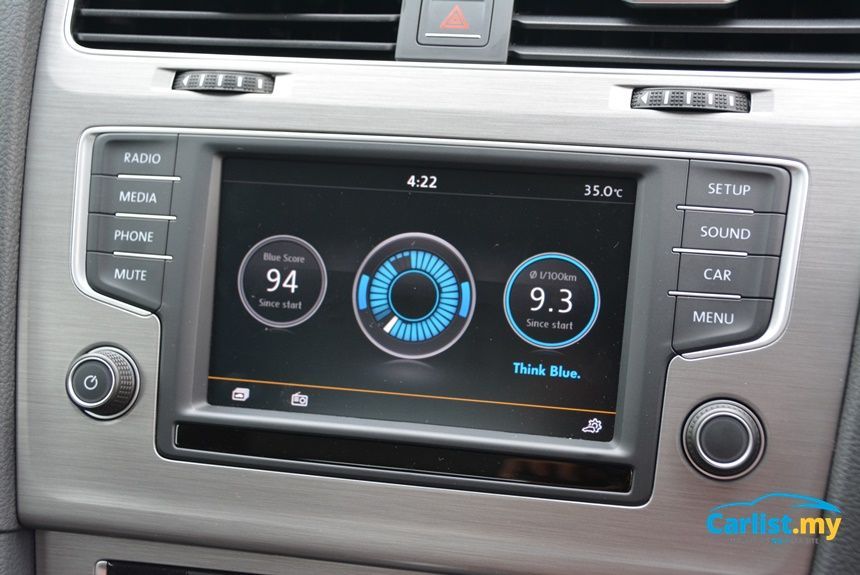 Conclusion
Being plagued by endless reliability problems over the last couple of years, Volkswagen's brand image is not at the high it once enjoyed. It takes a brave person to sign cheques addressed to a VW dealership these days, and that's understandable. Nobody enjoys paying handsome amounts of money for a car to see it spend most of its time in a workshop.
There is still appeal in the brand, however, and the most recent round of promotions was successful in stimulating healthy sales. Volkswagen for their part, despite being battered and bruised by recent developments, have not been sitting still in the midst of this unfolding drama. Engineering changes behind the scenes have been slowly but steadily eradicating the various quality issues that have been the brand's recent undoing. From our anonymous sources in the company's aftersales team, instances of complaints on either quality or reliability as far as the Golf 7 is concerned have been significantly reduced.
The Golf 7 is an excellent car, be in no doubt about that. If the prospect of owning one fills you with trepidation, that's understandable, but if you have the courage of taking a punt, you stand to be rewarded by a consummate all-rounder that transcends class and has talents so widely-spread that it can feel at home in almost any setting.
---
---
---
---
Comments