Review: Volkswagen Golf R Mk 7.5 – Track It On Sunday, Commute With It On Monday
Reviews
While the Golf R sits at the top of the Golf family's hierarchy, car culture often lavish more attention on the middle rank GTI's over 40 years' worth of heritage. In truth, the Golf R's lineage dates as far back as the Mk 2 generation model, except that it was using a different G60 badge, subsequently R32, and then the R, but the concepts were all the same – pairing forced induction with all-wheel drive to create a more intense GTI.
This Lapiz Blue example seen here is the sixth generation of Volkswagen's all-wheel drive mega Golf, now wrapped within an upgrade Mk 7.5 generation Golf's body.
Specifications for Volkswagen Golf R Mk 7.5
Engine: 2.0-litre four-cylinder turbocharged direct injection
Power: 290 PS from 5,500 – 6,500 rpm
Torque: 380 Nm from 2,000 – 5,400 rpm
Transmission: 7-speed wet-type dual clutch automatic transmission, 4Motion all-wheel drive
Safety: 7 airbags, electronic stability control, ISOFIX, hill start assist, automatic post-collision braking system, tyre pressure monitor, reverse camera
Origin: Imported from Wolfsburg, Germany
Price: RM 304,390 with SST, excluding road tax, registration fees and insurance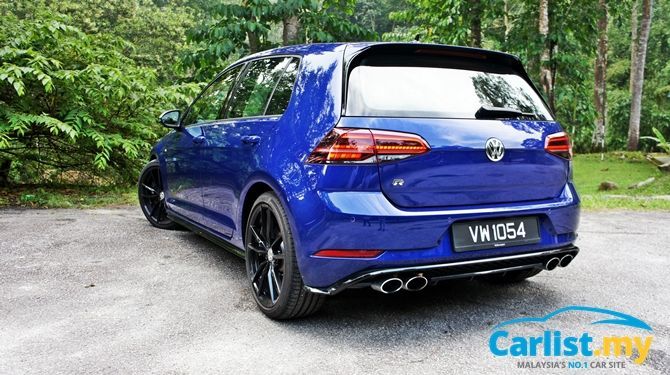 Overview
The biggest difference between the previous Mk 7 and this upgraded Mk 7.5 Golf R is its transmission. The previous model had a 6-speed DSG unit while this new model adds one more forward ratio, still with wet-type dual clutches. Power output has also been bumped up by 10 PS more, achieved at 200 rpm earlier and sustaining it until 300 rpm later.
Other notable highlights include new headlamps with snazzier looking LED daytime running light strips, new tail lights with animated turn signal light patterns, full-LCD instrument panel that brings it up to par with the Passat and Tiguan Highline models, as well as a larger 9.2-inch screen infotainment with gesture control.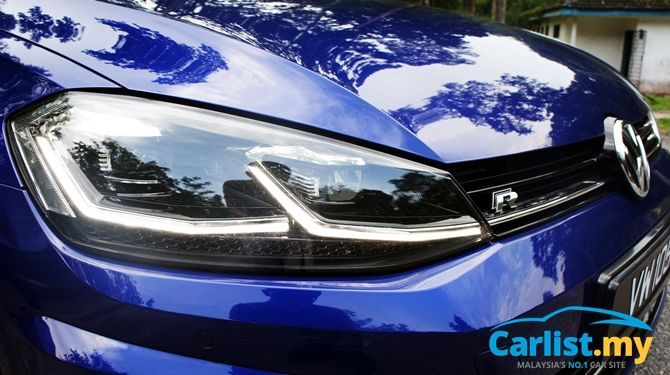 Its closest rival is the RM 330,002 Honda Civic Type R that pushes out 310 PS but since that's a front-wheel drive and it's a Honda, the similarly all-wheel drive and German heritage Mercedes-AMG A45 will be drawn in for comparison. However the A45 is no longer on sale and the all-new model is not expected to arrive anytime soon, as the car hasn't even been launched in Europe yet.
The Golf R is best known for its Swiss Army-like wide breath of talents, striking one of the best balance between all-weather performance, interior space, and comfort.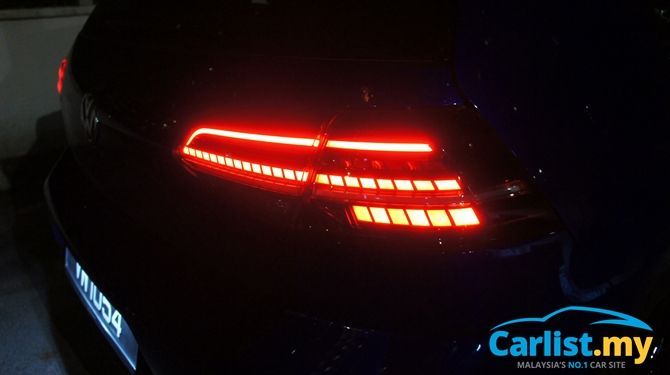 Exterior
The Golf R is without a doubt the most handsome looking hatchback. Devoid of any adolescent looking wings behind and in front, the Golf R cuts a very clean silhouette. The changes for the Mk 7.5 model are subtle but add up to make for a significantly more respectable and progressive looking car.
Interior
Like every Volkswagen, the Golf R's interior doesn't disappoint. It's not quite as spacious or as ergonomically sound as the Civic Type R's cabin, but material selection and perceived quality is much better than the Honda.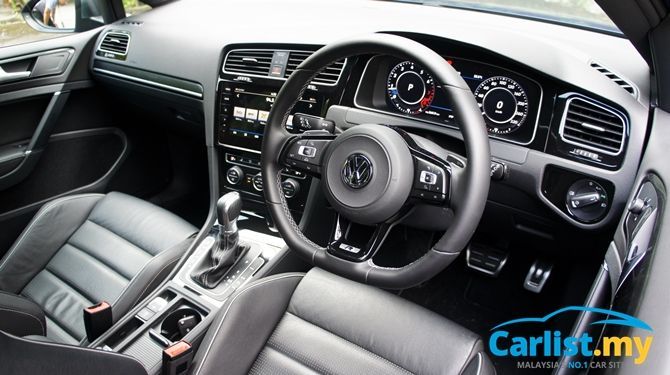 It can't match the Honda's leg and shoulder room but you still can decently ferry four adults in comfort. Boot space is 37 litres less than the GTI - mostly due to having to accommodate the all-wheel drive drivetrain - but it's still at a very usable 343 litres.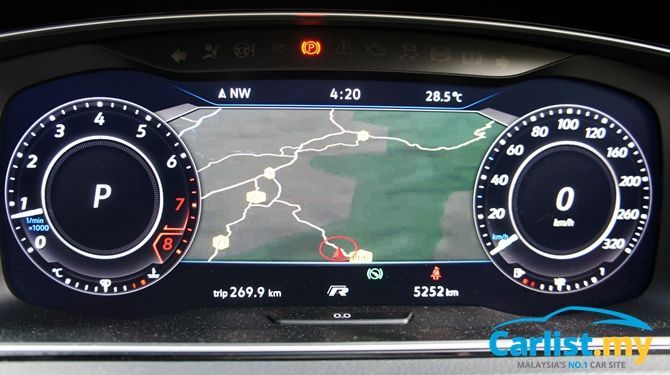 The full-LCD 12.3-inch 1440x540 resolution Active Info Display instrument panel really changes the cabin's atmosphere. The Vienna leather is perforated, crucial in our climate. It is certainly a plusher place to sit in compared to the Civic Type R.
Shortcomings mentioned in our review of the GTI also applies here – the controls don't work very well in our right-hand drive configuration. Frequently used buttons for the engine idle start-stop and drive modes for example, are to the left of the gear knob, hidden away from the driver's line of sight when the car is in Drive position. The superimposed image of the vehicle on the reverse camera's display is also placed on the left – exactly where pedestrians and motorcyclists will be hidden from view.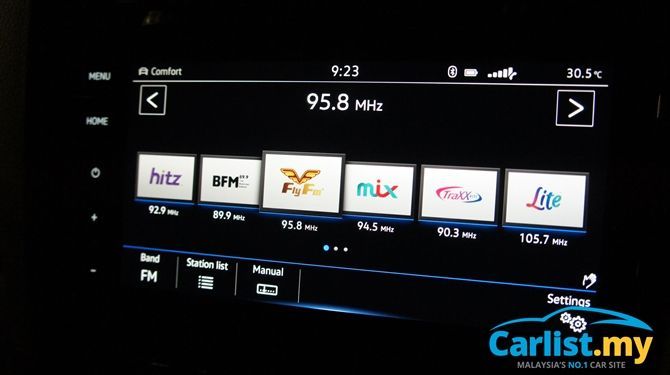 The new 9.2-inch screen Discover Pro infotainment has gesture operated control function but it is limited only to swiping your hand left/right for next/previous audio track, radio, or menu. You can't use gestures to adjust the volume or zoom in/out of the navigation display.
On the upside, the unit has App Connect and thus supports Android Auto and Apple CarPlay.
Driving Experience
The front-wheel drive Golf GTI has already set a high enough benchmark when it comes to accessible performance, making heroes out of otherwise average drivers. The all-wheel drive Golf R takes this to another level by enlisting the rear wheels to propel the car.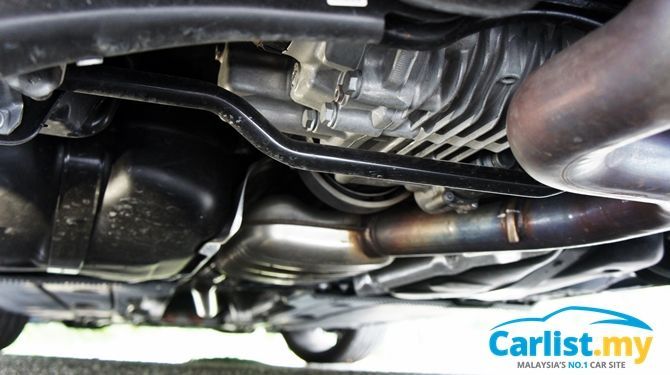 Where the GTI's traction control would've held you back, the Golf R would power out as if it's running along virtual rails that held the car tightly.
It may have four doors and a sufficiently large boot but it's every bit a supercar slayer. It doesn't matter how many horsepower you pack, it's about how much can you realistically use them without becoming the next Youtube sensation for all the wrong reasons. On public roads, in the hands of the right person, the Golf R could easily keep up with any supercar it fancies.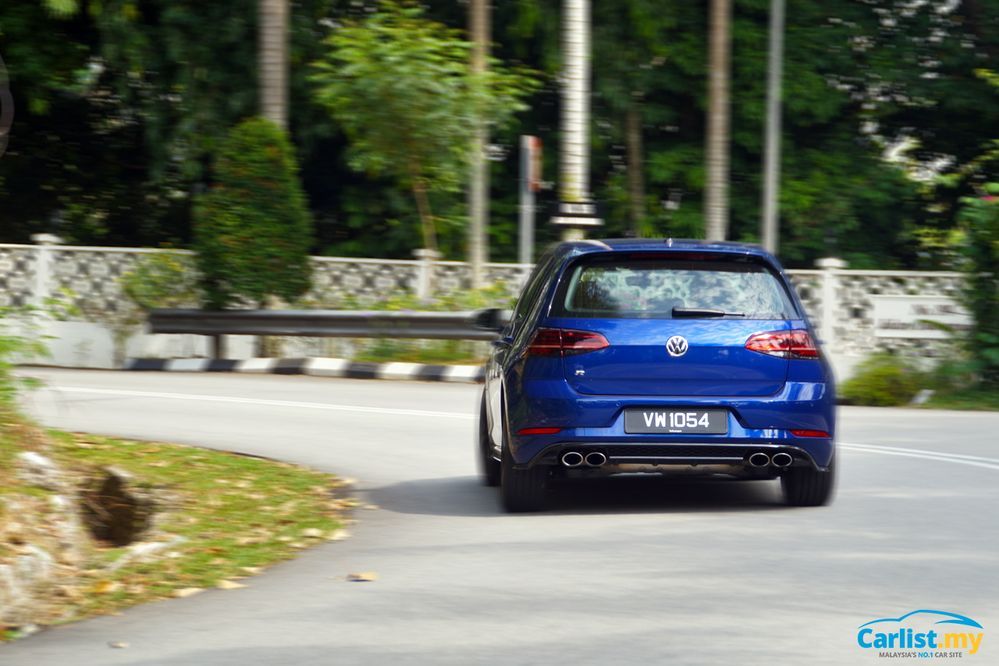 But be warned though, that there is no escaping from the laws of physics and there are limits to what the tyres can cope, all-wheel drive or not. Combine this with its short wheelbase, you need to be hyper alert if you are hustling along your favourite dragon's tail trail.
Compared to the previous Mk 7 Golf R however, the new Mk 7.5 has a marginally more neutral behaviour, resisting understeer slightly better so that's a good thing.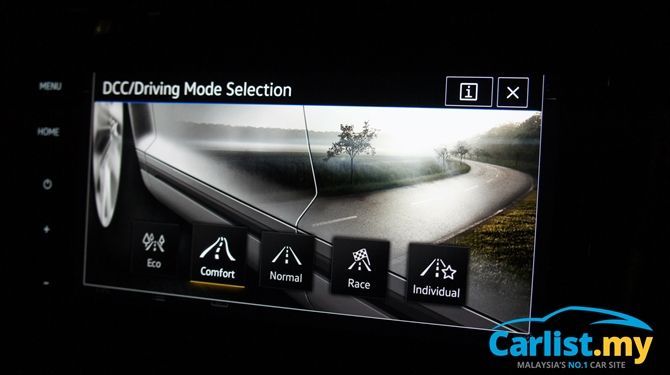 The fact that the Golf R can deliver that sort of pace but at the touch of a button on the drive mode settings, revert to Eco, disengaging the clutches at the earliest opportunity to coast along quietly with minimal fuel used, makes the Golf R even more impressive.
While the car puts on an impressive show of shock and awe, it's also an example that power is not everything. Drivers looking for a deeper level of driving engagement will find that it's actually the less powerful but lighter Golf GTI that's more fun to drive. It may have less traction but it's also lighter on its feet and more willing the dance. Find a driving rhythm that matches the car and the road, and you will find that the GTI is a better salsa partner while the R prefers to play a solo act, albeit a highly effective one.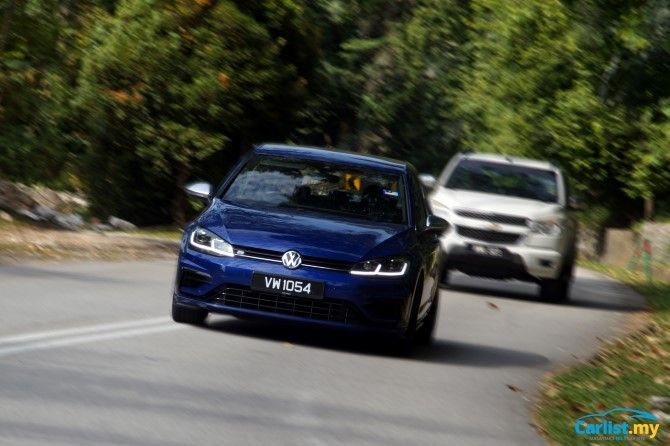 That's also exactly the same reason why the Civic Type R gives a more rewarding driving experience, even if it lacks the Golf R's traction and ridiculously easy but effective point-and-shoot pace.
Ride Comfort
All Golf Rs sold in Malaysia come equipped with adaptive dampers, which does an excellent job at ironing out bumps and ruts. Despite riding on thinner 35 series 19-inch tyres, the new Golf R now rides marginally better than the Golf GTI's with thicker 40 series 18-inch tyres. Sounds odd, but the part numbers suggest that both cars no longer use the same set of adaptive dampers.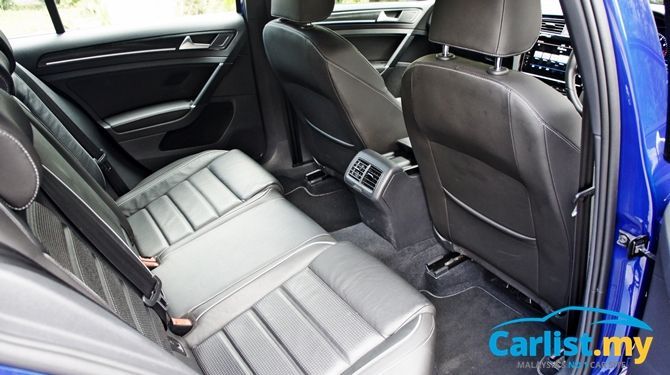 It's still not as comfortable as the Civic Type R. Hard to believe if your impression of a Honda Type R is shaped by the FD2, but the FK8 is now the segment's benchmark for striking the best balance between power and comfort. Still, the FK8's 6-speed manual transmission does not fit into everyone's idea for a daily use car.
Which leaves the Golf R as the undisputed hero as a performance car that you can comfortably use every day.
Fuel Economy
We don't expect anything that packs close to 300 PS to be economical but after driving nearly 350 km, most of it spent either hustling along twisty back roads or getting stuck in rush hour traffic, none of which will do any favours to the car's average fuel economy, the trip computer showed an average fuel consumption of around 10.5-litre/100 km.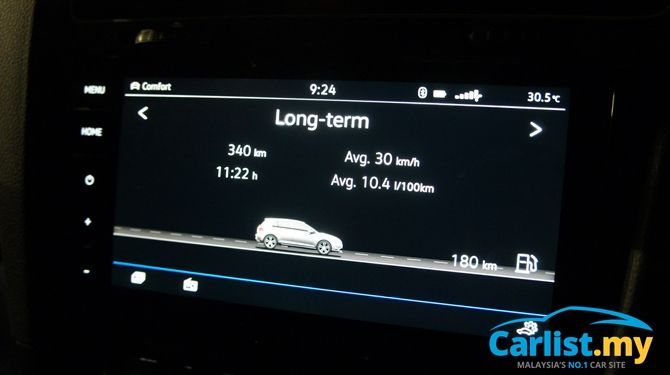 Conclusion
We parted ways with the Golf R with mixed feelings. We love its discrete, mature yet progressive styling. It's easily the most respectable looking hatchback. We love the Civic Type R's dynamics and ride comfort even more but not that questionable looking rear wing. The AMG A45 deserves mention but it's no longer on sale and the all-new model is not expected anytime soon.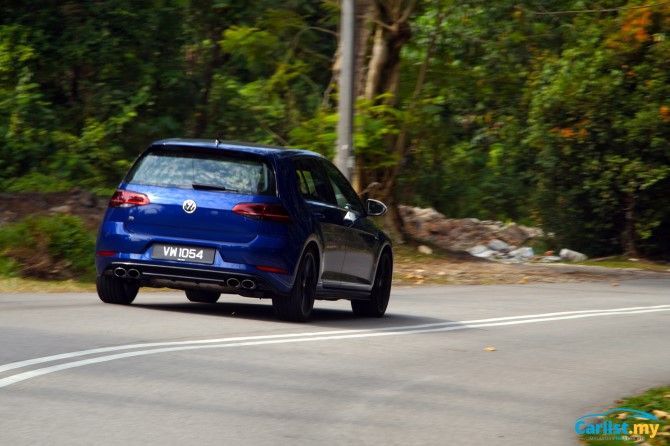 The Golf R is often seen as the benchmark for delivering the best balance between power and performance, but the fact that a Civic Type R - a nameplate that's previous known for its unforgivingly stiff ride - now rides better and has the pace to match, with a more engaging three-pedal driving experience, has left us questioning everything we thought we knew about this segment.
Still, the Golf R's combination of every day usability – spacious interior, automatic transmission, refined driving character – with a styling that's discrete enough for the office's car park, means that it remains the undisputed choice for a daily use supercar slayer. No other car embraces the 'Track it on Sunday, drive it to work on Monday' philosophy better than the Golf R.
At the time of completing this review, the Golf R's price would've been bumped up with the reintroduction of 10 percent SST, but Volkswagen Passenger Cars Malaysia has confirmed that it will be absorbing any differences in prices for vehicles registered between now until 15-November.