Review: Weststar Maxus G10 SE – Value-Driven People Carrier
Reviews MPVs based upon passenger car platforms typically offer a maximum of seven seats arranged across three rows. Kia managed to squeeze an extra seat for an eighth passenger in the Grand Carnival, but if you happen to need space for up to 10 passengers, chances are, you will need a large passenger van.
Vans get the job done, but their utilitarian origins inevitably sacrifice a degree of refinement and comfort. So, what vehicle offers near passenger car comfort hand-in-hand with the seating capacity of a football team?
For a good few years, the answer to that question is the Hyundai Starex – seats for eleven, priced reasonably at RM160k thereabouts, and not half bad to drive. Launched locally in 2008, the Starex is still on sale and whilst offering good value, it is also starting to get long in the tooth. Hyundai's rapid renewal cycle for other models in its showroom, such as the Elantra and Sonata, further amplify the Starex's age.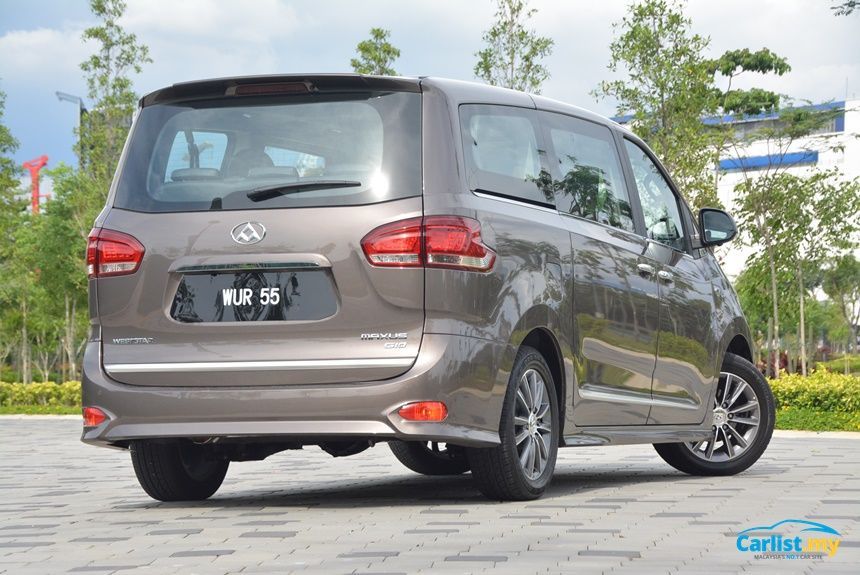 A new challenger has arrived, however, in the form of the Weststar Maxus G10 ten-seater MPV, a product of China's Shanghai-based SAIC Motor Corporation. It follows a similar template to the Starex in that it is a large multi-row MPV built on a ladder frame sporting a front-engine rear-wheel-drive configuration.
The Maxus G10 was launched in Malaysia in 2016 and received higher-grade SE version earlier this year. Priced from RM140k upwards with contemporary looks and solid-feeling build quality, it makes for a compelling alternative to the aging Starex. Also, unusual for an MPV its size, the G10 offers an intriguing engine choice in the form of a 2.0-litre turbo petrol.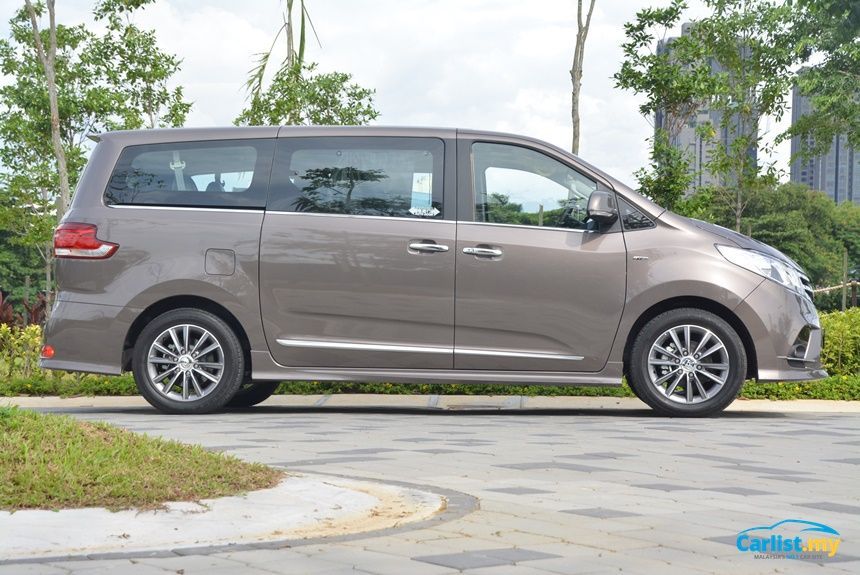 Specifications:
Price: RM157,888 (OTR without insurance)
Engine: 2.0-litre, Inline-4 Longitudinal, Turbocharged Petrol
Power: 225 hp @ 5,500 rpm
Torrque: 345 Nm @ 4,600 rpm
Transmission: 6-speed torque converter automatic, RWD
Safety: Dual airbags, ABS, EBD, electronic stability control, ISOFIX, driver seatbelt reminder, brake override
Origin: Locally-assembled
*Note: The G10 is locally-assembled, but our test car is from a small batch of fully-imported cars priced at RM162,888.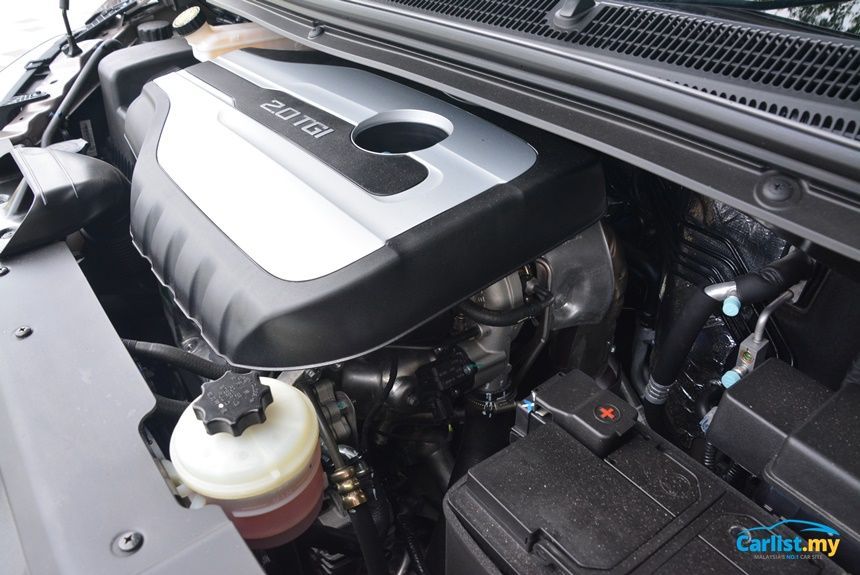 Overview
A selection of two trim levels are offered, the basic model retails at RM139,888 on-the-road without insurance, whilst the higher-grade SE model asks for RM157,888. The G10 is locally-assembled, but Weststar is also offering fully-imported units of the SE model at RM162,888 as well to cope with overwhelming demand.
Standard equipment includes 16-inch alloy wheels, xenon headlamps with LED daytime running lights, LED tail lights, power sunroof, electronic stability control, parking sensors, reverse camera, keyless entry, rain-sensing wipers, cruise control, auto climate control, rear air-con vents, and leather seats.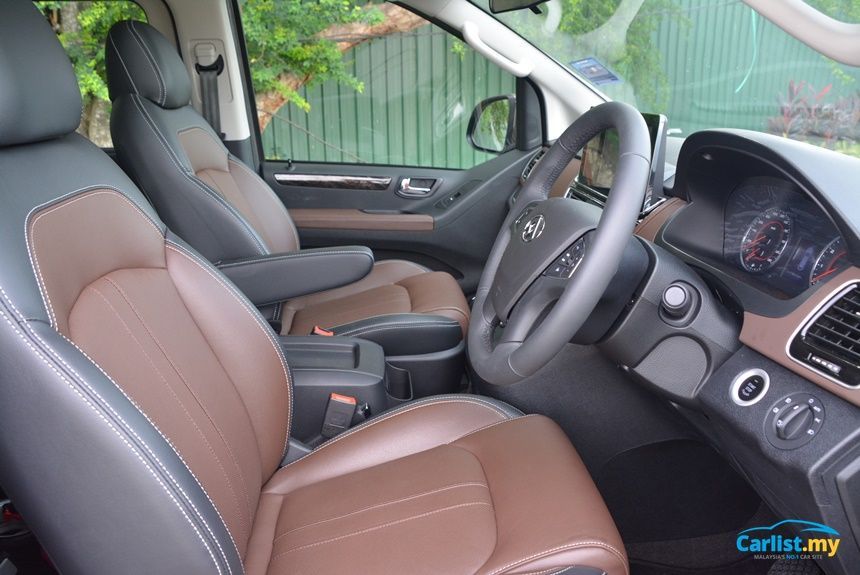 Paying the RM18,000 premium for the SE model adds powered sliding doors, rear panorama glass roofs, 18-inch alloy wheels, 360-degree camera, 220V 3-pin power supply, and touchscreen infotainment.
Unlike similarly-sized MPVs, the G10 is powered not by a turbodiesel or a big-capacity petrol V6, but a downsized turbocharged four-cylinder 2.0-litre petrol engine sending outputs of 225 hp and 345 Nm to the rear wheels via ZF's 6HP 6-speed automatic transmission. The Hyundai Starex, in comparison, makes 168 hp and 441 Nm from its 2.5-litre turbodiesel.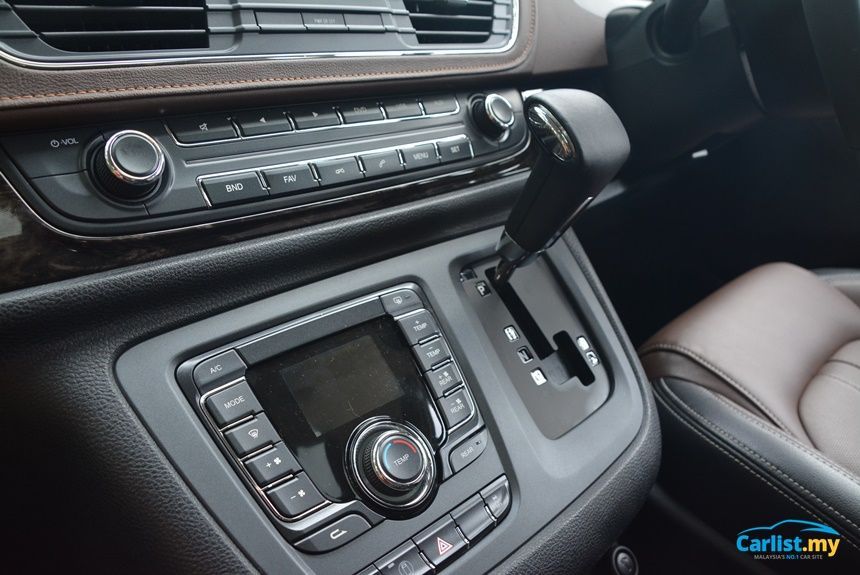 Exterior
There isn't much you can do to make a boxy shape pretty, but the Maxus G10 is generally inoffensive to look at. Don't expect it to turn any heads, but there isn't an angle which you'd look at this car and call it ugly.
It is a vehicle of huge proportions, however, stretching 5,168 mm long, spanning 1,980 mm wide, and standing 1,928 mm tall, with wheelbase measuring 3,210 mm. These dimensions make it slightly bigger than the Starex, and appreciably larger than the Kia Grand Carnival.
At its size, the G10 can be intimidating to maneuver through tight spaces and all too easy to dent around a sharp corner. The SE model as tested offers help in the form of a 360-degree camera system. The image resolution is low and not entirely effective at night, but considering the sheer acreage of its blind spot, it's good enough just to have the system on board than not.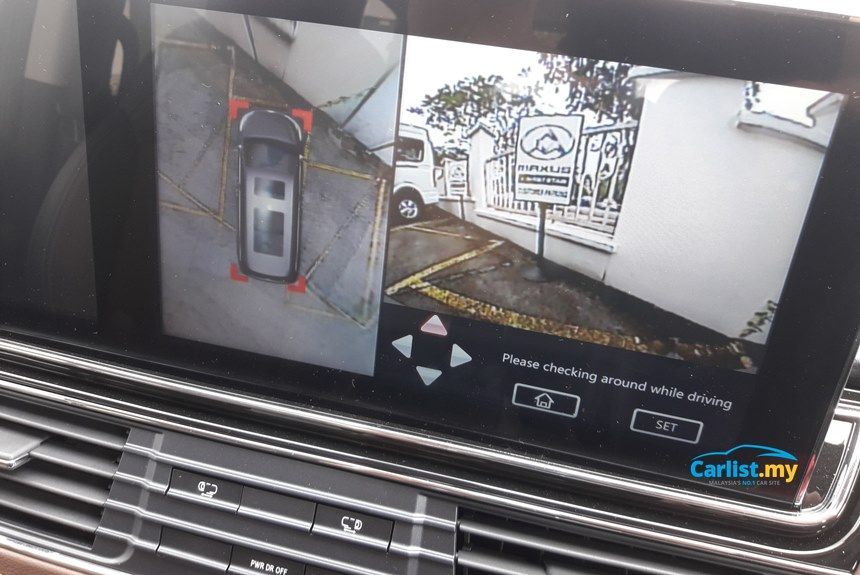 Interior
The G10's cabin accommodates ten occupants in four rows of seats arranged in a 2-3-2-3 configuration. Second and third row seats offer forward-backward adjustment, whilst the fourth row can be folded to make way for cargo.
The second row, which seats three occupants, is offset slightly toward the right, thereby granting extra space for third and fourth row occupants to enter and exit from the vehicle's left. Three-point seat-belts are provided to only two occupants of the second row; the middle passenger gets only a lap belt. ISOFIX mounts are also provided on the second row.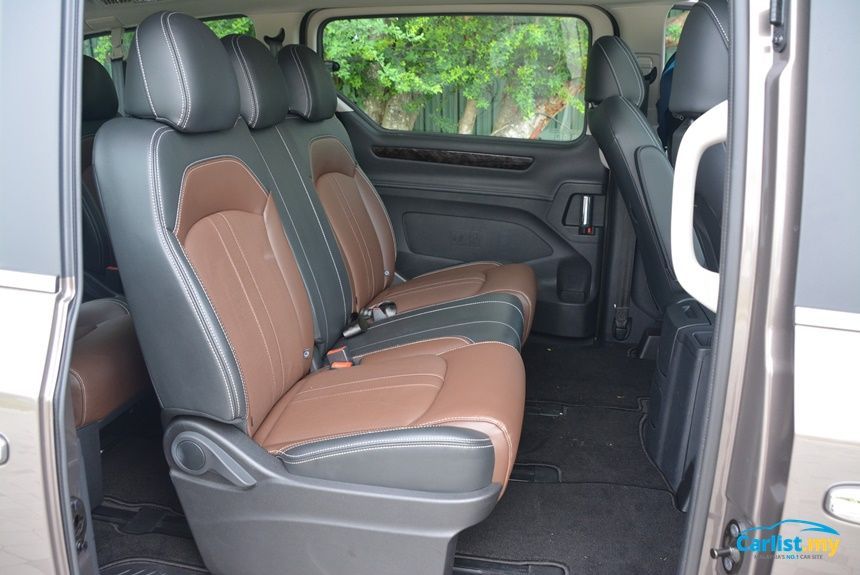 The third row consists of two individual chairs separated in the middle providing a pathway to access the last row, which seats three across with each occupant getting three-point seat belts and adjustable headrests. Luggage space is practically non-existent if the last row seats are up, although they foldaway in a relatively straightforward three-step procedure.
Passenger space overall is provided in relative abundance. It is possible, with the right seating adjustment, to provide all four rows of seats with comfortable amounts of leg and headroom for an average Asian adult. Important provision for our climate, each row gets dedicated air-con vents, with separate temperature controls provided for the cabin's rear section.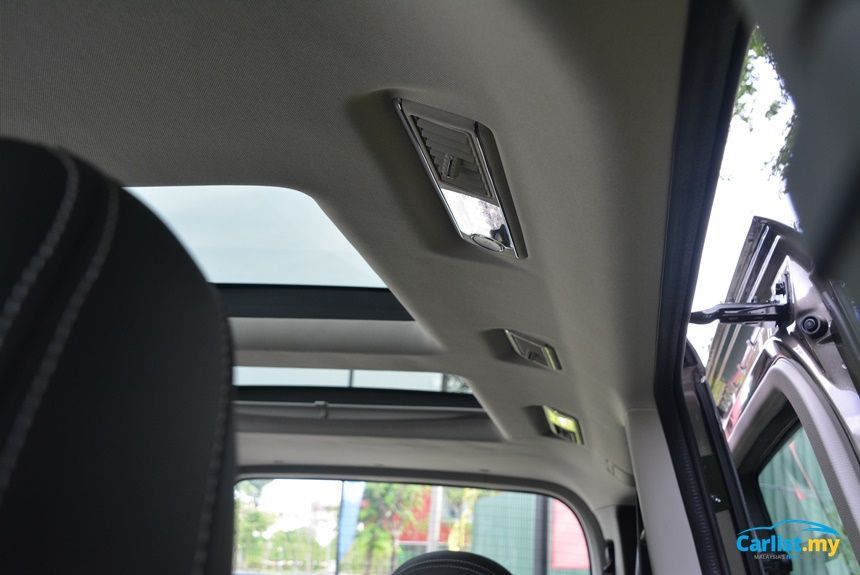 Materials of the cabin are of decent quality. Plush to the touch they aren't, but they feel convincingly robust. Fit and finish feel assuredly sturdy with panels aligning consistently with each other. Our only quality complaint of the test car is that the front sunroof's inability to stay securely closed.
Overall design of the cabin is rather tasteful too. Like the exterior, it's plain-looking and inoffensive. Little touches such as stitches on the dashboard and textures of certain panels, however, show greater attention to detail than one might expect.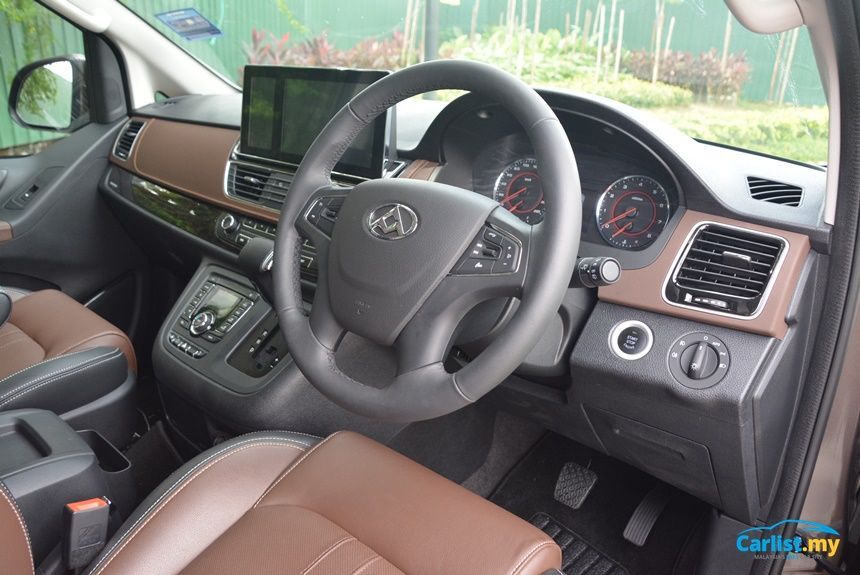 Driving Experience
Nobody expects an MPV at this size to drive or handle with any semblance of agility or sportiness, but it is fair to demand predictable handling as well as refined progress. In this respect, comparisons with its direct rival, the Hyundai Starex, is once again inevitable and the verdict is quite easily summed up – the Starex drives better, but the G10 drives well enough and is better refined.
Simply put, the Starex's chassis feels more balanced and seems to have its centre of gravity closer to ground, giving the driver the confidence to carry a little more speed into bends. This is less about enthusiastic driving of any kind and more about not having to brake as severely going into a corner, thus minimizing discomfort to your passengers on winding roads.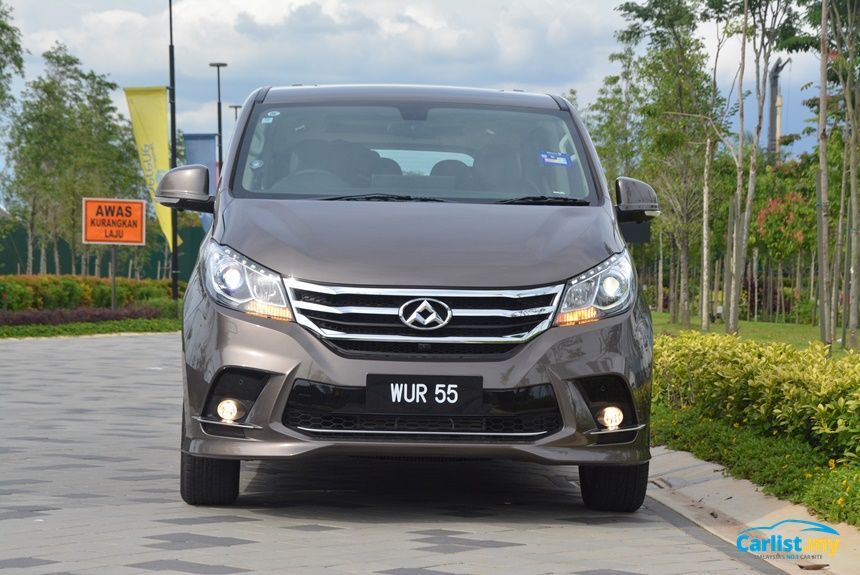 Putting a 2.0-litre engine to power an MPV this size is an unusual decision and it has the intriguing proposition of lower road tax than you'd otherwise need to pay with a larger capacity petrol or turbodiesel engine. Is the engine up to the task? Sometimes. Instantaneous response, especially on kickdown, is out of the question, but the engine pulls with admirable vigour once the turbocharger goes on song.
The 6-speed auto does a fair job in providing smooth shifts, and its tallest ratio is geared high enough to allow cruising at highway speeds with 1,500 to 2,000 revs ticking on the clock.
As a whole, the engine is an adequate performer most of the time, but there are occasions where it's difficult to escape the impression that a diesel or just a higher-capacity petrol engine remain best suited to the task of hauling a vehicle this large.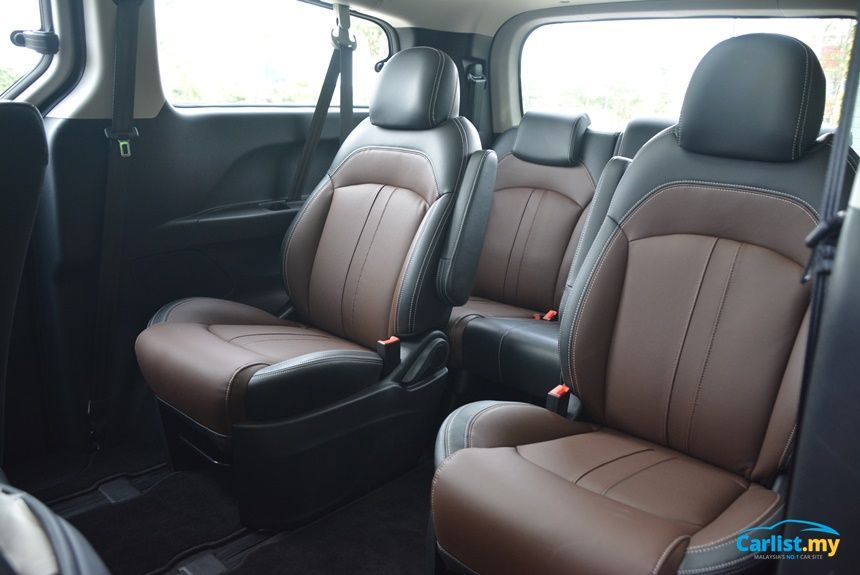 Comfort & Refinement
One immediate benefit of having a petrol rather than a diesel engine powering the G10 is the absence of diesel clattering sounds on idling and cruising, immediately creating an atmosphere that is more refined and less utilitarian.
Overall soundproofing, in any case, is decent, with very little in the way of wind or road noises troubling the cabin on the move.
Ride comfort is good too, though quite unusually, the rear end seems to feel slight more pliant than the front. Overall damper settings seem quite well-judged for the car, soft enough to feel supple over poor surfaces, yet with sufficient firmness to maintain a fine degree of body control. Put it another way, it does not feel like a boat.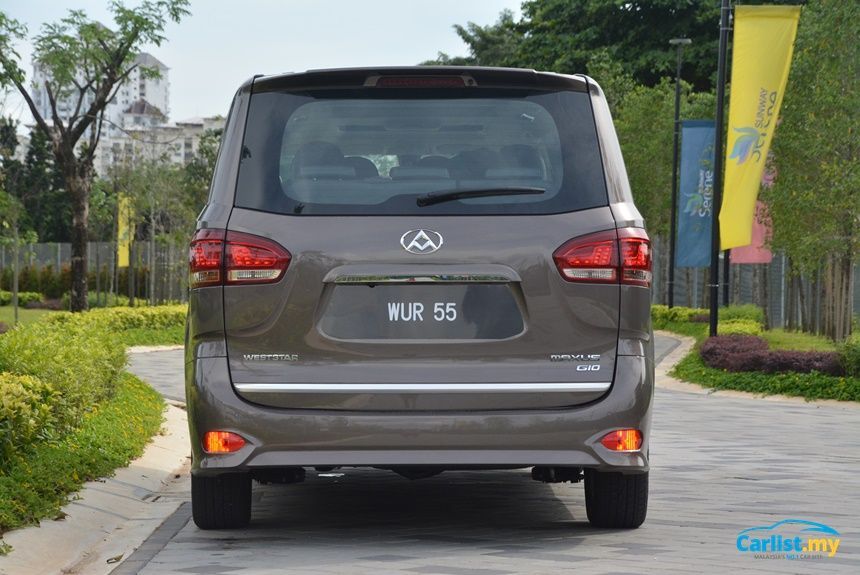 Economy & Maintenance
What you save in road tax, prepare to pay it back at the pumps. A petrol engine tasked to pull a large vehicle will inevitably require a high rate of fuel and in the G10's case, this is exacerbated by the need to regularly work the engine hard in order to secure rapid progress.
By the end of our driving stint, despite not attempting our usual spirited road test regime, the trip computer did not make for pretty reading, returning an average 16.2 litres/100km.
The good news, however, is that the G10 comes with two years for free maintenance in addition to a three-year factory warranty.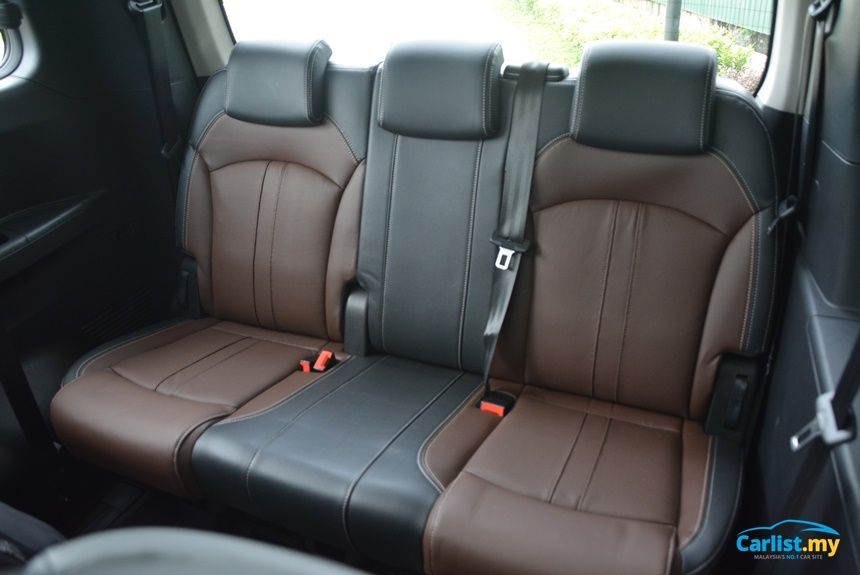 Conclusion
The Maxus G10 is a vehicle of surprisingly good quality and one that offers compelling value for your money. If there is a car to break the quality stigma of China-sourced vehicles, this is it – the quality is not superlative, but the car as a whole feels consistent and solid. There are a few minor rough edges, but they are insignificant enough to be overlooked.
Inside, the G10 offers lots of usable space although any meaningful volume of cargo can only be transported with its seating capacity reduced to seven. Still, the room between rows of seats ensure that the G10 feels positively spacious even when fully loaded with passengers.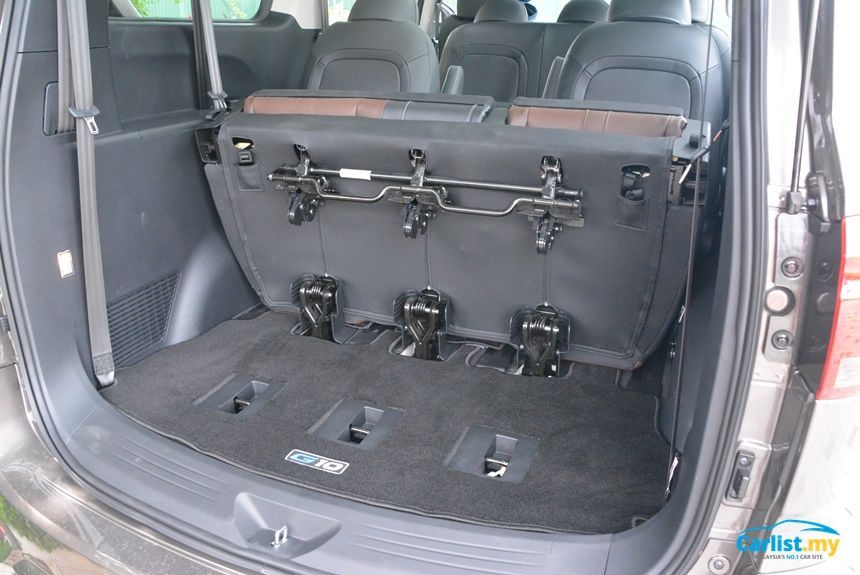 Whilst we'd much rather have a vehicle this size with a diesel or bigger capacity petrol, the G10's 2.0-litre engine offers buyers the option of an engine without the fumes and clatter of an oil burner or the punitively high road tax of a big engine. Can't escape the heavy fuel bills though.
Still, the G10's overall proposition is a good one – an MPV big on space, a few minor niggles, but big on value.
---
---
---
Comments