Road Safety Marshal Club Shares Things That You Must Have In Your Car To Stay Safe
Insights You know that Raya is just around the corner when Yusuf Taiyoob's advertisements starts playing on the radio. With the festive season drawing closer, many of us, especially the folks from the city would be longing to travel back kampung for some delicious rendang, ketupat and lemang.
So before we start stuffing ourselves with all those amazing hometown cuisines, how equipped and prepared are we for the long journey back home to see our loved ones?
Since accidents are not predictable, anyone can be a victim – this includes you. So, arming yourself with a few tools in your vehicle might just give you a better chance at survival.
"Malaysians should always be alert on the road. People sometimes have the perception that accidents won't happen to them. They can read all the tragic news on the papers and internet every day but they are still unaware of the importance being prepared on such situations," said Road Safety Marshal Club chairman, K. Balasupramaniam.
Urging road users to stay safe during the festive season, the safety activist who occasionally organises road safety workshop advises vehicle owners to keep a few life-saving items with them while travelling.
"One of the best things to have in your car is an emergency rescue hammer that comes with siren and torch light. It can be easily stored in your glove compartment and you can use it to smash your window when you are trapped," he said.
Apart from practicing the habits of frequent car services and constant monitoring of tyre pressures, it is crucial to ensure the vehicle's basic repair tools are complete.
Other items that one should have in a vehicle which can come in handy for an emergency situations includes a fire extinguisher, first aid kit, jumper cable, traffic cones, and a rain poncho.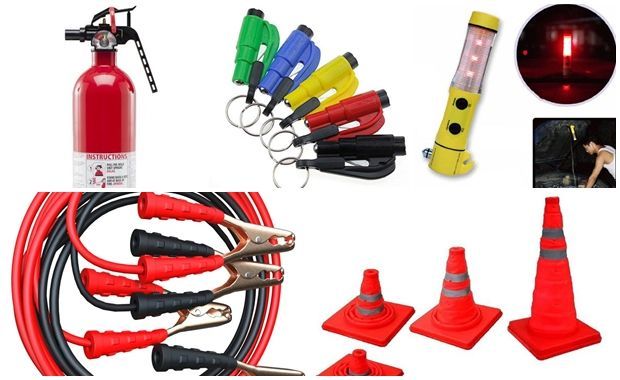 "The public must educate themselves with safety knowledge. They should know simple things like first aid because sometimes the accident might not happen to them but they can help. Additional things that are good to have are a towing cable and masking tape. Since Malaysia has constant issues with flood, the towing cable can come in handy to assist other cars that are stranded in the flood and masking tape can be used to temporarily seal minor accident damage."
Bala further expressed that one of the ways to decrease road accidents during the festive season is for highway operators to discontinue giving night discounts as it encourages citizens to travel at night.
"Not everyone is used to driving long distance at night. Most people's driving routine is to the office and back so when the rate is cheaper at night they feel the need to drive during that time because they want to save up. Furthermore, try to keep little children awake when travelling because when an accident happens, they are aware," he concluded.
---
---
---
---
Comments