Save Up To RM50,000 In Overtrade When You Trade-In Your Car For A VW
Auto News Between now until 31-January 2016, Volkswagen Malaysia will be running an Overtrade Programme for owners of all makes of cars who want to trade in their current car for a selected new Volkswagen models.
This festive promotion by Volkswagen Malaysia allows all vehicles, regardless of model and brand the chance of an overtrade, but will be subject to prior inspection by authorized Volkswagen dealers who will make the final decision on the overtrade vehicle acceptance.
To qualify for this programme, all vehicle registrations must be completed within the promotion period. This promotion is subject to change without prior notice.
The actual amount of overtrade quoted varies, depending on the Volkswagen model that the buyer is intending to purchase. Refer to the table below: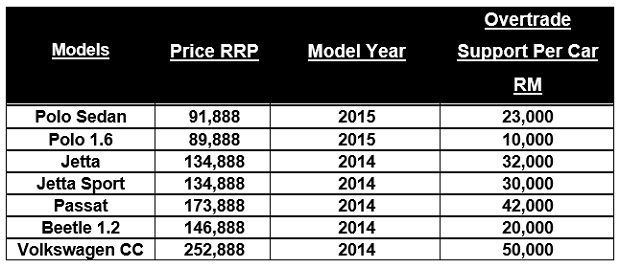 An overtrade is the additional amount that the dealer is willing to pay you when you buying your current car off you, when you purchase a new car from the dealer.
For example, you currently own a five-year old Toyota Vios, whose market value is about say RM40,000. You wish to trade-in your old Vios for a new Volkswagen Jetta that was manufactured in 2014. Normally, you can only hope to get slash RM40,000 off the Jetta but now you can expect to overtrade in your Vios for an additional RM32,000, slashing the price of the RM134,888 Jetta by RM72,000. Meaning that you only need to pay RM62,888 for your Jetta.
---
---
---
---
Comments