Sekatan Jalan Raya Di Sempadan Negeri Dipertingkat Menjelang Ramadan - Urusan Rentas Negeri Kini Lebih Rumit
Auto News Tindakan saman akan dikenakan bagi mereka yang dikesan cuba merentas negeri untuk pulang ke kampung halaman bagi menyambut hari pertama berpuasa.
---
Pengarah Jabatan Pencegahan Jenayah dan Keselamatan Komuniti (JPJKK) Bukit Aman Datuk Zainal Abidin Kasim berkata, pemeriksaan lebih ketat akan dipertingkatkan di semua Sekatan Jalan Raya (SJR) di sempadan negeri. Walau bagaimanapun, hanya mereka yang mempunyai dokumen kebenaran rentas negeri yang lengkap serta diluluskan akan diberikan kebenaran meneruskan perjalanan.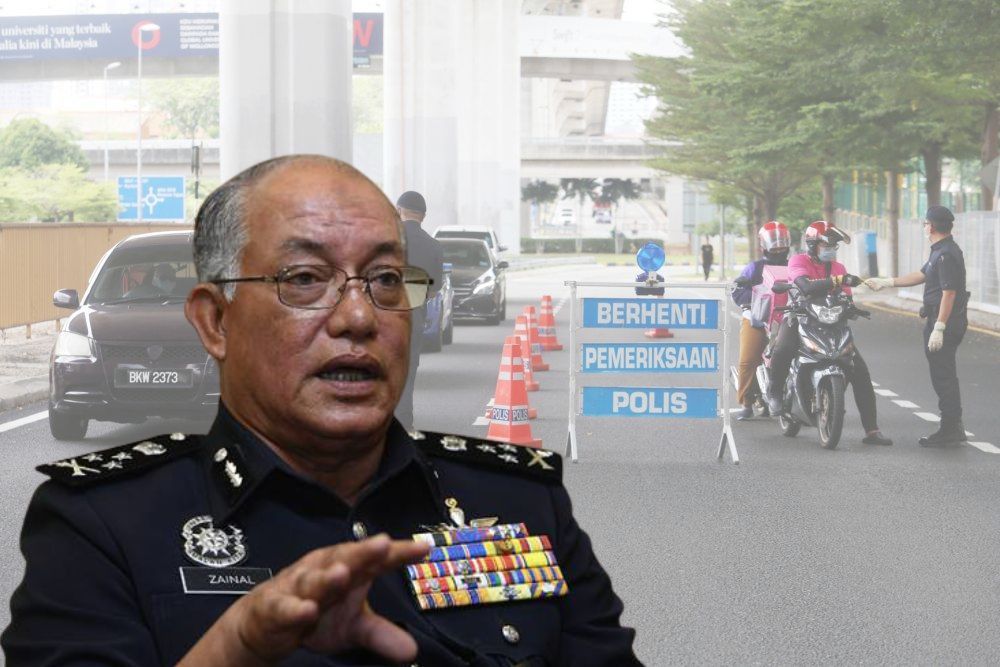 Beliau percaya kadar pergerakan kenderaan di lebuh raya pada hujung minggu ini akan meningkat ekoran orang ramai yang ingin pulang ke kampung halaman bagi menyambut hari pertama Ramadan bersama keluarga tercinta memandangkan tahun lepas mereka tidak dibenarkan pulang ekoran Perintah Kawalan Pergerakan (PKP).
"Sekiranya anggota atau pegawai polis mengesan individu cuba merentas negeri untuk balik ke kampung, tiada lagi nasihat akan diberikan sebaliknya tindakan akan terus dikenakan," katanya kepada pemberita selepas Majlis Pelancaran Program Satu Taman Satu Polis Dan Fokus Polis Diraja Malaysia Kontinjen Melaka 2021 di sini hari ini.
Tambah Zainal Abidin, setakat ini sebanyak 30 hingga 35 Sekatan Jalan Raya dilaksanakan di setiap pintu keluar dan masuk serta sempadan negeri di seluruh negara. Penambahan jumlah sekatan juga akan dilakukan bergantung kepada jumlah harian kes positif COVID-19 yang dilaporkan.
Penambahan Sekatan Jalan Raya akan dilakukan sekiranya bilangan kes positif COVID-19 meningkat di dalam negara. Penambahan berikut bertujuan untuk meminimunkan pergerakan individu atau kenderaan bagi mengekang penularan wabak COVID-19.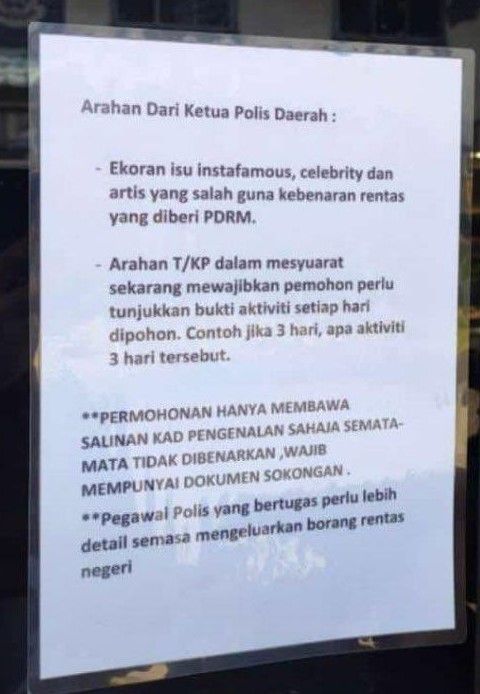 *Kredit Foto: @HermyRahim di Twitter
Kebelakangan ini, beberapa selebriti serta insta-famous yang telah menyalah guna kebenaran rentas negeri oleh PDRM dan menunjuk-nunjuk di media sosial mereka telah menimbulkan rasa tidak puas hati netizen. Oleh itu, PDRM telah mengetatkan syarat permohonan rentas negeri dimana pemohon perlu menunjukkan bukti aktiviti setiap hari dipohon bagi mengelakkan hal ini berulang.
Sekiranya anda memohon kebenaran rentas negeri selama tiga hari, anda perlu nyatakan segala aktiviti anda selama 3 hari tersebut. Permohon yang hanya hadir bersama salinan kad pengenalan semata-mata tanpa dokumen sokongan tidak akan diberikan kebenaran rentas negeri.
Kini, urusan permohonan rentas negeri di balai-balai polis seluruh negara akan menjadi lebih rumit dan terperinci. Kalau tiada urusan penting, tak usahlah curi-curi rentas negeri kerana polis kini lebih tegas di Sekatan Jalan Raya.
Terima kasihlah kepada mereka yang menjadi punca urusan rentas negeri ini diperketatkan kerana telah menyusahkan urusan orang lain.


For more latest car news, reviews, car buying guides and videos visit us at Carlist.my Auto News.
Check out all the best new & used car deals in Malaysia at Carlist.my.
Sell your car fast with the best offer? Visit us at CarlistBid.my.
Get the latest new car promotions at New Car website now.
---
---
---
Comments