Spoil Your Dad: The Ultimate Father's Day Gift - RM500k & Above
Insights Got an extreme amount of money to splurge on your dad this 2021 Father's Day? Then perhaps these rare exotic vehicles will put a smile on his face.
---
While most of us can only dream of giving our fathers a present worth north of RM500k, it is a reality for a small group of individuals. But hey, who says dreams can't come true, so let's dream on and pick out some of the best gifts we can give our dads this 2021 Father's Day that is above RM500,000.


Arch KRGT-1
For movie buffs, Keanu Reeves will always be known as the guy who defused a bomb on a moving bus or the guy that took the red pill in the Matrix. For motorbike enthusiasts, Keanu Reeves is also known as the guy who part founded Arch Motorcycles.
For those who do not know who or what Arch Motorcycles is, we don't blame you because it's more of a two-wheeler thing than a four-wheeler thing.
Arch Motorcycles is a motorbike company founded by Keanu Reeves and Gard Hollinger in 2011. It was created on the idea of redefining the American performance cruiser. Today ARCH Motorcycle delivers motorcycles through an obsession for innovative design, engineering excellence, and dedication to the rider, which is why they are highly regarded.
One of these motorcycles is the Arch KRGT-1. The performance cruiser features bespoke Ohlins/ ARCH suspension front and rear, coupled with BST carbon wheels which reduce unsprung mass. These elements work as part of a chassis architecture developed to deliver incredible feedback and control. An all-new ARCH/ Bosch ABS is standard, working with ISR radial callipers for optimum response and safety. The 124ci S&S V-Twin engine is tuned to deliver high torque on demand with enhanced performance through a unique ARCH downdraft breathing system incorporated between the stunning billet aluminum tank halves.
Sounds fancy? Well, the price is too. Premium motorbike dealer World Of Motions in Puchong sells them for around RM600k.


Porsche 993 Turbo
Arguably the prettiest generation of Porsche 911, the 993 was the last air-cooled Porsche to come out of Stuttgart. Produced between 1994 and 1998, the Porsche 993 was given a turbo in 1995, which instantly upgraded it into the category of widowmaker, which is primarily reserved for bonkers Porsche builts.
The 993 was also the first Porsche 911 to receive a six-speed manual transmission and also the first Porsche to be equipped with an all-wheel-drive system. The 402bhp and 540Nm produced by its 3.6-litre twin-turbo flat-six still sounds eargasmic today but imagine those figures back in the days, when email and the internet were just starting out.
For a cool RM880k, you can buy one for your dad from Malaysia's Sports And Classic Cars Center, JT CARS. It's only got 40k on the clock and seems to be in excellent condition.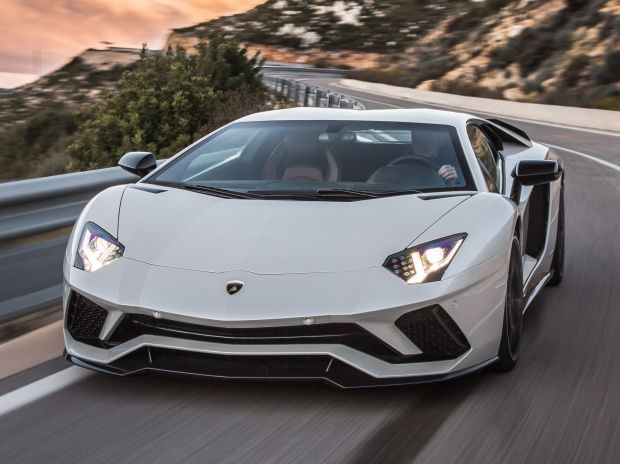 Lamborghini Aventador S
If you're looking for bragging rights on Father's Day, then one of the most expensive cars on Carlist.my should do the trick. The Lamborghini Aventador S is listed on Carlist.my for a whopping RM2mil, but if you put it into context, that's an RM1.3million saving over a new one, especially if you don't mind it being three years old. Old or new, it's still a Lamborghini.
With the Aventador S, there are many technological advancements incorporated by Lamborghini to keep the car relevant and exciting to drive as the goalposts continue to shift. In particular, the four-wheel-drive system has been a mainstay for Lamborghini products over the last two decades or so, and this newest iteration in the Aventador S is no doubt even quicker and more intuitive than ever.
The active suspension also allows for better body control without compromising ride comfort, and it works well to keep it planted. Power from the 6.5-litre V12 has also been improved from 700hp to 740hp, with 690Nm of torque from 5,500 rpm to a redline of 8,500 rpm. While these changes are as you would expect with a facelift for a performance car, the systems mentioned above helps transform the Aventador S into an entirely different kind of animal.


Aston Martin DBX
If your dad has a bad back, then a low down supercar might not be his cup of tea, so how about a high up supercar. Let us introduce to you the Aston Martin DBX, one of the finest supercars on stilts. If your Dad reckons that the Aston Martin SUV is not a supercar, throw him some of these claims.
According to Aston Martin, the DBX has delivered cornering speeds which are on par with the Vantage, while achieving braking figures greater than the marque's Super GT, DBS Superleggera. The DBX has also been achieving sub-8-minute lap times around the Nordschleife regularly.
In case your Dad is wondering how powerful it is, it is powered by the same 4.0-litre twin-turbo V8 engine as the Vantage and DB11, producing 550PS and 700Nm of torque. Top speed of the DBX is said to exceed 290 km/h. The best bit about the DBX however is the sound it makes.
The DBX's exhaust system, which has been tuned to reflect a deep bass with increasing mid-tones, creates a very sporty note, particularly in more sporting drive modes, it is one of the loveliest sounds we have ever heard, so if Dad ever wants to wake his grandchildren up, all he needs to do is bring his DBX around- that is if you buy it for him of course. It's only RM1,999,999 on Carlist.
But if you're not looking for cars as expensive as the ones mentioned above and are on a bit more of a budget then we also have some sub-50k options here and some sub-RM200k options here.
Happy gifting!


For more latest car news, reviews, car buying guides and videos visit us at Carlist.my Auto News.
Check out all the best new & used car deals in Malaysia at Carlist.my.
Sell your car fast with the best offer? Visit us at CarlistBid.my.
Get the latest new car promotions at New Car website now.
---
---
---
---
Comments