Thailand Slashes Excise Duties For Eco-Friendly Cars, Again
Auto News The government of Thailand announced yesterday that it has gazetted a new excise duty structure for motor vehicles, reports Thailand's Bangkok Post. This is the second revision in less than two years.
Earlier in January 2016, Thailand abolished the previous engine capacity dependent-only excise duty structure with one that also takes into consideration CO2 emissions. The revised structure raised taxes on high CO2 emitting vehicles like pick-up trucks and truck-based SUV models like the Toyota Fortuner increased by between 3 to 5 percent.
At the same time, excise duties for low CO2 emitting passenger cars, especially those that can run on E85 gasohol or are locally-assembled hybrids, were slashed by between 15 to 20 percent.
This second revision saw a further reduction in taxes, with the biggest beneficiary being locally-assembled full-electric vehicles – none of which exist in Thailand at the moment.
Excise duties for full-electric vehicles have been slashed to a nominal value of just 2 percent. However, this arrangement will expire in 2025.
On top of this, investments to produce 10 key components for the production of electric vehicles - batteries, traction motors, battery management services, DC/DC converters, inverters, portable electric vehicle chargers, electrical circuit breakers and EV smart charging systems – will enjoy corporate tax exemption for eight years.
According to Bangkok Post, the new excise duty structure will also take into account production technology employed.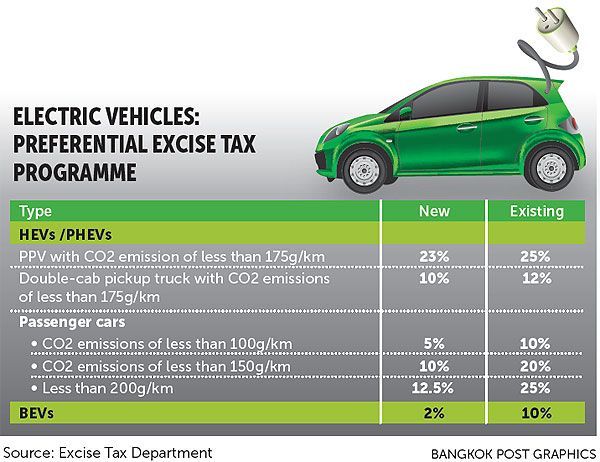 Table by BangkokPost.com.
Passenger cars that emit no more than 100 g/km of CO2, as well as those emitting between 101 – 150 g/km of CO2, also had its excise duty slashed by half.
Those CO2 emissions figures are typically achieved by hybrid or plug-in hybrid vehicles, so this should benefit cars like the Toyota Camry Hybrid, Honda Accord Plug-in Hybrid, and Mercedes-Benz C350e – all of which are currently assembled in Thailand.
---
---
---
---
Comments