The Giant Awakens, Quietly - Toyota's Powertrain Offensive To Hit Hard
Auto News Known for making good and reliable cars, Toyota doesn't trumpet their innovations in powertrain development, but other car makers should take note, because Toyota's coming powertrain offensive will hit hard.
General Sun Tzu, one of the most widely studied military strategists of the ancient world, whose 'Art of War' book is still studied in military academies in both the East and the West once said that war is based on the art of deception:
"When we are able to attack, we must seem unable; when using our forces, we must appear inactive; when we are near, we must make the enemy believe we are far away; when far away, we must make him believe we are near."
So when Toyota made a public announcement that it will be launching 14 new engines within 20 months, they made sure the information is buried deep within a boring 25 page technical presentation, slipping past the attention of all but the geekiest news editor.
The ridiculously ambitious numbers suggest that Toyota will be launching on average, one new engine every one and a half months.
Not even former Emperor Ferdinand Piech's twelve-brand empire is audacious enough to attempt an engineering challenge of such a grand scale.
When Volkswagen started downsizing its engines, it was done over a three year period, and primarily involved only four TSI engines, and even that the engines' rollout has been marred by serious reliability issues reported worldwide.
The Late Comer Shows The Way
Over the past five years, the dominant trend in engine technology is downsizing. Forced by a relentless push to drive down carbon dioxide emissions from motor vehicles by governments of US and Europe, fitment of turbochargers by manufacturers have been growing by more than 10 percent annually.
As explained in evo 119, manufacturers love turbochargers because they allow them to game the mandatory fuel consumption testing, especially those done in Europe, while consumers love their constant wave of torque.
The UNECE R101 test driving cycle, often referred to as the New European Driving Cycle, is characterized by many low load driving periods, where turbocharged engines are operating just below their boost threshold.
This is unrealistic in the real world, and Toyota along with Mazda, are among the last staunch supporters of naturally-aspirated engines.
Mazda believes that the solution is not downsizing but 'right-sizing.' Meanwhile Toyota believes that hybrids are the most effective way to reduce emissions while turbochargers are purely performance enhancing solutions.
For nearly decade, consumers and analysts have been wondering how much longer will these two Japanese icons continue to stay on the sidelines, while everyone else pulls ahead with their new range of downsized engines.
Several years passed before independent testing by ADAC and Consumer Reports vindicated Toyota's and Mazda's stubbornness, with test results showing that downsized engines show good results on paper but offer little or no improvement in real world fuel economy or driving performance when compared to their large capacity naturally aspirated equivalents, prompting regulators to step up their act.
By 2017, the United Nations will be replacing the current UNECE R101 test cycles with the World-Harmonized Light-Duty Vehicles Test Procedure (WLTP) method, with the hope of putting an end the current practices of circumventing the test parameters with downsized engines.
Still, consumers have come to appreciate the effortless performance offered from turbocharged engines and the way Toyota sees it - the challenge is to create a truly economical turbocharged engine.
Taking On A New Challenge
In true Toyota fashion, Toyota attacked the problem of unsatisfactory fuel economy in regular combustion engines by identifying the root causes - before following everyone else in resorting to secondary measures of adding turbochargers.
For Toyota, the basics of the engine must be optimised before any further improvement using secondary measures should be considered.
It was quickly determined that the engine's thermal efficiency, the actual amount of work extracted from each drop of fuel, must be raised significantly - from around 30 percent to a more hybrid-like 40 percent.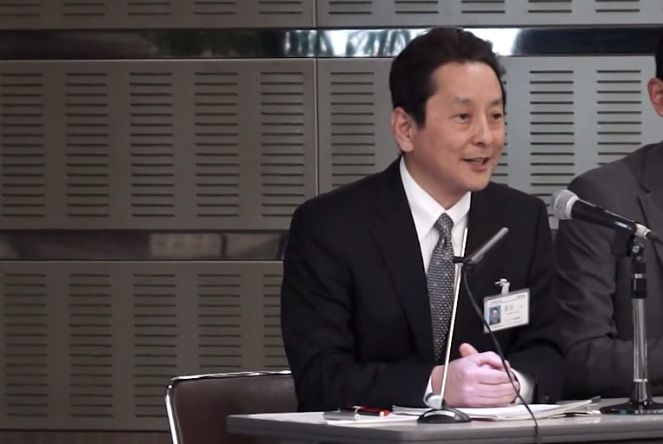 The project brief given to a newly assembled engineering team, headed by Shoji Adachi, Project General Manager at Toyota Motor Corporation's Unit Management Division, was to create a new range of engines that offers an expanded range of high thermal efficiency zones.
Adachi is a well-known figure in pushing the technical envelope of mainstream engines for mass-market cars, where innovations in cost control is just as important as advanced engineering.
In 1998, Adachi was part of the team who developed the 1.8-litre 1ZZ-FE VVT-i engine, which was later fitted into the first generation Corolla Altis, itself the most advanced family sedan in its era - featuring S-Tdi (S-Toyota Direct Ignition) and a 16-bit microcomputer Toyota Computer Control System (TCCS) engine management system.
Seven years earlier, he was also involved with the 1.6-litre 4A-FE engine, which was known for its early adoption balanced performance by pairing the then sophisticated DOHC 4-valve per cylinder with electronic fuel injection, plus added emphasis on 'sound quality.'
In 2013, President Akio Toyoda, reorganized Toyota's corporate structure and created a new division responsible for end-to-end development of powertrain components, hybrid components, and engines.
The division was given a rather nondescript 'Unit Centre' name, existing alongside Lexus International, Toyota No.1 (product planning, production and sales for North America, Japan and Europe) and Toyota No.2 (product planning, production and sales for China, Middle East, Near East, East Asia, Ocenia, Africa, South and Central America).
Adachi was handpicked to head this new division that is expected to flex Toyota's muscles in engine technology, which had in the past focused more of their efforts on the development of hybrids, at the expense of regular combustion engines.
Unlike many organizations where production engineering and powertrain engineering teams work independently of each other, Toyota's Unit Centre has both engine production and powertrain development teams working on the same floor.
The idea was that with this close integration, the transition from concept to production can be done faster while maintaining Toyota's hallmark standards in quality and reliability.
Building A Two-In-One Engine
"As you might know, improving fuel economy is about extracting more work from each drop of fuel. The goal is to maximise efficiency within the powertrain and produce as much engine torque as possible. How that power is distributed to the wheels is what we call drivetrain efficiency," said Adachi at a press briefing in Japan last year.
"The energy in the fuel needs to be translated into work, and thermal efficiency is the efficiency with which that is done," he added.
"This means of our engines will be at the world's top level in terms of maximum thermal efficiency," said Adachi.
The key to this dramatic increase in efficiency is integrating some of the lessons gained from Toyota's vast experience in petrol-electric hybrids. Toyota's full series-parallel Hybrid Synergy Drive system is at least one generation ahead of its nearest competitors, who can run in either series or parallel mode at any one time but not both, like a Toyota hybrid.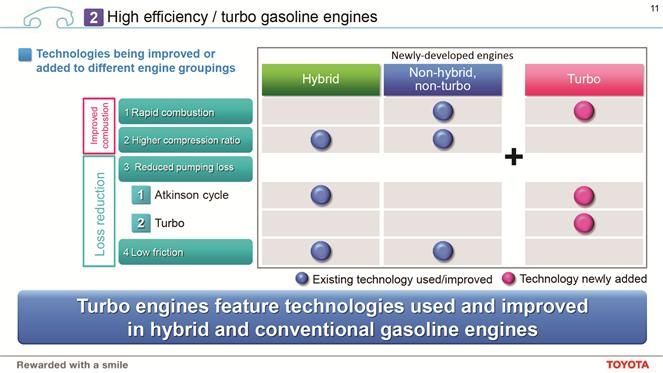 By combining previously hybrid engine specific features like the Atkinson-cycle combustion and large-volume cooled exhaust gas recirculation, Toyota's latest generation VVT-iW engines are able to match the thermal efficiency of many diesel engines, but minus the diesel clatter, high NOx and particulate matter emissions, and tight requirements for low sulphur fuels.
In an Atkinson cycle engine, the compression ratio is less than the expansion ratio, achieved using a unique crankshaft design. But within the automotive world, there is no such thing as a true Atkinson cycle engine.
What Toyota did was to create an intelligent valvetrain system that is able to leave the intake valves open longer than normal to allow for a reverse flow air into the intake manifold as the piston moves upwards, thus reducing pumping losses.
This allows Toyota to create an Atkinson cycle-like unequal size cylinder volume between the compression stroke and the expansion stroke, while still retaining a conventional crankshaft design.
The downside of an Atkinson cycle engine is that it lacks low-end torque. In a hybrid car, this is not an issue as electric motors produce maximum torque the moment they start spinning, thus filling the gaps in the power band.
Without an electric motor, there will be serious reduction in performance and thus explains why this fuel-saving solution was not adapted in Toyota's conventional petrol engines earlier.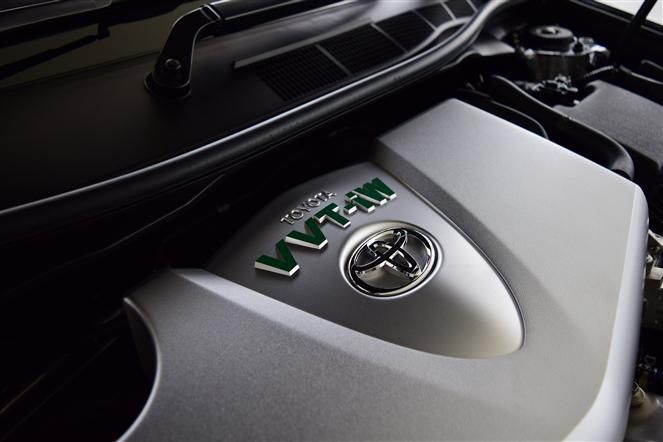 To solve this, Toyota started the ESTEC engine project, short for Economy with Superior Thermal Efficient Combustion, headed by Masakatsu Takahashi. The project resulted in the VVT-iW valvetrain, culminating in the 6AR-FSE engine used in the Camry 2.0-litre.
VVT-iW allows for an expanded VVT operating angle - allowing the engine to seamlessly switch between the more fuel efficient but compromised power output Atkinson cycle, and the higher power output but less fuel-efficient Otto cycle.
The only other production engine to have this ability to switch between two different combustion cycles is Mazda's SkyActiv-G engines.
Audi will be introducing a similar Miller cycle (Atkinson cycle with supercharger) engine only in 2016, in the next generation A4.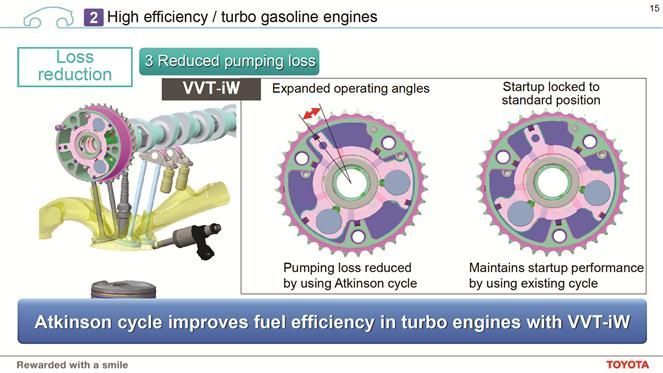 In effect, Toyota's VVT-iW combines the best of both worlds, but this time minus the added cost of hybrid components.
It allows the new Toyota Camry's 2.0-litre to deliver 7-litre/100km while still producing an impressive 167PS, making it the most powerful naturally aspirated engine in its class.
Its dual fuel injection system, featuring both port and direct fuel injection methods is also the only one of its kind outside the luxury segment. Depending on engine load requirements, the engine computer intelligently switches between either injectors in each cylinder to optimal driving response and fuel economy.
Adding Turbochargers
With the basics of the engine now optimised, Toyota is now ready to add turbochargers. The 8AR-FTS engine in the Lexus NX200t, and its twin scroll turbochargers were developed in-house by Toyota.
Buying turbochargers from a supplier to slap them onto a small capacity engine is the easy solution and one most commonly adopted by other car makers, but Toyota follows a mantra of 'Defend your own castle,' which means to be responsible for one's own fate, set by former chairman Taizo Ishida more than 65 years ago.
The 'Defend your castle' philosophy has lead Toyota to forego short term gains of outsourcing critical work to a supplier, in favour of the slower and more difficult route of learning and developing critical technologies. The company believes that in-house development also brings other benefits like helping their engineers improve their understanding on the basics of the technology that goes into their products, thus putting them in a better position to further develop the technology's potential, which will turn leads to better cost competitiveness.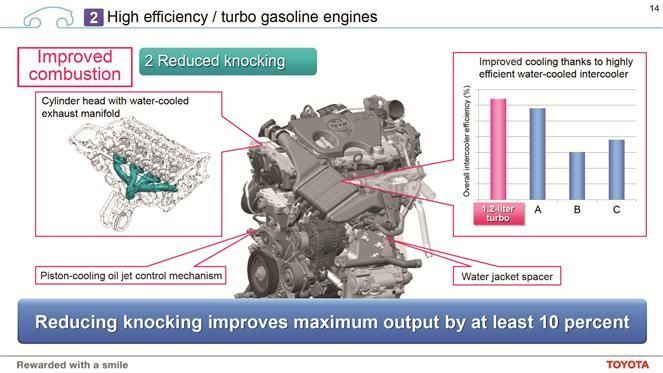 In the pursuit of better fuel economy, high compression ratio is necessary but it makes the engine prone to knocking, a problem exasperated by turbocharging. To counter this effect, the cylinder heads are cooled by water and the cylinder walls are lined with a jacket spacer.
The end result is a very sophisticated 1.2-litre turbo 8NR-FTS engine for the European market Auris and the 2.0-litre turbo 8AR-FTS engine in the Lexus NX200t, which despite being equipped with twin scroll turbochargers, still reliably runs on a 10.0:1 compression ratio, and produces 238PS, 10PS more than an equivalent TFSI engine in the Audi Q5 and 54 PS more than the BMW X3 xDrive20i.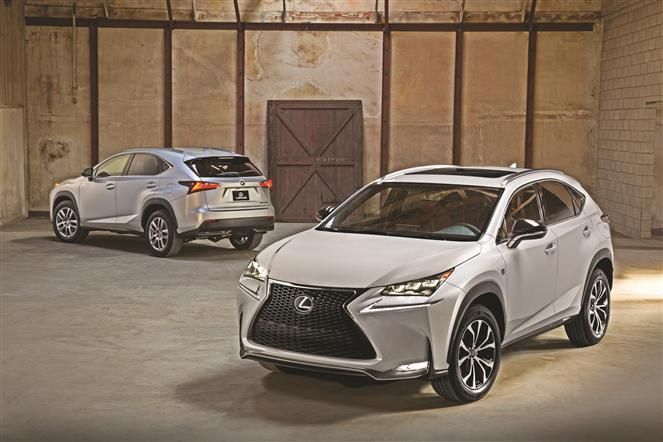 Warning Shots Fired
Between 2015 and 2016, Toyota will be launching 14 new engines featuring high compression ratio, rapid combustion, Atkinson cycle, expanded variable valve timing operations, low friction pistons, and turbocharging.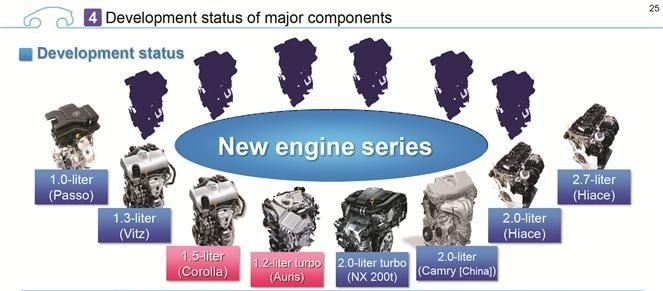 To date, eight of them have already been announced, including the aforementioned 2.0-litre 6AR-FSE and 2.0-litre turbo 8AR-FTS, 1.2-litre turbo 8NR-FTS for the European market Auris, a 1.0-litre unit jointly developed with Daihatsu for the Passo/Boon twins, a 1.3-litre VVT-iE unit with electrically operated valve timing mechanism for the European/Japanese market Vitz (Yaris), and a 1.5-litre 2NR-FKE VVT-iE unit for the Japanese market Corolla.
The next generation Toyota Hilux, and Fortuner will be offered with two new engines, both also a result of the ESTEC project - 2.8-litre diesel 1GD-FTV and 2.4-litre diesel 2GD-FTV, with power outputs exceeding the previous model's 3.0-litre and 2.5-litre engines respectively.
Two more new engines for the Hiace commercial van are also in the pipeline.
A keen observer once likened Toyota to a huge oil tanker - it is slow to change course, slow to adopt the latest fad, but once set on a new course, the assault will be relentless and it will mow down anything in its way. We can safely say that this proverbial oil tanker has once again set on a new course. Toyota's competitors have been warned.
This article is first published in the May issue of Malaysian Evo magazine. Find out how you can receive six issues of Malaysian Evo magazine for free here.
---
---
---
Comments