The Lexus LC 500 Rips Apart Your Childhood Dream Car Posters
Reviews If you are in the market for a RM 1 million plus supercar, chances are that you grew up in an era when wallpapers were literally decorative papers glued to walls; an era when the holy trinity of poster-worthy cars consisted of a Ferrari 288 GTO, Porsche 911 Turbo and a Lamborghini Countach.
When you left school and entered the work force, a Lexus was something driven by a middle-aged men who couldn't fit in a sports car. A Lexus was a respectable car, but not something that you dreamt of as a kid.
Many decades later, after a lifetime of hard work, you are now in a position to reward yourself. Today, the Lexus brand still does not yet hold the same cachet as a Porsche or a Ferrari or a Lamborghini, but there is not a shred of doubt about the legitimacy of an LC 500 as a poster-worthy car. In fact, walking up to one raises our hearbeats more than any other Italian or German exotic.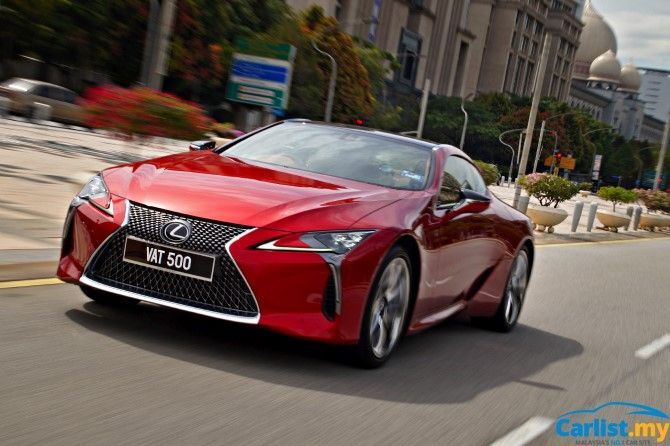 In stark contrast with its other Lexus-badged siblings, the LC 500 is the rebel of our times. When nearly every performance car ranging from the 'Ring record holding Honda Civic Type R to the iconic Porsche 911 are powered by downsized, green party approved turbocharged engines, the LC 500's 'old school' 5.0-litre naturally aspirated V8 is Tokyo's middle finger to the relentless efforts to snuff out the last vestige of motoring pleasure by the European bureaucrats at Brussels. Ironic when you consider that this is the same company that is committed to making a true zero emission car with its hydrogen fuel-cell Mirai, and who's Prius made hybrids mainstream.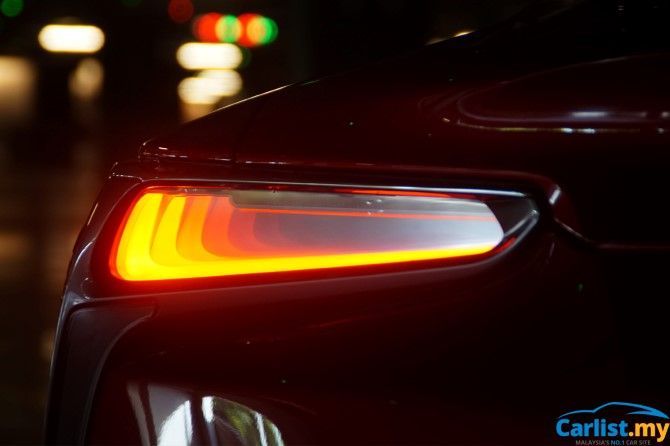 The infinity mirror effect on the tail lamps - Lexus' interpretation of light art
A quick spin in the LC 500 is enough to remind us why many petrolheads still insist on a large capacity naturally aspirated engine over a turbocharged one. The linearity of its power delivery and the accompanying aural effects are almost otherworldly. Yes the sound effects is aided by a sound generator, but this is a mechanical-only setup, making clever use of piping to amplify specific notes and channeling it to the cabin. Rest assured that there is no digital fakery here.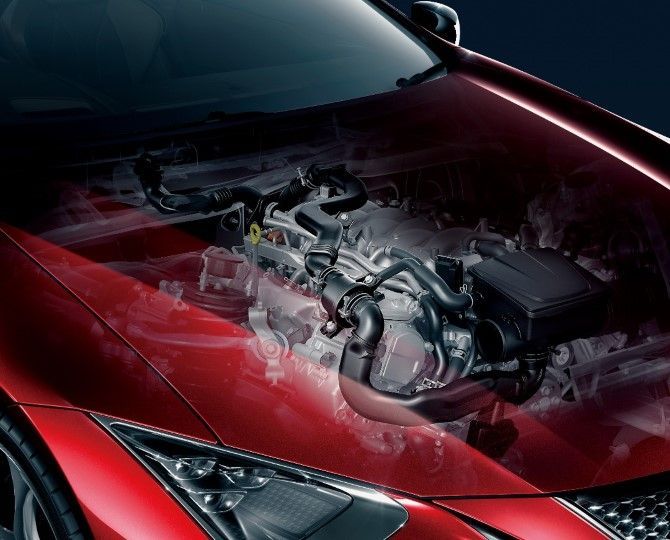 Induction and exhaust notes are selectively amplified and piped to the bulkhead
With 10 ratios packed within its torque converter automatic transmission, the LC 500 pulls from low speeds with no less urgency from its turbocharged peers, but with none the shift-shock. Just a pure clench-your-sphincter-muscles, G-force pinning you to your seat, heart in your throat sensation. The sprint from standstill to the century mark is done in 4.4 seconds.
Like the extremely rare Lexus LF-A's V10, this V8's harmonics have been tuned by Yamaha, the same people who make some of the best musical instruments on this side of the Pacific. Every stroke of its polished eight pistons plays a musical note. This is not just an engine, but a musical instrument whereby you change the notes with your right foot.
It snorts and snarls with every flex of your right foot, revving to a high pithed crescendo before crackling down to a rumbly idle. Its character is brutish but not in an American blue collar manner like the Ford Mustang. It's more like a Jason Statham suited up to meet the Queen. Experience it once and it will make you question everything you've been lead to believe about Ferrari or even Aston Martin V8s.
The sophisticated valvetrain is also capable of switching to fuel-efficient Atkinson cycle when driving under low load conditions.
But all these count for only half of the LC 500's appeal. The other half is its aesthetics and the craftsmanship talent that went into putting together an interior this good, all of which are something that the likes of Aston Martin, Bentley, and Porsche would secretly covet.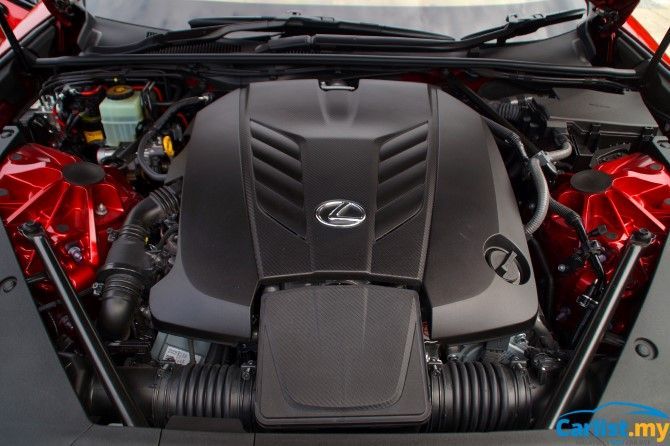 Pull the bonnet release catch to reveal the beautifully finished engine bay, and you will notice the finely machined and detail painted strut towers on either sides. Instead of spot-welding, self-piercing rivets were used to join the steel with aluminum sections. With their intricate folds, they don't look too different from arterial valves and muscles that surround the heart, which in this case, is 2UR-GSE V8.
Where a Porsche 911's design is bound by the need to pay homage to its illustrious predecessors, the LC 500 is all about looking forward. With its motor show stand concept car looks, even the staunchest Euro-phile can't resist wowing at the LC 500. Hold up pictures of the LF-LC Concept against the LC 500, and you will see that the two are almost indistinguishable.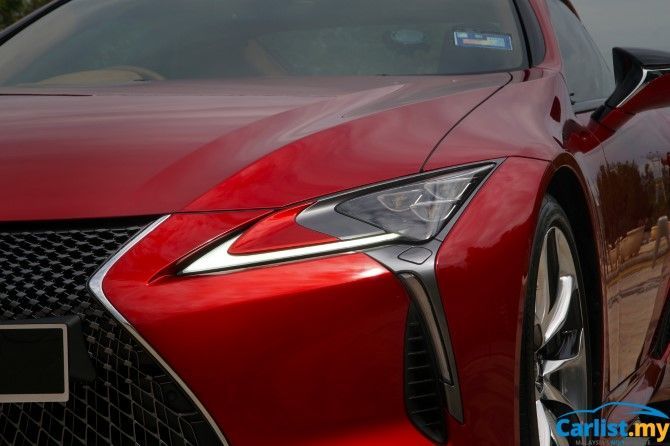 In fact, the production car looks even better than the concept thanks to a more refined iteration of Lexus' signature spindle grille and better looking LED headlamps. In our books, Lexus deserves an award just for their ability to create a pair of headlamps that fit within those ultra-thin fenders, while complying with all the necessary regulations. This is a work that's worthy of a spot in the finest museum of modern art.
Approach the car with the key in your pocket, the flush door handles gently slides out as you approach the car, ala Aston Martin and Tesla.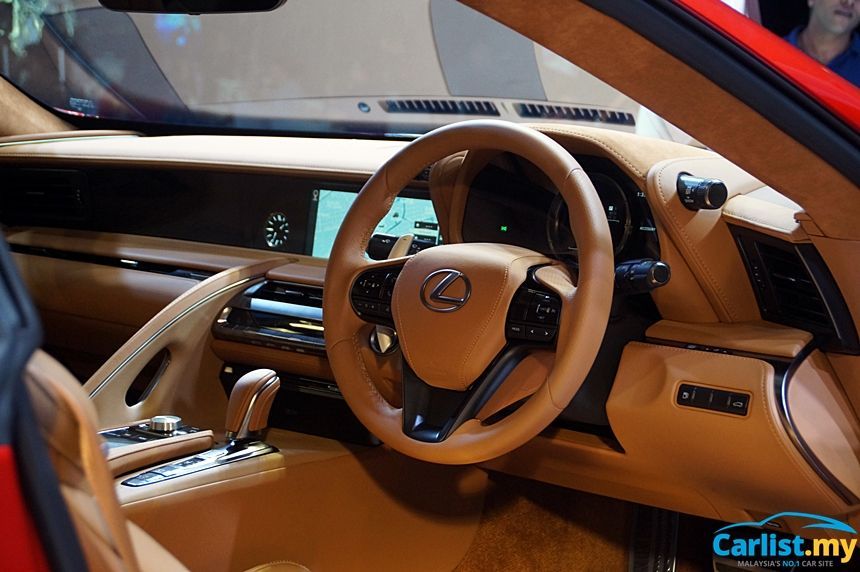 Pull the frameless door open and you will be greeted with a brown leather and Alcantara trimmed interior. Apart from the infotainment system and instrument panel, you will have to look hard to find any examples of plastics. Even the gear lever is wrapped in fine leather – smooth at the upper section and perforated at the rear to give a different tactile experience while the ultra-fine 2mm sewing margin keeps the stiches concealed - as demanded by Lexus 'Takumi' master test drivers.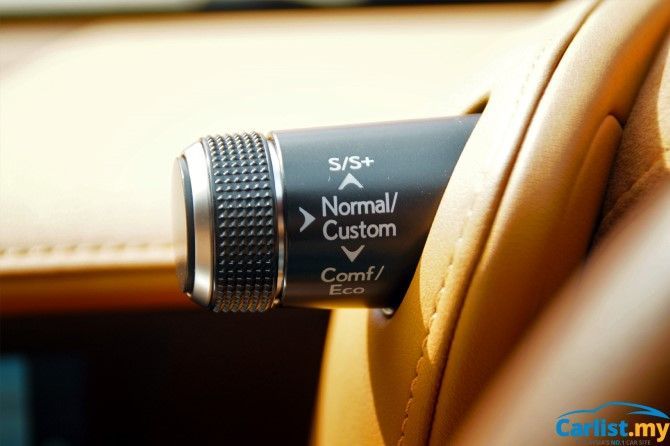 The bezels around Drive Mode selector are as good as those found in high-end watches. The seats are wrapped in smooth Alcantara, as are the door panels. Except for control switches for the windows and mirrors, there is not a single plastic surface on the doors that your hands will rest on or touch. Turn around and take a closer look: you will notice that the structure behind the Alcantara material is carbon fibre. Look even closer, and you will notice the bolts have the word 'Lexus' printed onto them. How's that for craftsmanship?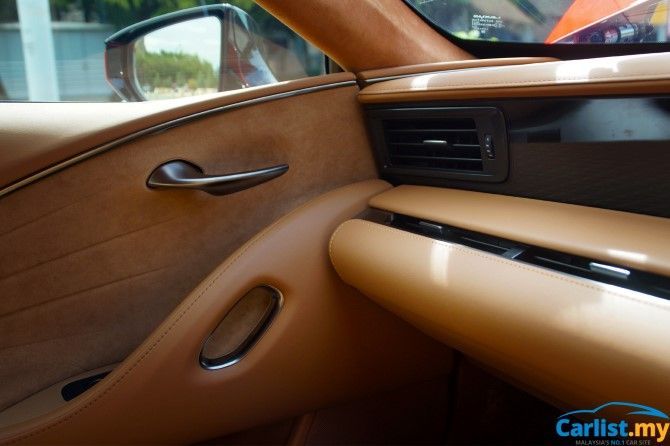 The roof is made from carbon fibre reinforced plastics, made from techniques originally developed for the LF-A.
On the move, the LC 500 is every bit a grand tourer. Effortless performance, quiet ride, a well-tuned adaptive suspension that unlike many performance oriented cars in this class, lets you have some fun without sending you to a chiropractor. The steering is lighter than its more race-tuned peers, but is perfect for the LC 500's more relaxed character.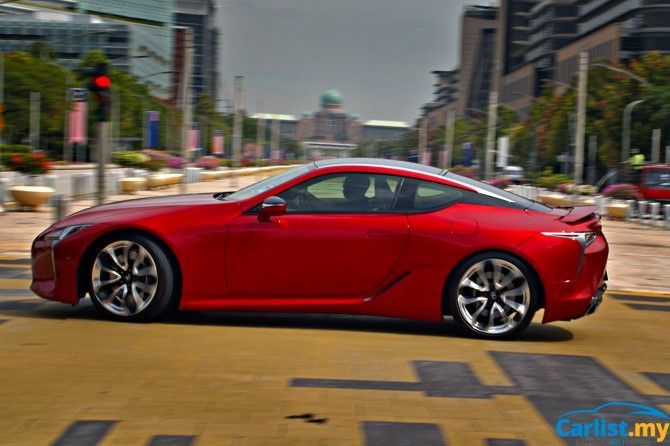 Priced from RM 940,000 sans insurance, the LC 500 offers an impossibly good deal. The ninety nine percenters won't have the mental capacity to associate good value with a near-million Ringgit price tag but to the elite one percenters, the LC 500 is the deal of the decade. In fact, Lexus Malaysia's annual allocation for the LC was snapped up almost as soon as its order books were open last year. A certain royal family, who already have a very impressive collection of cars, was rumoured to be so smitten by the LC 500's looks and shocked by its good value that they ordered seven units.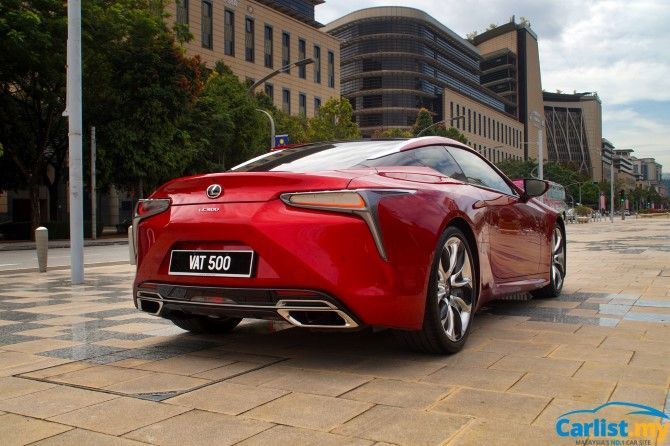 The LC 500's main rival will be the Porsche 911, but only by virtue of its price tag. The Porsche 911 Carrera S starts from RM 970,000, with its 3.0-litre turbocharged flat six pushing out 420 PS. However both cars have very different characters. Indeed, motorsports is the raison d'être for a 911. Regular 911s exist only for Porsche to fund development work for the track-focused 911 GT3 RS and GT2 RS. For Lexus, the LC 500's ikigai; its reasons to exist, is not to set a lap record but to further the cause for automotive art, culture and craftsmanship. A true connoisseur will understand the need to have both cars in their collection.
Specifications for Lexus LC 500
Engine: 5.0-litre V8, 32-valve DOHC, Dual VVT-i with Otto/Atkinson cycle, naturally aspirated
Power: 470 hp at 7,100 rpm
Torque: 540 Nm at 4,800 rpm
Transmission: 10-speed torque converter automatic, rear-wheel drive
Safety: 8 airbags, ABS with BA and EBD, VSC, hill start assist, blind spot monitor with rear cross traffic alert, ISOFIX
Price: RM 940,000 (excluding insurance)
Origin: Imported from Japan
---
---
---
Comments