This Amazing Tron Lightcycle Went Up For Auction And, Sadly, Was Sold
Auto News We all love a ridiculously awesome looking bike. That's only an assumption, yes, but mix science fiction into that and one of the most desirable "I wish that I really had that" item that comes to mind is the Lightcycle from the Tron film series, specifically this one from the 2010 reboot Tron: Legacy. The good news is there is a real one, but the bad news is that it's already been sold.
This Lightcycle did not make an appearance in the movies nor did it tool around The Grid, mind you, but was specially built for the Andrews Collection – father and son duo Paul and Chris, car collectors extraordinaire – to move around their facility.

Having said that, it's a stunning piece of work, matching the exterior specifications from the movie nearly flawlessly. Inside, however, it is powered by what the its seller describes as a "96 volt, direct-drive electric motor with lithium batteries and a computer-controlled throttle, rebound and compression damping with spring-preload front suspension and rigid rear suspension, and front and rear hydraulic brakes".
Now that the Andrews Collection is auctioning off nearly all the items in their repository of rare machines, this one-of-a-kind functioning recreation of a fifth generation Lightcycle must go too. And Sotheby's has already put it up for sale and indeed found an owner. Imagine how much you would pay for this? If money were no object, then perhaps quite a lot.

Even its seller pegged the price at somewhere between 25,000 – 40,000 US Dollars, but it was sold for scarcely believable 77,000 US Dollars (RM277,604). For an electric motorcycle that while very cool, is rather limited in its function, that's quite a price tag.
Still, we're sure its new owner will brag endlessly about having something nobody else does. After all, he or she has to get their money's worth.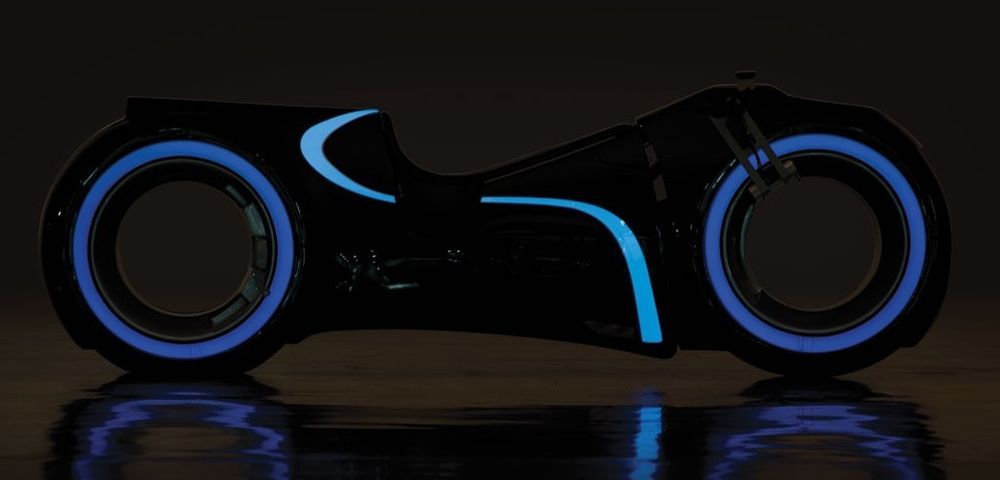 ---
---
---
---
Comments