Three Years Of Le Mans 'Bromance' – Porsche, Toyota Bid Farewell To Audi
Auto News As you would have already know by now, Audi has pulled the plug on its World Endurance Championship (WEC) programme, which also means that one of the most iconic team in the 24 Hours of Le Mans will be no more.
In yet another show of sportsmanship that's typical in Le Mans, but very rare in other competitive sports, both Porsche and Toyota have made some rather emotional farewell tributes to their former rivals at Audi.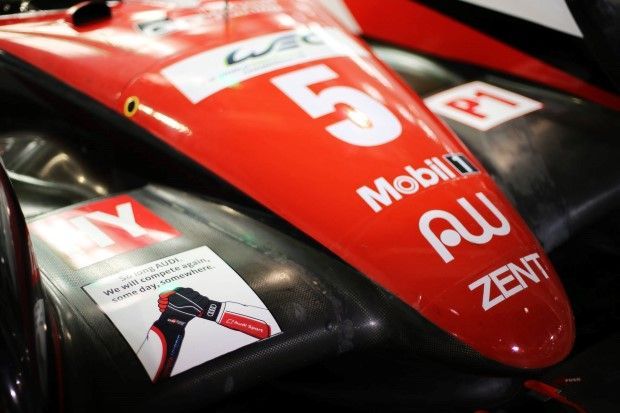 Embattled by the diesel-gate saga, the Volkswagen Group have little appetite to maintain two extremely costly motorsports programme. The board has since decided that Audi will pullout of Le Mans to focus on the electric open-wheel formula cars Formula E series, an extremely boring race series but one which the board feels is better suited for Audi in the post diesel-gate era.
The departure of Audi will mark the end of an era for Le Mans, whose future remains uncertain as without Audi, Le Mans' most competitive LMP1 category will now be reduced to just a two-way battle between Toyota and Porsche.
There will certainly be a lot less drama, and no more tear jerking tributes between the three fiercely competitive but respectful rivals.
Here's a look back at how the 'bro-mance' have developed over the last three years.
It all started in 2013, when Porsche announced that they are making a comeback to the Le Mans 24 Hours – the world's toughest endurance race.
Porsche, which quit Le Mans in 1998 with 16 overall victories, was still the most successful manufacturer in Le Mans' history but Audi was closing in fast and had already chalked up 12 victories by then. A brand like Porsche can't just sit back and watch their sister-brand Audi take away their most cherished bragging rights.
So Porsche's PR army in Stuttgart did what they usually do best and produced a typically inspirational Porsche-style video – rich in heritage, confident in themselves but restrained in pride.
It was all business as usual until their colleagues in Ingolstadt decided to have a bit of fun, and produced a video to taunt their colleagues in Stuttgart. They even included 'easter eggs' like the red Porsche 111 tractor, which only well-read fans of the Porsche brand will recognize.
Porsche's return in 2014 ended on a bad note, as both their LMP1 cars failed to finish the race. Victory was cruelly taken away from them as their car broke down on the 22nd hour. However, the Porsche team's determination, the way they worked to repair their last surviving car so that they can at least drive it out again on the last lap make a ceremonial crossing of the finish line, melted Audi's typically fiercely competitive hearts. The Audi team even stood up and gave the Porsche a standing ovation as the Porsche limped its way out of the pits.
Toyota too put up an equally fierce fight before both their cars crashed out.
After the race, Porsche made an apology of sorts to their fans in the video below, congratulating Audi for the win. The way Porsche handled their defeat, the sort of noble sportsmanship behaviour shown by them spurred Audi to hastily release a tribute to Porsche and Toyota one week later, thanking them for the great competition, it was the start of a three-way bro-mance.
In the following year, Porsche finally clinched the illusive victory. They didn't gloat over their peers, but instead made another typically inspirational Porsche video – expounding the virtues of believing in yourself and staying true to your own believes.
The reversal of fortunes also saw Audi repaying Porsche's gallantry shown to them last year.
For 2016, Porsche won the race but the focus was on Toyota, who lost the lead at the very last few minutes, literally! With three minutes to go, Kazuki Nakajima who was leading the race radioed "I have no power, I have no power." Porsche knew that they didn't win Le Mans 2016, and that they merely capitalized on Toyota's bad luck. To lose Le Mans 24 Hours with just 3 minutes to go is something so cruel that no competitor will wish on their rival. Porsche, and even race organisers at WEC made the following heartfelt tribute to Toyota.
Toyota will certainly return stronger in 2017, but without Audi giving them a fierce competition, victory would not be very meaningful, because history will always ask, "What if Audi was still there?"
---
---
---
Comments