Two-Shift Service Centres, Three Parts Centres To Support Subaru's Growth In Malaysia
Auto News After years of sitting out by the sidelines, Subaru is now one of the fastest growing brands in Malaysia, thanks to strong market response to the locally-assembled Subaru XV. Over the last three years, total sales of Subaru vehicles in Malaysia have more than doubled, from 1,084 units in 2013 to 2,539 units in 2015.
The newly launched Subaru Forester, also assembled at the Tan Chong Motor Assemblies plant in Segambut, is certainly going to boost Subaru's volume even higher. Like the XV, the Segambut-assembled Forester will also be exported to Thailand and Indonesia.
While Subaru is a very well established brand globally, it is a relatively young brand in Malaysia. The lack of competitively priced locally-assembled Subaru models in the past also meant that Motor Image hasn't been very active until now, and as expected, consumers will have their doubts about the after-sales support provided by the little known here Motor Image.
Not many know that the Singapore-based Motor Image has been entrusted by Fuji Heavy Industries, maker of Subaru cars, to distribute Subaru vehicles in 10 countries for 30 years already. Motor Image's biggest markets are in Taiwan, Hong Kong, China, Philippines and Singapore – countries where Motor Image is already a household name. It is also present in Thailand, Vietnam, and Cambodia.
At yesterday's launch of the new 2016 Subaru Forester, we asked Glenn Tan, CEO of Motor Image, on the company's plan to gain consumers' confidence in Motor Image, especially in terms of after-sales support.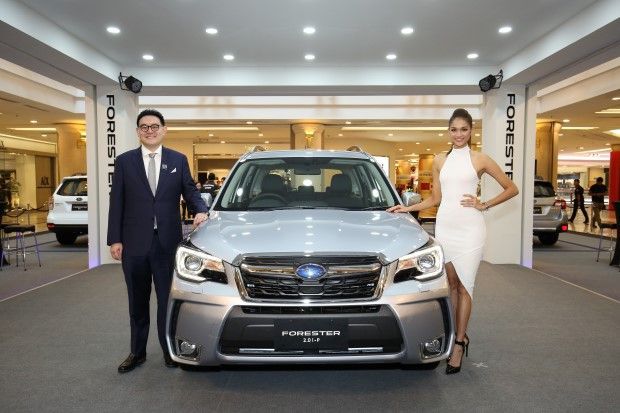 "Right now we are have about 30 outlets in Malaysia, not counting our parts hub here in Kuala Lumpur. We are also going to setup a sub-hub in Johor and Penang. With that, we can serve not only the Klang Valley, but also the Northern and Southern region, apart from working with our dealers in East Malaysia to support their after-sales.
"I don't want customers to just buy a car, I want to also make sure that they are able to conveniently service their car. You are right to say that after-sales is something we need to strengthen, and we are consistently looking ahead. I don't want to say this just for the sake of saying this, but I want to say that every feedback from the customer is looked into, and we will go right down to the service advisors and mechanics," said Glenn.
Glenn also added the Motor Image is looking into implementing a two-shift schedule in its service centres, with work starting from early morning to late-evening.
"We need to ensure that we have enough service capacity. I don't believe that when your car is due for servicing, you need to wait one month for a service slot, so we are trying to make sure that you can get a slot within two days (from the preferred appointment date). You cannot work the mechanics 24 hours, that's not physically possible so we are looking into extending the operating hours with a two-shift arrangement," he said.
Glenn also revealed that he is personally involved in the individual country's customer service operations, saying that he just had a meeting with the Malaysian team at Motor Image the day before to find out what went wrong with a case where a customer was made to wait for a long time to resolve a problem with his car.
"In fact yesterday we had a meeting in the office until 10pm, because I am very concerned that if we launched this car and we don't have enough people to service the car. So I am going to make sure that this doesn't happen. Our technical team from Singapore will be coming here to train the technicians over the next couple of months, and this will continue on an on-going basis, and when the new technicians come in, we are going to train them as well," said Glenn.
---
---
---
Comments