Used Car Review: Perodua Myvi – Still the Undisputed Favourite
Buying Guides It was back in 2005 when the result of the collaboration between Perodua and Daihatsu came in the form of the Perodua Myvi – the car that was going to change the Malaysian automotive landscape forever (or at least a couple of decades).
Currently in its second generation, the Myvi has been the best-selling car in Malaysia since 2006 and has definitely become a part of our daily lives. In fact, it would not be an exaggeration to say that four or five out of 10 cars we see on the roads are Myvis. Even the writer has two units parked at home.
So, how exactly did the Myvi become the best-selling car in Malaysia only a year after making its debut, and how is it that it has effortlessly held on to its throne ever since?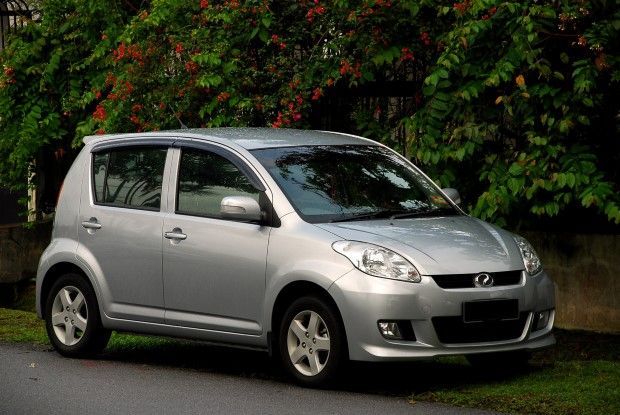 Specifications
Engines:
- 999cc, 3-cylinder, DOHC 12V with DVVT - 58hp, 88Nm (until 2011 only)
- 1,298cc, 4-cylinder, DOHC 16V with DVVT – 91hp, 117Nm
- 1,495cc, 4-cylinder, DOHC 16V with DVVT – 102hp, 136Nm (2011 onwards)
Transmission:
- 5-speed manual
- 4-speed automatic
Safety: 2 airbags, ABS, EBD, Brake Assist (BA), ISOFIX, anti-snatch hook for handbags, seatbelt pre-tensioner - features vary depending on model year and variant
Origin: Locally manufactured at Perodua's plant in Rawang
Overview
The Perodua Myvi, which is basically the Malaysian version of the Daihatsu Sirion, was Perodua's sixth model to be introduced in Malaysia after the Kancil, Rusa, Kembara, Kenari and the Kelisa. Initially offered with a 1.0-litre and 1.3-litre engine, the second-generation model was later introduced with a more powerful 1.5-litre engine kicking out 102hp and 136Nm of maximum torque. The 1.0-litre engine was phased out at the same time.
Although the car has remained the same mechanically since day one, the cosmetics and the list of features have been updated a few times in order to keep up with current trend and also the growing demands of buyers. The only major change between the first and second generation models is the switch from hydraulic to electric power steering.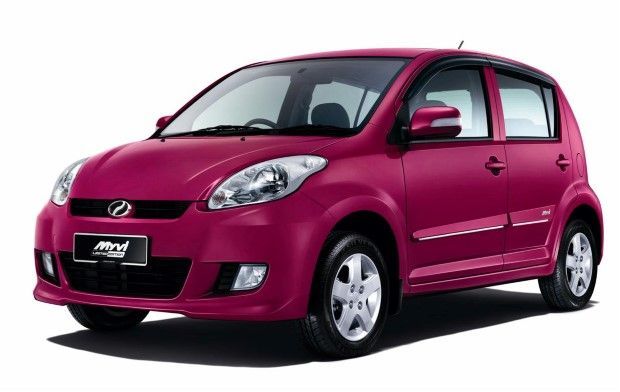 While the first-generation Myvi was made available in six trim levels - 1.0SR (five-speed manual), 1.3SX (five-speed manual), 1.3EZ (four-speed auto), 1.3SXi (five-speed manual), and 1.3EZi "Premium" (four-speed auto), as well as a Special Edition, the updated model unveiled in 2008 came with a fresh front fascia, new rims, as well as an updated cabin, which featured a new dashboard with features like a seat height adjuster, as well as a new audio system with USB and Bluetooth connectivity.
Along the way, Perodua introduced various special trim variants featuring cosmetic updates from the regular models such as new bumpers, clear taillights, smoked headlights, amber instrument panels, leather seats, and upgraded head unit. They were variously known as the 'Special Edition', 'Exclusive Edition', and 'Limited Edition', you name it. The second-generation, meanwhile, featured similarly extravagant variants such as the 1.5 "Extreme" and 1.3 "Elegance" among others.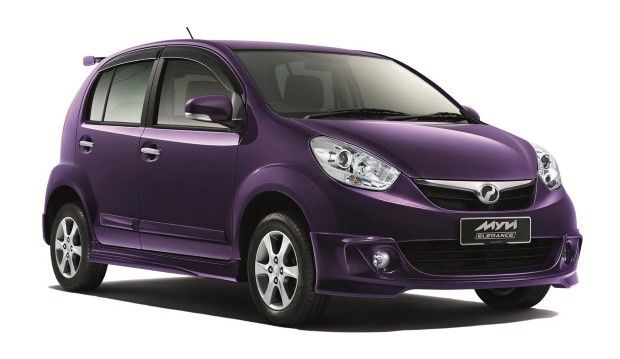 Exterior
For a car that was introduced 10 years ago, the Myvi's design still looks fresh. Besides that, it looks just as good as many of its rivals that came into the picture many years later. For those who wish to stand out from the rest of the crowd, there are literally thousands of accessories and after-market parts that can be fitted on the Myvi to make it look more hip and happening.
Interior
The Myvi's cabin has its ups and downs. What we love about the car's cabin is that how spacious and practical it is. Honestly, to top occupant space and airiness like this, you'd need to move up to a much more expensive D-segment vehicle.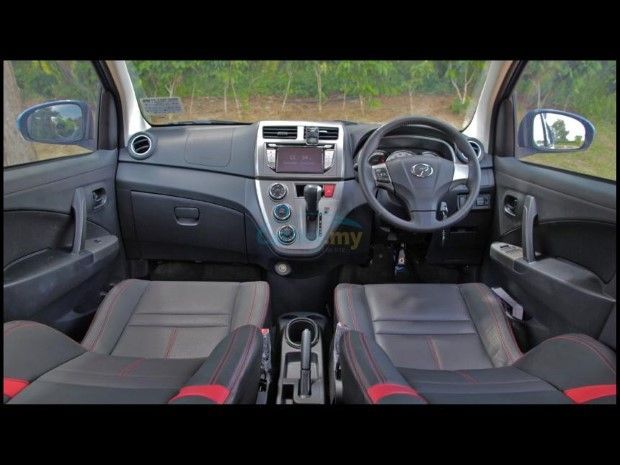 Designed in a similar manner as an MPV, the gear lever that is mounted on the dashboard, the rear seats that fold flat, the generous amount of storage space, and the seats that provide a rather upright sitting position, make the Myvi arguably the most practical car in class.
However, the setback is that there is hard plastic everywhere - because of course it would be at this price. Although there are variants that come with leather seats and steering wheel, it feels a somewhat disconnected experience to have a (comparatively) high quality steering wheel and seats, while having much less premium surface on everything else. Besides that, it is a car that is ideal for both families and those who are single.
How does it drive?
If there is one term that can describe the way the Myvi drives, it has to be 'punchy'. Thanks to the fact that it weighs only 980kg, the 102hp engine can propel the Myvi from standstill to 100km/h in under 10 seconds. Seriously, it takes only 9.8.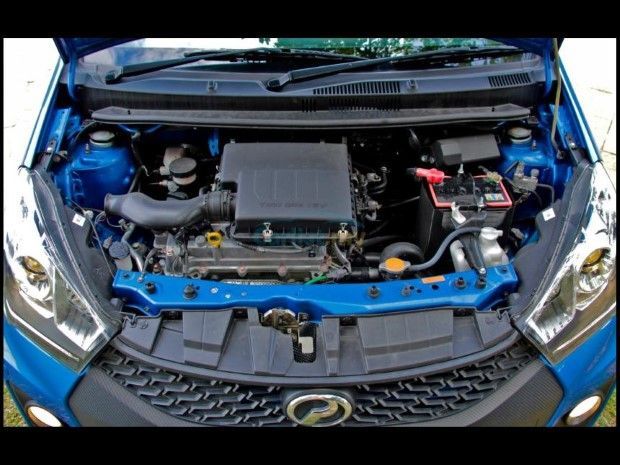 As quick as it is, the Myvi is not a car which you would want to throw around a bend at high speed, as the stock suspensions are tuned more towards comfort. Besides that, the car has a rather high centre of gravity compared to many hatchbacks in the market. It is not like the Myvi cannot tackle corners, but it just lacks composure.
However, many Myvi owners, such as the writer himself who want more grip, have resorted to replacing the stock tyres with slightly thicker rubber.
How comfortable is it?
As we mentioned above, the Myvi's cabin reminds us of an MPV. The seats are designed to provide occupants an upright sitting position, which makes it very easy to get in and out of the car. The upright seats also make the Myvi an ideal car for small sized individuals.
With decent head, leg and shoulder space, the Myvi can easily transport five adults on a long distance journey without having any problems. Regardless of whether you're a male, female, young, old, small, or big, the Myvi offers great level of comfort and we are sure that many Malaysians would agree.
Maintenance
One of the Myvi's biggest strengths is that it has proven itself to be a very reliable car over the past decade. Come to think of it, how often do you hear about Myvis breaking down? Yes, the first-gen model did have a few known issues such as the juddering brakes, erratic idling after shifting from 'D' to 'R', and the attack of the petrol smell in the cabin due to the poor sealant around the fuel filler neck, but Perodua has managed to solve most of them by the time the Myvi was facelifted. Today, it is safe to say that the Myvi is largely problem free, unless the owner asks for it.
In case you're wondering how much it would cost to service the Myvi, Perodua has calculated the servicing and maintenance costs for the Myvi done at their authorised service centres, and for the first 100,000km, the owner only has to fork out roughly RM2,722, making it an ideal choice for first-time car owners not wanting to be caught out of luck and cash when it comes time for required servicing. The service interval breakdown is as follows:
20,000km - RM353
30,000km - RM182
40,000km - RM484
50,000km - RM150
60,000km - RM384
70,000km - RM150
80,000km - RM484
90,000km - RM182
100,000km - RM353
From the Used Car Lot
There are around 3,860 Perodua Myvis currently listed on Carlist.my, with asking prices ranging from RM11,000 to RM62,000. Even if you limit your budget to just RM20,000, there are no shortage of choices.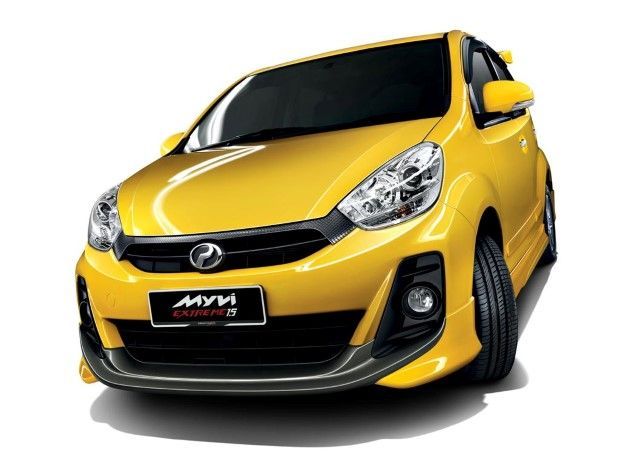 We recommend going for later year models if possible, as they are known to be problem free. Models made after January 2012 also benefitted from better safety structure, with a body that complies with UN R94 and R95 regulations for frontal and side impact protection. The Myvi's 4-star rating by ASEAN NCAP only applies on models made in 2012 or later.
Our pick of the lot is of course, the facelifted 1.5 SE, simply because what it offers for its asking price is a great bargain. A 2012 model can be had for slightly below RM40,000, the car offers a DVD player with touch screen, GPS, MP3, USB, and Bluetooth connectivity. And then, there are the signal lamps mounted on the wing-mirrors, auto folding side mirrors, reverse sensors, and of course, a spoiler.
Avoid going for modified ones, especially those with extremely large wheels as the car's bushing, driveshaft, and suspension mounts will wear-out quick. In addition, potential buyers must also make it a point to lookout for accident-related damages, and ensure that the chassis is in prime condition. Do remember to flip the floor mat and check for damp spots on the carpet – which is a sign of flood damage. If you feel that you will not be able to do all of the above, you can always bring your mechanic to the dealers and get them to examine the car.
With a car like the Myvi, there are plenty of options on the used car market, so there is no such thing as a deal that's too good to walk away. If for whatever reasons you are doubtful of the vehicle's history or the dealer, turn around and walk away go to the next dealer.
---
---
---
Comments