Volkswagen's GTI Supersport Goes Live On Gran Turismo 6
Insights Rejoice, gamers. After lots of teasers and patience, an update to the popular PlayStation game Gran Turismo 6 went live recently and, most notably, sees the addition of the second offering from Volkswagen to the Vision Gran Turismo series of exclusive in-game cars following the last year's GTI Roadster. Here is the GTI Supersport.
This car (well, a digital vision for what an extreme version of a GTI could look and drive like) takes the quick but relatively tame hatchback and does some weird and wonderful things to it. It's much more menacing front end, flattened profile and broader stance puts us more in mind of a supercar or futuristic racer than anything else. It takes a lot of cues from the GTI Roadster (pictured below) that VW put into the game last year, but turns everything up a notch, distancing it further from its aforementioned forerunner in the best way possible.
The pronounced side sills and roof-mounted air intakes could point to this GTI Supersport having a mid-engine layout but it's unclear whether it uses the same 3.0-lite VR6 TSI that pumps out 503 hp and 666 Nm of torque as the GTI Roadster. Our guess is that it retains the 4Motion all-wheel drive system, however.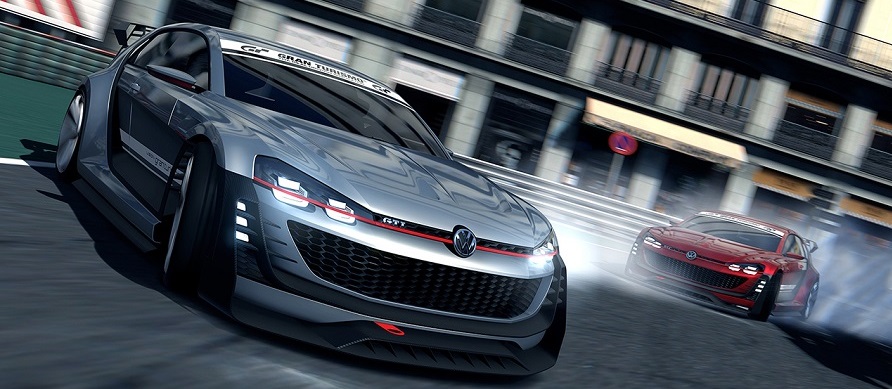 According to Playstation's Europe Blog, the GTI Supersport will be able to join its open-top cousin on the virtual racetrack. Once the update (version 1.18) has been installed, both cars can be purchased from the Vision GT option in the CARS section of the in-game menu. Either that or players can obtain the car by completing a lap in the new Seasonal Event race option that is available only for a limited time.
Don't have the game? We can't do much to help you out there, but do enjoy a video that VW released earlier about its additions to the Vision GT series of Gran Turismo 6. There's a good chance we'll be able to see a real life example during the annual GTI Treffen show held at Wörthersee, Germany between May 13th and 16th.
---
---
Comments