"We Start With Sculptures" – How Mazda Makes Beautiful Cars
Live Life Drive Most of the time when it comes to designing a new car, one starts by cracking out the pencils, draw out its shape, fill in its form, add in the details, and then move onto making a scale model. For Mazda though, that order of business goes a little differently.
While Mazda's designers do start out with pencils and paper, it isn't for drawing a car. Not yet. Instead their designers start out with sketching sculptures. Fleshing out its shape and curves, taking cues from forms of nature, which in the case of Mazda, is the form of a cheetah in motion. In fact Atsuhiro Takahashi, manager of Mazda's advance design studio, says they have an artist whose role is just dedicated to the task of imagining and sketching out sculptures and forms.
"The cheetah is a symbol of beauty when it moves, we aim to express this in our cars," - Takahashi.
"To us the cheetah is a symbol of beauty when it moves, and we aim to express this beauty in our cars," explains Takahashi. "The stable axis of the cheetah when it is in motion, the rear traction derived from its entire body, its very body in motion is a beautiful sequence to which we try to translate it to the form of a car."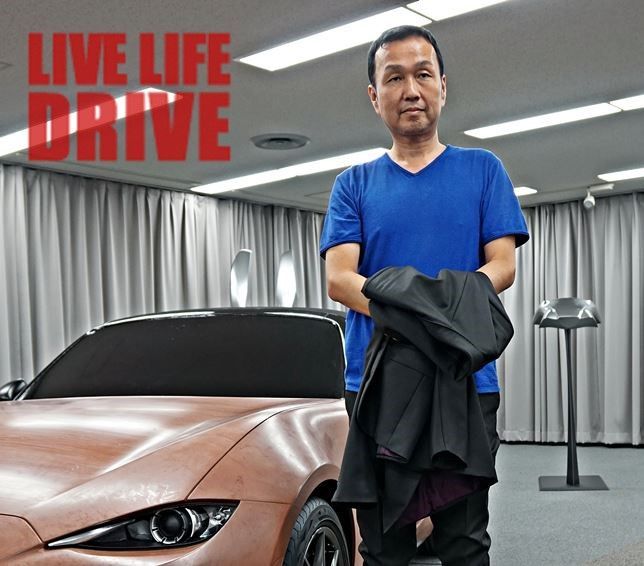 From those sketches highly skilled craftsmen, Mazda identifies with the Japanese term "Takumi", get to work in producing shapely sculptures using a specially developed automotive clay. Unlike the usual industry-standard automotive clay, Takahashi says the clay they use was developed in cooperation with their clay suppliers. Though pliable and soft when wet, the clay hardens to a state that is harder than standard automotive clay when dry, which gives the sculpture a more substantial "metal-like" feel when completed.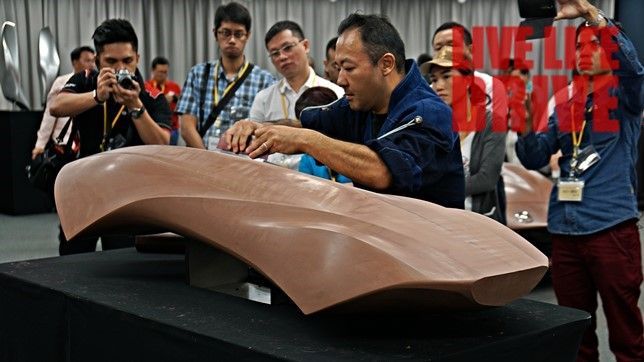 Like any sculpture their shapes are mostly abstract in nature, and requires a certain appreciation in the arts to fully comprehend, as it is the case with two standing sculptures located in their studio, which Mazda describes as representing "male" and "female" form.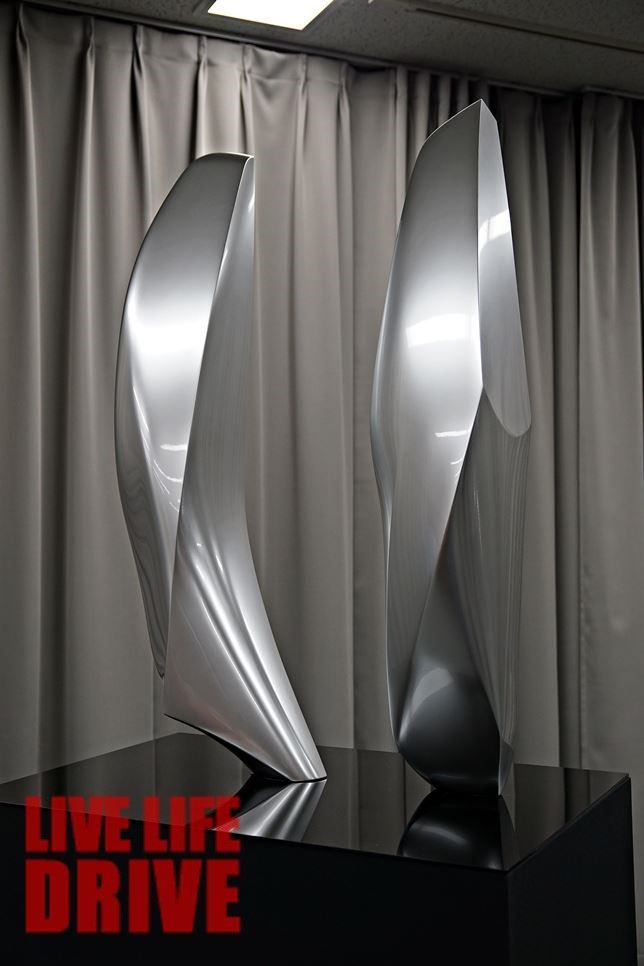 "Many industry observers say our modellers are the best in the world," Takahashi proudly addresses, as he shows us other non-car related works his team was responsible for, such as a chair, sofa, and bicycle, which were displayed at the 2013 and 2015 Milan Design Week.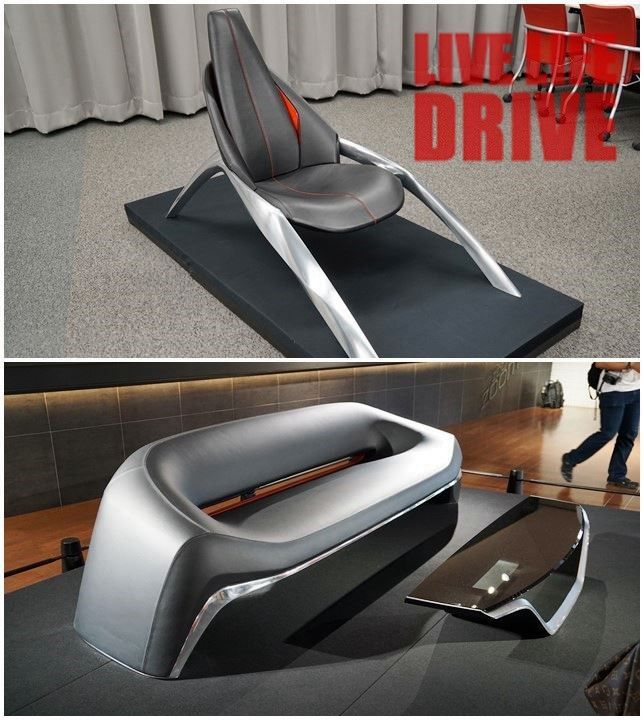 Once a sculpture is complete, only then would Mazda's work on the form of their next car start, with designers seeking to incorporate elements of these sculptural art pieces into the shape of their next model. As an example, Takahashi directed our attention to a sleek sculpture mounted next to the life-sized clay model of the MX-5 in their Advance Design Studio in Hiroshima.
Looking at the sculpture with the full size MX-5's clay model, the inspiration behind the taut shape of the MX-5 is plain to see.
Inspired by the upper body form of a sprinting savannah predator in motion, one can almost pick out the shape of the creature's front muscles stretched out to reach for traction, rear haunches pushed out like a spring-loaded mechanism as its hind legs thrust off the ground in hot pursuit of its prey. Looking at the sculpture with the full size MX-5's clay model in the background, the inspiration behind the taut shape of the MX-5's side panels are plain to see. The MX-5 is almost a direct representation of that sculpture, only with wheels, a roof, and headlights.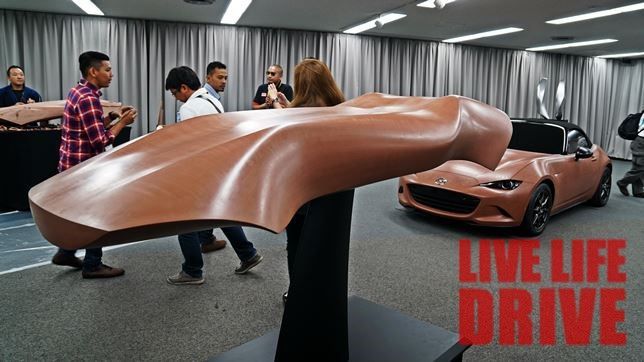 It isn't just the MX-5 which owes its shape to this rather convention defying design process. Takahashi says that those complex forms and curves you see on Mazda's new-generation models, the 2, 3, 6, CX-3, and CX-5, owe their sensuous shape to this design methodology. The creases and curves between the bonnet line and the curvaceous front wheel arches of the Mazda 6 is one example of how such sculptural arts contribute to the car's final production form.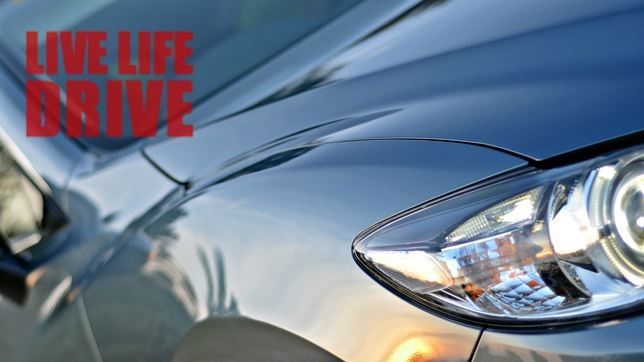 "That is the vision of our KODO design language," says Takahashi. "That cars should be a living art. Since the development of the 2010 Shinari concept, we sought to breathe life into form with our cars."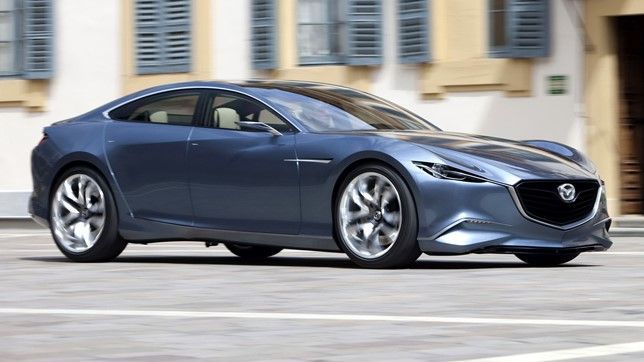 Bringing Art to Reality and the Realisation of 'Soul Red'
Making a full-production car... was made possible through Mazda's 'Monotsukuri' innovation, a unique integrated planning process
Shaping a sculpture is one thing, making a full-production car out of that sculpture is another challenge all together. Takahashi says that this was made possible with Mazda's 'Monotsukuri' innovation which fostered a unique integrated planning process that allowed engineers and designers to work together and come up with solutions to realise Mazda's vision of a design-led revolution.
In this case Mazda's engineers worked closely with designers by using computer simulations and design data to study the feasibility in bringing their design to production, and recommending any modifications to the original design.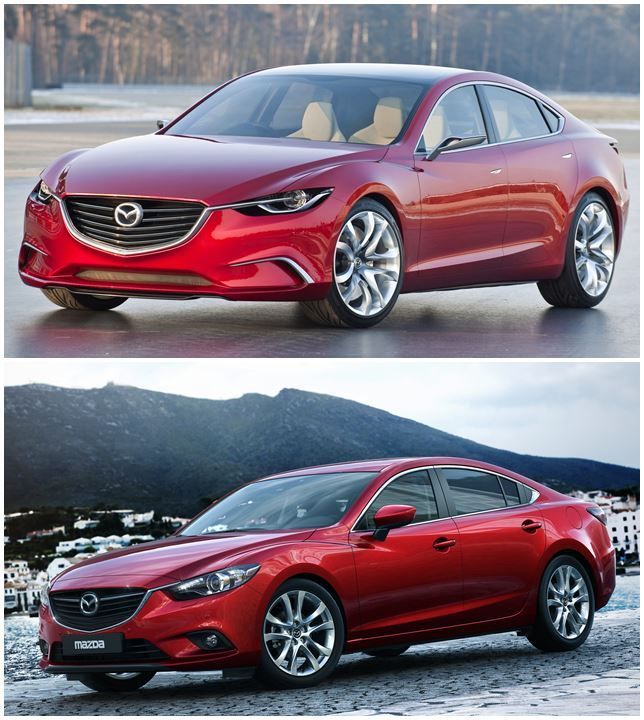 One of the success stories behind this engineering and design cooperation is seen in the realisation of Mazda's iconic 'Soul Red' premium metallic colour. That captivating shade of metallic red that has become Mazda's unmistakable communication colour for their model range, its deep and intense hue which was first seen on the Minagi and Takeri concept cars was the result of 13 layers of paint. However when Mazda's designers wanted to bring 'Soul Red' to the production 6, the layer count had to come down.
From 13 layers, Mazda's engineers manage to come up with a solution involving just three layers of paint
Takahashi says the design team was insistent in replicating the concept car's hand painted colours with the same vividness and depth. Any engineering team would have dismissed the design team for being unrealistic dreamers, but through 'Monotsukuri' Mazda's engineers took up the challenge to replicate the 'Soul Red' shade in production. Eventually their engineers did manage to come up with a solution involving just three layers of paint, which in itself, took two years to develop and bring to production reality.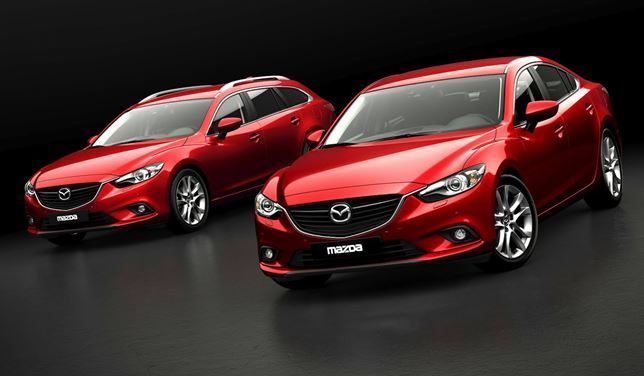 But like Mazda's KODO – Soul of Motion design language, the realisation of 'Soul Red' was well worth the effort, which has improved Mazda's brand image around the world. According to a magazine poll conducted in Germany, Mazda's styling has been ranked amongst the top ten, and is considered to be the best amongst the non-premium brands. A fitting testament to Mazda's rather unconventional design philosophy, which Takahashi perfectly summarises - "our cars aren't designed as an industrial design product, but as a pursuit of art."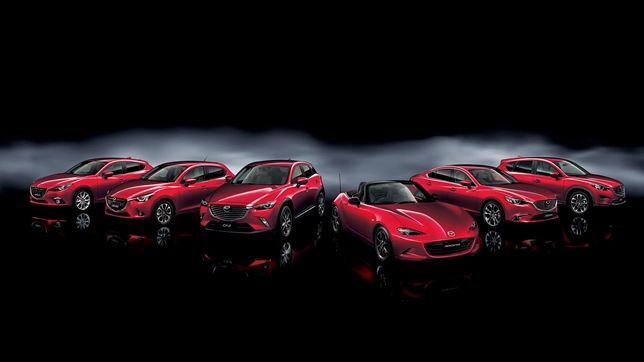 ---
---
---
Comments