Works Engineering Umum Bakal Keluarkan Komponen Prestasi Untuk Proton X50
Auto News Works Engineering telah mengumumkan berita gembira kepada pemilik serta peminat Proton X50 dengan mengumumkan bahawa mereka kini akan menghasilkan komponen serta produk prestasi yang boleh digunakan pada SUV popular keluaran Proton itu.
---
Ini bukanlah kali pertama pembuat peralatan prestasi ini menghasilkan peralatan prestasi untuk kereta keluaran Proton. Pada tahun 2011, Works Engineering telah menggunakan Satria Neo serta Preve sebagai kereta projek mereka dan telah melancarkan pelbagai komponen prestasi seperti seperti pulley aci sesondol boleh laras, kit induksi, dan lain-lain untuk enjin S4P Proton dalam versi Campro dan CFE.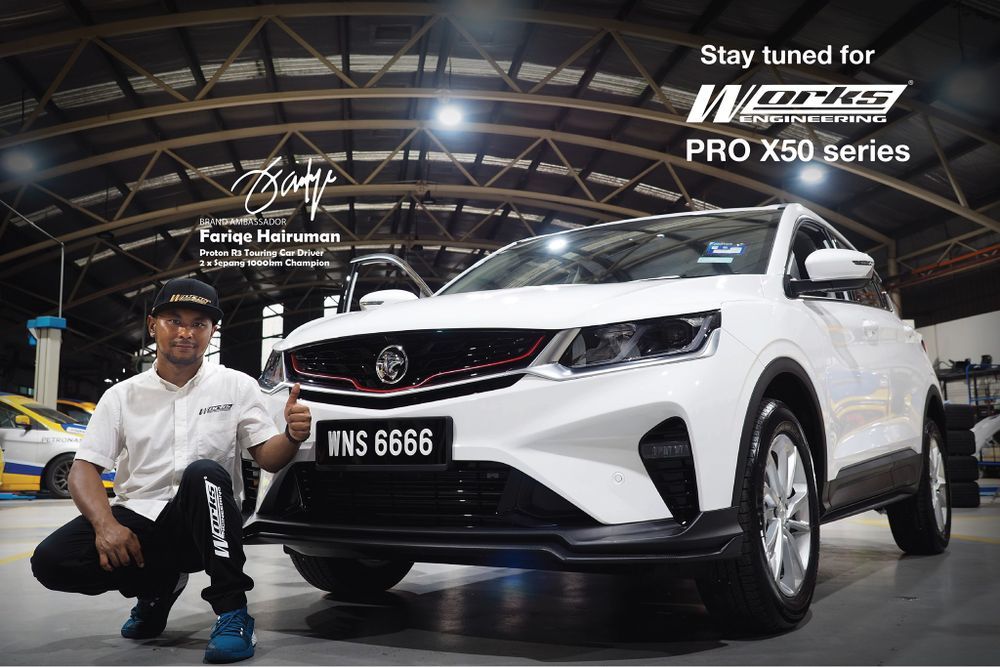 *Kredit foto: Facebook Works Engineering
Berdasarkan sebuah hantaran di akaun Facebook Works Engineering, mereka telah melantik pemandu utama Proton R3, Fariqe Hairuman yang juga merupakan juara S1K selama dua tahun berturut-turut – 2018 dan 2019. Menerusi gambar yang disiarkan, kereta yang bakal ditala sebagai kereta projek mereka merupakan Proton X50 varian Executive.

Seperti yang anda tahu, Proton X50 varian Standard, Premium dan Executive memberikan output kuasa yang lebih rendah berbanding varian tertinggi Flagship. Meskipun hadir dengan enjin turbo 3 silinder berkapasiti 1.5L yang sama, namun 3 varian selain Flagship itu hanya dipadankan dengan sistem suntikan bahan api pelbagai titik (MPI) yang menghasilkan kuasa 150 PS dan tork maksima 226 Nm. Bagi model Flagship pula, enjin berkenaan menerima sistem suntikan bahan api terus (GDI) yang menghasilkan output 177 PS dan 255 Nm Tork. Tak tahu nak beli varian mana? Lihat perbezaannya di sini.
Walau bagaimanapun, jenis komponen serta produk yang bakal dihasilkan bagi model X50 ini masih belum didedahkan buat masa ini. Namun jika Works Engineering menawarkan peluang untuk menutup jurang perbezaan output kuasa antara varian tertinggi dan varian bawahan, ianya memang sesuatu yang menggoda, terutama bagi pemilik varian Standard, Premium serta Executive. Bagi mereka yang hidup berpaksikan kelajuan, inilah peluang anda untuk menyinar!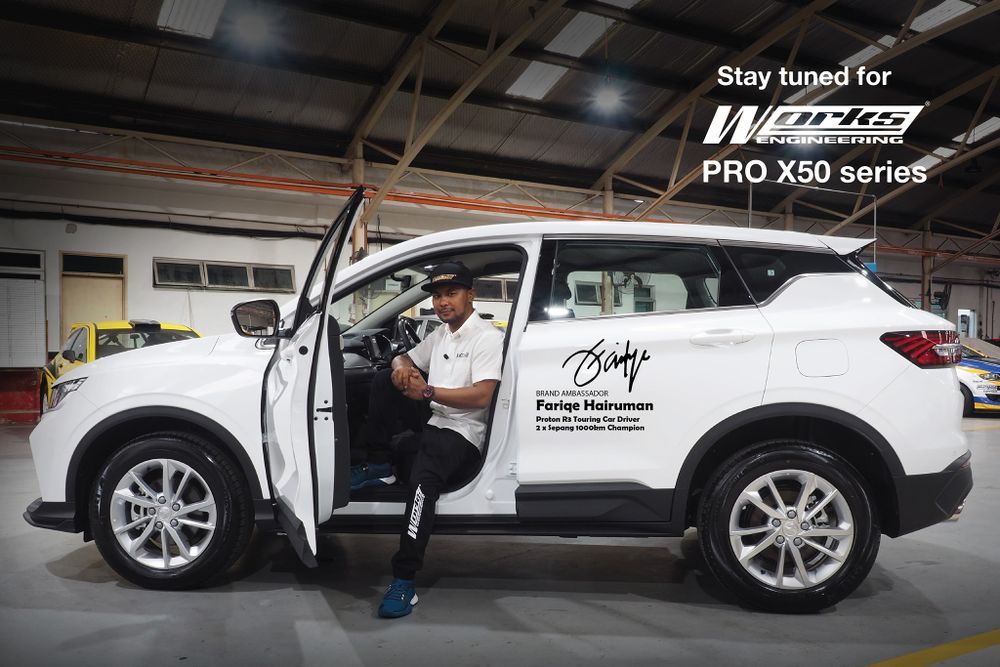 *Kredit foto: Facebook Works Engineering
Menurut Works Engineering, mereka teruja untuk melantik Fariqe sebagai duta kerana beliau mempunyai pemikiran serta matlamat yang sama yang mampu membawa pasukan ke tahap yang lebih tinggi sekaligus menawarkan produk yang berkualiti tinggi, luar biasa serta memberikan pengalaman pemanduan yang lebih baik kepada pengguna dalam pasaran.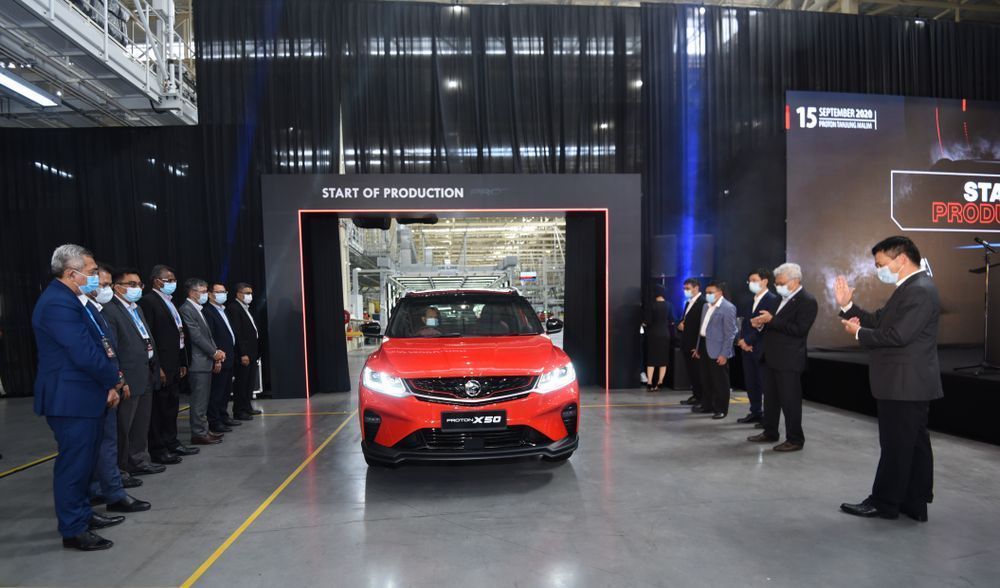 Dengan pelantikan pelumba Proton R3 itu, adakah Works Engineering akan mengeluarkan custom body kit untuk Proton X50 kelak? Perkara tersebut bukanlah mustahil, lihat sahaja pada sambutan luar biasa yang diterima oleh Proton X50 sewaktu pelancarannya. Malah, ada yang masih sanggup nak beli walaupun kena tunggu berbulan-bulan untuk mendapatkan kereta. Ini menunjukkan bahawa SUV keluaran Proton ini mempunyai pasarannya yang tersendiri. Kalau ada kit badan yang dibuat khas untuk X50, pasti ianya bakal mendapat sambutan yang hangat daripada komuniti X50 sendiri.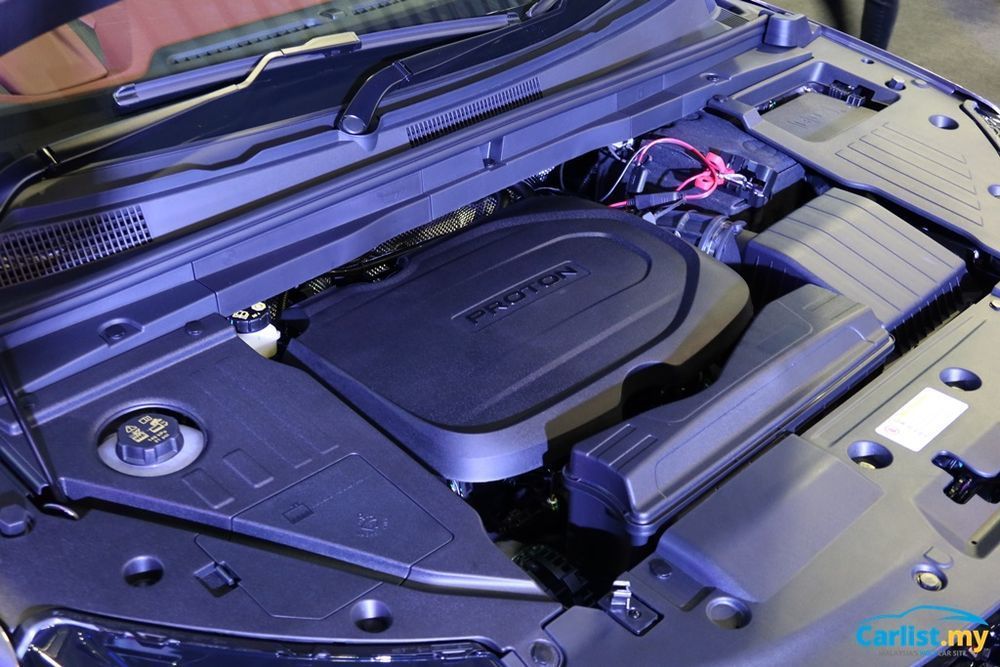 Silap silap, dengan forced induction, Works Engineering mampu hasilkan output kuasa yang lebih tinggi pada varian Executive berbanding varian Flagship keluaran kilang. Persoalannya, adakah anda cukup berani untuk batalkan waranti kilang anda dengan melakukan talaan pada enjin anda?



For more latest car news, reviews, car buying guides and videos visit us at Carlist.my Auto News.
Check out all the best new & used car deals in Malaysia at Carlist.my.
Sell your car fast with the best offer? Visit us at CarlistBid.my.
Get the latest new car promotions at New Car website now.
---
---
---
---
Comments