2017 All-New Volkswagen Passat (B8) Launched In Malaysia – From RM160k
购买指南 The start of a new beginning for embattled Volkswagen brand, the all-new B8 generation Volkswagen Passat has finally been launched in Malaysia with a starting price of RM159,990. There are three variants – Comfortline, Trendline and Highline - and two engine options – 1.8 TSI and 2.0 TSI - to choose from.
As before, the B8 Passat model is locally-assembled at the DRB-Hicom plant in Pekan, Pahang.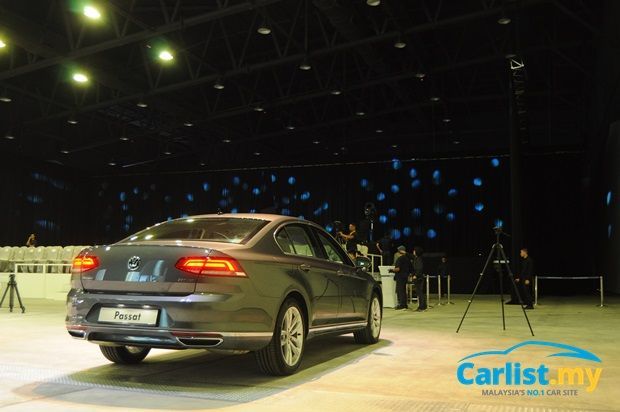 Early impressions of the all-new Passat is very positive, especially the 2.0 TSI Highline model, which is literally a GTI sedan as it shares the same 220 PS, 350 Nm engine as the Golf GTI, complete with the GTI's Dynamics Chassis Control adaptive suspension and the brake-based XDS electronic front differential, which for better or for worse, allows mediocre drivers to accelerate out of corners a lot of faster than their average driving skills would've allowed them to.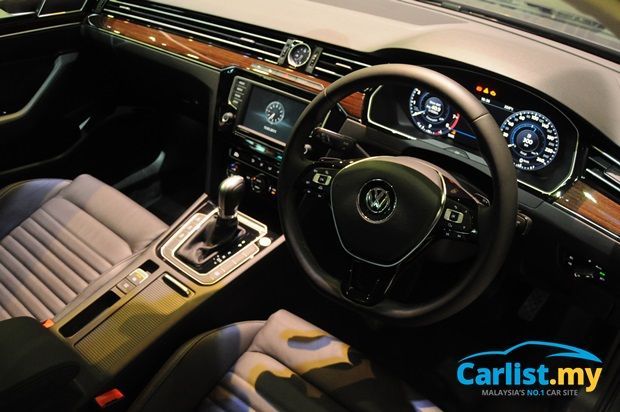 The interior is plush enough to rival a Mercedes-Benz C-Class or an Audi A4, nevermind the BMW 3 Series, plus the Passat offers more interior space than the trio of German premium small sedans.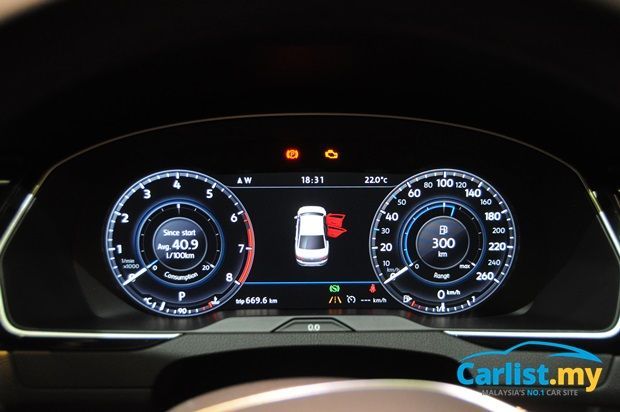 In fact, the B8 Passat uses the same Virtual Cockpit as the Audi A4, only that Volkswagen calls it Active Info Display, and doesn't charge you any extra for it. In the Audi, you have to pay circa RM25,000 for the Technology Package to have it, but the package also buys you Matrix LED headlamps.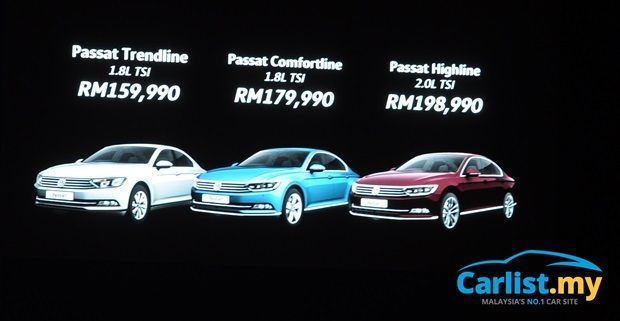 How much is it?
1.8 TSI Trendline – RM159,990
1.8 TSI Comfortline – RM179,990
2.0 TSI Highline – RM198,990
Prices quoted are on-the-road without insurance.
Engine and transmission
Both four-cylinder engines are developed from the EA888 engine family. Despite using the same 1.8 TSI label as the previous generation Passat, the 1.8-litre turbocharged engine is not carried over from the previous Passat.
Instead, it's a new engine and now features variable valve lift and dual (direct & port) fuel injection. It now pushes out 180 PS (5,100 – 6,200 rpm) and 250 Nm (1,250 – 5,000 rpm). That's 20 PS more than the B7 Passat. Drive is transferred to the front wheels via a new DQ200 (version 5) 7-speed dry-type dual clutch automatic transmission.
The more powerful 2.0 TSI model shares the same drivetrain with the Golf GTI. Apart from some retuning to fit the Passat's more business character, the B8 Passat pushes out the same 220 PS (5,600 – 6,500 rpm) and 350 Nm (1,700 – 5,600 rpm). Like the Golf GTI, drive is transferred to the front wheels via a DQ250 6-speed wet-type dual clutch automatic transmission, tempered by Dynamic Chassis Control and a similar XDS electronic differential lock (Golf GTI uses XDS+).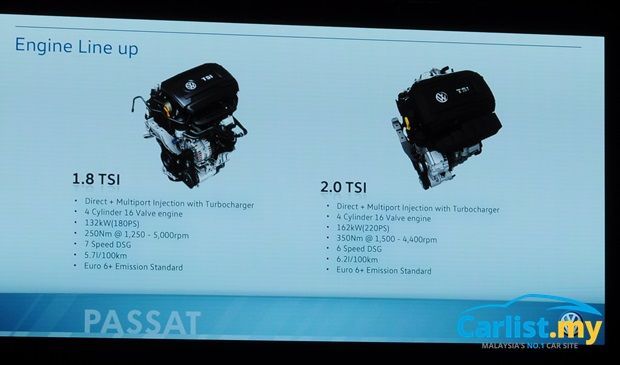 Like many cars these days, the B8 Passat has an engine idle start-stop function and regenerative braking to improve fuel economy and reduce emissions.
The 1.8 TSI variant will wear the 280 TSI badge on the boot lid while the 2.0 TSI variants will wear 380 TSI. The numbers represent the individual variant's position within the Passat family's model hierarchy, and has little relation to their actual torque output. You can understand it in the same way BMW's 318i, 320i, and 330i badging has little relation with the car's engine capacity, but the numbers merely shows which is the more expensive model.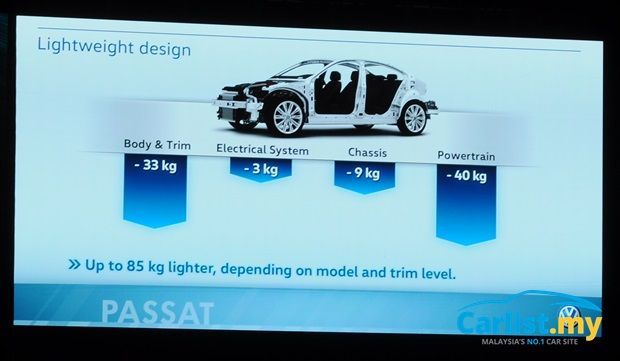 All-new platform
Like the Golf Mk7, the B8 Passat is built on an all-new MQB platform. Depending on variant, the all-new Passat is up to 85 kg lighter. Despite appearing to be longer and wider than the previous Passat, the all-new Passat is actually slightly smaller on the outside, but a lot more spacious inside, thanks to the more space-efficient MQB platform.
Next year will also see the introduction of the all-new MQB platform Volkswagen Tiguan, also to be locally-assembled in Pekan.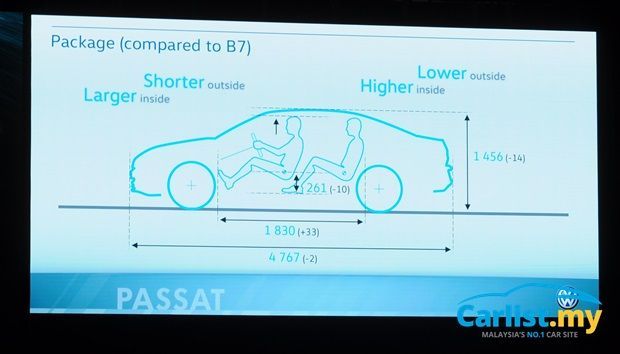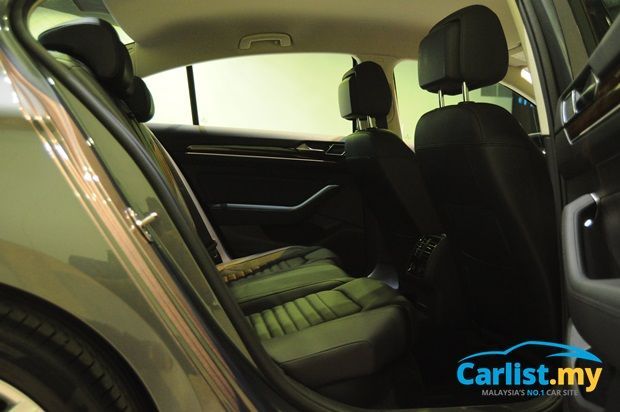 Here's what you are getting for that money
The base-model 1.8 TSI Trendline gets you the following standard features:
16-inch alloy wheels
Dual-barrel single exhaust
Halogen reflector-type headlamps with halogen Daytime Running Lights
Front and rear fog lamps
Fabric seats with manual adjusting front seats
Brushed metal interior trimmings
Three-zone automatic air-conditioning
Engine push-start button (but no keyless entry)
5-inch touchscreen infotainment system
Front and rear parking sensors
Leather wrapped steering wheel
Steering-mounted infotaiment control buttons
Moving one level up, the mid-range 1.8 TSI Comfortline adds the following features:
17-inch alloy wheels
LED headlights with LED Daytime Running Lights
Leather seats with 12-way power-adjusting front seats and driver's seat memory position
Keyless entry
Handsfree boot opening function
6.5-inch touchscreen infotainment system with reverse camera
Paddle shifters
Park Assist 3.0 (perpendicular and parallel parking)
The most expensive 2.0 TSI Highline model adds the following:
18-inch alloy wheels
12.3-inch fully digital Active Info Display instrument panel
Wood interior trimmings
6.5-inch touchscreen infotainment system with GPS navigation and MirrorLink
Interior ambient lighting
Lane Assist
Automatic post-collision braking (prevents secondary collisions by holding the brakes after a crash)
Adaptive Chassis Control suspension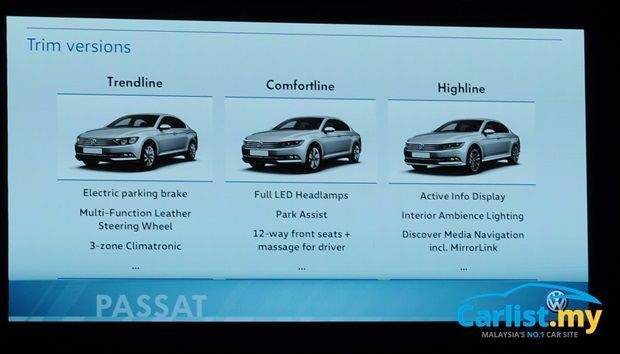 Standard safety features across the Passat range include six airbags, anti-lock brakes (ABS), brake assist (BA), stability control (ESC), ISOFIX, hill start assist and a post-crash system that unlocks all doors and activates hazard lights (ICRS)
As with all Volkswagen models sold by the new distributor Volkswagen Passenger Cars Malaysia (now managed by the Austria-based dealer group Porsche Holding Salzburg – not to be confused with Porsche AG, which makes Porsche cars), the all-new Passat will be covered by a 5-year/unlimited mileage manufacturer-back warranty and 5-year roadside assistance.
5 Years Free Service
On top of the existing five-year/unlimited mileage warranty, the all-new Passat comes with a five years of free service.
In case you are wondering, no the free service offer will not be rolled out to other Volkswagen models.
Measuring up against competition
On paper, the Passat is a D-segment sedan and thus it should be evaluated against traditional business sedan favourites like the Honda Accord, Toyota Camry, Nissan Teana, Mazda 6, and even the Hyundai Sonata.
Having briefly sampled the car in Langkawi earlier this month, we think that the Passat's combination of performance, refinement and luxury makes it a worthy alternative to the Mercedes-Benz C-Class, BMW 3 Series and Audi A4.
Its well-appointed interior and lengthy list of equipment certainly matches what the German premium brand offers, and it's a lot more spacious too, and comes at a cheaper price.
The only reason the Passat didn't make it as a finalist to the ASEAN Car of the Year is only because the nominations have been closed.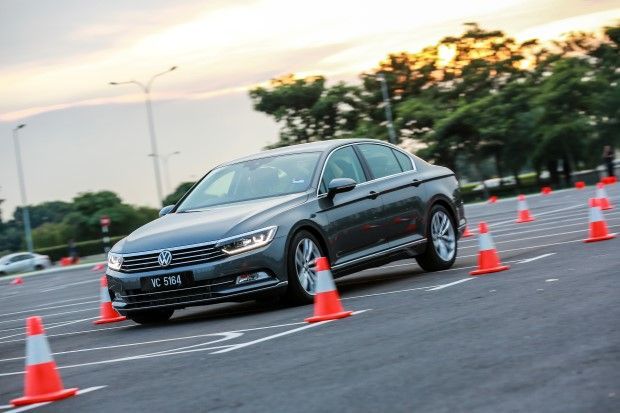 Reliability?
As a result of the massive snafus by Volkswagen Group Malaysia in the few years prior, no discussion on any Volkswagen product is complete without touching on Volkswagen's questionable reliability and poor after-sales.
While the saga with the 7-speed DSG transmission and blown pistons should be consigned to history, it is understandable that lingering sentiments will continue to cast doubts among consumers but launching an all-new model is a good step forward in burying the past behind.
Volkswagen has also told us that the local team had spent 18 months testing the B8 Passat on our local roads, with some of the development cars clocking over 200,000 km already with zero breakdowns.
While we are confident the new product is more reliable than before, we are not too sure about the brand's after-sales processes yet. Realistically, you can't expect to have the same 10-year fuss-free ownership experience as you've probably had with your last Honda or Toyota or Nissan, but likewise with the driving experience, you can't expect your Honda, Toyota or Nissan to drive as well as the Volkswagen.
Which is why we believe that the Passat is better positioned towards buyers who already have the financial capacity to maintain premium German cars like a C-Class or a 3 Series or an A4, people who are seeking for superior cabin refinement and driving performance but aren't quite willing to compromise on cabin space or cross the RM200k mark.
As an added assurance, the new management of Volkswagen Passenger Cars Malaysia have also assured customers that the days of throwing five-figure discounts are over. The company has no intention of setting lofty sales targets. Instead, it will focus on high specifications cars like the Passat, and expects to sell no more 10,000 cars per year.
Read also:
---
---
---
留言