2017 TIV- 576.6k, maintain 590k target for 2018
所有资讯 With the release of the December 2017 new vehicle sales results from Malaysian Automotive Association (MAA), we can now tabulate the total industry volume (TIV) for 2017.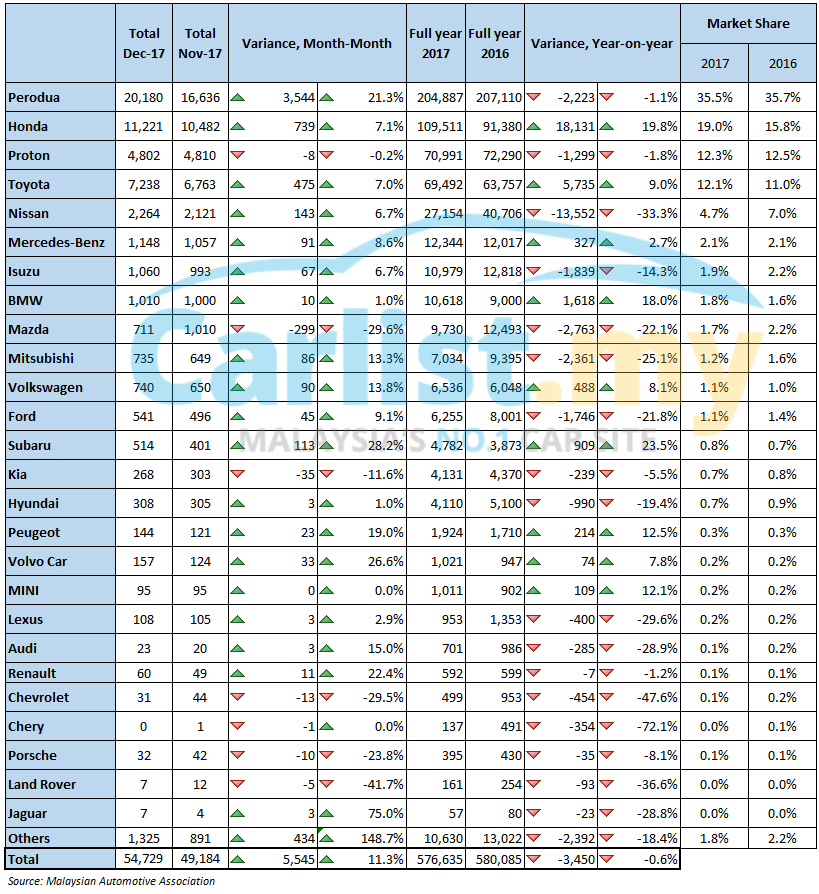 Although December 2017 ended strongly, in fact, the strongest month for 2017 at 54,729 units, it is not sufficient to close the year at MAA projection of 590,000 units.
MAA, whilst announcing the 2017 results, also provided a forecast for the 2018 TIV. The association maintains the 590,000 units for 2018, which is also the same forecast for 2017, citing a modest 2.3% increase versus 2017's closing of 576,635 units.
Highlights for 2017:
We will focus on brands that did not separately announce their 2017 performance (Perodua, Proton, Honda, Mercedes-Benz, BMW Group, and Volkswagen all had their respective briefings earlier).

We begin with Toyota. 2017 has been a better year for them, as they see an increase in sales of 9.0% to end the year with 69,492 units. Based on the MAA vehicle type breakdown, the increase is contributed by SUVs (Toyota Fortuner) and MPVs (Toyota Innova and Toyota Sienta). The growth in the pick-up (Hilux) sales is only minimal. With a big range of new models slated for launch in 2018, Toyota could see a better 2018.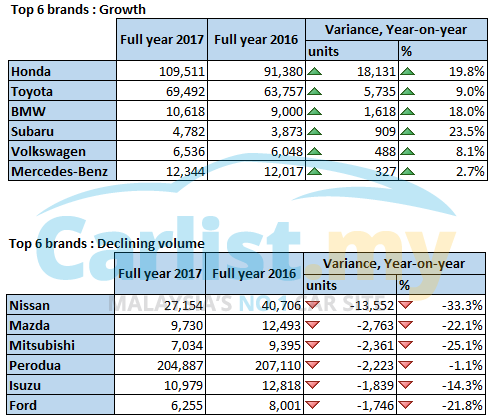 With a lack of new models, Nissan closed the year with just 27,154 units. This is a massive 33.3% reduction versus 2016, when at that year, the company was enjoying the success of the new X-Trail and Navara NP300 sales. The largest contributor to the brand's decline is the passenger car range, which is no surprise as the Sylphy and Teana have not been well received by the consumers.
Other brands having a decline in 2017 include Mazda, Mitsubishi and Ford. Mazda's decline can be attributed by the sales transition of the old CX-5 to the new CX-5 model, with production and deliveries of the new generation only started in October 2017.
Meanwhile, Mitsubishi's entire range of models experience a decline, as the product coverage is not diverse and aging effect of the core models (ASX).
Ford also experienced a decline in their popular Ranger sales and no replacement yet for the old Thailand-sourced Ford Fiesta.

While many brands experienced decline, Subaru managed to register a strong growth for 2017, posting sales of 4,782 units. The brand which basically offers all-wheel drive drivetrains paired to a naturally aspirated 2.0-litre engine enjoyed a growth of 909 units, which is the fourth largest growth (units) after Honda, Toyota and BMW.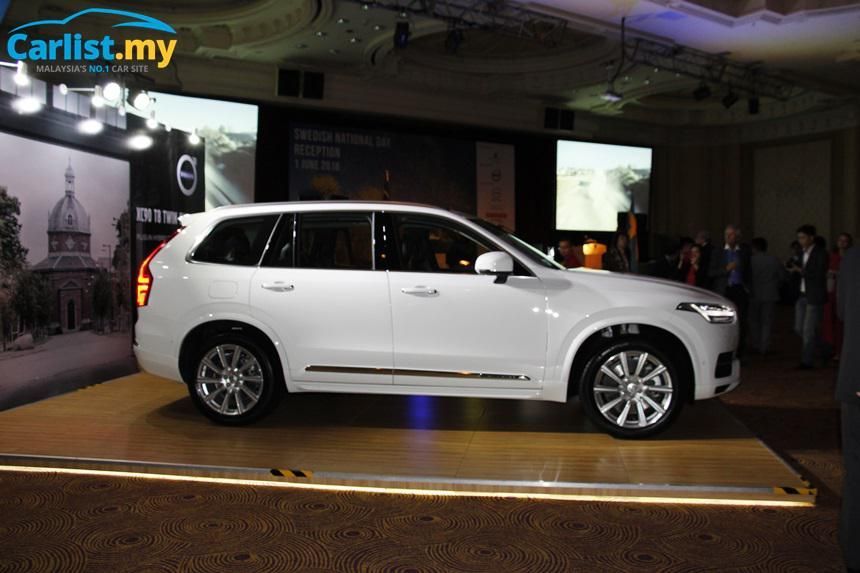 With class topping performance from their 407 horsepower T8 plug-in hybrid engine at attractive prices, Volvo is also realizing their benefits of this powertrain strategy. Volvo breached a thousand units to record a sales of 1,021 units, making them number three in the premium market after Mercedes-Benz and BMW, and just ahead of MINI. Lexus managed to get ahead of Audi, with the Japanese brand reporting 953 units versus 701 units from the emblem with four rings.
---
---
---
---
留言