All Electric Vehicles Officially On Sale In Malaysia (2022)
电动车 EV We compile a list of all-electric vehicles (BEVs) currently available and officially on sale in Malaysia for 2022.
---
Since the tabling of the 2022 budget, where it was revealed that the Malaysian government would be giving both buyers and car brands a massive incentive to purchase and sell fully electric vehicles, it's no surprise that there has been a sudden surge of EV models landing on our shores.
As a quick refresh, in 2021, when it was still uncertain whether the government would pull through on its EV incentive promises, Malaysia officially had six EVs from various manufacturers, including BMW, Porsche, MINI, Nissan and Hyundai.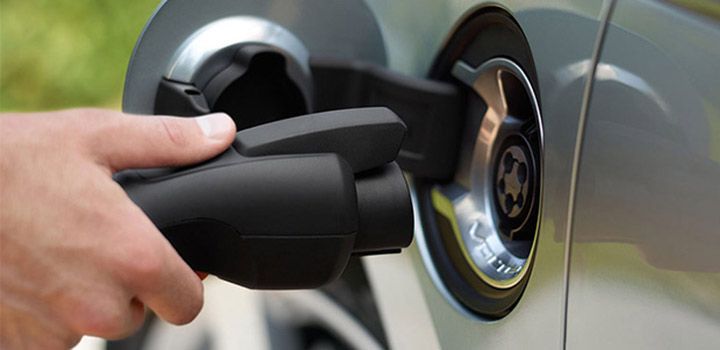 However, in the final months of 2021 when it was almost certain that the government would go through with their plans, automakers such as Volvo and even Kia as well as Peugeot announced that they would be throwing their hat into the Malaysian EV ring, making the next few years potentially very interesting as more Malaysian motorists transition away from fossil fuel.
EVs officially on sale in Malaysia in 2022
Price: From RM149,888
Power: 136PS/395Nm - 204PS/395Nm
Range: 305 - 484km
0-100km/h: 7.9sec - 9.9sec
Charging: If you connect to a 100kW DC charging station, you can charge your Kona Electric from 10% to 80% state of charge in approximately 47 minutes. For the 64kWh battery, when connected to a public AC charging station, it takes approximately 7 hours 30 minutes to charge the long-range 64kWh battery pack from 0-100% state of charge. For the 39.2kWh battery, when connected to a public AC charging station, it takes approximately 6 hours 30 minutes to charge the 39.2kWh battery pack from 0-100% state of charge using the 7.2 kW charger and 4 hours 30 minutes using the 11kW charger.
Price: RM181,263
Power: 150PS/320Nm
Range: 311km
0-100km/h: 7.9secs
Charging: standard with a 6.6 kW (Type 1) wallbox charger that requires approximately 7 hours for a full charge. With a 50 kW "CHAdeMo" quick-charger, the Leaf can be fully charged in just 60 minutes. CHAdeMO quick chargers are available in selected locations such as ABB Malaysia (Subang Jaya), Nichicon Malaysia (Bangi), and PLUS Ayer Keroh R&R (Malacca Southbound).
Price: RM213,460
Power: 186PS/270Nm
Range: 232km
0-100km/h: 7.3secs
Charging: 2 hours and 30 minutes of charging will get you to 80% charge via an 11 kW AC charger through a Type 2 cable. DC fast charging via its CCS socket can charge the battery from 10 to 80% in 36 minutes.
Price: From RM199,888
Power: 170PS/350Nm - 305PS/605Nm
Range: 380 - 480km
0-100km/h: 5.2 secs - 6.1secs
Charging: The IONIQ 5 is able to charge from 10% to 80% in just 47 minutes (with a 50kW DC charger). A standard 11kW home AC charger can charge from 0% to 100% in 6.1 hours.
Price: RM262k
Power: 408PS/660Nm
Range: 418km
0-100km/h: 4.9secs
Charging: The XC40 EV requires around 40 minutes to juice up to 80% capacity with a 150kW DC fast charger (or around 2 hours for a full charge with a DC charger), or roughly 8-10 hours with an 11kW AC wallbox.
Price: RM278k
Power: 190PS/370Nm
Range: 429km
0-100km/h: 8.9secs
Charging: The EQA 250 supports fast DC charging up to 100kW which can take its depleted reserves from near 0 to 80% in around 32 minutes. However, when plugged into a more conventional 11kW AC charger, a full charge should be completed in about 6 hours.
Price: From 317k
Power: 288PS/400Nm
Range: 453km
0-100km/h: 6.8 secs
Charging: It takes 32 minutes to replenish 80% of the battery if it is plugged into a 150kW DC fast charger. Malaysians will likely use the far slower 11kW AC charger, in which case the iX3 should take around 7 to 8 hours to reach maximum capacity.
Price: RM 390k
Power: 340PS/430Nm
Range: 590km
0-100km/h: 5.7 secs
Charging: The i4 supports AC (up to 11kW) and faster DC charging (up to 200kW) with the latter capable of refilling its energy reserves from between 10% and 80% in just 31 minutes. If the battery is re-juiced through the AC charger, it will take 8 hours to go from 0 to 100%.
Price: From RM419k
Power: 328PS/630Nm
Range: 425km
0-100km/h: 6.1 secs
Charging: If the iX is charged via AC charging of up to 11kW, it will be fully recharged (0-100%) in 10 hours and 15 minutes. DC fast charging of up to 195 kW can recharge the iX from 10-80% charge in less than 40 minutes.
Price: From RM584,561
Power: From 326PS/357Nm - 761PS/1,050Nm
Range: From 340km - 416km
0-100km/h: 5.4 secs - 2.8 secs
Charging: A Porsche Taycan can charge from 0% to 100% in 4 to 8 hours with an 11-22 kW level 2 charging station. With 150kW DC fast charger, the vehicle can be charged in less than 35 minutes.
Confirmed for 2022, but not here just yet...
We're sure this list will continue to expand over the year, but the EVs listed above are the ones that you can officially buy in Malaysia right now! The EVs down below have been confirmed for a 2022 debut, but they're just not officially here yet.
The following three cars below form the zero-emissions offensive line assembled by Bermaz, which in 2020 had taken stewardship of the Kia and Peugeot brands away from Naza.
Kia EV6 (Tentatively - Q3 2022)
This is another flagship EV, but from Korean automaker Kia. They do have a larger, more advanced models to follow, but for now, the EV6 remains the top dog alongside the Hyundai IONIQ 5.
Among that trio, the EV6 will be the largest, fastest, and most technically advanced. It's available in other markets with a selection of battery capacities and electric motors of up to 77.4kWh supplying 580PS and 740Nm dual-motor configuration for a 0-100km/h sprint in 3.5 seconds, this is easily the fastest Korean car (let alone a Kia) ever produced.
Range of up to 530km is also possible if the right battery/motor pair is chosen, while the car also boasts an augmented reality head-up display, machine learning tech, and the Korean marque's most advanced semi-autonomous driving tech yet.
Even before its local unveiling, Bermaz has indicated that 15-20 people have already put their money down and booked the car.
The MX-30 is the Hiroshima-based automaker's first stab at an EV that first made its debut at the 2019 Tokyo Motor Show. With the local preview taking place just a week ago, it's also the first of the Bermaz EVs to be shown to the media.
In terms of its exterior design, the high-riding electric vehicle is a cross between a compact SUV and coupe with that slanted roof being a defining feature. Interestingly, the MX-30 also incorporates a couple of features from Mazda's previous performance coupe, the RX-8, namely its 'suicide' style rear-hinged doors and a 'Wankel' rotary engine.
A single 143PS/264Nm electric motor is responsible for driving the wheels, drawing power from a 35.5kWh battery that should yield about 199 kilometres of range according to Mazda Malaysia.
The second-generation 2008 is one of the French marque's most popular vehicles currently on sale, riding on the wave of acclaim its B-segment hatchback is based on: the 208, which took the overall win at the 2020 European Car of the Year awards.
In electrified and crossover-fied guise, the e-2008 swaps its combustion engine and fuel tank for a 133PS/260Nm electric motor hooked up to a 50kWh battery for up to 345km of range, all while seeming to remain barely different from the 'standard' 2008 inside and out.
The Hyundai Kona Electric, launched in November 2021, will no doubt be its fiercest rival in Malaysia, outclassing the Pug on pure range with the larger of its two battery capacities (64kWh) able to take the Korean entrant past 480km on a single charge. Then again the e-2008 might be able to undercut it on price and value.
If you happen to be in the market for a charging solution for your new or even current EV, you can now conveniently charge your electric car at home, whether it is a condominium or landed house.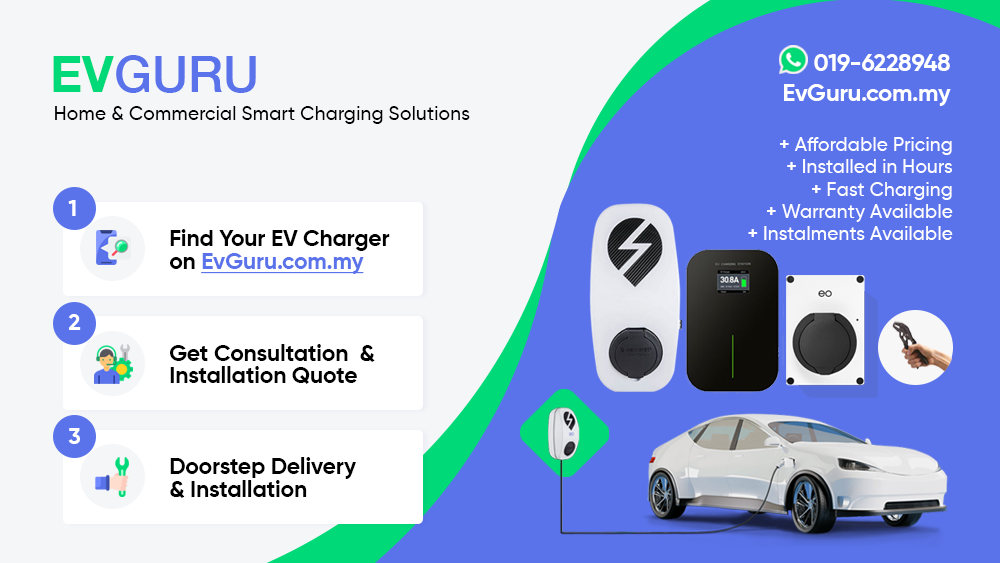 EVGuru is a market-leading Smart EV Charging Solution Provider in Malaysia, with years of overseas experience in the UK, US, and Australia.
Head on over to evguru.com.my now and enjoy an exclusive Carlist.my promo when you buy your first EV Charger from us.
---
---
---
---
留言