All-New 2016 Mercedes-Benz GLC-Class Makes Global Debut
所有资讯 It's been teased and spied time and again, and finally, here is the all-new 2016 Mercedes-Benz GLC-Class: the brand's latest SUV has been unveiled in full, ready to battle the BMW X3 and Audi Q5.
The all-new Mercedes-Benz GLC is a second-generation model, here to effectively replace the out-going GLK-Class SUV: something that Malaysians may not be so familiar with, because it was never officially sold here – right-hand drive versions were never in the plan.
Now, with Mercedes-Benz looking to expand its SUV line-up to markets beyond Europe, the US and China predominantly (all left-hand drive markets), they're making their BMW X3 and Audi Q5 fighter with right-hand drive versions. Which means one thing: Malaysians (along with the rest of the British Commonwealth countries: UK, Australia, etc.) are very likely to have a new premium SUV coming their way.
Here then, is the GLC-Class SUV: the baby sibling of the GLE-, and GLE Coupe which made their debuts only months ago, underpinned by a similar Modular Rear Architecture (MRA) architecture as the C-Class, tweaked to offer some robust off-roading capabilities.
If you're wondering where the GLC Coupe (BMW X4 fighter) is, you'll have to wait a little longer. Or go mentally put the pieces together using this sketched teaser.
So, back to the GLC-Class we have here, let's take you through what the business is all about. Starting with…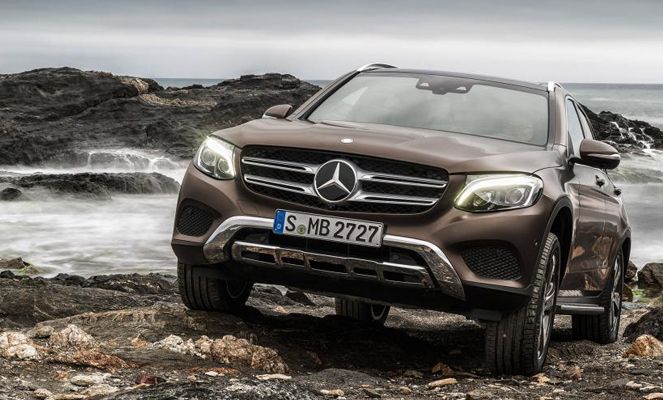 Performance & Powertrain:
At launch, the all-new GLC-Class will be offered in a total of four possible engine variants: two diesel, one petrol, and one petrol plug-in hybrid. They're all equipped with the brand's permanent all-wheel drive system, and is said to feature a 19% fuel efficiency improvement against their previous versions.
Mercedes-Benz's latest nine-speed 9G-TRONIC torque converter automatic transmission is standard on all variants of the new GLC-Class, so apart from the non-hybrid S-Class in Malaysia, this and the GLE-Class will likely be the first models to offer the new nine-speed box locally.
Only the plug-in hybrid GLC 350 e will maintain its use of the 7G-TRONIC transmission.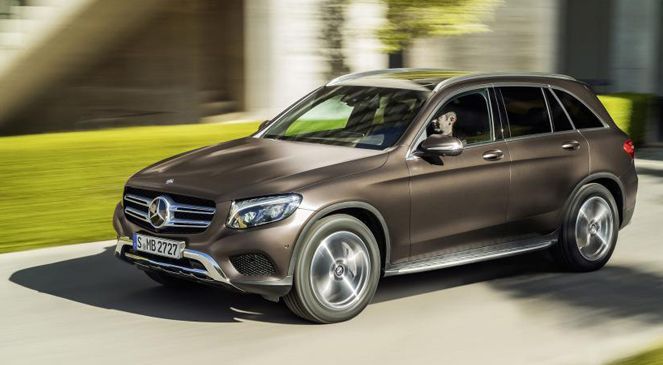 Here's how the four variants of the GLC stack up:
GLC 220 d 4MATIC: The first of the diesel engine variants packs a Benz 2.1-litre turbocharged engine, which delivery 170hp @ 3,000 to 4,200rpm and 400Nm of torque from 1,400 to 2,800rpm. Equipped with the 9G-TRONIC as standard and 4MATIC drive system, the GLC 220 d performs its century sprint in 8.3 seconds, and boasts a 5.0-litre/100km consumption figure (NEDC, combined).
GLC 250 d 4MATIC: Employing the same 2.1-litre turbo-diesel engine, the more potent 250 d is tuned to deliver 204hp @ 3,800rpm, and 500Nm of torque between 1,600 and 1,800rpm. 7.6 seconds is what it will take to hit 100km/h, whilst also claiming a fuel efficiency of 5.0-litre/100km.
GLC 250 4MATIC: The only regular petrol-powered variant at launch, the GLC 250 sports a 2,0-litre four-pot turbo engine that makes 211hp @ 5,500rpm, and 350Nm of torque between 1,200 to 4,000rpm. The second-fastest variant in the range takes 7.3 seconds to hit 100km/h, and has a top speed of 222km/h. Fuel consumption for the vehicle is rated at 6.5-litres/100km (NEDC, combined).
GLC 350 e MATIC: The fourth of Mercedes-Benz new range of plug-in hybrid models (S 500 e, C 350 e, GLE 500 e before), the GLC 350 e is also the most powerful, and quickest GLC available at launch. With a total system output of 320hp @ 5,000rpm and 340Nm of torque from zero rpm(!) (a further 10Nm is gained at 1,200rpm), the top-spec GLC takes just 5.9 seconds to hit 100km/h, returns 2.6-litres/100km in fuel consumption, emits a mere 60g/km (claimed).
*Get full details of the GLC Plug-In Hybrid here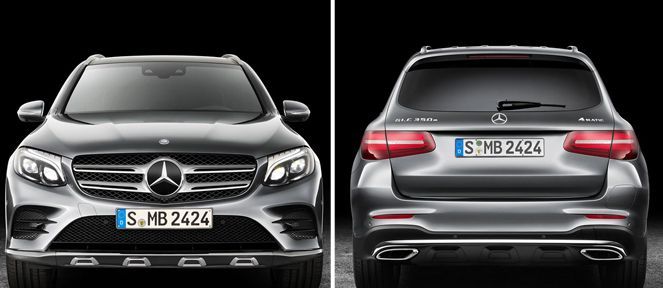 Exterior Styling:
Now, if you're a keen follower of what the Mercedes-Benz brand has been up to lately, what you see here may not be all that surprising to you: it's a smaller GLE, and a bigger GLA-Class, and we don't think Mercedes-Benz could have found a more accurate middle-ground between the two existing Benz SUVs.
At the front end, a twin-lourve front grille with a centralised Benz star is prominent, with headlamps just like we've seen them from the brand's latest design language. Mercedes-Benz LED Intelligent Light System headlamps are available as options.
Around the sides, the silhouette of the car isn't all that strange to everything we've seen, although, if comparisons with the out-going GLK is what you're after, the all-new GLC is a lot more curvaceous, and itself features a 118mm longer wheelbase. Alloy wheel sizes range from 18 to 20-inch options, with various designs available.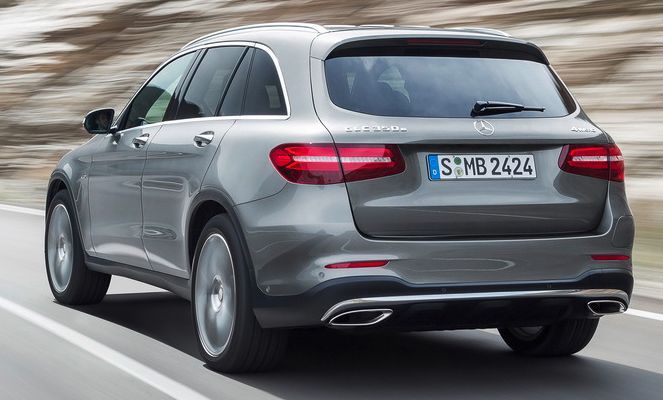 To the rear, the slim taillights lean more towards resembling what's been seen on the baby GLA-Class, likewise the slopping rear windscreen which darts downwards at the lower end of the tailgate, while the mid-section of the rear is made to look very wide.
All around the vehicle, you'll also be able to spot the GLC's protective exterior kit (front and rear underguards, side running board) in line with the car's go-anywhere attitude.
Of course, there are two additional exterior and interior design lines on top of the base unit: being the Exclusive and AMG lines. Each line will add their out elegant or sporty front and rear bumpers, as well as interior trims and bits. Available also is a Night Package, which throws on a heap of gloss-black and matt-black items such as roof rails, exterior wing mirros, underguards and then some.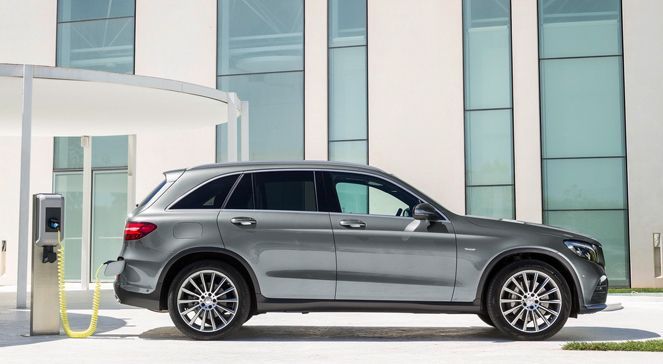 Dimensions & Spaciousness:
Against the GLK-Class, the all-new GLC is larger in every aspect: primarily to position the GLC further away from the baby GLA Class, to slot it right between that and the larger GLE-Class. Even the cabin and all its cargo room has evolved to be much larger.
Its overall measurements in full are: 4,656mm long, 1,890mm wide, 1,639mm tall and with a wheelbase of 2,873mm.
Where cargo room is concerned, the five-seater GLC-Class features 580 litres as is, while with the 40:20:40-split folding seats positioned completely flat, there's a total 1,600mm to speak off. The luggage compartment then offers a 1,320mm long and 1,100mm wide cargo floor.
Speaking of cargo capabilities, if you specify the AIR BODY CONTROL and HANDS-FREE ACCESS features, the GLC will lower its rear ride height by 40mm to allow easier loading and unloading of your items.
For rear passengers, foot space when exiting and entering the vehicle has been made larger by 34mm against its predecessor.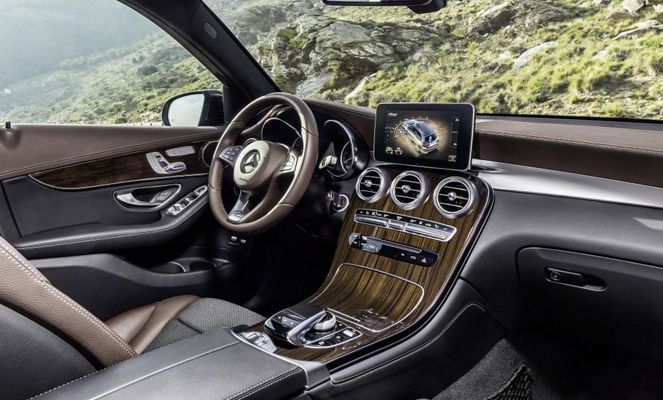 Interior Design:
Everything you see with the interior of the GLC-Class resembles very closely what you've seen from the C-Class: of which the GLC shares a platform with (hence the GL "C").
But sharing a C-Class's interior is nothing we'd complain about, because it is unrealistically luxurious: there's a long list of trim materials, colours and designs to choose from to make the GLC your own.
The central display screen appears free-standing as in the C-Class sedan, and is available in either a 7.0-inch size (Audio 20 CD system) or an 8.4-inch version (COMAND Online system). Beneath that are the three circular air-conditioning vents, and then the climate control toggles.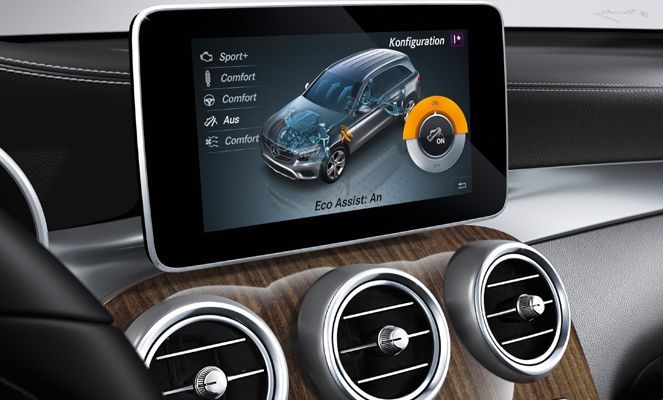 To the centre console, and Mercedes-Benz's touchpad and rotary dial control which is integrated into a handrest. Just like the C-Class and S-Class we know, the touchpad offers various swipe and pinch controls to manipulate the infotainment system, and is surrounded by various car setting buttons.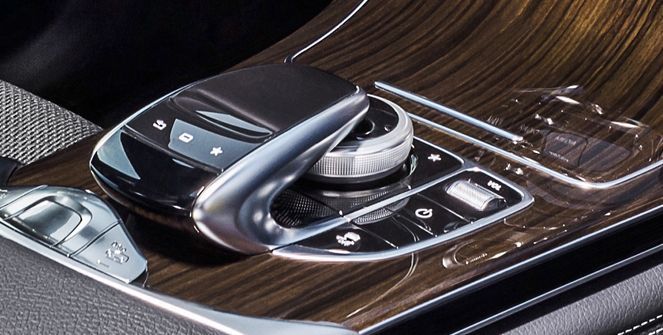 One difference to note here against the C-Class is the additional Off-Road Engineering package controls, which allows you to tweak the AIR BODY CONTROL air suspension system, Rocking Assist program, and Downhill Speed Regulation system. More on these items in a bit.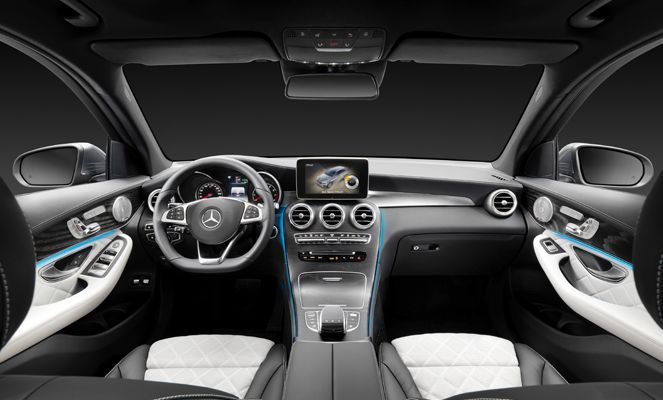 Back to the driver, and the instrument panel is as you'd have it in the C-Class: two binnacles with a central multi-info display screen. The steering wheel is nothing new, being a three-spoke design with audio, voice, cruise control buttons.
What's new for drivers is a Head-Up Display (HUD) system. Rather than project an image on to an auxiliary glass panel that stands upright ahead of the driver, the Benz system projects its display on to the windscreen itself, showing information on speed, navigation instructions and messages from the DISTRONIC system.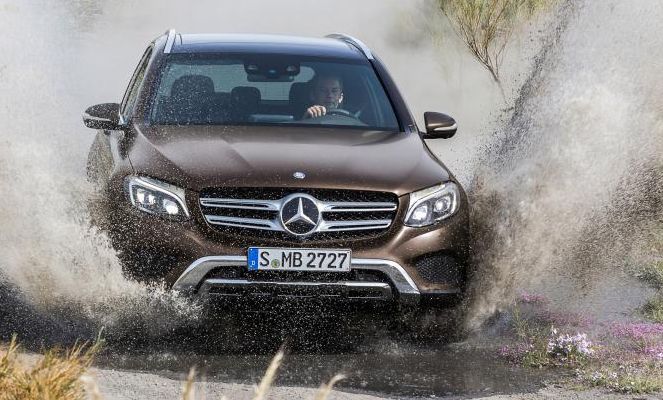 Going Off-Road:
A premium Benz no less, the GLC-Class is properly equipped to be taken off-road when the mood strikes. Should drivers fancy taking their GLC-Class off the road, specifying their vehicles begins outside, where a special OFF-ROAD design line is available. The adventurous line equips the GLC with a front bumper that features a steeper angle of approach/ departure of 28-degrees. Additionally, the shoulder lines and roof rails are polished aluminium.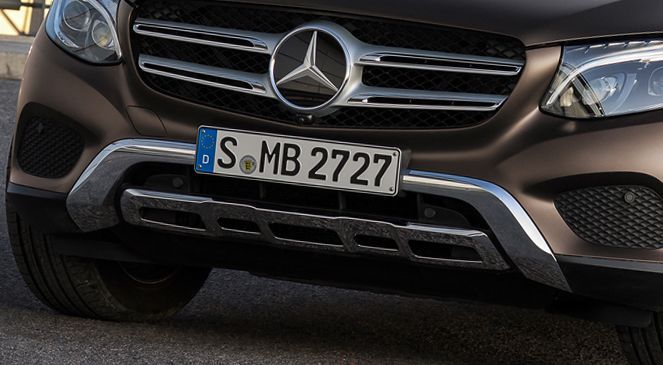 Then, you'll also want to specify the new Off-Road Engineering package which adds another five driving modes on top of the existing five from the DYNAMIC SELECT system (existing are: ECO, Comfort, Sport, Sport+ and Individual).
The five new preconfigured driving modes are catered to optimising the GLC's off-road capabilities. They are: Slippery, Off-Road, Trailer, Incline and Rocking Assist.
All these modes alter the ride, engine output, transmission shift points, and front-rear power distribution to best adhere to the various driving conditions you select them for. Additionally, you also get informative and real-time information on various parameters of the vehicle relayed to you via the display screen.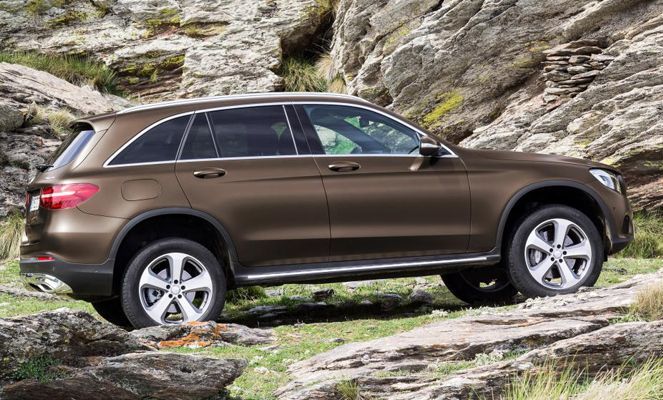 Safety Features:
As available on most all new, top tier Benz models, the all-new GLC-Class benefits from a reputable list of advanced, active safety features. But rather than bore you with an extensive description of them all, here's a quick list of what's available:
Collision Prevention Assist
Crosswind Assist
Headlamp Assist
Attention Assist
Pre-Safe Brake with pedestrian detection
BAS PLUS with Cross-Traffic Assist
Active Blind Spot Assist
Active Lane Keeping Assist
PRE-SAFE PLUS: Warns rear vehicle that they are approaching your vehicle too fast, and holds on your brakes to reduce stress acting on its own passengers.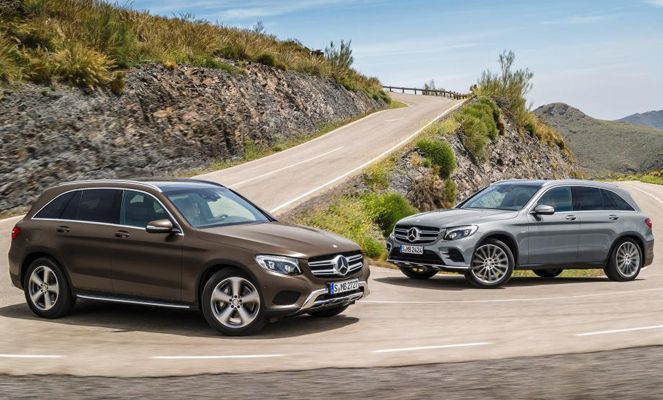 Coming to Malaysia?
As we said in the beginning, yes, there's no reason why the all-new GLC-Class wouldn't be made available here by Mercedes-Benz Malaysia. It's finally available in a right-hand drive version and has lots of existing competition in the form of the BMW X3, and the Audi Q5 amongst others.
There's absolutely no reason why the GLC, the coming GLC Coupe, or the GLE and the GLE Coupe models won't be here in due time. For now, it's all eyes on a different kind of monster from MBM that's due a launch: the all-new 2015 Mercedes-Benz AMG GT S.
---
---
---
留言