All-New 2017 Honda CR-V 2WD Previewed At Mid Valley
所有资讯 The all-new 2017 Honda CR-V makes a scheduled stop in the second of five roadshows across the country planned ahead its imminent launch. Open for bookings since 1 June, the CR-V is currently on display at the South Court of Mid Valley Megamall in Kuala Lumpur from 7 to 11 June 2017.
Whilst Honda's earlier announcement has confirmed that its new 1.5-litre VTEC Turbo powerplant will be offered as the range's flagship engine, the vehicle on display shows at least another variant on offer, with i-VTEC badging on the tailgate confirming this to be a vehicle powered by a naturally-aspirated engine.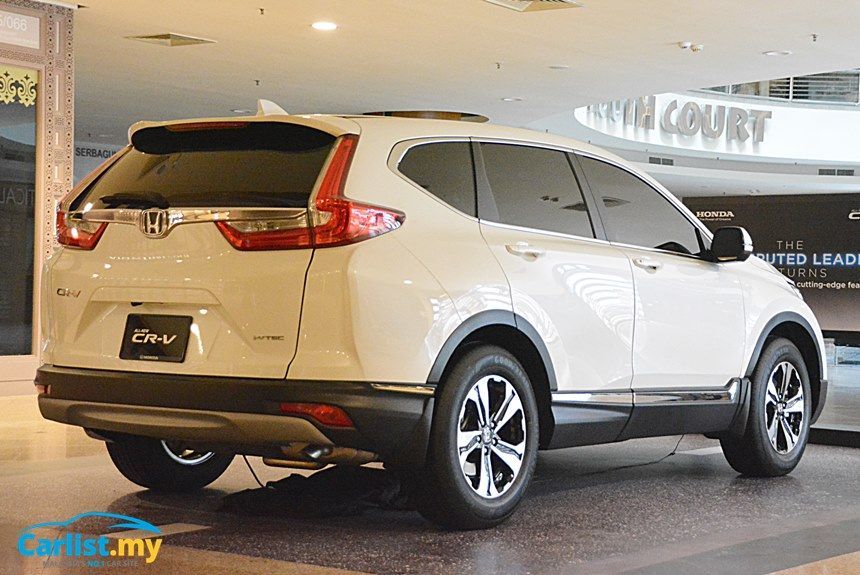 Honda has never confirmed as such, but it is widely accepted that the i-VTEC powertrain in question is likely to be the 2.0-litre R20 SOHC engine carried over from the predecessor model. In Indonesia, this powerplant is rated with outputs of 154PS and 189Nm, though the outgoing model generated 155PS and 190Nm in our market.
The 2.4-litre Earth Dreams engine as offered in Thailand is a possible but unlikely powertrain candidate for our displacement-sensitive market; also, its outputs of 173PS and 224Nm might not be seen as providing adequate separation from the 1.5 Turbo's 193PS and 243Nm. The other Thai market powertrain – the 1.6-litre i-DTEC diesel, has been ruled out altogether.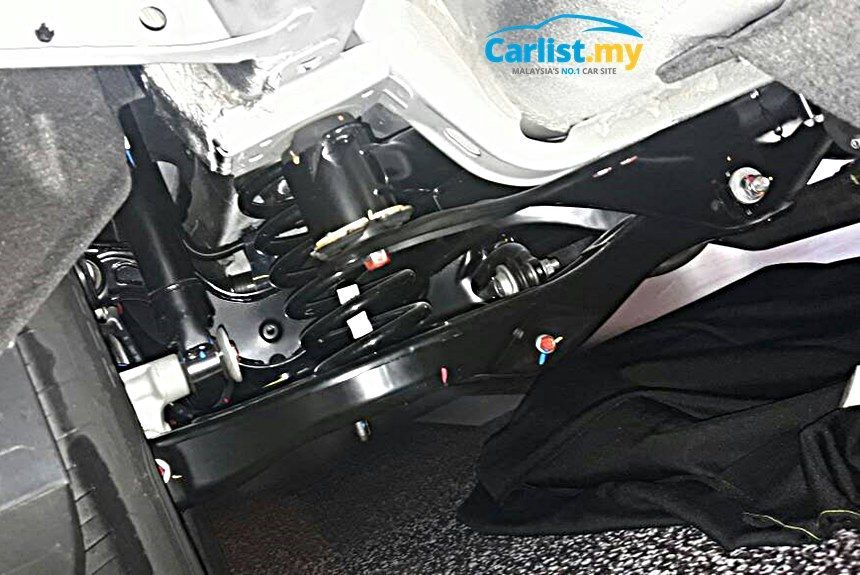 One other mechanical fact we can confirm about the vehicle on display is that it is front-wheel driven – no rear driveshafts were visible from our observations when peeking at the undersides. Honda has confirmed that the CR-V will be offered in both front- and all-wheel drive configurations, but did not state which drivetrain will be matched to which engine.
It has also been confirmed that all variants of the CR-V will have reverse camera, keyless entry, six airbags, and electronic stability control as standard. We also noticed LED headlights, daytime running lights, and 17-inch alloy wheels on the display vehicle. The vehicle's windows are heavily tinted, precluding us a look inside.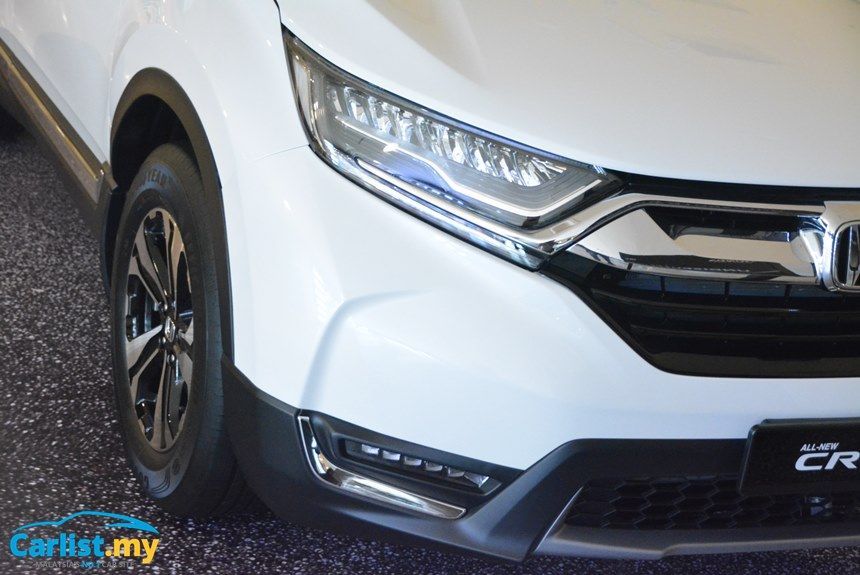 Whilst neighbouring markets are offering the CR-V as a seven-seater, it is understood that Honda Malaysia has opted to continue with the outgoing model's five-seater configuration, which offers up to 1,084 litres of cargo space with the rear seats folded down.
Based on information released thus far, we are now absolutely certain of at least two variants of the all-new 2017 CR-V – a fully-loaded 1.5-litre VTEC Turbo AWD flagship and a naturally-aspirated 2WD to serve as the range's entry model.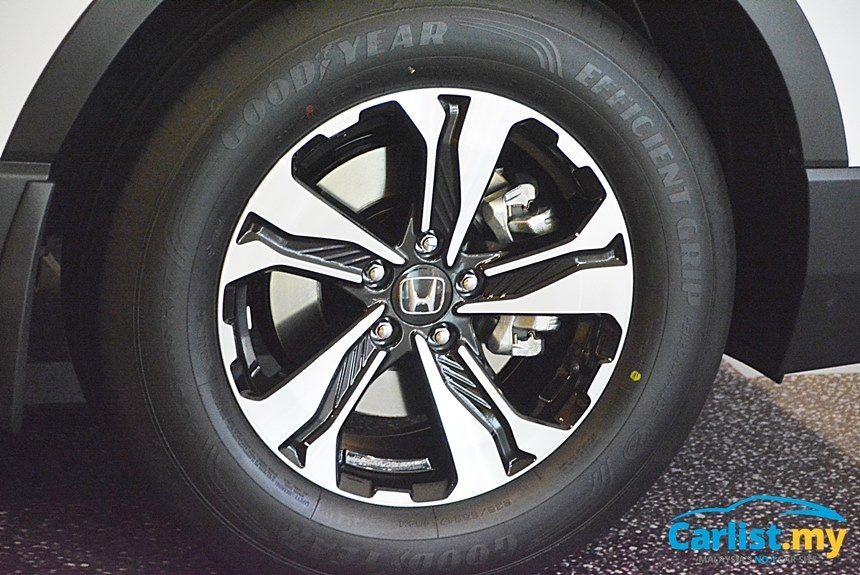 In between, Honda could conceivably fill the range with a 2.0-litre AWD or 1.5 VTEC Turbo FWD model to serve as a mid-range offering. Alternatively, the vehicle on display could be representative of the CR-V in mid-range spec, meaning two 2.0-litre FWD variants with different equipment levels.
The all-new 2017 CR-V will be the first model to bring Honda Sensing autonomous driving aids to the Malaysian market. Guided by a combination of camera and radar, the Honda Sensing package consists of adaptive cruise control, traffic jam queue assist, frontal collision warning, autonomous emergency braking, lane departure warning, lane keeping assist, and road departure mitigation.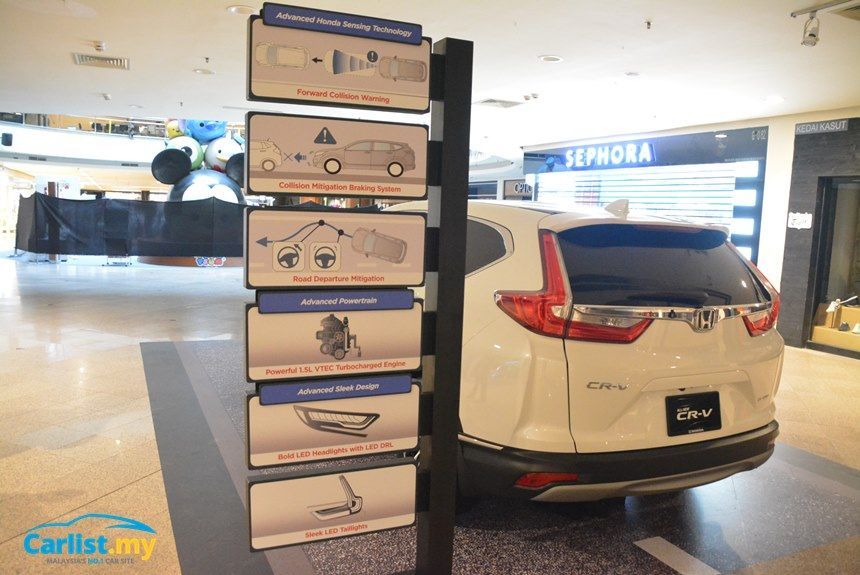 Besides Mid Valley, the all-new Honda CR-V will be appearing at the following locations over the next two weeks:
11 June: Imago Mall, Kota Kinabalu
16-18 June: Aeon Tebrau, Johor Bahru
18 June, Plaza Merdeka, Kuching
---
---
---
留言