All-New 2017 Volkswagen Polo Mk 6 World Debut – MQB Platform, Passat-Level Tech In B-Segment
所有资讯 The Volkswagen Polo's much-awaited entry into the MQB platform family has finally taken place as the sixth-generation model of VW's famed B-segment hatchback makes its world debut in Berlin.
Along with the Golf and Passat, the Polo has grown to become a core model in Volkswagen's line-up. Over more than four decades, Volkswagen has sold a combined 16 million units of the Polo and its various derivatives.
The original Polo introduced in 1975 was a compact three-door hatchback that barely exceeded three metres in length and weighed 760kg – the size of a Perodua Kancil. Today's Polo is a much bigger vehicle, however, stretching past four metres for the first time in the nameplate's history and having dropped the three-door model from its line-up.
A telling comparison with the Golf Mk 4 introduced in 1997, the Polo Mk 6 is wider, taller, and has a longer wheelbase, consequently making it roomier on the inside.

The Polo launches with a total of five trim levels with the option of three styling packages. There are the familiar Trendline, Comfortline, and Highline trims alongside a special edition Polo Beats and the range-topping Polo GTI. Customers can then specify any one of R-Line, Black, or Style packages in conjunction with any of the five trims summarized below:
Trendline: Base version of the Polo and already equipped with LED daytime running lights, autonomous emergency braking with pedestrian detection, and 14-inch wheels as standard with a staring price of €12,975.
Comfortline: The traditional mid-spec variant adds a higher grade Composition Colour touchscreen infotainment, LED ambient interior lighting, Driver Alert system, centre armrest, one-touch power windows all-round, multi-function steering wheel, and 15-inch alloy wheels.
Highline: Highest among the mainstream variants adds parking sensors and leather trim on the steering wheel, gear lever, and hand brake.
Beats: A special edition targeted at young buyers, the Beats edition features a 300W sound system by the famous US headphone producer of the same name, 16-inch alloy wheels, along with other novel decorative touches and trim. The 300W sound system itself can be optioned in other trim variants as well.
GTI: Performance flagship gets an enhanced 200PS 2.0-litre TSI engine and a stiffer sport chassis which can be optionally upgraded to a Sport Select chassis. Standard wheels measure 17 inches with 18-inch items offered as optional upgrades. Typical Volkswagen GTI touches include honeycomb air vents, 'Clark' tartan seat upholstery, and the distinctive red stripe running across the radiator grille. Customers who upgrade to LED headlights see that red stripe stretch into the headlamp assembly.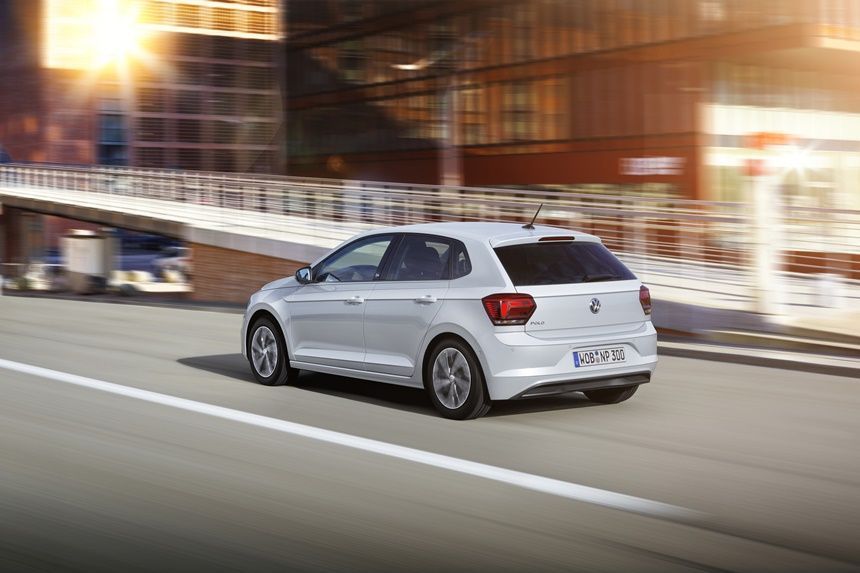 A total of nine engines variations are on offer, all with auto stop-start and regenerative braking as standard. A 1.0-litre three-cylinder configuration underpins nine of the five engines available, one of them being the natural gas-powered 1.0 TGI with maximum power of 90PS.
Remaining eight engines are the usual mix of petrol and diesel mills. The 1.0-litre petrol is available in both naturally-aspirated and turbocharged formats with outputs ranging from 65 to 115PS. Just below the 200PS GTI sits the 150PS 1.5 TSI EVO engine earlier introduced in the Golf 7 facelift. A pair of 1.6 TDI diesel engines, with outputs of 80 and 95PS, complete the range.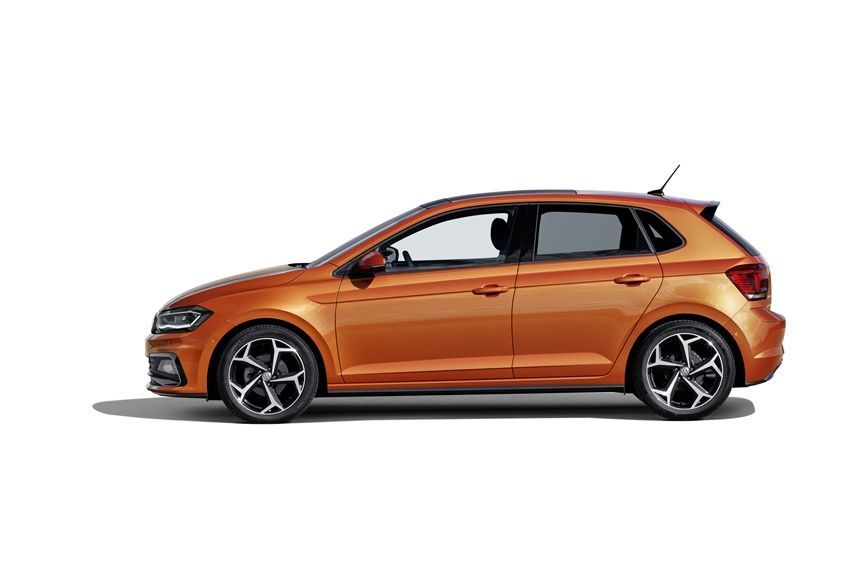 Manual transmission is standard offering for all engines; the three highest-rated petrol engines get six speeds whilst the rest make do with five gears. Engines with outputs rated 95PS and above have the option of upgrading to a 7-speed DSG.
Typical with other models of the MQB stable, the all-new Polo offers evolutionary styling changes from its predecessor. The shape remains distinctly Polo, but appropriately sharpened with powerful lines to give a more updated yet timeless look.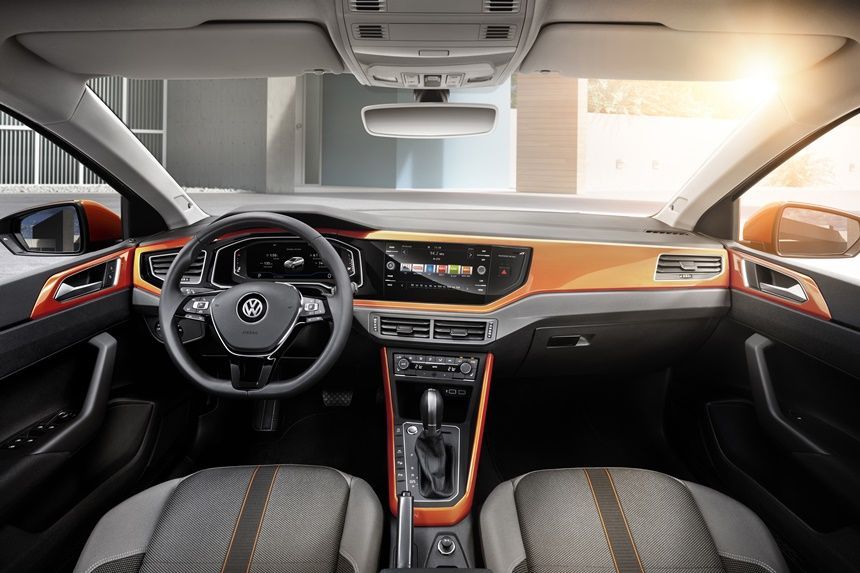 More significant changes take place inside the cabin, where we see a blank slate renewal from the outgoing model's functional if slightly unimaginative cabin. The Beetle-inspired trim strip spanning the dashboard is the most noteworthy visual signature, and it encapsulates a wide-spanning high-gloss panel that conjoins the instrument cluster and infotainment screen into one unit in similar fashion to the latest Mercedes-Benz E-Class W213.
The new Polo is the first model in the entire Volkswagen Group to debut a new generation active instrument cluster offering improved clarity and ease-of-use over existing versions. Depending on vehicle grade and option, the infotainment screen adjacent to the instrument cluster measures 6.5 to 8.0 inches.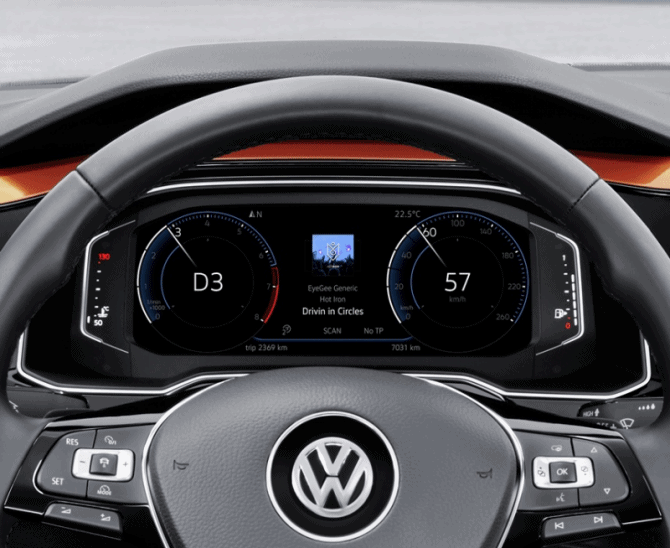 Advanced driver assistance systems have also found their way down the food chain from the Golf and Passat to the Polo here. As mentioned earlier, autonomous emergency braking with pedestrian detection is standard, as is speed limiter and tyre pressure monitoring.
Optional upgrades on offer include adaptive cruise control (DSG-equipped vehicles get Stop & Go to go with it), blind spot detection, rear traffic alert, and park assist. In this version of park assist, the system only assists with steering, driver is still required to operate the brake and accelerator, but VW adds a 'maneuvering braking function' to spare owners of unfortunate grazes with low-lying obstacles.
The Polo is yet to go on sale, but European markets can expect to receive it before the end of the year. Based on this timeline, we are not expecting the vehicle to reach our shores for at least another year and a half to two years.
---
---
---
---
留言