Amazing Real Life 'Batman' Who Visits Sick Children Dies In Tragic Car Crash
所有资讯 Do you know the name Batman – Bruce Wayne? Most likely. How about the name Lenny Robinson? No? You should, actually. This man, who has just tragically passed away, is much more the hero than the caped crusader is in this reality. Let us explain why.
You see, Lenny has a big ol' heart. So big that he visits children with life-threatening illnesses in the hospital in his spare time, for free, in a Batsuit, pretending to be Batman to bring wide smiles to the kids' already wide eyes. They don't know he's actually Lenny with the Lamborghini Gallardo Spyder (which he rolls up in, calling it his Batmobile. In black, of course) but that's the magic, and they believe the magic.
Lenny, himself a wealthy businessman, was made famous when his Lambo got pulled over by the cops, with him in his heavy and rather meticulous superhero garb, and instantly became an internet sensation when the dashcam footage went viral. That was in early 2012, and later that year he had ordered himself, at great expense, a custom Batmobile – like the one used in the 1960s TV show – to really complete the look. He used it to toured all over the United States to visit sick kids in hospital as the Dark Knight.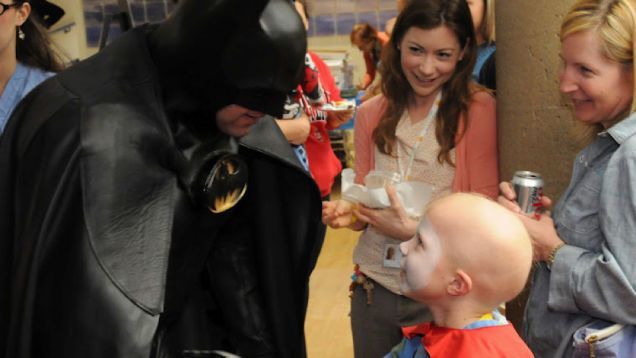 Over the course of at least three years since then, he would be in full Dark Knight character while visiting the sick children at the hospitals, with the stern but righteous voice, posture, stride, and speaking patterns that mimicked the character to a fault. He would then hand out Batman trinkets, comics, toys, and always autographed "Batman" along with an encouraging message before he left.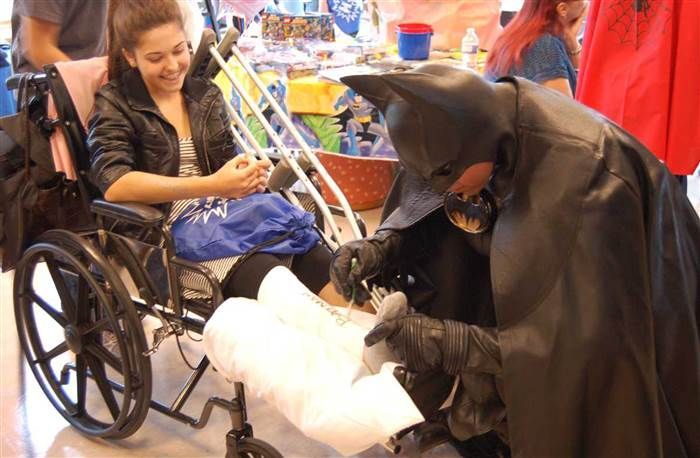 Lenny worked closely with the Hope For Henry foundation for sick children, which was founded by Laurie Strongin and Allen Goldberg after their son passed away from a rare disease.
There are just so many stories of Lenny's good deeds, incredible generosity of spirit, and how it had touched many lives in desperate need of joy, hope, or just a good laugh.
The world has lost a hero.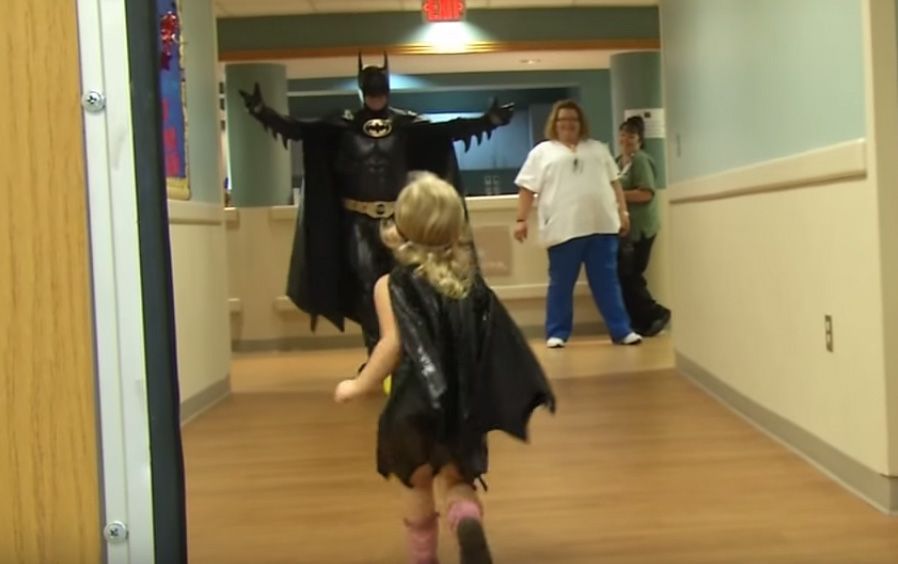 Because on the night of August 16th, 2015 Lenny was killed in a car accident according to a report by The Washington Post. The 51-year old's custom-built Batmobile had broken down on the way from a car show in West Virginia, so Lenny stopped it on the shoulder. When he was inspecting the vehicle it was rammed from behind by a Toyota Camry at high speed, and was struck by his own car.
An excerpt from the Post's about Lenny's kind exploits reads:
On one visit to Children's National Medical Center in Washington, he reflected on the health of his own three children. "We're lucky," he said.

At Children's, there were kids with tubes in their noses, with IVs in their arms. He handed out gifts: Batman books, rubber Batman symbol bracelets and other toys.

Batman made those kids smile. They all thought he was Batman, a hero.

"I'm just doing it for the kids," he said.
We also highly recommend reading the full report to paint a clearer picture of his life and contributions.
Lenny B. Robinson & Hope for Henry

Lenny B. Robinson was such a good friend to Hope for Henry. We lit up the Bat Signal whenever we had an event at a local hospital and Lenny would jump in the Batmobile and respond immediately. He joined us for our most recent Superhero Celebration at Medstar Georgetown University Hospital where he helped tell the story of Hope for Henry and its work improving the quality of life for children fighting serious illness. We will always love Lenny and our hearts go out to his family and all who mourn his death.

Posted by Hope for Henry on Monday, August 17, 2015
---
---
---
---
留言