American Muscle Cars Up For Bidding At 23 Motors In Johor Bahru
所有资讯 Twelve exotic cars, including nine American muscle cars will be put up for bidding by 23 Motors Sdn. Bhd., a parallel importer in Johor Bahru.
According to Executive Director Datuk Kaathir Mustaffa, better known as Farouk, 23 Motors is the first company in Johor to offer such a wide variety of American cars up for bidding.
The models on offer are:
Chevrolet Camaro SS 6.2 V8
Chevrolet Camaro Cabriolet
Chevrolet Camaro 3.6 V6
Ford Mustang GT 5.0 V8
Ford Mustang GT Cabriolet
Ford Mustang GT500 5.8 V8
Ford Mustang 1967
Dodge Challenger SRT8 6.2 V8
Dodge Challenger 3.6 V6
Hummer H2 6.2 V8
Cadillac Escalade ESV 6.2 V8
Also available for bidding is a McLaren MP4 12C 3.8 V8.
The bidding will take place on 12 March 2016, with an opening bidding price of RM100,000. Farouk added that the vehicles are valued at between RM500,000 to RM1.6 million.
He also assured buyers that the vehicles come with all the relevant documentation, including import permits and tax documents.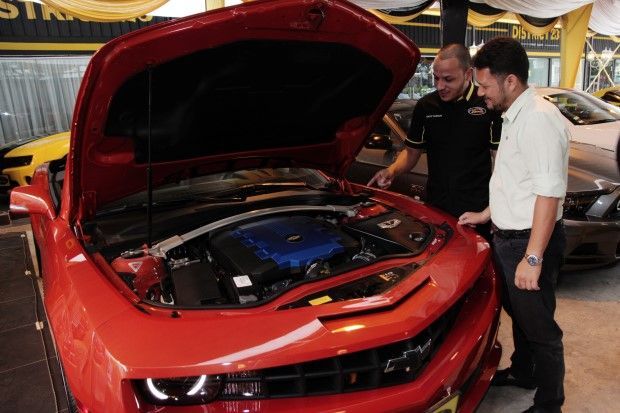 A portion of proceeds collected from the bids will be donated to charity homes via the company's corporate social responsibility program.
23 Motors also has a service centre to meet the after-sales needs of its customers.
"The service centre will make it easier to our customers to obtain after-sales support, and to source for spare parts. Our service staff are experienced and have undergone the necessary training to work on these cars," said Farouk.
"Besides importing American muscle cars, we also import all types of vehicles including MPVs, SUVs and sedans,"
Interested buyers are invited to participate in the bid on 12 March 2016, 5 pm.
23 Motors Sdn. Bhd. is located at No. 13A, Jalan Dato Abdullah Tahir, 80300 Johor Bahru. Interested bidders may contact En. Atar at 07-333 2323.
---
---
---
---
留言