Ford Mustang To Double Down On Crazy AWD Electric Performance
所有资讯 Face it, 'Mustang' is a bloody great name for a car, and over the past 60 years since the car's inception, it has now grown into a respected and well known global brand on its own. Ford mainly has the current-generation S550 version of the pony car to thank for this success, the first to be sold outside North American and in right-hand drive markets.
Since 2016, you could even buy one in Malaysia directly from Ford via Sime Darby Auto Connexion - even the 5.0-litre V8 Mustang GT - what a time to be alive! And it was the same story for a number of other overseas markets. Unsurprisingly, the car has gone from an American niche to one of the most popular sports cars of the past decade.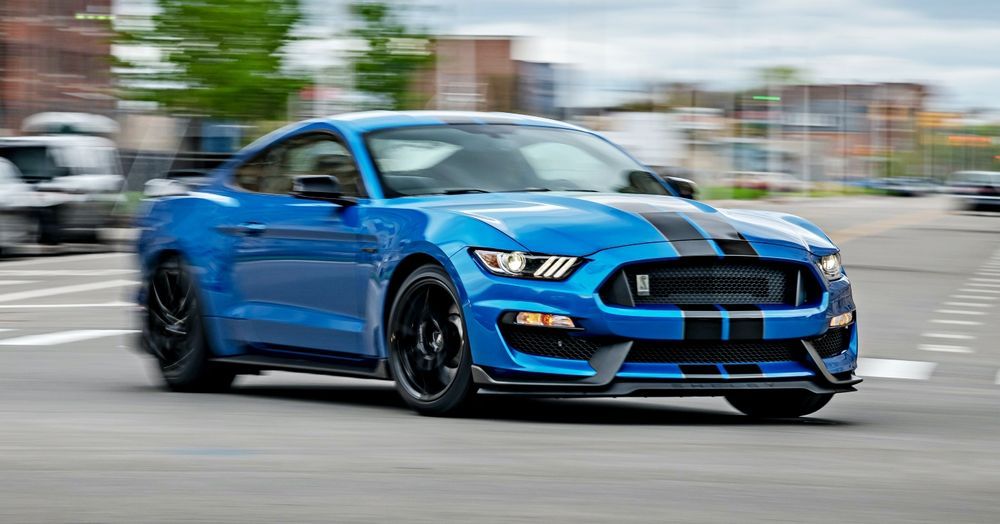 So strong is the brand, it's actually a challenge to find Ford's blue oval logo inside our out, replaced by the iconic galloping horse. But now the time has come to 'cash in', so to speak, on the significant leverage the name has accrued.
The direction the company has chosen to spend this currency looks to be in tackling the premium EV boom and establishing Mustang as a range of their future-facing cars that combine luxury with performance and lifestyle appeal. I mean, how else do we explain the Mustang Mach E, a fully electric crossover that, again, doesn't bear the Ford logo anywhere obvious and is in direct competition with the Tesla Model X, Audi e-tron, and Mercedes-Benz EQC.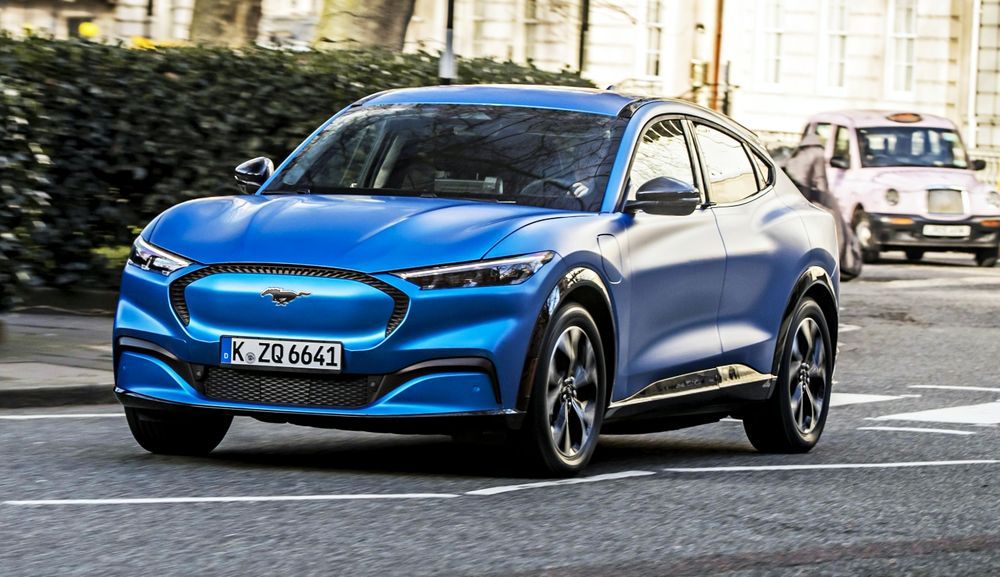 With a 98.8kWh lithium ion battery and dual electric motors, the five-seater SUV-ish thing claims to output 460hp and drag itself from standstill to 97km/h in under 3 seconds, way quicker than even the newest 760hp Mustang GT500.
Where it gets interesting is that this isn't a single aberration, instead the Mach-E is just the start of a brave new world for Mustang, and it isn't shy about breaking tradition.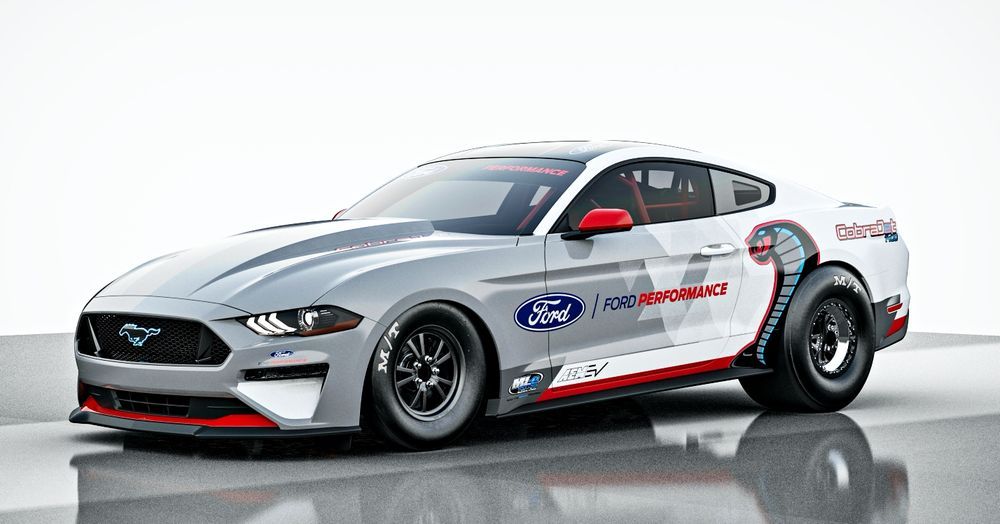 Ford's 1,400hp Electric Mustang Cobra Jet
Before you ask, it's a one-off prototype, but every inch a real car made to demonstrate the potential of electric high performance, and there is perhaps no bolder showcase of this than by creating a Cobra Jet version void of internal combustion.
For those unfamiliar, Ford has been producing factory-built non-street legal versions of their Mustangs specifically for drag racing competition for decades and in limited quantities, usually affixed with a motorsports-grade interior and safety equipment, fat rear tyres, reworked chassis and suspension, and a bonkers supercharged V8. Obviously, there's also a parachute included.
The most recent production evolution of the Cobra Jet is so powerful that there aren't any official numbers, but its widely accepted that its 5.2-litre V8 produces close to 1,000hp thanks to a massive 3.0-litre Whipple supercharger and other modifications. It demolishes the quarter mile in around 8.5 seconds.
You'd probably have a hard time telling these two apart, but the fully electric Cobra Jet is a few tenths quicker at just over 8 seconds to finish the quarter mile, delivering close to 1,500Nm of instant torque to those rear tyres.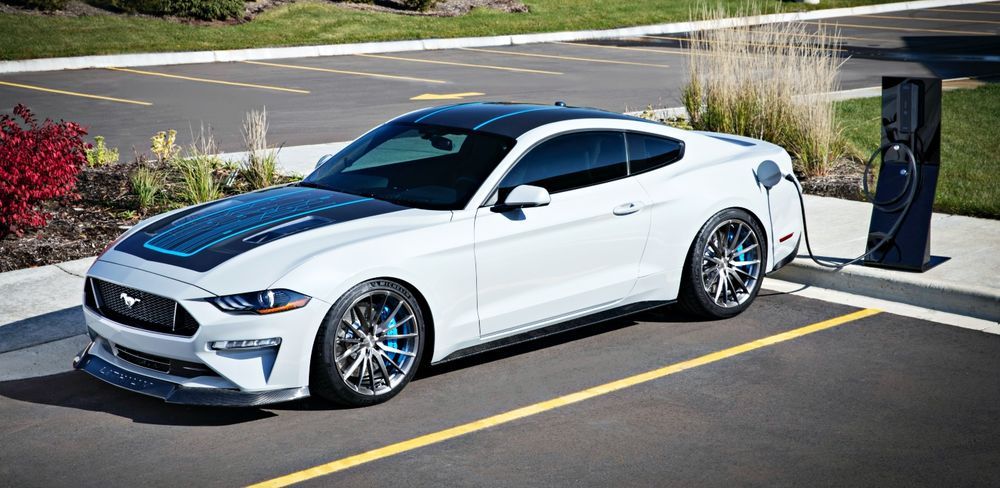 Next Mustang Goes Hybrid And AWD?
As recent as the S550 Mustang seems, it's now already 6 years old with a brand new replacement already well into development. With the Mach-E to enter mass production in the coming months and the Cobra Jet as a clear statement of intent, attention has turned to the template-setting two-door coupe and convertible models with the next-generation car likely to feature electrified powertrains, both hybrid and full EV.
Ford has already announced plans to launch a total of 18 mild-hybrid and plug-in hybrid models by 2022, and sources have told UK's Autocar that the next Mustang is an important figurehead for this transformative roll-out.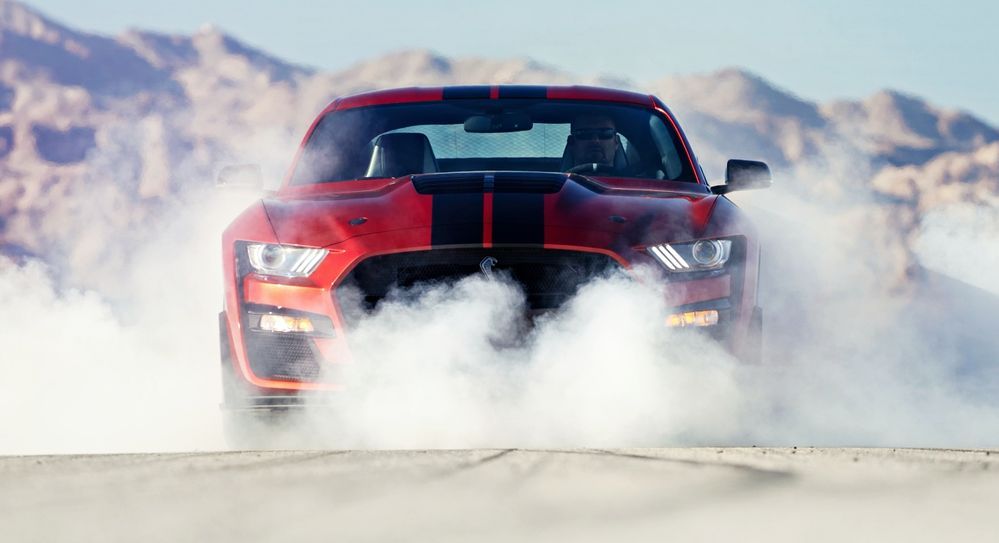 Crucially, this could initially materialise as the first all-wheel drive Mustang, in line with a 2017 patent filing that showed a "twin-motor drive system for a hybrid vehicle". This, paired a V8 engine in a conventional rear-drive layout would aid a pair of electric motors at the front for additional traction and torque vectoring.
While any alteration to the traditional ways could be viewed as an insult, this hybrid approach could be a happy compromise that only minimally dilutes the muscle car recipe. Diehard fans of the Ford V8 will still get their fix, eco-minded owners will appreciate the car's improved economy, and speed lovers will surely love the dynamic advantages of all-wheel drive and the dual-motor's instant and unrelenting torque.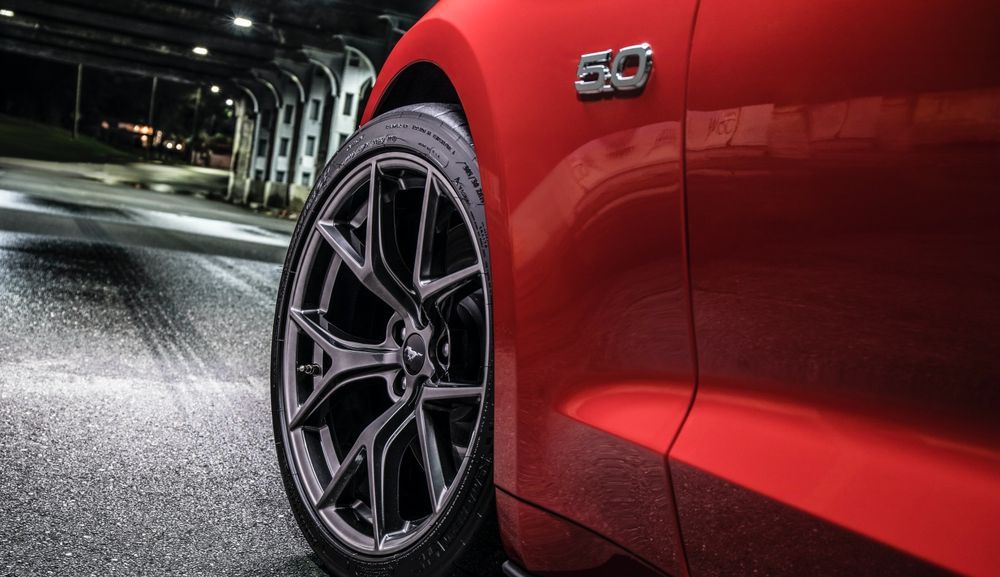 Theoretically, with the electric bits only bothering the front axle, it could even be possible to disable them entirely and effectively turn the car back to being rear-drive only, if temporarily. And Ford does have a history of including a 'Drift Mode' in their cars.
The S650 (its rumoured internal codename) will have to work extra hard to keep its favour with the fans that made it so successful in the first place. Ford will not want to mess with the overall look too much so it should resemble today's Mustang quite heavily, retaining the retro touches and muscle car cues.
——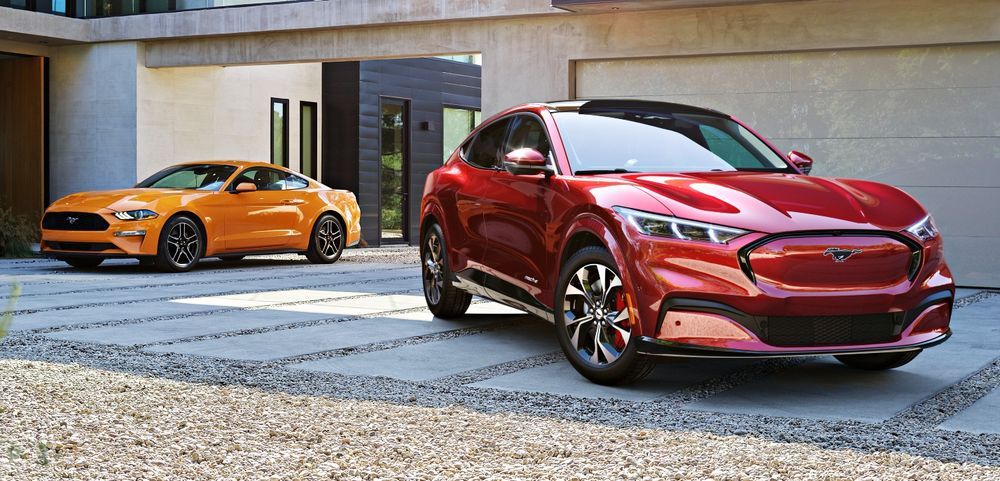 Like a lot of sports cars today, the move to electrification seems to already be well underway, but automakers seem to be quite aware that its implementation needs to be done in small doses. However, there's no denying the enormous performance potential here.
In a car as steeped in history as the 'Stang, though, capitalising on those benefits might be much tricker than most. Then again, we do already have the Mach-E, a fully electrified crossover bearing the sacred Mustang name and yet there hasn't been mass revolt, so maybe the hardest part is over.
---
---
---
---
留言