Goodyear Eagle F1 Asymmetric 3 Launched in Malaysia
所有资讯 When it comes to picking a tyres, customers are usually spoiled for choice. You can get anything from hard compound economy tyres, to super soft and sticky semi-slicks, and even budget friendly tyres that don't really do much besides keep your car somewhat driveable. Different tyre brands will have different levels of commitment and will offer different products, and in the case of Goodyear their highest level tyre is the Eagle F1 Asymmetric 3.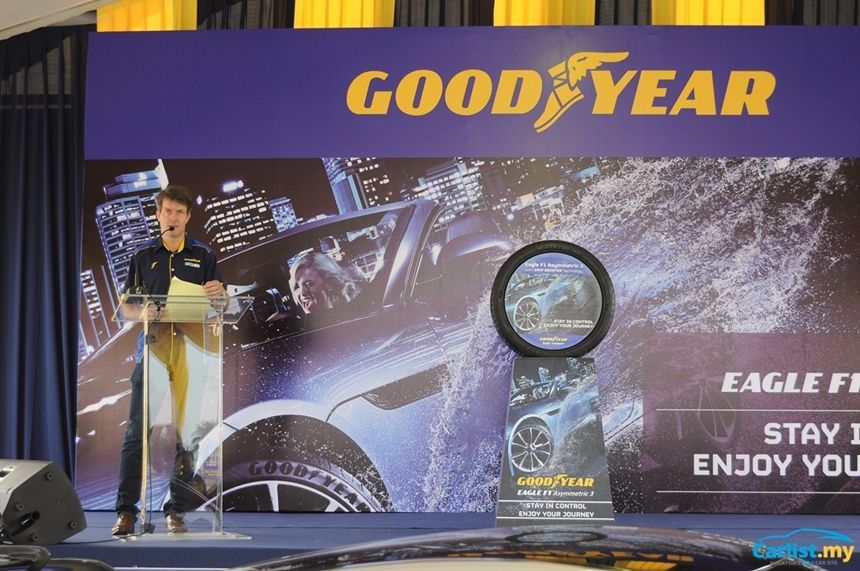 Launched at Sepang earlier this week, the tyre is designed with performance in mind. The strong points for the Goodyear Eagle F1 range have been in grip and handling ability, with the added advantage of good wet grip. Both the Directional and Asymmetric tyres under the Eagle F1 umbrella share these traits, although the Asymmetric tyre has always been regarded as slightly higher level in terms of outright performance.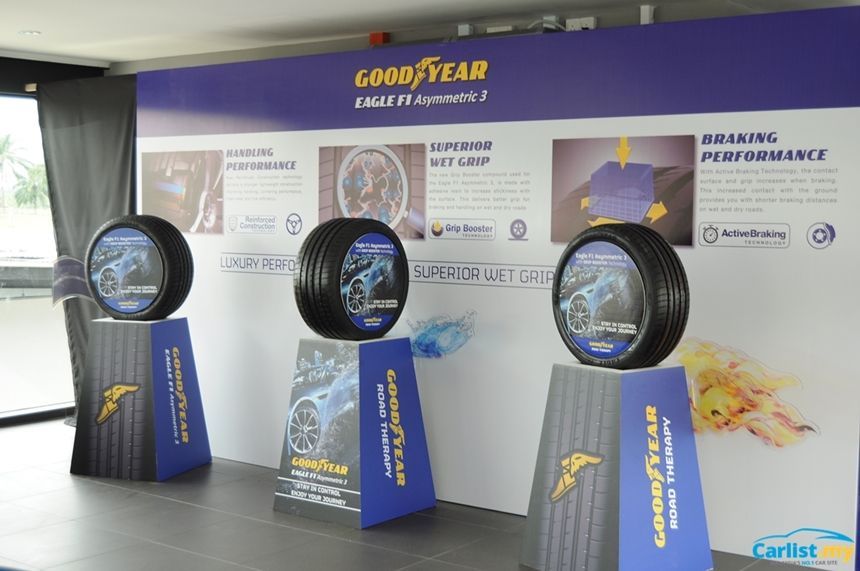 The Asymmetric 3 is the third iteration of the Asymmetric tyre line, and it has plenty to show for it. Tyre technology has come a long way over the last few decades, and the Asymmetric 3 tyre shows off Goodyear's latest and greatest. We'll cut through the marketing fluff and boil it down to a single sentence: the Asymmetric 3 has a stickier compound that conforms to the road surface better, long shoulder blocks to distribute braking loads more evenly, and revised construction techniques to distribute temperature effectively. All of that translates to more grip, shorter braking distances, and better tyre longevity.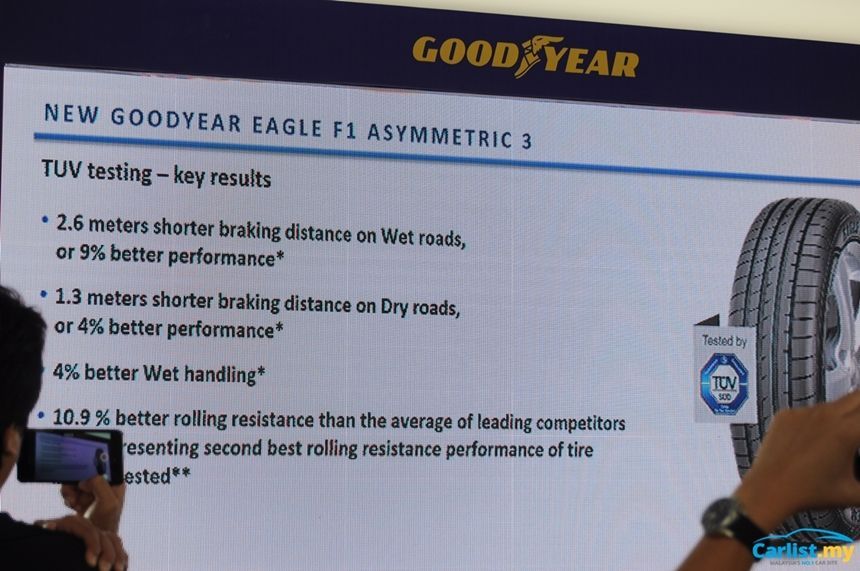 Goodyear has focused on improving in objective tests in order to have a basis of comparison against competitor tyres. These tyres have gone through TUV Sud testing, and the raw data is undeniable: 2.6 metres shorter braking distance in the wet, 1.3 meters shorter braking distance in the dry, 4% more wet grip, and 10.9% better rolling resistance than the average of competitors. Tyre sizes available range from 17 inch to 20 inch, in a variety of widths and aspect ratios.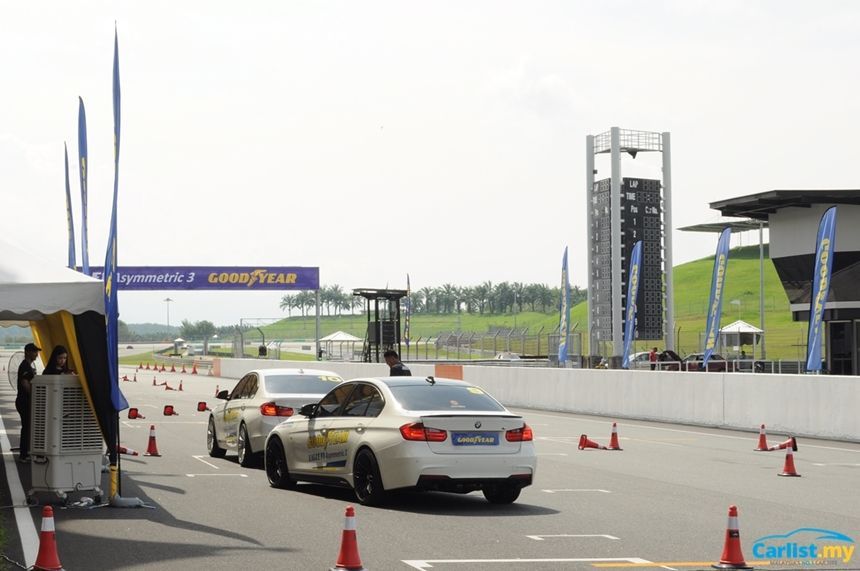 That's impressive and all on paper, but it's the driving experience that matters the most. To show us what their tyres could do, Goodyear booked out Sepang's South Track for half a day to let us experience the various qualities that the Asymmetric 3 is known for. The cars on hand for the day were a mix of continental models, from Mercedes-Benz CLA 250 4MATICs to BMW F10 520is, and even the odd Audi S5.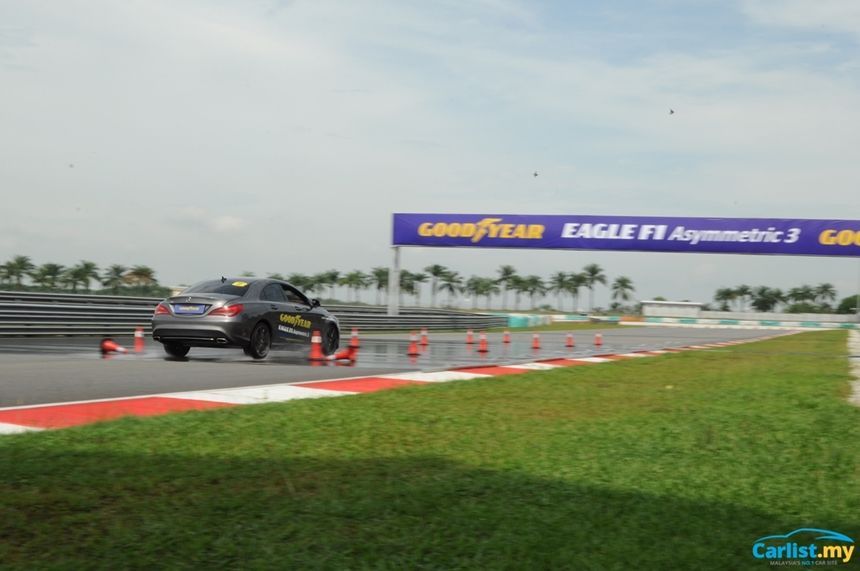 Some of the exercises were nothing new. The wet braking exercise, for example, is a fairly standard way to show how a tyre deals with a bit of standing water and damp tarmac. Get the car up to 80 km/h and mash the brakes as you enter a set of cones, and you find the car comes to a stop with hardly any fuss.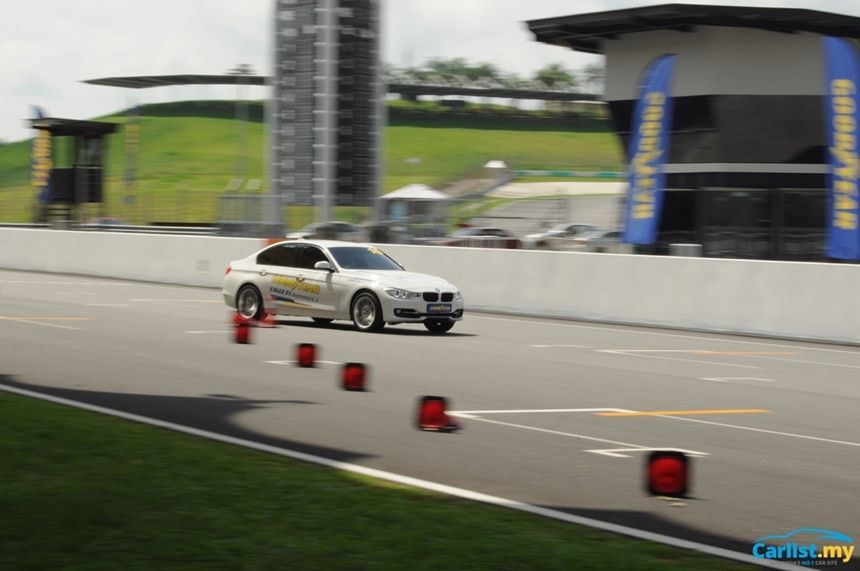 Perhaps more exciting was a slalom challenge to show off the responsiveness of the tyres in directional changes. Slaloms are always fun because they're as much a test of car and equipment as they are of driving ability. Nonetheless, the cars prepared for us had unusually light steering and the tyres felt as though they hadn't quite been worn in yet, so perhaps the feedback was not quite representative of what the tyres could do.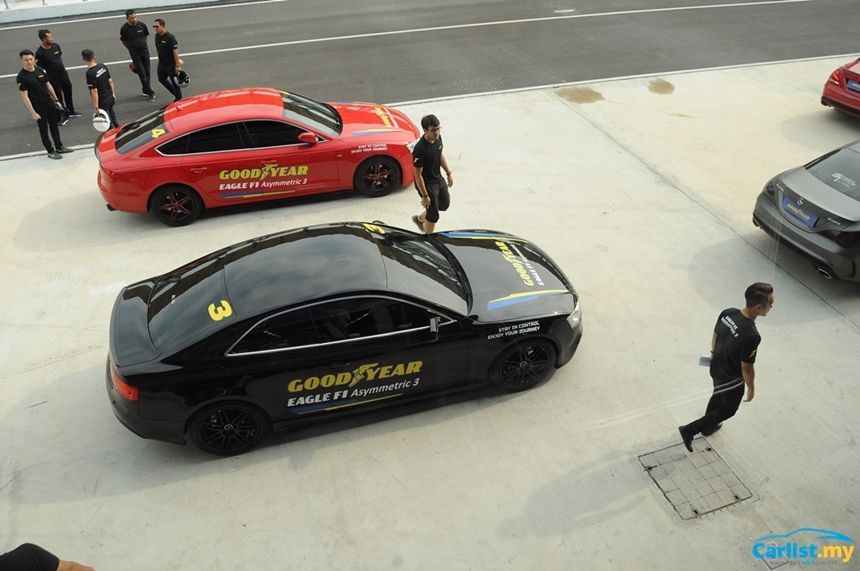 The best experience of the day was taking a couple of these cars out around the south track itself. For this particular exercise we were behind the wheel of a Mercedes-Benz CLA 250 4MATIC- perhaps not the last word in performance, but quick enough to keep things interesting. Out of respect to the instructors riding shotgun, we chose to stick to their instructions; braking point markers were extremely conservative and we had to duck into the pit each lap, but perhaps this was done to conserve tyres and brakes.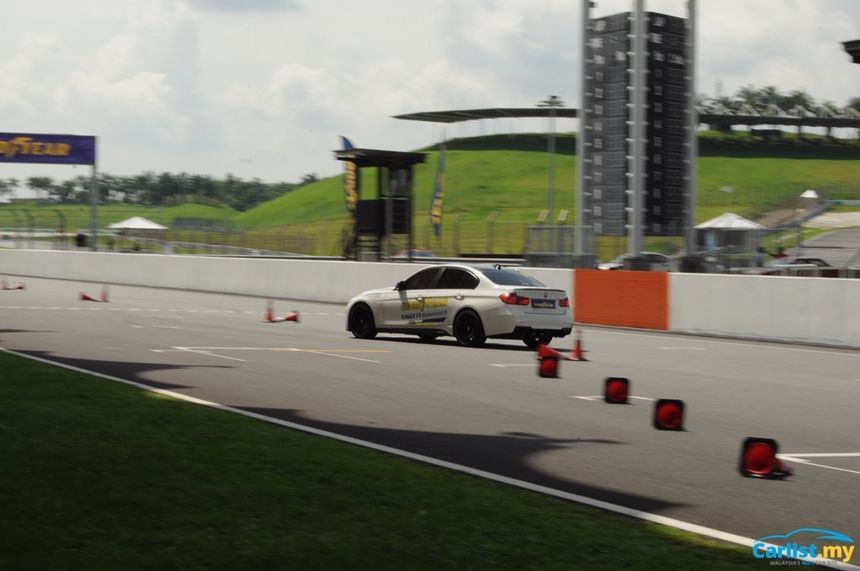 On track, the new Asymmetric 3s feel good. There isn't much falloff in performance after 5 laps, although given the cooldown session every lap this isn't all too surprising. There's consistent feel and feedback, although at times it felt as though the tyres were a little underinflated- again, perhaps measures taken to preserve the tyres.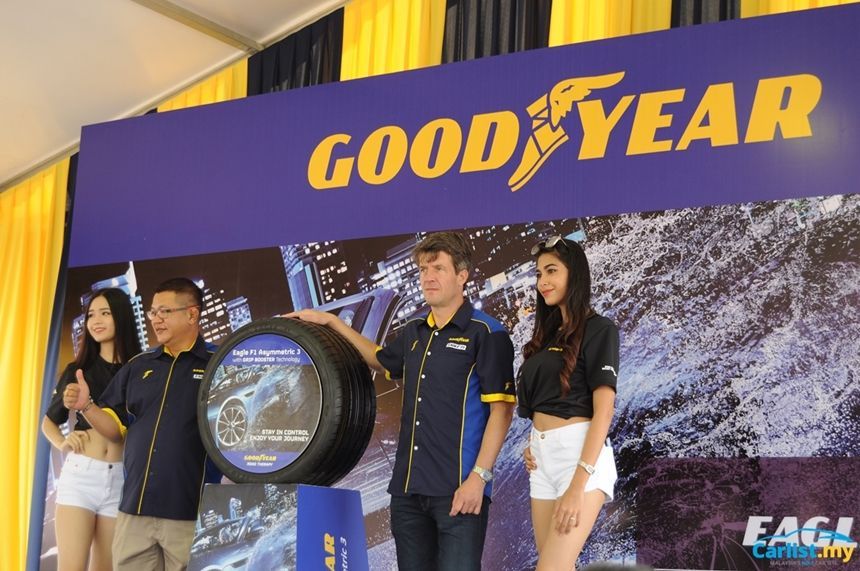 While Goodyear may be a little late this time round, the new Asymmetric 3 reminds us where the Eagle F1 tyres sit in the greater performance tyre pecking order. They're similar to Michelin Pilot Sport 4s in that regard, with good wet grip at the expense of some dry grip, but given our inclement weather and unpredictable road conditions, it's probably better to run this kind of tyre day-to-day.
---
---
---
---
留言