Goodyear Turns 120, Continues To Innovate
所有资讯 Established in 1898, the Goodyear Tire & Rubber Company, one of the most prominent tire brands in the world and also in Malaysia, celebrates its 120th anniversary this year.
From racetracks to Modular Equipment Transporters on the moon, Goodyear's products are found in a multitude of exciting and compelling human achievements.
In 1839, Charles Goodyear discovered a revolutionary invention that changed people's everyday lives, the vulcanization of rubber. His namesake company has claimed many firsts, including tires on the first mass-produced car of the Ford Model T (1908); first pneumatic aviation tires (1909); first tires on the moon with NASA astronauts (1971).
After introducing the first aviation tires, Goodyear expanded to create fruitful and innovative products such as the first retreadable aircraft tires in 1927. By the 1980s, Goodyear launched the first FAA-approved radial tires for commercial aircraft.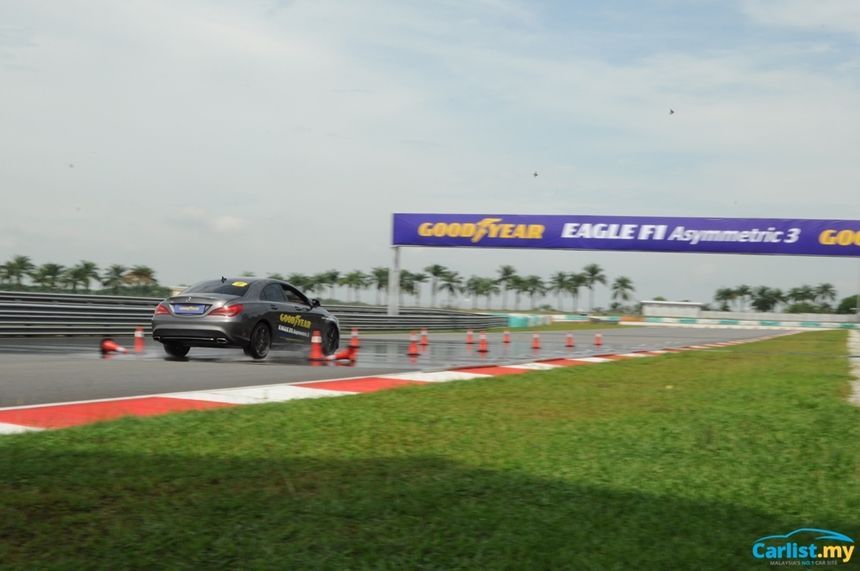 The brand was also making waves in the motorsports arena at the same time. For instance, Goodyear won its 368th Formula 1 Grand Prix race in 1998, the most of any other tire manufacturer. Besides that, Goodyear has also been a fixture in NASCAR racing for more than 60 years.
In Malaysia, Goodyear has been in operation since 1972 through the establishment of its own manufacturing plant in Shah Alam, Selangor. The company is one of the largest provider of Original Equipment (OE) tires to key manufacturers and assemblers in Malaysia that are Proton, Perodua, Honda, Mazda, and Hyundai.
With a vast range of products, Goodyear tires are found in SUVs, hatchbacks and large sedans. The much-loved new Myvi 1.5 and Proton Persona/Iriz are equipped with the Assurance Triplemax, a tire that is designed to deliver better fuel efficiency and reduced braking distance in the wet. The Wrangler Triplemax, which is designed for sport-utility vehicles, is also fitted at the factory for the previous generation Mazda CX-5 and Honda CR-V 2.0.

Honda Malaysia is one of Goodyear's largest OE customer in Malaysia, as the latest CR-V 2.0 variant continues to be fitted with Goodyear's Efficientgrip Performance SUV tire. This premium tire focuses on providing the quietest ride together with strong braking and cornering capabilities.
Honda Jazz and City models have the GT3 and Excellence tires fitted, while the Accord is fitted with the Excellence tires on the 2.0 variant.

Meanwhile, the Eagle F1 Asymmetric 3 tires are well known among keen drivers who want maximum performance in all aspects, yet still, deliver comfort that is expected from a premium tire. The Eagle F1 Asymmetric 3 is the preferred premium OE tire at a global level, fitted on many German beauties such as Mercedes-Benz E Class (W213), BMW 5 Series (G30), Porsche Cayenne/Boxster 718-series, and the Jaguar XF.
In recent times, Goodyear has established its first commercial use of a new soybean oil-based rubber compound. By employing soybean oil in tires, Goodyear found a new approach to keep the rubber compound pliable in changing temperatures, a key performance achievement in maintaining and enhancing the vehicle's grip on the road surface..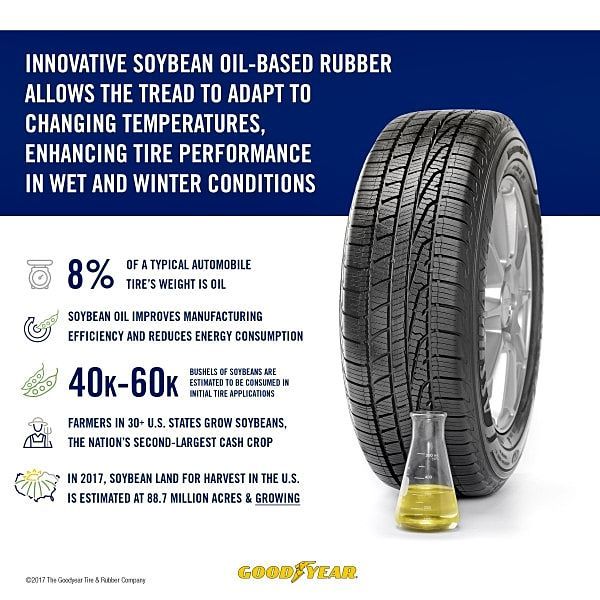 Besides soy, Goodyear also began using silica derived from rice husk ash to enhance traction and treadwear in selected consumer tires. Rice husk ash is an environmentally-friendly and cost-effective alternative to the chemical compound.
Technology wise, the company's latest creation includes sensor-equipped intelligent tires which can continuously measure and record vital data that allows fleet operators to manage tire services.
Real-time data is displayed into Goodyear's proprietary algorithm, which enables fleet managers to monitor tire wear, temperature and pressure in real time. In 2018, Goodyear's prototype was unveiled at the Geneva Motor Show.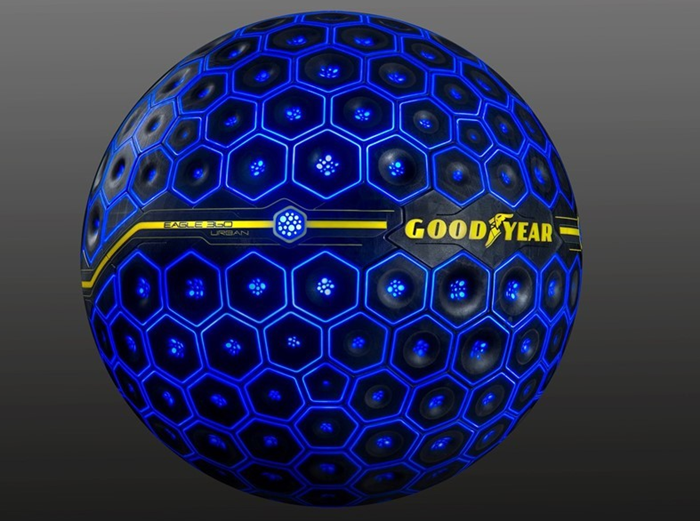 This year's Geneva Motor Show also saw the company unveiling the Goodyear Eagle-360 concept tire, a spherical-shaped design concept tire that allows the car to move in all directions.
Speaking in conjunction with the big occasion, Ryan Patterson, the president of Goodyear Asia Pacific said, "With 120 years of achievements, we have generations of momentum propelling us forward to continue innovating in the decades to come. We're celebrating our legacy of innovation at a time when the industry is evolving faster than at any time since the invention of the automobile."
---
---
---
---
留言