iCarData: The Best Time To Buy/Sell A 2015 Toyota Hilux 2.5L 'G' VNT
汽车专题 The used-car market is ripe with good deals at the moment. We check out just how the 2015 Toyota Hilux has fared over the years using iCarData.
---
The automotive industry has shown promising revivals in June during the RMCO periods. Both Proton and Perodua have clocked a stellar month of sales – a sign that the stimulus packages announced in the PENJANA 2020 initiative has worked to drive the economy back to healthy levels from its previous stalemate.
Under the PENJANA economic recovery plan, the government announced 100 percent sales tax exemption on new completely-knocked-down (CKD) vehicles and a 50 percent exemption for completely-built-up (CBU) vehicles until the end of the year – meaning car prices have dropped between 2-6 percent depending on make and model.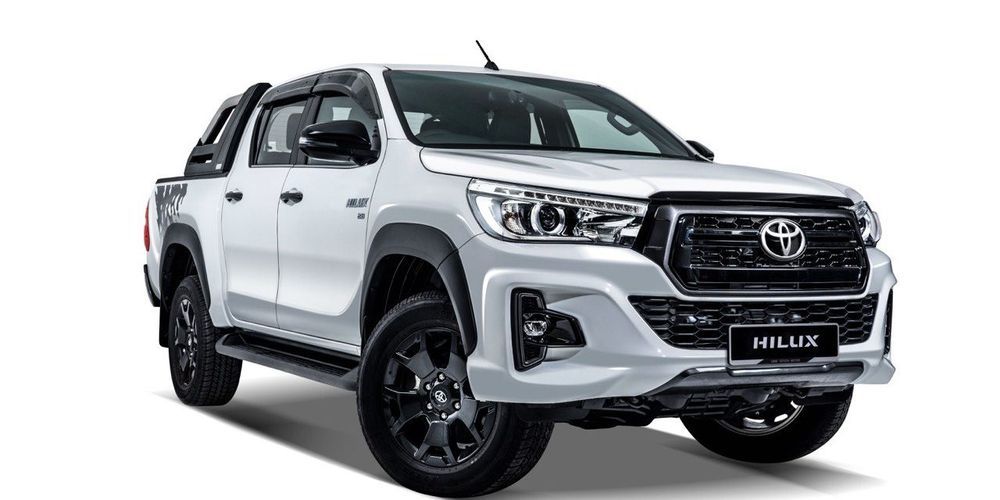 However, SST tax exemptions are only applicable to passenger vehicles, inclusive of MPVs and SUVs, but does not apply for pickup trucks such as the Toyota Hilux, Ford Ranger, and Mitsubishi Triton. This means the recovery of the pickup truck market will likely be slightly slower than that of the passenger car market, or for those who would still like to obtain great deals, they might be able to get them on the used car market.
In which case, the perennial Toyota Hilux, which arguably created the pickup truck segment here, would be at the top of that list. With the 2021 facelift model just on the horizon (having concluded its worldwide debut), it makes sense for us to look at just how the previous generation model has fared in terms of value retention over the past few years.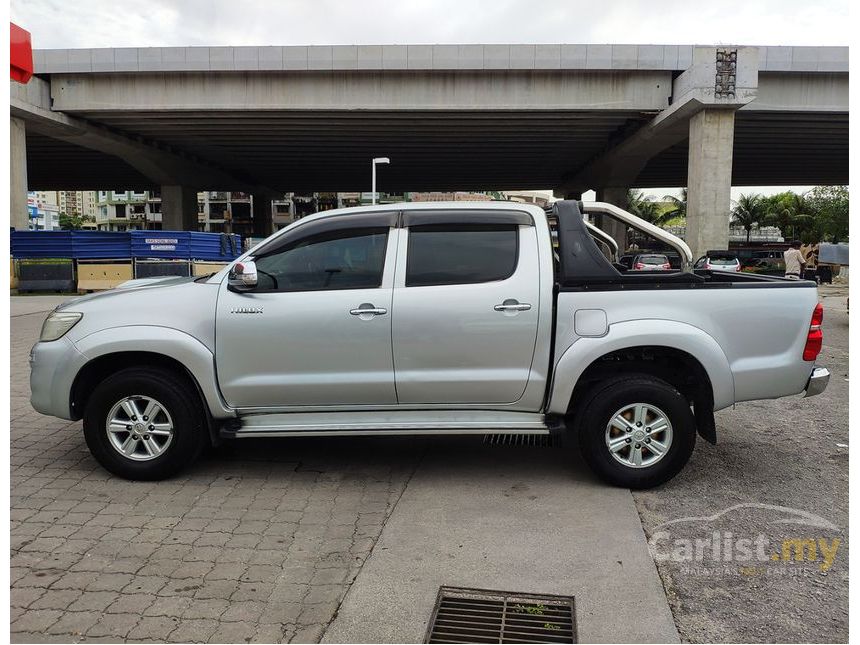 The method to the madness of collating literally thousands of data points across the entire used vehicle market is left to iCarData.
Check out our other reports on popular models in Malaysia, such as the (NCP150) Toyota Vios and the (F30) BMW 3 Series.
Overview
For this report, we will be looking at the seventh-generation Toyota Hilux 2.5 'G' variant.
The first major facelift of the seventh-generation Hilux came in 2011 when it received a major overhaul of its looks, now sporting more angular headlights, front grille, and bumper for a more macho stance. Along the flanks, the Hilux received beefier overfenders; the 3.0-litre variants received redesigned wheels, while the taillights were updated with combination lamps.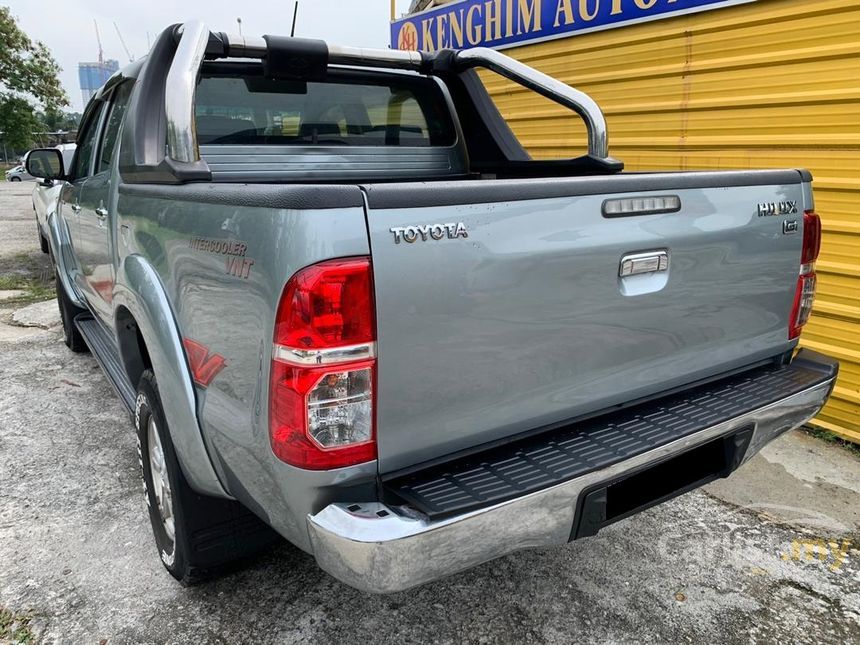 There was little change in the drivetrain department with the (106PS/260Nm) 2.5-litre and (163PS/343Nm) 3.0-litre turbodiesel engines being carried over from their respective predecessors. A four-speed auto or five-speed manual was offered depending on variant. Prices ranged between RM83.7k for the 2.5L (MT) Standard (Double-Cab) to RM107.2k for 3.0L (AT) 'G' (Double-Cab).
In 2012 however, the 2.5L (2KD-FTV) turbodiesel gained a potent update in the form of Variable Nozzle Turbocharging (VNT), which boosted performance from 106 PS to 144 PS and 343 Nm – by now offering as much torque as the 3.0-litre model, albeit with less top-end horsepower. Prices increased by roughly RM3k across the 2.5L range after the inclusion of the newer engine.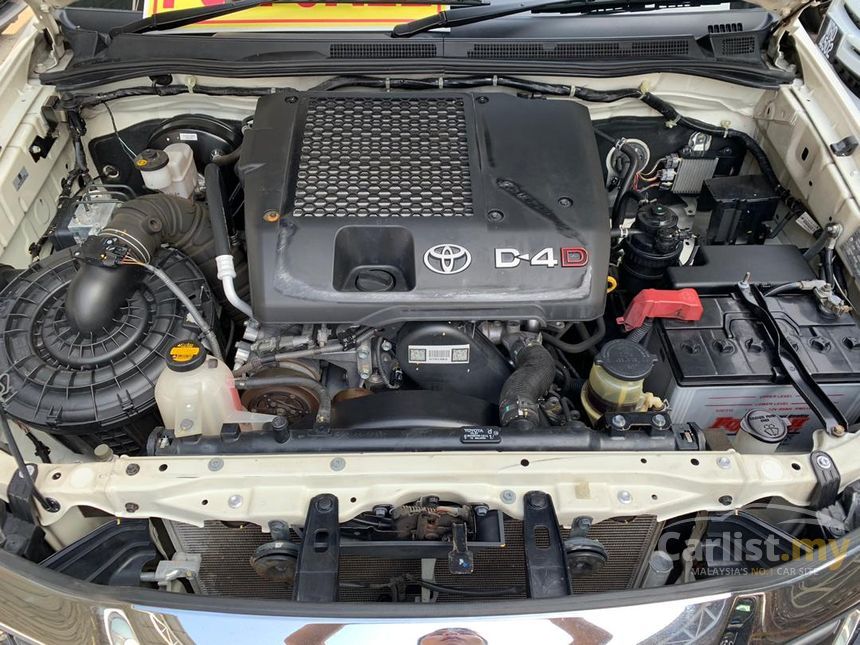 The last major update was in 2015, prior to the current eight-generation being launched in 2016. The 2015 update offered an array of improvements across the range, including the new Hilux Sportivo variant, as the top-spec trim level for the 2.5L and 3.0L double-cab models.
Elsewhere, selected other variants received dark-grey alloy wheels, LED DRLs, and combination leather upholstery for a more premium look and feel. Newer up-to-date infotainment systems were other highlights of the 2015 refresh.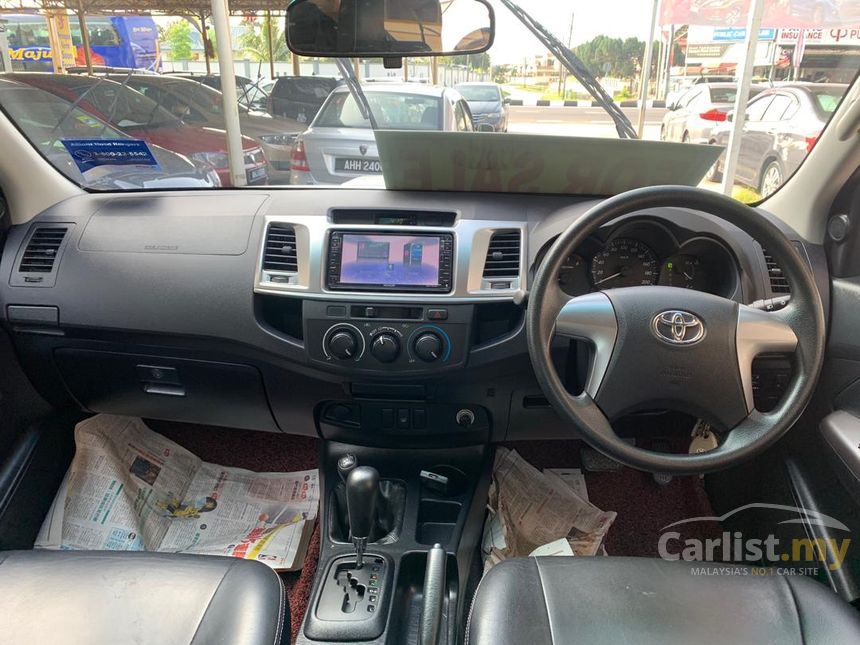 For this report, we will be looking at the 2015 (production year) Toyota Hilux Double Cab 2.5 'G' AT (VNT) which was second in line after the 3.0-litre variants and the most popular amongst private buyers who were looking for premium equipment and the rock-solid reliability of the Hilux in one package.
Specifications of the 2015 Toyota Hilux Double Cab 2.5 'G' AT (VNT)
Engine: 2.5-litre (2KD-FTV) inline-four turbocharged, diesel
Power: 144 PS @ 3,400 rpm
Torque: 343 Nm @ 1,600 to 2,800 rpm
Transmission: 4-speed automatic, 4x4 AWD
Safety: Two airbags, ABS with EBD
Origin: Locally-assembled in Shah Alam, Selangor
Price: RM99,484 (Metallic) – Jan 2015 launch (OTR without insurance)
We have taken into account the following to keep our numbers accurate and representative.
Vehicle variant: (Seventh-Generation) 2015 Toyota Hilux Double Cab 2.5 'G' AT (VNT), delivered between Jan and July 2015.
Depreciation is calculated using the original list price of RM99,484.
Depreciation percentage does not take into account special/ seasonal offers or rebates on the original selling price.
The singular 2015 Hilux 2.5L 'G' AT (metallic) variant is used for comparison for its conclusive spread of data points across the market.
Notwithstanding that, depreciation for other variants may differ, in particular the 3.0L 'G' AT variant also updated in 2015.
Based on ICarData, here's the summarized data for depreciation:

And the graphical analysis below: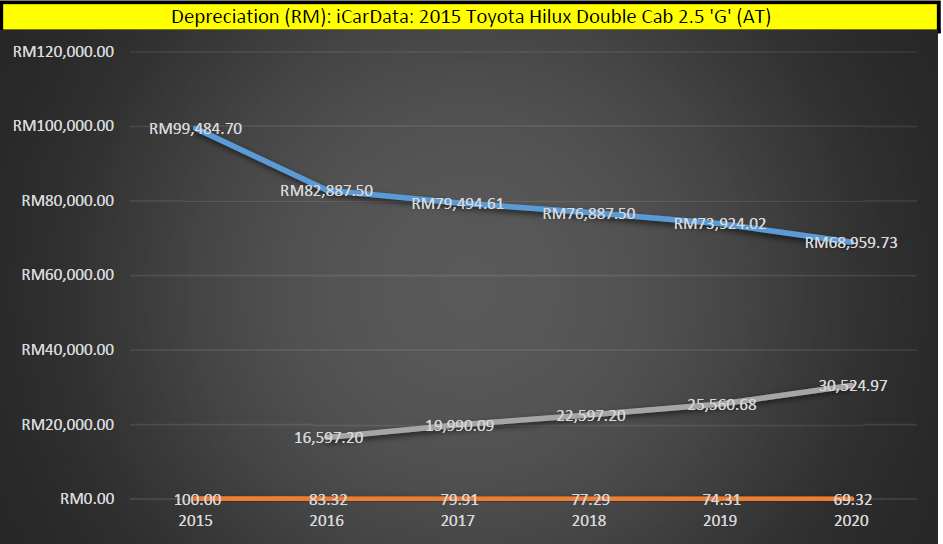 Blue line: Average selling price (RM) by year
Grey line: Cumulative depreciation (RM) by year
Orange line: Retained value percentage by year
Depreciation analysis
I don't think we have ever seen such slow-and-steady depreciation levels on any vehicles featured in these reports. Aside from the substantial 16 percent first-year depreciation of the Hilux, the depreciation levels remain steady for the next four years of the measured period - dropping between 2 and 4 percent year-on-year.
The larger than average first year could be attributed to one singular factor - which is the introduction of the eighth-generation model, in 2016, which would have adversely affected prices of the older model. This is also because, the prices between the seventh- and eighth-generation models have largely remained stable across the range.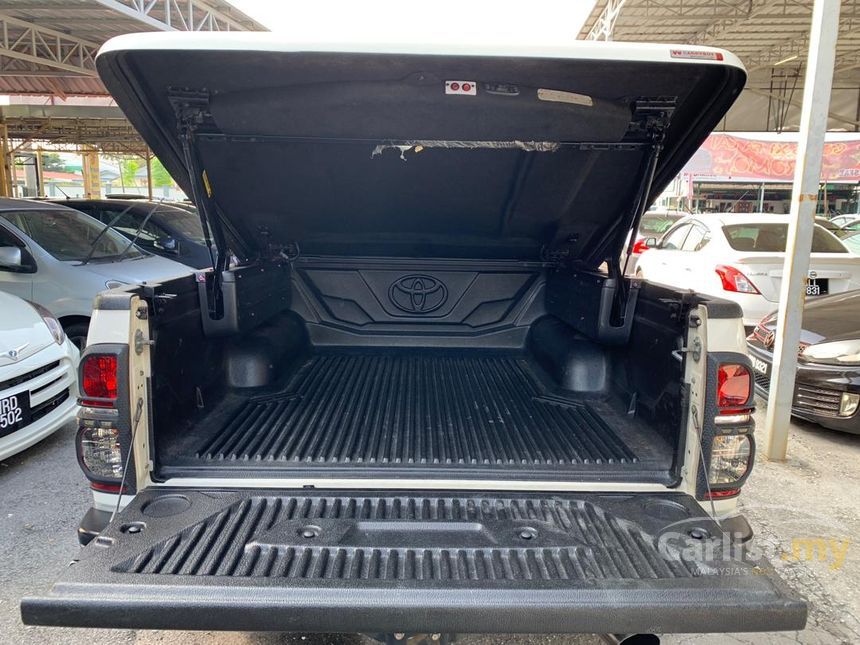 Of course, much of this is down to the Hilux's blend of rock-solid reliability and rugged utility which nigh-on never fails, and this has been well documented throughout the years. This means the Hilux appeals to everyone from lifestyle buyers to small business owners and small companies.
Though competition of the Toyota Hilux is tougher than ever, courtesy of well-established rivals such as the Isuzu D-Max, Ford Ranger, and Mitsubishi Triton - the depreciation graphs show little if any changes in demand (and hence selling price) caused by the introduction of competitor models.
With that said, we can safely say, with both the cumulative depreciation yet to intersect with the average selling price - owners can choose to retain their Hilux well into the sixth-and seventh-year of ownership. This due to the fact that the average selling price will likely be higher than hire-purchase loan amounts- netting sellers not just a great selling price, but possibly cash in hand which can go towards their next vehicle.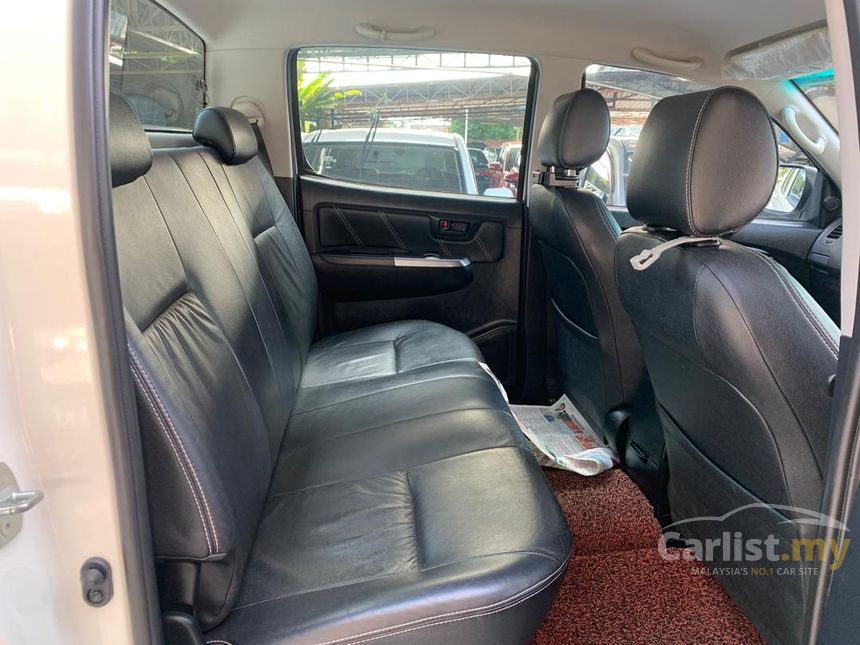 As for buyers, they can choose to buy their new Hilux anytime within the first six- to seven-years of the car's lifespan given they too are almost guaranteed of good residual value of their purchase. However, as always we would advise used buyers to purchase their cars within the first six-years of ownership to enjoy more financing options.
Another point to consider for used buyers, is that most Hiluxs are used as reliable long-distance workhorses for families and small businesses - hence buyers should prioritise units with less mileage and comprehensive service records to ensure they are getting a good vehicle.
For some great deals on the Toyota Hilux, click here.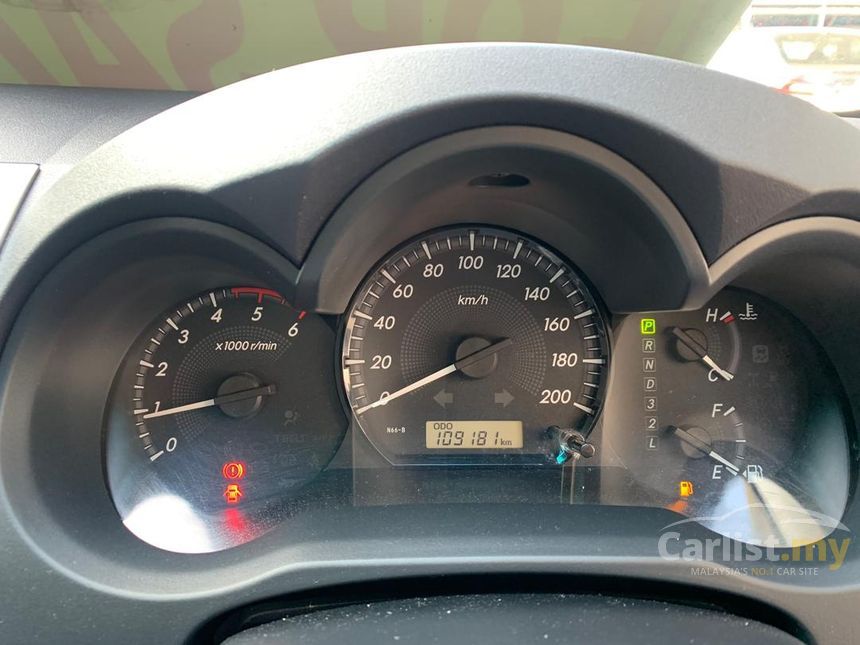 If you're looking to sell your Toyota Hilux, we have two solutions for you too. List in on carlist.my or better still, use CarlistBid where we remove all the hassle of selling your car for you as you get searching for your next upgrade.
Which make/ model would you like us to research next? Let us know in the comments
---
---
---
---
留言