Impatient Johor drivers, including Singaporeans, drive on opposite lane to get ahead in traffic
所有资讯 Drivers in Johor caught in the act of driving in the opposite direction just to avoid road congestion.
---
With roads getting more and more congested, especially during rush hour, motorists are starting to ignore road rules and etiquette just so that they can get to their destinations faster.
A prime example of this behaviour was recently seen and caught on camera in Johor, where a few impatient drivers drove in the wrong direction just so they could avoid traffic.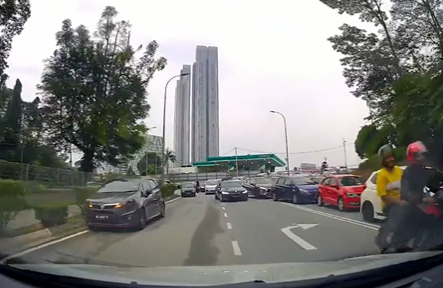 The drivers who were trying to escape the crawl caused by the usual rush hour rat race totally neglected the safety of others. According to New Straits Times, the incident was believed to have taken place in Bukit Chagar, just around the border area between Johor and Singapore.
The video posted on Twitter has angered many netizens and has led to many comments, ranging from verbal attacks towards the lawless drivers to criticism of bad road planning and the usual blame it on the Singaporeans' comments.
Singaporeans do have something to do with it, as some of the reckless drivers in the clip seem to be Singaporeans and the fact that influx of Singaporeans entering or exiting the state does not help with the congestion around the area.

One of the comments picked up by NST was, "Singaporeans travelling home. As usual, every Sunday from 5pm onwards is a nightmare."
But Malaysians too have been caught doing the act, so it's not just Singaporean drivers that are to be blamed.
Some netizens went in hard over their dissatisfaction with the poor road planning by the local government and lack of enforcement by the authorities.
---
---
---
---
留言