June 2019 New Vehicle Sale – Market Tumbles
所有资讯 Last month new vehicle sales dropped from 60,780 to 42,526, marking a 30% drop compared to the month prior. The drop was seasonal, due to the post-Raya season as buyers purchased their vehicles back in April and May.
Despite dropping month-on-month, the year-on-year variance actually improved 6,735 units, or a slight 2.3% increase over 2018.
On the bright side, new vehicle sales are expected to normalize over the next couple of months.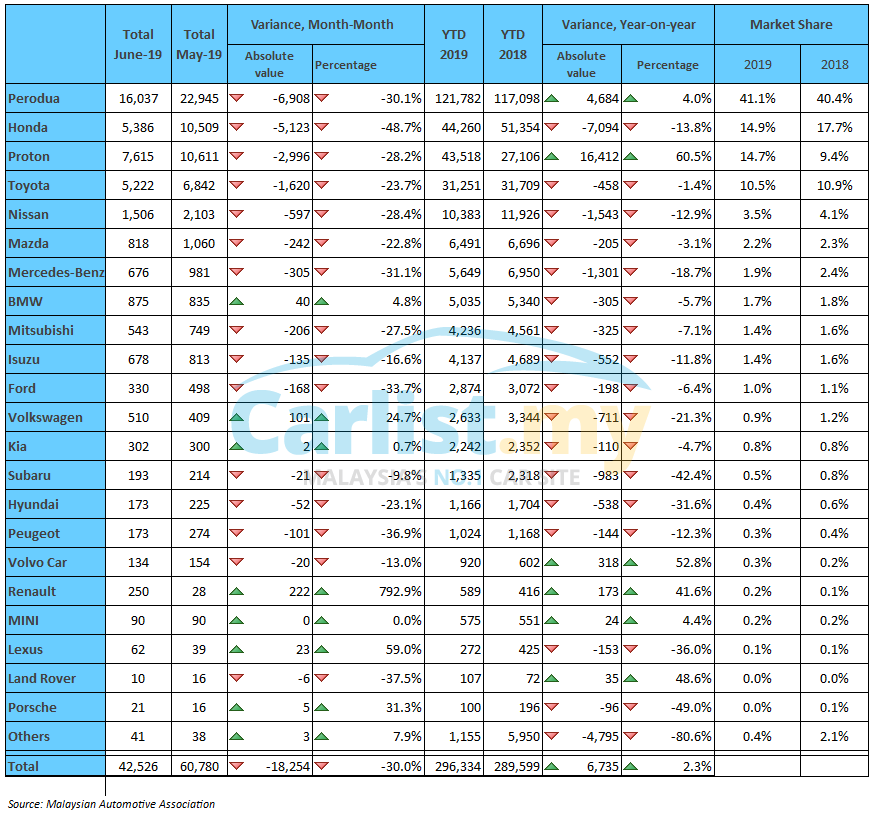 Brands like Volkswagen witnessed an increase in sales in June, with 510 new vehicles registered. This marks a 24.7% increase over May (409 units). Despite that, year-to-date performance took a 21.3% drop from 3,344 units in 2018 to 2,633 units in 2019.
Even Honda took a massive hit last month, delivering just 5,386 units in June, marking a sharp 48.7% drop compared to the month prior (10,509 units). Year-to-date, Honda also saw a drop from 51,354 units to 44,260 units, a decrease of 7,094 units or 13.8%.
Mazda's sales also dropped from 1,060 units in May to 818 units in June. Year-to-date, Mazda sold 6,491 units, a 205 unit decrease over the same period in 2018.
In the premium segment, BMW bucked the trend, albeit marginally, delivering 875 new vehicles, up 4.8% compared to the month prior. Year-on-year variance saw a drop of 305 units, or a 5.7% drop.
---
---
---
---
留言